How The Nintendo Switch Could Be Better Than Both PS4 And Xbox One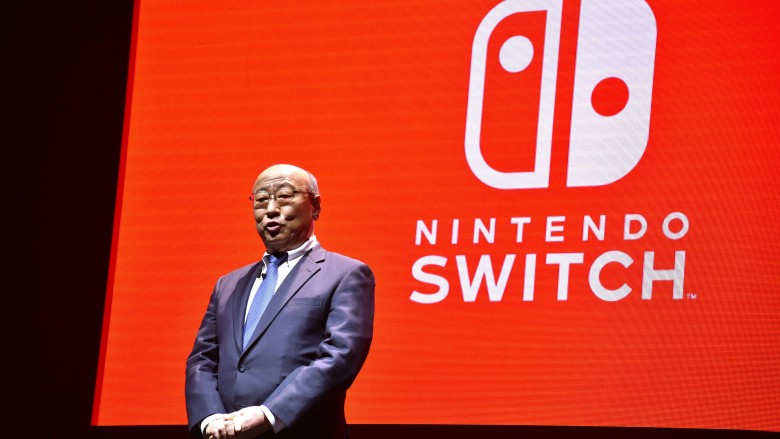 We may receive a commission on purchases made from links.
For Nintendo fans eagerly anticipating news about the company's new console—previously codenamed the Nintendo NX—the wait is finally over. Nintendo has finally revealed their upcoming console, the Nintendo Switch, which is slated to be available for purchase in March 2017. While full technical specs have not yet been released, the company has put out a trailer video and press release offering a tantalizing glimpse of the Switch's capabilities. It's seriously impressive stuff, and leaves us fairly confident that the Nintendo Switch is going to definitely be a force to be reckoned with—a new system that will be fully capable of going head to head with Xbox One and the PlayStation 4. Here's a rundown on what we know about the Nintendo Switch so far, and how it will stack up against the Xbox One and PS4.
It's a console...and a portable!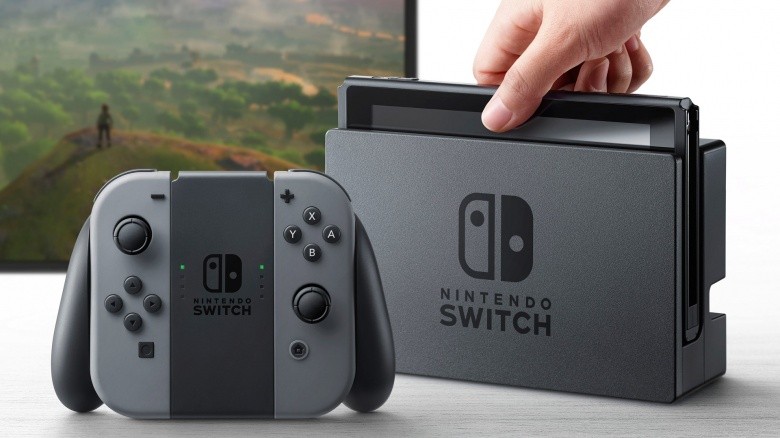 That's right, the Nintendo Switch is a hybrid console and handheld. Much like the Wii U, the Switch comes with a docking station that plugs into your television for gaming on the big screen—but it also serves as a fully-fledged handheld portable gaming system. Undock the console and take it anywhere with you to continue your gameplay experience—play on the road, at a friend's house, in a plane, or anywhere you want. After watching the trailer, it's obvious that the Switch is nowhere near as bulky as the Wii U gamepad; instead, it sports a sleek and slim design that is more reminiscent of a tablet.
As you might know, Microsoft and Playstation have never been particularly strong in the handheld world. There's never been a handheld system built to work with Xbox consoles, and PlayStation appeared to abandon the handheld market completely after the PS Vita. While there have been unsubstantiated rumors that PlayStation is developing a new handheld alongside the PS4 Pro, it's looking like the Switch is going to be the only serious new handheld/console hybrid on the market in 2017.
More bang for your buck
According to WCCFTech, a listing for the Switch was posted to the Canadian Toys R Us website and priced the Nintendo console at $329.99 CAD—the equivalent of about $245 USD or €249. Of course, there's no word from Nintendo about whether or not this price is official, but considering the Wii U's debut price point of $299 in 2012, it seems feasible that the Switch will be in the $249-$299 range, which is solidly competitive against the PlayStation 4 and Xbox One, and downright attractive compared to the PlayStation 4 Pro.
Nintendo had already teased the launch price as well as some launch titles for the Switch, but perhaps this leak might shed some more light on how much money we'll have to shell out for the console. We have to wait until January for more news, but at least we'll only be a couple of months away from its March 2017 release by that point.
Choose your controller style
As explained in Nintendo's press release, the Switch will feature multiple ways to play with the controllers, which allows you to adapt to your gaming style. The detachable controllers, called "Joy-Con," let you play connected to the display, or remove them to play with one controller in each hand—similar to a Wii Remote + Nunchuk. While we have no word yet on whether the Switch will support motion capture, it should be noted that the Joy-Con each have a joystick, a traditional 4-button set, top button, and back trigger button.
Additionally, these miniature controllers can be slipped into a Joy-Con Grip accessory to emulate a more traditional controller experience, or you can purchase what Nintendo is calling an optional "Nintendo Switch Pro Controller," which appears to closely resemble the Pro Controller for Wii U. Finally, the Joy-Con can be used for multiplayer action, with multiple people each using a Joy-Con to play a game together on single or multiple Nintendo Switch consoles. The Joy-Con may be the first Nintendo product to lack a true D-pad, although the Pro Controller does have one. While Xbox and PlayStation both offer traditional-style wireless controllers, they have nothing like the Joy-Con's adaptability.
UPDATE: Ubisoft has just announced they are developing Just Dance 2017 for the Nintendo Switch, which essentially confirms some sort of motion-capture capabilities for the new console.
Multiplayer anywhere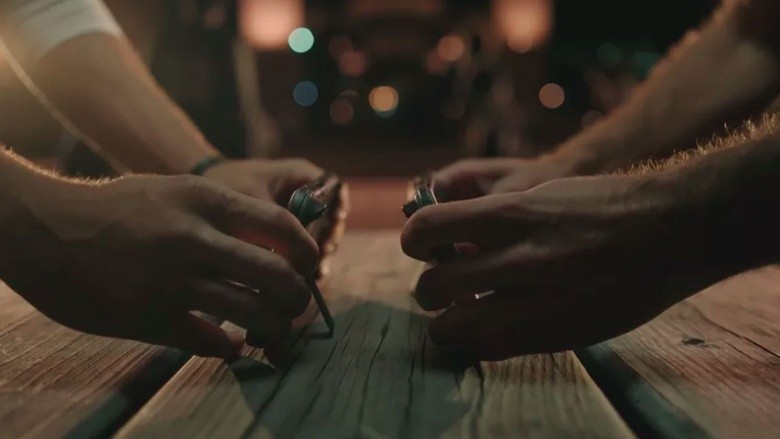 The Nintendo Switch is bringing back face-to-face multiplayer—in a big way. As seen in the trailer, the system can handle several different styles of multiplayer. Use one Switch with the two detachable Joy-Con controllers to go head-to-head with a friend in split-screen mode. Want to play NBA 2K with your friends? Unlike with Xbox One or PS4, you don't have to go to their house (or invest in multiple wireless controllers) to do it.
The Switch can interface with other Switch consoles, which means you can meet your friends anywhere, link up your consoles, and duke it out in a group. This idea is explored even further in the trailer, when we see two teams of four players set up their Switch and get ready to battle each other in a Splatoon match using separate Pro controllers. Given that the current iteration of Splatoon requires an internet connection to play, that means the Switch is likely to have onboard wifi and possibly cellular capabilities. Also, we'd like to note that that Splatoon preview included several new features, including varying hairstyles, new weapons, and even pants! While we don't know if this is a Splatoon port, update, DLC, or new title, the Japanese Splatoon Twitter account did reveal that this will be "a new species of squid."
Dock it, or use the kickstand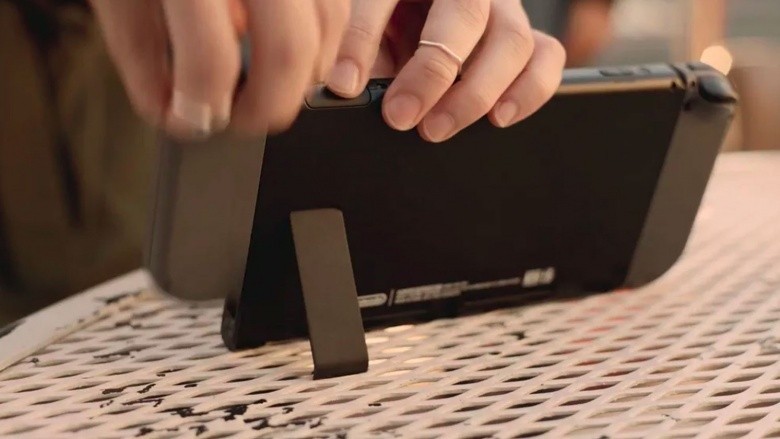 One huge part of the Nintendo Switch is the ability to game anywhere, and Nintendo has clearly thought that concept through. In the trailer, they illustrate the many possibilities: while connected to the home dock, you can play with the Switch on your television. Attach the Joy-Con to the sleek display, and you now have a traditional handheld gaming experience.
In one sequence of the trailer, two friends riding in the back of a vehicle slide the Switch into a behind-the-headrest dock, and then use the detachable Joy-Con to go head-to-head in what looks like a brand-new Mario Kart title (more on that later). Finally, the Switch contains a built-in kickstand, so you can prop it up and use it as a miniature display on-the-go—with either the Joy-Con or the Pro Controller. There's no question—Xbox or PlayStation can't compete with this aspect of the system.
Goodbye discs, hello cartridges!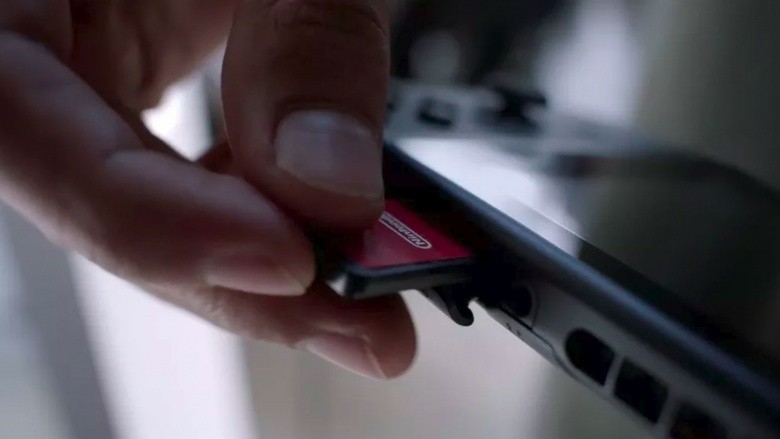 It's been rumored for some time that the next Nintendo system would run on cartridges, and the Switch trailer affirmed that the rumors were correct. As a player settles into his seat for an airplane journey, he pops a game card into the slot on the top of the Switch. Because the main concept of the Switch centers on portability, this change to cartridge-based titles totally makes sense. The cartridges in the trailer are small—approximately the size of a 3DS cartridge—which will make them easy to carry around. We don't have word yet on whether the Nintendo Switch will be backwards-compatible with 3DS or titles from other Nintendo platforms, but the presence of Amiibo in one scene of the trailer gives us hope.
With the PlayStation PSP, we had to use Universal Media Discs. While smaller than traditional optical discs, UMDs still had problems—they were bulky to carry around and still easy to scratch. Optical discs take a long time to read, which made most PSP titles slow-loading. PlayStation took the hint and moved to cartridges for their PS Vita, but that too ended up a failure, for a variety of reasons—and was eventually eclipsed by Nintendo's own 3DS system.
UPDATE: Japanese gaming magazine Famitsu reached out to Nintendo on the question of backwards-compatibility. A representative from Nintendo told them the Switch won't be compatible with Wii U's game discs or the 3DS game cards. This doesn't rule out the possibility that titles from those platforms will be released digitally for Switch users, as has been done in the past on Wii and Wii U. The representative also declined to comment regarding compatibility with mobile games, which many fans have wondered about since NVIDIA announced a custom version of their Tegra chip would be used in the Switch.
Huge list of third-party developers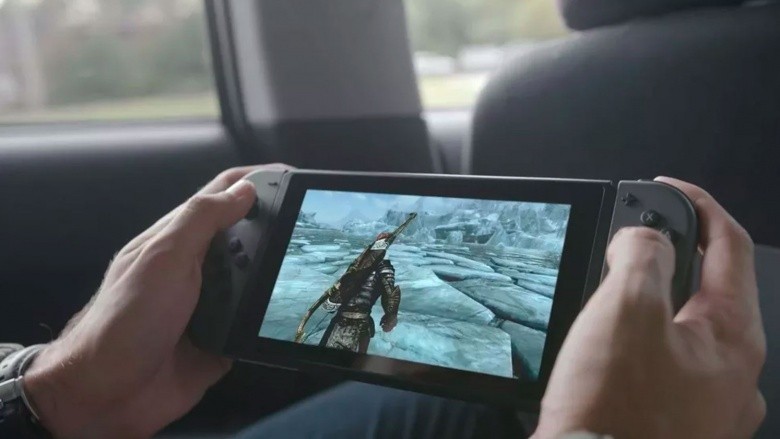 For years, Nintendo fans have complained about the lack of solid AAA third-party titles for their platforms, but it looks like that will all change with the Switch. In their press release, Nintendo explained that "Developers can design their games supporting a variety of play styles, which gives gamers the freedom to choose an experience that best suits them." Reggie Fils-Aime, President and COO of Nintendo of America, was also quoted as saying, "[The Nintendo Switch] gives game developers new abilities to bring their creative visions to life by opening up the concept of gaming without boundaries."
It appears that a huge number of third-party developers and middleware companies have embraced that vision, with a large list included in Nintendo's press release. The laundry list of studios includes Telltale, Starbreeze, Activision, EA, Ubisoft, Warner Bros. Interactive, Sega, Epic, Capcom, Square Enix and Bethesda. Additionally, it appears that the Switch will support games built on the Unity engine, because Unity is also listed as a partner in the press release, and the trailer also featured gameplay footage for an NBA 2K title as well as Skyrim. The support of these developers—some of which (like Image & Form) have already confirmed games in the works for the Switch—means that we can likely expect the system to stack up against the Xbox One and PS4 in a major way, bringing serious gamers and AAA titles back into the Nintendo fold.
Exclusive new Nintendo games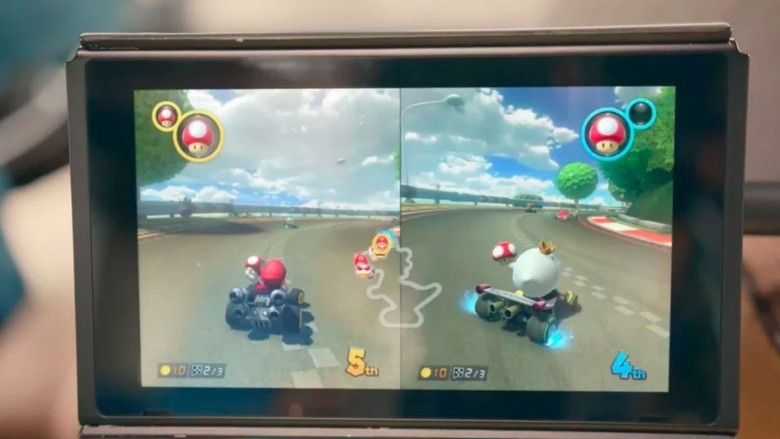 In addition to the third-party games coming down the pipeline for the Switch, we also have a ton of official Nintendo titles to look forward to. We already know that the new Legend of Zelda: Breath of the Wild is going to be a launch title for the new console, and the Switch trailer revealed some other tantalizing glimpses of potential new Nintendo releases. One clip contained what has to be a new Mario game—it could be a Sunshine, 3D World, or Galaxy sequel, because Mario can triple-jump in it—and we also got a peek at what has to be the new Mario Kart title, and may possibly be a Double Dash sequel, based on the "Yoshi Circuit" racecourse and King Boo shown in the trailer. There's also been considerable speculation swirling around Metroid developer Kensuke Tanabe's statement that "There's still more I want to build around the story of Sylux and Samus. There's something going on between them. I want to make a game that touches upon [it]." So we may also see Metroid Prime 4 for Nintendo Switch sometime soon.
Obviously, the only way you're going to get to play these games from Nintendo-exclusive franchises is with the Nintendo Switch—except for a few titles which are also produced for Wii U—so there's no way that Xbox One, the PlayStation 4, or any of their future consoles will be able to compete with the Switch in this regard.
No TV? No problem!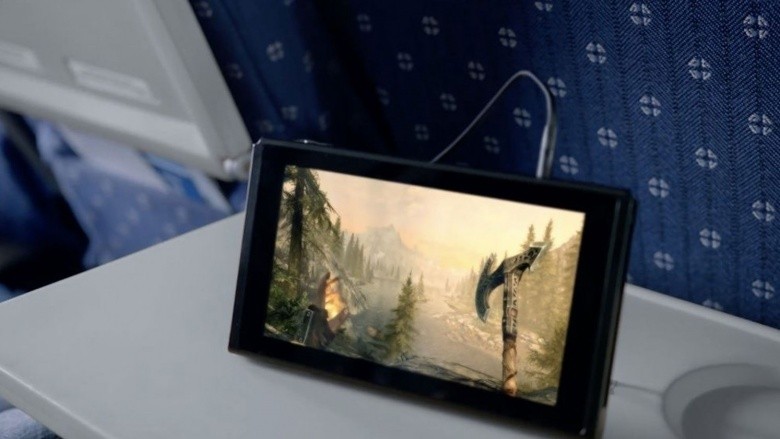 One really innovative feature of the Nintendo Switch is the ability to play autonomously without having to be connected to your television, or even in your home at all. Nintendo boasts in its press release that "The portability of Nintendo Switch is enhanced by its bright high-definition display. It brings the full home gaming system experience with you to the park, on an airplane, in a car, or to a friend's apartment." So while the Wii U gamepad was most definitely not HD, it appears that the display on the Nintendo Switch will be. In addition, the trailer revealed that the Switch has a standard 3.5-inch headphone jack for wired headphones. The Wii U did support certain wireless headphones, so it seems likely the Switch will also contain that functionality as well.
The ability to take your games on the road without sacrificing visual and audio quality is a huge plus, and one that Xbox and PlayStation can't hope to match. Unless you want to get a 19" TV, power inverter, and everything else needed to play in your car, road tripping while playing Diablo III ain't happening. The only other option available for Xbox and PlayStation devotees is to shell out an additional $350 for a GAEMS Vanguard "personal gaming environment." This is one area that the Nintendo Switch wins, hands down.
When will we know more?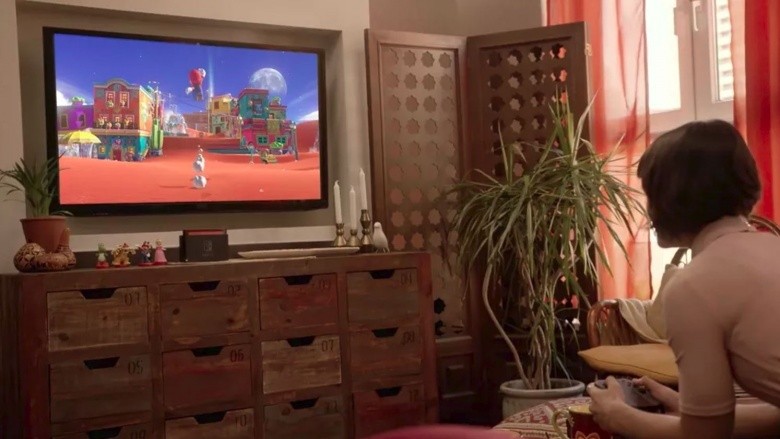 Obviously, there's still a lot yet to be learned about the Nintendo Switch. We don't yet know anything about the full technical specs, complete slate of launch titles, release date, or initial purchase price. Nintendo promises that we should be learning all of these things—and more—in the months leading up to the March 2017 release date. But even with the little information we do have, it seems the Switch will make waves in a major way among serious gamers, fans of AAA titles, families, frequent travelers, and even eSports players. Those are some major demographics to break into, and Xbox and PlayStation are going to have to come up with something amazing for their new generation of consoles in order to compete with the Nintendo Switch.