Why Robin From Project Power Looks So Familiar
This content was paid for by Netflix and created by Looper.
Netflix's Project Power has two major stars at the helm, and a famous directing team behind the camera. Jamie Foxx and Joseph Gordon-Levitt have both been playing it relatively low-key in recent years, but they've teamed up for this sci-fi drama in which crime is running rampant thanks to a pill that gives the taker superhuman abilities for five minutes. It's directed by Ariel Schulman and Henry Joost, best known as the duo who brought the documentary Catfish to terrify and intrigue early internet users.
However, after you've seen the movie, you'll definitely want to know the name of another future superstar. Dominique Fishback plays Robin, a teenager who deals Power before deciding to team up with Foxx and Gordon-Levitt's characters to put a stop to the damage it's doing. Going toe-to-toe with the two of them was a tall order, but her two co-stars were blown away. Speaking to Entertainment Weekly, Gordon-Levitt called Fishback "My favorite part of the whole movie," and Foxx compared her to Oscar winner Regina King and Fishback's former co-star Regina Hall. But if you still haven't seen Project Power, you may already recognize Dominique Fishback. She's a pro at bringing empathy to troubled teens, and she's worked with two masters in their fields: The Wire's David Simon, and rapper/producer/general mogul Jay-Z. Here's why Robin from Project Power looks so familiar — and what she's doing next.
Dominique Fishback started out with small roles in big dramas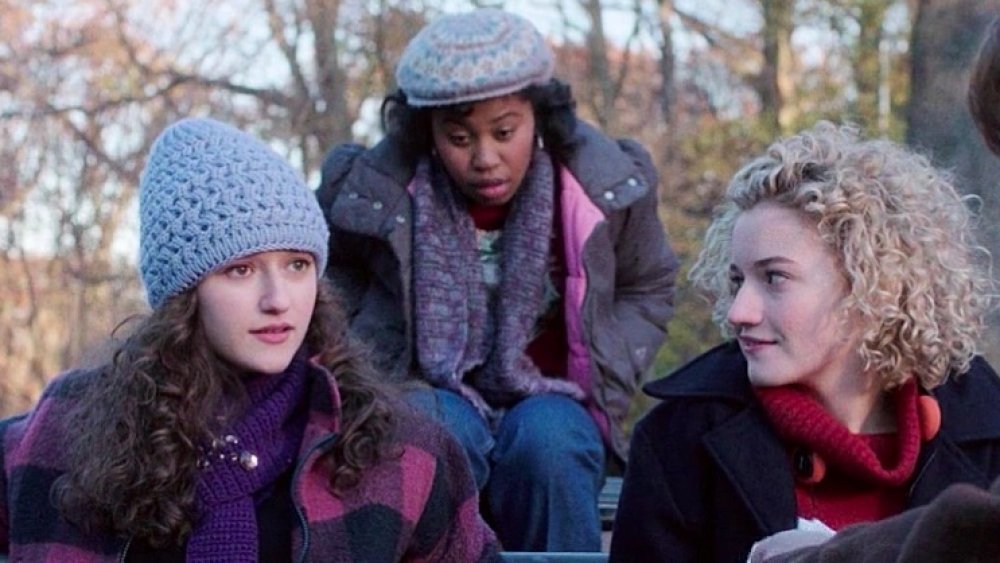 Fishback's small screen career started with tiny parts in two big hitters. She appeared opposite another David Simon collaborator, Dominic West, in The Affair, in which West played English teacher and general rake Noah Solloway. Fishback was in one of the show's less explicit scenes, in which Solloway is holding a class discussion about Romeo and Juliet. Fishback has a couple of lines as student Keisha, who informs him that it wasn't Romeo and Juliet's fault that things turned out so grimly for the star-crossed lovers.
Fishback's next TV credit was in FX spy drama The Americans, in which she played the first of many misbehaving but ultimately good-hearted teens. She appeared as Nicole, a friend of Kimberly Breland (Julia Garner), during the season three episode in which Philip (Matthew Rhys) and Elizabeth (Keri Russell) decide to use Kimberly to get to her father Isaac (Frank Deal), the leader of the CIA's Afghan War Group division. (The show was famous for its intrigue and complex plots, which is why even committed fans still need the ending of The Americans explained.)
Nicole is one of the friends sitting with Kimberly in the bleachers when she buys pot from a dealer, and one of the girls who tries to get into a nightclub using a fake ID. Apparently Kimberly ditched her friend after this: The Americans aired for three more three seasons, but Fishback never reappeared.
Dominique Fishback made a name playing troubled teen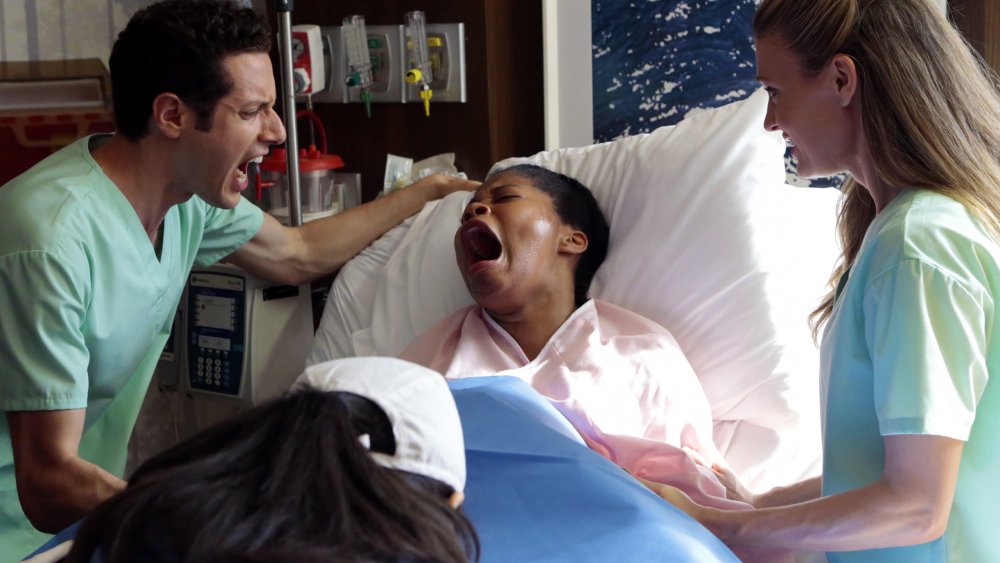 If you wanted to sum up the roles Fishback has tended to play in her career so far, you'd probably go with "troubled teens." While Fishback always brings empathy to her performances, some of these characters are more substantial than others.
In 2015, she appeared in an episode of Blue Bloods as Charelle, a teenager who is part of Rescue Ride. It's a mentorship program in which NYPD officers take teens who keep getting into trouble along on the job. Danny Reagan (Donnie Wahlberg), one of Charelle's assigned officers, is skeptical of the benefits of this program. 
Charelle is the stereotype of a disobedient teen, smart-mouthed and sarcastic, and not ready to listen to authority. She and Danny — who also fits those descriptors — clash throughout the day. Since this is Blue Bloods, not listening to cops gets her in even more trouble, until she and Danny have a heart to heart about his own wayward youth.
A couple of months later, Fishback played another teen in trouble, this time a young woman in the midst of an unplanned pregnancy, in celebrity doctor dramedy Royal Pains. Her character, Elan, is the soon-to-be birth mother of Paige (Brooke D'Orsay) and Evan's (Paulo Costanzo) adoptive baby — except that Elan changes her mind after going into labor two months early, and decides to keep the baby. Fishback only has a few scenes, but she brings nuance to a one-note role —  and it brought future opportunities.
Dominique Fishback worked on this must-see miniseries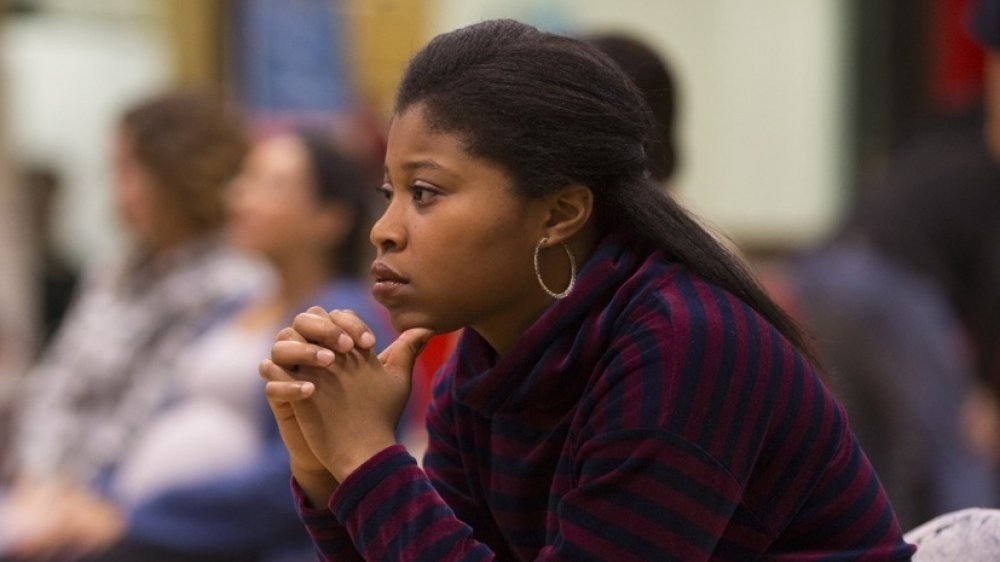 Dominique Fishback's next TV credit found her playing yet another troubled teen, and another one who gets pregnant accidentally. But this time, Fishback had more opportunity to flex her acting skills.
Fishback played Billie in the HBO miniseries Show Me a Hero, which aired for six episodes in 2015. Based on a bestselling book by New York Times writer Lisa Belkin, the screenplay was written by Belkin with The Wire's creator David Simon and staff writer William F. Zorzi. 
The show tells the true story of a battle over low-income housing in '80s Yonkers, New York, which raised racial tensions to a boiling point. Oscar Isaac plays the young mayor at the center of the drama, which might be why Poe Dameron from The Last Jedi looks so familiar. The rest of the cast includes Winona Ryder, Alfred Molina, Catherine Keener and The Wire actor Clarke Peters.
A resident of a housing project, Fishback's Billie deals with a lot. She has a tempestuous relationship with her boyfriend, gets pregnant, and is then evicted. It's more teen trouble for Fishback, but at least it came with more nuance and opportunity for character development this time. In an interview with The Source, she described Billie as "Eighteen, full of life, full of energy, full of anger. And by the end... life has kind of beat her down."
Dominique Fishback had a main role in The Deuce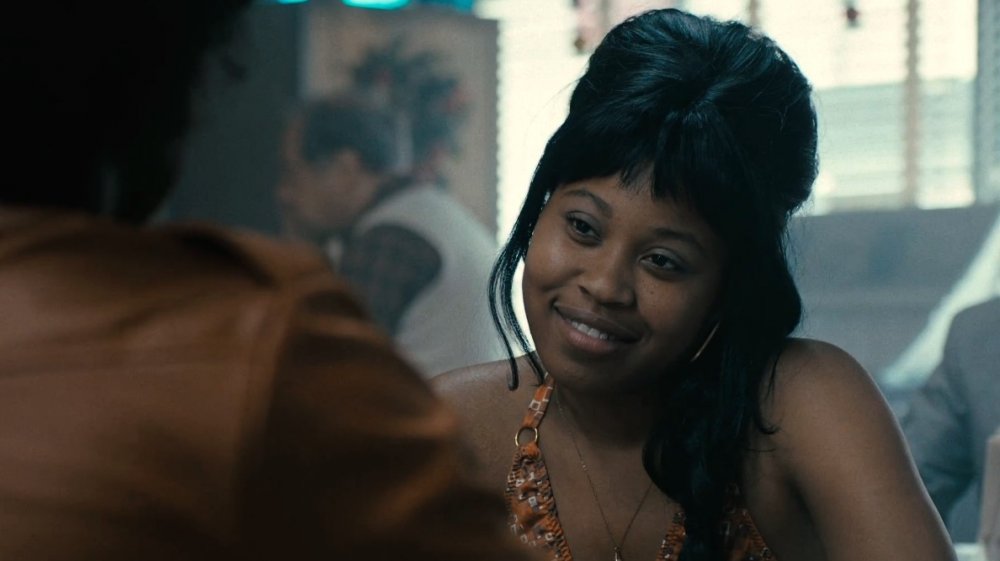 If you missed Show Me a Hero, you may have caught David Simon and Dominique Fishback's next collaboration, The Deuce. Fishback's work in the miniseries came in service of the role of sweet and quietly courageous bookworm and prostitute Darlene in the HBO drama, which aired for three seasons between 2017 and 2019.
Fishback told HBO in an interview that she was doing press work for Show Me a Hero when Simon told her that he was working on a new show. He'd reunited with The Wire producer George Pelecanos and executive producer Nina Kostroff-Noble, and had a character in mind for The Deuce that he thought Fishback would be great for. "Right off the bat I knew it was something I would be honored to be a part of," Fishback recalled.
Having worked with Simon before, she trusted him and the rest of the team to show the human side of the prostitution and porn industries. "I've never wanted to play stereotypical characters for the sake of entertaining people who know nothing about the situation these characters are in," Fishback told HBO. And she took her research seriously: she created vision boards, read books and documentaries by and about real prostitutes and pimps, and even wrote a journal in character as Darlene. As she put it, "I chose to focus on her human emotions and who she is on the inside."
Jay-Z fans might recognize Dominique Fishback from this iconic video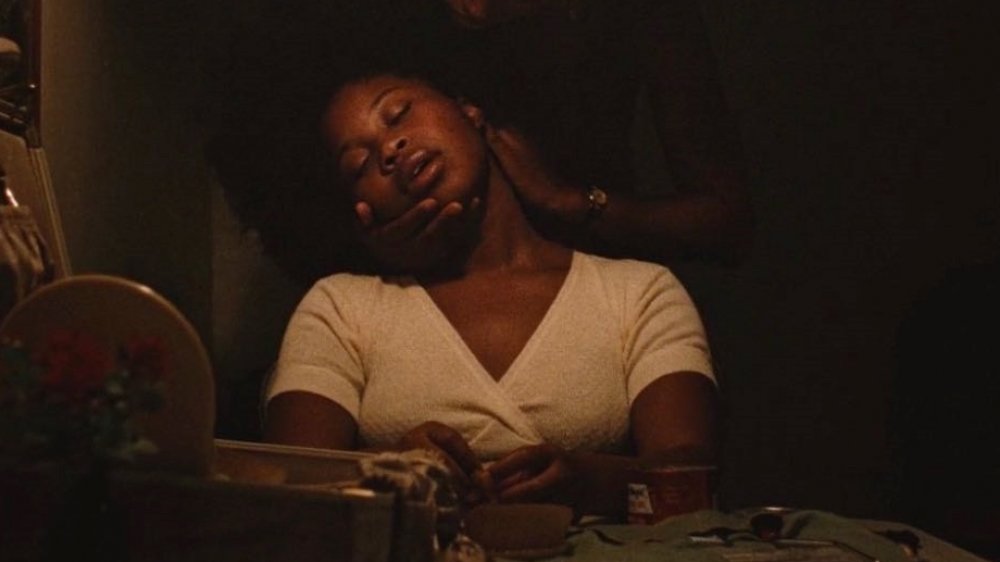 Playing a real person brings its own set of challenges. Playing the mother of a world-famous rapper whose video you're starring in brings even more pressure — especially when his mother is starring in the project too.
But Dominique Fishback rose to the occasion when she played a younger version of Jay-Z's mother Gloria Carter in the video for his 2017 single "Smile." The song tells the story of Carter's life raising four kids as a single mom, while also hiding the fact that she was gay. The eight-minute video was shot on location in the Marcy Houses, the housing projects in Bed-Stuy, New York, that formed the backdrop of some of the struggles that made Jay-Z. Fishback plays Carter in the '70s, and the video ends with Carter herself reading a poem she wrote about her life.
In an interview with Playboy, director Miles Jay said that he was so convinced by Fishback's talent that he postponed the shoot to fit her schedule. It paid off: he added that at one point, her performance made not just him but his production designer and his director of photography cry. "She's fearless in terms of how she expresses herself... she has something powerful about her," Jay said. Others took note of her screen presence too: Fishback claimed the 2018 Webby Award for Best Individual Performance in Film & Video, and the video won the Cannes Lions Grand Prix that year.
Dominique Fishback lead the critically beloved movie Night Comes On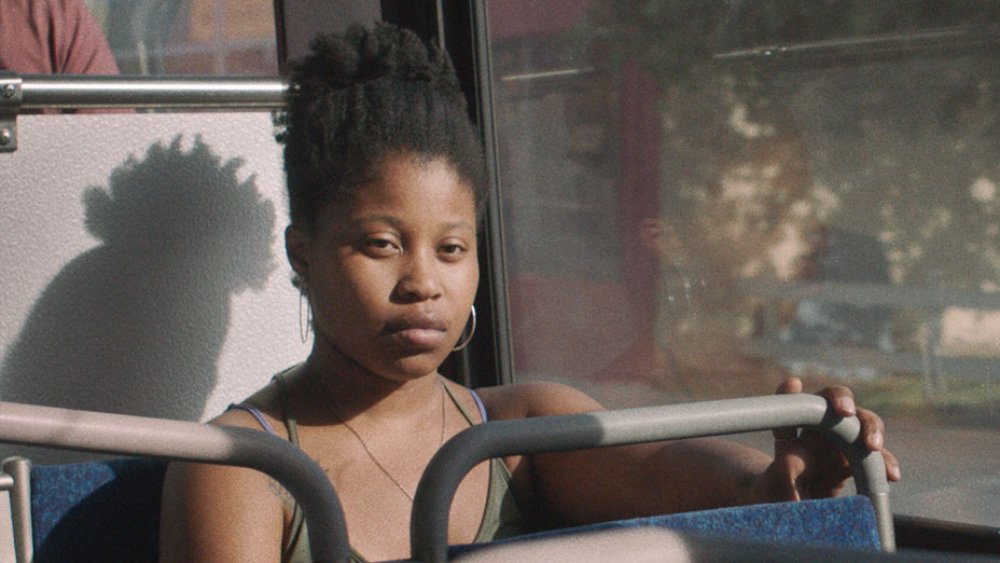 Dominique Fishback played the lead in an indie darling that won over Sundance. In 2018's Night Comes On, she plays Angel, another troubled teenager — but one with more layers than some of Fishback's previous smaller roles.
Angel's beloved mother was murdered by her not-so-beloved father, and after getting out of juvenile detention a couple of days before turning 18, she sets out to kill him in revenge. But there is a complication, which ultimately turns out to be a positive. Her little sister Abby (Tatum Marilyn Hall) has been mostly alone in foster care since their mother's death. She's thrilled when Angel returns to find out where their father is, and the two tentatively rekindle their relationship, potentially thwarting Angel's revenge mission.
The movie was directed by Jordana Spiro, whom you may know as Rachel in Ozark or Detective Jenna Villette in The Good Wife. She met Fishback when they both appeared in an episode of Royal Pains, and went to see her one-woman show. Night Comes On won her the 2018 NEXT Innovator Award at that year's Sundance Film Festival, and praise for Fishback's strong performance.
Originally, Fishback wasn't sure about taking on yet another character whose life is a series of traumatic events she's just trying to survive. But after reading the script, "I just really felt like I had the experiences and authenticity to really go after this character," she told IRIS.
Random Acts of Flyness broke the mold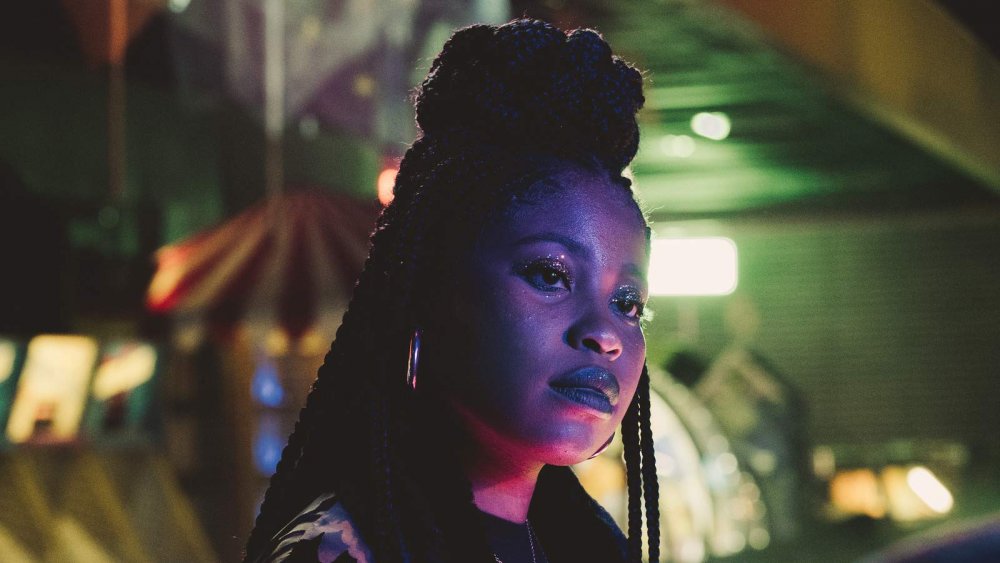 Although Dominique Fishback has proven time and again that she can bring heart and sincerity to teenage characters who are living through tough times, she has occasionally had the opportunity to showcase a more diverse set of skills.
Fishback appeared in HBO's Random Acts of Flyness in 2018, a half-hour kind-of sketch show that's part drama, thriller, animation and comedy, and entirely committed to showcasing Black storytelling. It was masterminded by Terence Nance, a Brooklyn-based creator who was briefly set to direct the long-promised Space Jam sequel.
Fishback was happy to have the chance to appear in a project that stands out from her other work. "I am very excited about my role," She told IRIS. "It's just a really fun way to show different sides of myself as an actress." She added that people were starting to recognize her from Random Acts, as well from The Deuce.
She might get the chance to return to the series. Random Acts was renewed for a second season after just three episodes aired in August 2018, but after the whirlwind of the first season's success, Nance is still working on the follow-up. Meanwhile, in June 2020, following the protests in the wake of the killing of George Floyd, HBO complied with Nance's request to put the whole of the first season on YouTube for free for five days. "I hope the show can help us heal in real time," Nance wrote in a statement.
The Hate U Give was important to Dominique Fishback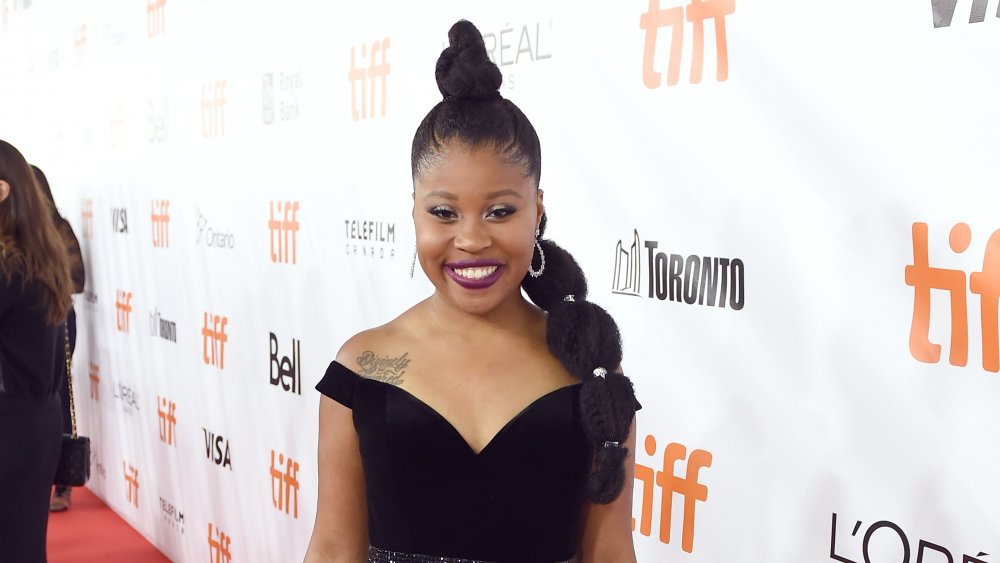 Kevin Winter/Getty Images
Before Project Power, Dominique Fishback's most high-profile movie was The Hate U Give, an adaptation of Angie Thomas's bestselling YA novel of the same name. The plot centers on Starr (Amandla Stenberg), a Black teenage girl who becomes an activist after her friend Khalil (Algee Smith) — also a Black teenager — is shot by police during a traffic stop. Fishback plays Starr's friend Kenya, with whom she also shares a half brother. Unlike Starr, Kenya also has to navigate her hot-tempered father, King (Anthony Mackie).
Fishback wanted to be part of the movie because of the story at the center. "I'm from East New York, Brooklyn, and I know a lot of the young men who I love and care about are often racially profiled by the cops and feel like they can't catch a break," Fishback told an interviewer. "So it was really important to do this story."
The Hate U Give isn't subtle like Night Comes On, but that's the point. It's about telling the raw, human stories behind the hundreds of headlines about police shootings of young Black men and women. "I really believe that art changes people's minds and hearts the most and gives power to our feelings," Fishback told IRIS. "Being able to see it, not just hear a name or see a mugshot, is so powerful."
Dominique Fishback played 22 characters in her one-woman show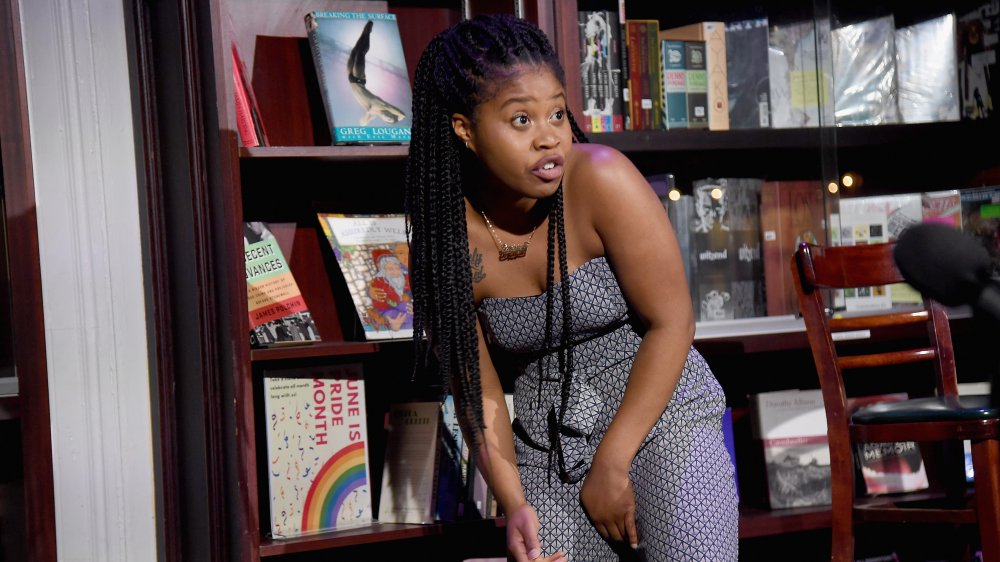 Gary Gershoff/Getty Images
Dominique Fishback was calling out racism in her own projects before her role in The Hate U Give. She wrote and starred in Subverted, a one-woman play in which she played 22 characters.
The plot centers around 18-year-old Eden but also features her friends and family and various historical figures. Fishback told IRIS that she wrote it in response to a comment from a white college classmate, who said that Black teenagers wouldn't be stopped by the police so often if they "dressed normally." "I was infuriated," she recalled. "Choking on my words, debating with him, and I realized that no one around me could understand my point of view."
In an interview with W Magazine, she explained that she saw her first one-woman show when she joined a local theater group at 15, and was inspired to do the same thing. After that confrontation in class, she decided that her show would "Educate people, and have them watch and relate to a character who they normally wouldn't... Subverted deals with police brutality and incarceration, education, food: all of these tough conversations." She's gathered glowing reviews from feminist activist Gloria Steinem, The Wire and The Deuce creator (and Fishback's regular collaborator) David Simon, and Hocus Pocus star Kathy Najimy.
Look out for Dominique Fishback in this biopic of Fred Hampton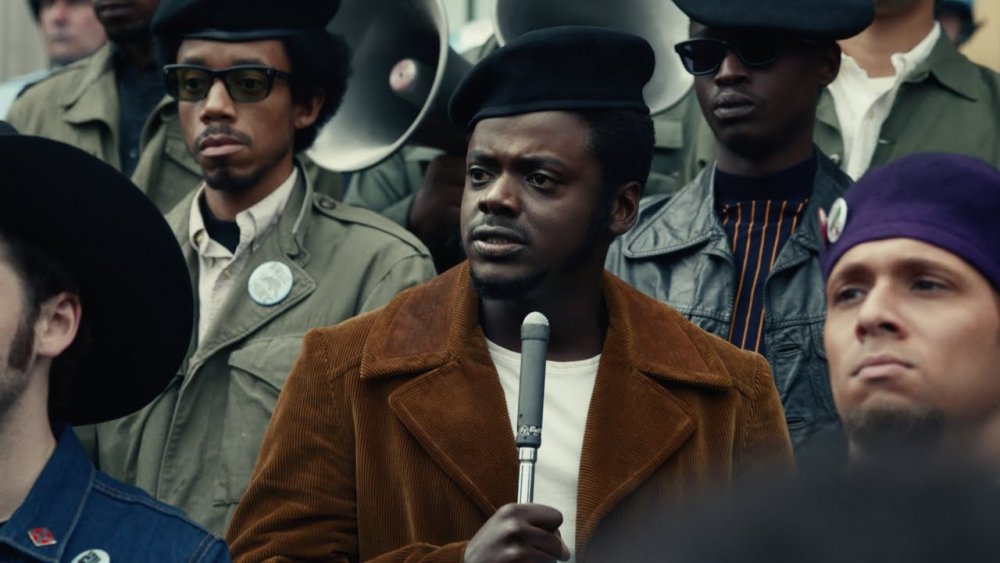 Dominique Fishback's next big project is Judas and the Black Messiah, a biopic of Fred Hampton. Hampton was one of the most famous figures in the history of the Black Panther Party and in the fight against racism in America. The truth about Fred Hampton's tragic death is that it was an assassination organized by the FBI and carried out by officers with the Chicago police and the Cook County district attorney's office.
In 1969, the FBI was concerned that 21-year-old Hampton, who was Chairman of the Party and the Chicago chapter leader, was gaining too much influence in the Black community, thanks to initiatives like a free school breakfast program. The Bureau extorted a man named William O'Neal (played by LaKeith Stanfield in the movie) to gain Hampton's trust and feed them information, including a map of Hampton's Chicago apartment. Early on December 4, 1969, the officers raided the apartment and fired 82 to 99 shots, killing Hampton and fellow Black Panther Mark Clark, then arrested everyone else. 
Fishback plays Hampton's fiancee Deborah Johnson, now Akua Njeri, who was eight months pregnant and in the apartment when the police murdered him. On December 4, 2019, the anniversary of Hampton's murder, Fishback posted a tribute on Instagram, summarizing the story of his assassination and explaining why he was an important figure. The biopic is due to be released in 2021.