Shows Like Cruel Summer That Drama Thriller Fans Need To Watch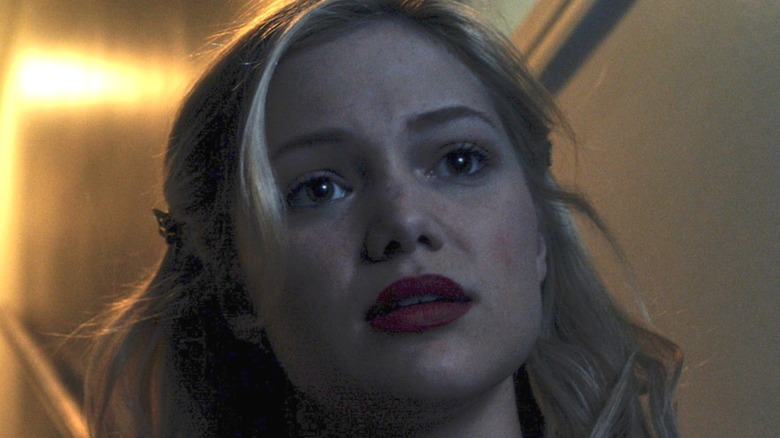 Freeform
Ingeniously unfolding over three separate timelines, "Cruel Summer" has enraptured fans with its creativity, outstanding cast, and a genuine sense of mystery. The Freeform series is set in a small town and focuses on two teenage girls who live very different lives in the same town. There are three timelines across three summers: 1993, 1994, and 1995. Though the three timelines are distinct, each episode flows through the three years and frequently changes at the drop of a hat, though thankfully, each has a distinct color scheme to help viewers keep track.
"Cruel Summer" focuses on Kate Wallis (Olivia Holt), the most popular girl in school who suddenly goes missing, and Jeanette Turner (Chiara Aurelia), a nerdy girl who blossoms in Kate's absence. Jeanette eventually becomes the talk of the town when she is suspected of finding Kate kidnapped but refusing to help her. The show charts Jeanette's rise and fall from grace, as well as Kate's experiences before, during, and after her kidnapping. "Cruel Summer" doesn't shy away from tough issues and can make for challenging viewing as a result. However, fans will be rewarded with great performances, creative storytelling, and jaw-dropping revelations.
However, if you've already made your way through "Cruel Summer" and are hungry for more, don't worry, because there are plenty of other series out there that explore similar themes. Here are the drama thriller shows that fans of "Cruel Summer" need to see.
Clickbait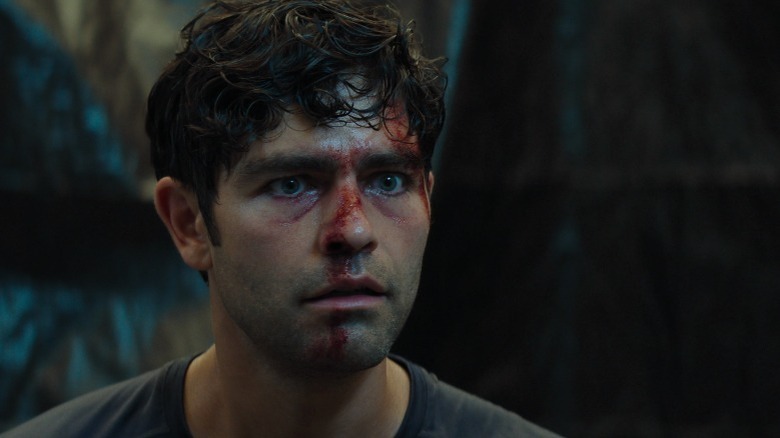 Netflix
An abduction thriller that had audiences binging on Netflix, "Clickbait" offers a fascinating look at crime under the lens of social media, as well as an intriguing exploration of family dynamics. The show revolves around adored family man Nick (Adrian Grenier), who is kidnapped. The only evidence indicating that he remains alive is a video posted online with Nick holding a sign that reads "I ABUSE WOMEN," followed by another sign that reads "AT 5 MILLION VIEWS, I DIE." This spurs Nick's family into action, including sister Pia (Zoe Kazan) and wife Sophie (Betty Gabriel).
The unique structure and rapid pacing of "Clickbait" make it hugely addicting. Each episode focuses on a different character in Nick's life. Some of these are expected, such as one episode about his sister and another focused on his wife, but others offer surprising perspectives that keep the suspense ratcheted to a 10.
Through the first season of "Clickbait" left fans with plenty of questions, its eight episodes kept fans glued to their screens. While fans don't know if there will be a Season 2 of "Clickbait," creators Tony Ayres and Christian White clearly know how to create thrilling television. There were some major twists and turns at the end of "Clickbait" that had fans shocked, and there's no doubt that a second season would leave fans enraptured once again.
Panic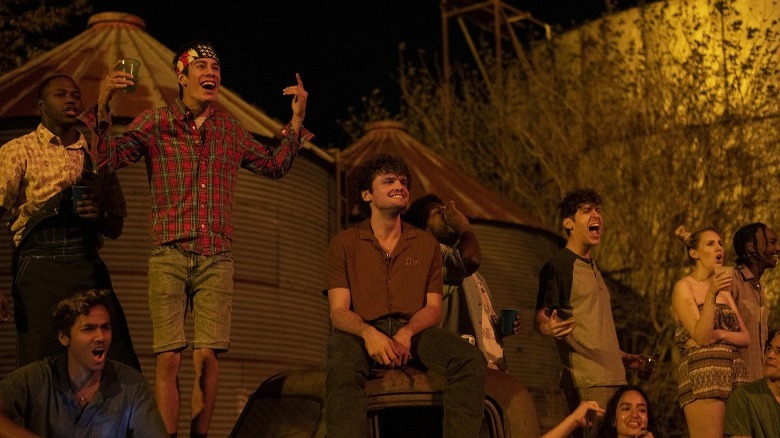 Amazon
Being stuck in a small town can be stifling, but what if you could never leave it? That would be utterly unbearable. This appears to be a problem for everyone growing up in the small Texas town of Carp, where escape feels impossible. However, each summer in the sweltering Texas town, graduating seniors can compete in a series of dramatic and complex challenges, all of which are part of an event called Panic, with the winner receiving a $50,000 prize. While the cash is exciting, for some the fact that the money may be their only chance to change their circumstances makes the contest worth dying for.
Based on a series of novels by Lauren Oliver, "Panic" stars Olivia Welch as Heather Nill, a recent high school graduate. She participates in Panic because her dreams go up in smoke after her mother spends the tuition money Heather had saved. The show also features Jordan Elsass as Tyler Young, who rose to prominence in "Little Fires Everywhere," in addition to Todd Williams as Captain John Williams, a regular on dramas like "In Plain Sight." Like "Cruel Summer," "Panic" is a thrilling look at teenagers pushed to their breaking point.
Pretty Little Liars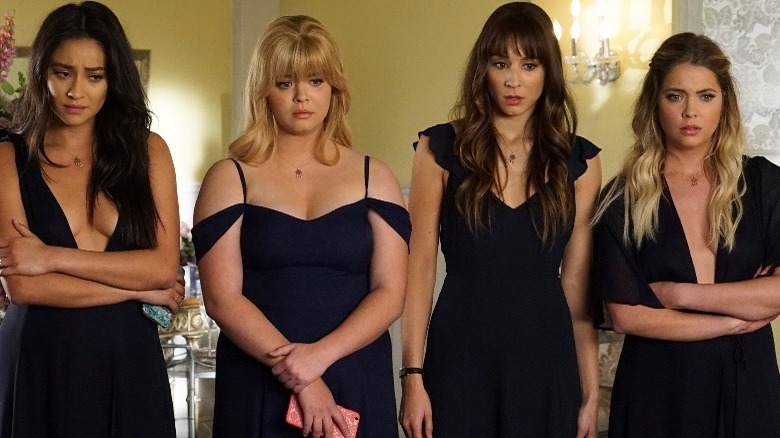 Freeform
Who is A? That's the question that haunted fans of "Pretty Little Liars" for seven seasons and over 150 episodes. The show follows five high school girls in Rosewood, Pennsylvania. Spencer Hastings (Troian Bellisario), Hanna Marin (Ashley Benson), Alison DiLaurentis (Sasha Pieterse), Aria Montgomery (Lucy Hale), and Emily Fields (Shay Mitchell) are a clique who fall apart after Alison goes missing. The following year, the remaining girls reunite after receiving threatening messages from "A," who plans to torment them for the lies they have told. The group thinks it could be Alison, but when her body is discovered, they realize they need to band together to find their shared enemy.
After seven seasons, the ending of "Pretty Little Liars" sent shockwaves through the fandom. However, even now, fans have a lot of love for the series and many still talk about the best relationships on the show, as well as the worst. Without legendary teen dramas like "Pretty Little Liars," it's not a stretch to say that a show like "Cruel Summer" might not exist, making it an excellent choice for viewers who want to see what helped pave a path for the fan-favorite drama thriller.
Sharp Objects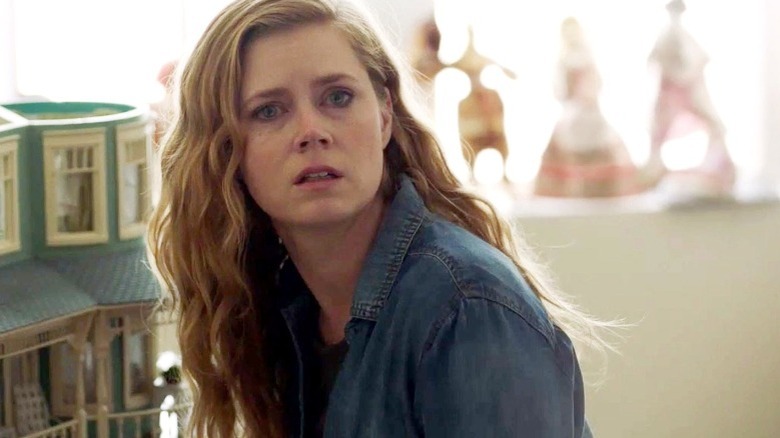 HBO
Few writers have as impressive a track record as Gillian Flynn, as all three of her novels have been adapted into film or television series. After the success of 2014's "Gone Girl" –- which included an Oscar nomination for Rosamund Pike –- it was only a matter of time before her other books would get a look. In 2018, HBO released the miniseries "Sharp Objects," based on Flynn's debut novel.
The haunting series stars perennial awards season nominee Amy Adams as Camille Preaker, an investigative journalist. She returns to her hometown of Wind Gap, Missouri, to help solve a series of unsolved crimes, including several missing girls. Camille is haunted by her own personal demons, which she's forced to face when she visits her childhood home, where socialite mother Adora (Patricia Clarkson) and younger sister Amma (Eliza Scanlen) await her. The stellar cast is rounded out by Chris Messina, Sophia Lillis, and Elizabeth Perkins.
Fans of "Cruel Summer" will find plenty to enjoy with "Sharp Objects," as the show is unafraid to face the realities of trauma. Featuring assured direction from Jean-Marc Vallée and the gothic cinematography of Yves Bélanger, "Sharp Objects" is every bit as beautiful as it is emotionally harrowing. Anchored by a sensational performance from Adams, this is must-watch television. There's only one season, but its revelatory ending will keep you thinking about "Sharp Objects" long after the credits roll.
The Wilds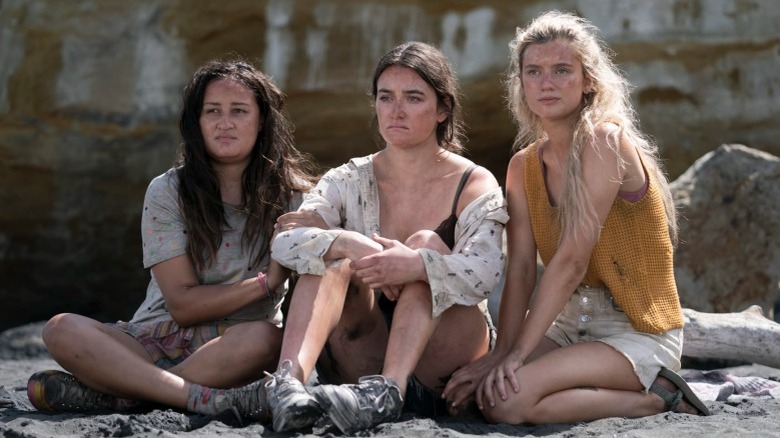 Amazon
In "The Wilds," a group of teenage girls from across the United States come together on a beautiful private jet to head to Dawn of Eve. The program promises a long weekend of female empowerment –- but what happens is far more frightening. After a nightmare-inducing plane malfunction, the girls are stranded on a remote island and, with no contact with the outside world, have no choice but to try and survive.
What makes "The Wilds" so interesting is that whether or not these girls survive isn't the actual mystery. It's established from the first episode that at least one of the girls survives, as the show cleverly uses two timelines -– one with the girls on the island and another in the aftermath framed as an FBI investigation. With their fates settled, the real suspense comes from learning who these girls are, why they've chosen to attend the retreat, and how they change during their time on the island.
Wisely avoiding any big-name performers, "The Wilds" cast is made of up-and-coming actresses, and each embodies their character brilliantly. "The Wilds" isn't just a thrilling and suspenseful series, it's also a thoughtful character study and the show demonstrates a deep understanding of what it means to grow up in the 21st century. With the first season finale leaving fans with plenty to look forward to, there's no better time than now to start watching.
Elite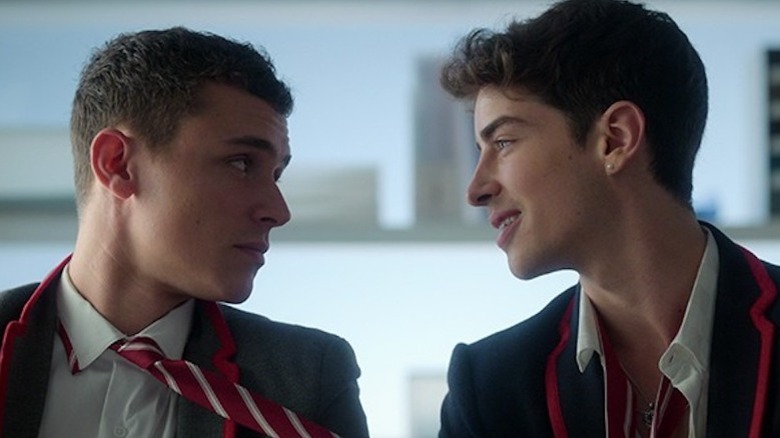 Netflix
A scintillating Spanish-language teen drama thriller, "Elite" provides a clever social commentary on high school alongside an enticing murder mystery. The show starts with three working-class students –- Samuel (Itzan Escamilla), Nadia (Mina El Hammani), and Christian (Miguel Herrán) –- who receive scholarships to the prestigious Las Encinas, Spain's most exclusive private school. When they arrive, they're quickly embroiled in drama as they navigate the difficulties of trying to fit in with the country's wealthiest and most privileged young people. But that's not all they have to deal with –- there's also a murder investigation where seemingly everyone in the school is a suspect.
Later seasons bring in new twists, mysteries, and students to keep things spicy. What makes "Elite" stand out is that while it is unafraid to rely on teen show cliches, the series upends audience expectations to create new and exciting situations. The show has a tremendous sense of character in that fans know what every student wants, what they're looking to achieve, and what they're willing to do to get it. For those who appreciate the impressive character development in "Cruel Summer," "Elite" is a perfect choice for your next watch.
The Society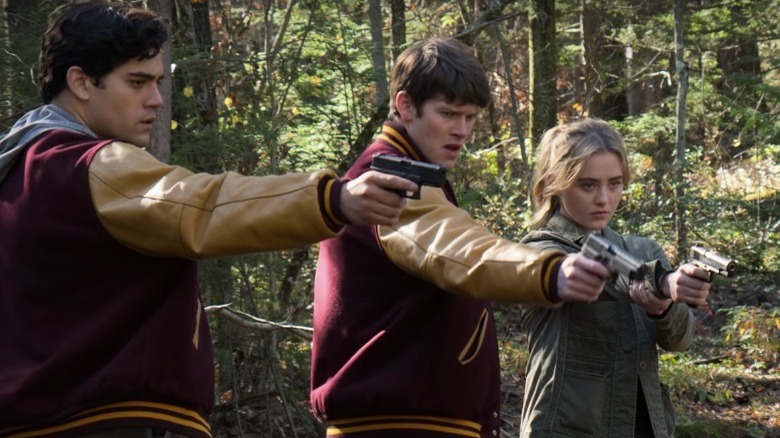 Netflix
It's easy for kids to stop and think about what life would be like if their parents would get off their backs. Far fewer chores and more fun, right? Well, for the characters in "The Society," this fantasy becomes a reality, though it's not quite as delightful a scenario as they might imagine. When high school students in West Ham, Connecticut, return early from a field trip, they find that everyone else in town has vanished. Not only that, but an immense forest has surrounded West Ham. For these teenagers the outside world no longer exists, forcing them to establish their own rules and societal structures to survive.
"The Society" is influenced by the William Golding novel "Lord of the Flies," in which a group of boys stranded on an island must fend for themselves. However, in "The Society," these kids have learned a thing or two, making the students' construction of their community feel genuinely thrilling.
"The Society" stars Kathryn Newton, who appeared in "Freaky" alongside Vince Vaughn. Like "Cruel Summer," many of the characters in "The Society" challenge the ideas of likeability and make some frustrating choices –- which are entirely believable given the circumstances. Though the COVID-19 pandemic resulted in the show being canceled after its first season, via /Film, there's still plenty that fans of drama thrillers will enjoy in "The Society."
Clique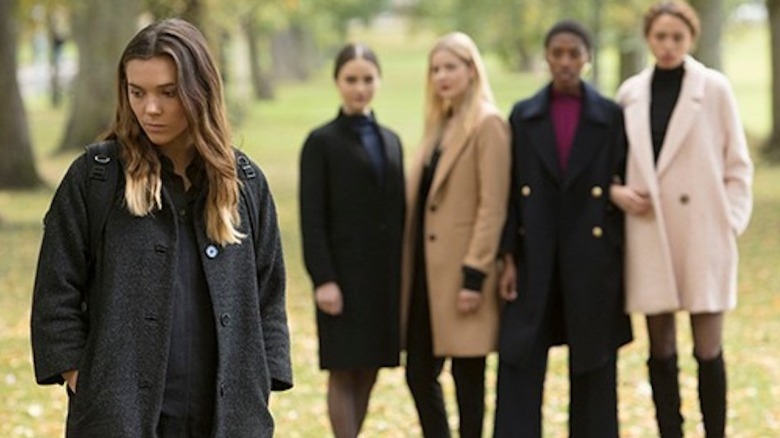 BBC
The British series "Clique" is a thrilling look at young adults at university in Edinburgh. Childhood besties Holly (Synnøve Karlsen) and Georgia (Aisling Franciosi) are starting their first semester together and go out to celebrate. Still hazy from the previous night, the girls find their way into a macroeconomics lesson taught by feminist lecturer Jude (Louise Brealey). Jude's empowered outlook makes her an exceptionally popular figure at the university, especially as she appears to be an icon for the school's most popular clique of girls.
When Georgia seamlessly joins the group without Holly, she begins to act erratically, which leads Holly to embark on a mission to try and save her friend. While the tension remains high at all times, "Clique" also features plenty of alcohol, drug use, and sex, unafraid to show the edgier aspects of university life. The show is interesting in the way it balances its darkness and corruption with its glossy look. "Clique" appears deliberately clean and polished, which provides a stark contrast to all the nastiness beneath.
Gossip Girl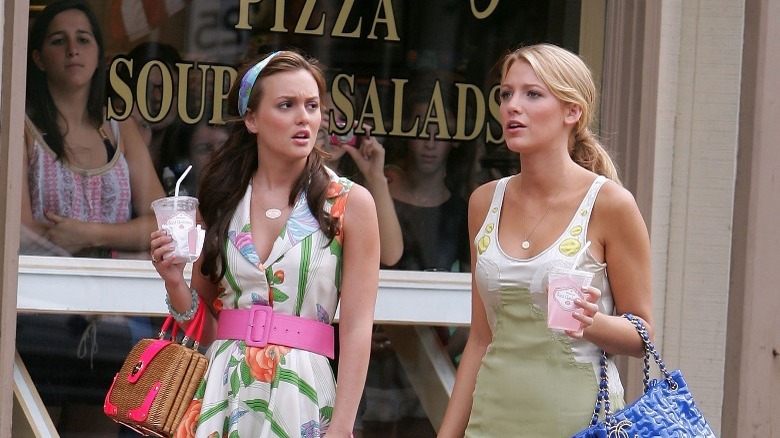 The CW
Based on the novel series by Cecily von Ziegesar, "Gossip Girl" had an unmistakable impact on pop culture, as noted by E! Online. From the very beginning, "Gossip Girl" showed teenagers at their most excessive –- obscenely wealthy, flaunting the law, and hosting extravagant events most of us could only dream of. Over six seasons, the show dove deep into the lives of the wealthiest private school teenagers on the Upper East Side of New York City.
Blake Lively stars as Serena van der Woodsen, who returns to high school on the Upper East Side after being absent for mysterious reasons. Blair Waldorf (Leighton Meester), Serena's best friend, discovers that her boyfriend, Nate Archibald (Chace Crawford), slept with Serena the night she disappeared. This leads Blair to sleep with Chuck Bass (Ed Westwick), Nate's best friend — high drama indeed.
While "Gossip Girl" isn't really a thriller, it's very much a high-stakes tale full of twists and turns. The drama is of the highest importance as well –- these are teenagers, after all! Running through the entire series is the mystery of who the titular gossip girl is, and, though the reveal at the end wasn't exactly a success, the show has remained relevant even after its sixth and final season aired. The show's impact has even resulted in a reboot series on HBO Max, ensuring that the popularity of one of the 2000's biggest shows will live on for an entirely new audience.
Riverdale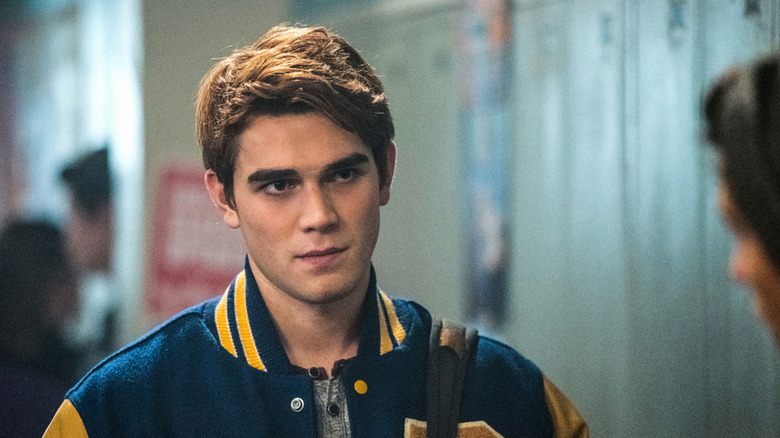 The CW
The "Archie" comic books are known for many things, but bursting with sexuality isn't one of them. The contemporary television reboot, "Riverdale," decided to fix that. The CW series is notably edgier and darker than the comics it's based upon, although occasionally the show can even go too far for its actors. For fans of "Cruel Summer," the potent teen angst and murder mysteries in "Riverdale" are a perfect fit.
KJ Apa is Archie Andrews and is joined by his friends Betty Cooper (Lili Reinhart), Veronica Lodge (Camila Mendes), and Jughead Jones (Cole Sprouse), who also functions as the narrator. The show has cultivated a new generation of superstars, and the cast also includes Marisol Nichols, Madelaine Petsch (as the scene-stealing Cheryl Blossom), and Mark Consuelos. The romantic relationships in "Riverdale" are voraciously devoured by fans while the continually changing dynamics keep fans hooked, though there's one relationship that fans love more than any other.
"Riverdale" is notorious for gleefully going off the rails. The show tackles a multitude of genres and isn't afraid to get creative with its timelines. Sometimes the series is having such much fun in its own universe that the series regularly requires a certain suspension of reality, as fans have identified several things in "Riverdale" that make no sense, but it's worth it for a wild, thrilling, and consistently unpredictable ride.
Teen Wolf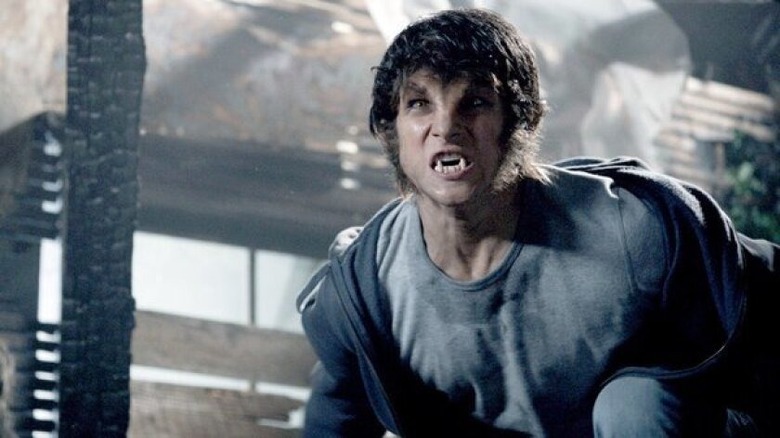 MTV
High school is already hard enough -– but attending high school as a teenage werewolf adds a whole new degree of challenges. This is the unfortunate case for Scott McCall (Tyler Posey), who is bitten by a werewolf right before his sophomore year. It's not all bad, though –- being a werewolf has given the once ordinary and unpopular Scott an impressive suite of physical abilities far beyond what regular humans are capable of. While Scott tries to hide his powers, he soon discovers that his hometown of Beacon Hills is something of a hotbed for supernatural happenings. Though MTV's "Teen Wolf" is loosely based on the 1985 film starring Michael J. Fox, the contemporary version is entirely its own.
As one of MTV's most popular shows, the cast of "Teen Wolf" found themselves rapidly rising to fame. Appearing on the show are Dylan O'Brien ("The Maze Runner"), Crystal Reed ("Gotham"), Colton Haynes ("Arrow"), and Superman mainstay Tyler Hoechlin. Though the series remained popular throughout its six-season run, the in-demand cast made it too difficult to keep them all on board, and "Teen Wolf" ended after Season 6. Throughout the series, "Teen Wolf" regularly delivered drama and thrills, diving into mythology, romance, and horror in equal parts, making it a great choice for fans of "Cruel Summer."
The A List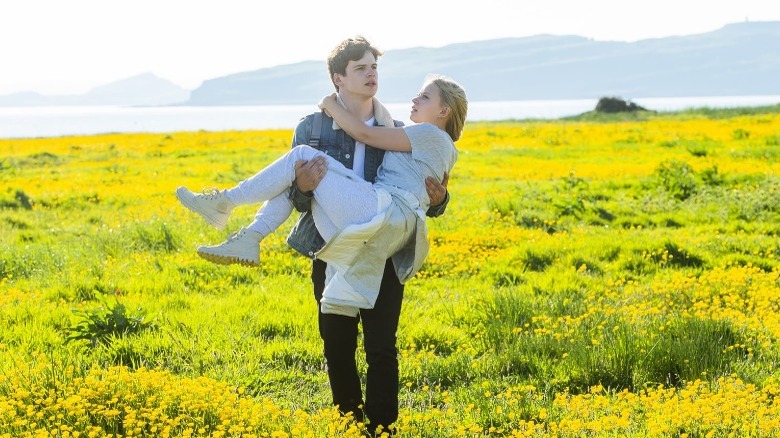 Netflix
From the minds of Dan Berlinka and Nina Metivier comes "The A List," a story of a picturesque summer camp on Peregrine Island with some insidious secrets. Though most of the teenagers arriving expect the summer of a lifetime, they're bound to get a lot more than they bargained for. Mia (Lisa Ambalavanar) arrives at Peregrine Island ready to be the queen bee while sizing up the other teens to see who is worthy of being her BFF. But the appearance of Amber (Ellie Duckles) threatens to turn an idyllic summer into one filled with nightmares.
"The A List" stands out in the crowded teen genre with its use of the supernatural and by challenging typical teen archetypes. Amber seems to have some sort of magical abilities, and trying to uncover what she's hiding is a crucial source of tension. At the same time, the concept of the mean girl, the misunderstood kid, and more are gleefully sent up by "The A List." The show is filled with a cast of exciting up-and-coming British talent, including Jacob Dudman, Max Lohan, and Rosie Dwyer, as well as some familiar faces like Chenta Pandya and Cian Barry. If you like your dramatic thrillers with a supernatural angle, don't miss "The A List."
The Act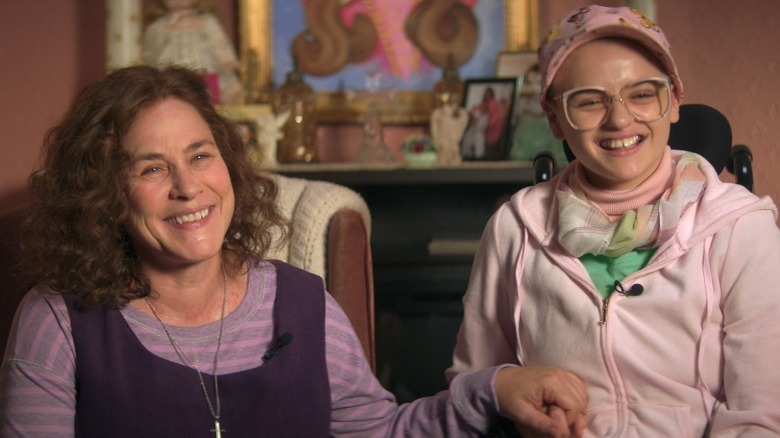 Hulu
Sometimes the greatest evils are far closer than you would want them to be. For some, the very evil they fear exists in their own home. That is certainly true of "The Act," Showtime's drama series based on a harrowing true story, per Buzzfeed.
Though best known for her roles in "The Kissing Booth" movies, Joey King provides a revelatory turn as Gypsy Rose, the daughter of Dee Dee (Patricia Arquette), who suffers from a seemingly never-ending list of ailments –- or so it seems. "The Act" unfolds over eight nerve-shredding episodes, and the series covers everything up to and after Dee Dee's death.
The show proved a success with critics and audiences, earning an 88% approval rating on Rotten Tomatoes. While the series' tight direction gives a perfect sense of tension and discomfort, it's the performances from King and Arquette that linger long after the show ends. Arquette even won an Emmy and Golden Globe for her unforgettable performance. "The Act" has everything that makes "Cruel Summer" unique, including an excellent cast, nerve-shredding tension, and a stunning conclusion.