Why Elle Evans From The Kissing Booth 2 Looks So Familiar
This content was paid for by Netflix and created by Looper.
If you're a fan of the teen rom-com The Kissing Booth, you've probably fallen in love with lead actress Joey King, who plays down-to-earth Elle Evans in the wildly popular Netflix original film. It was so popular, in fact, that it was one of the most-watched movies on the streaming service when it was released in 2018.
King carries The Kissing Booth, which is based on the bestselling young adult novel of the same name by Beth Reekles and co-stars Jacob Elordi (HBO's Euphoria), Joel Courtney (Super 8), and '80s icon Molly Ringwald (The Breakfast Club, Pretty in Pink). In it, high school junior Elle is hiding a huge secret from her best friend Lee (Courtney) — she has a crush on his bad-boy older brother, Noah (Elordi). When Elle gets involved in running a kissing booth for a school fundraiser, things go haywire when Noah pays up for her to pucker up.
In the 2020 sequel The Kissing Booth 2, which premieres July 24 on Netflix, Elle returns a little older and wiser — but no less confused. This time around she and Noah are involved in a long-distance relationship after Noah moves across the country for college. When they both meet new potential crushes, things get complicated and the situation leaves Elle with a decision to make — should she go to college near home with her best friend Lee, or should she follow her heart and move closer to Noah?
One of the things that make the Kissing Booth movies so compelling is King, whose doe-eyed innocence lends itself to an every-girl mentality. And if you think you've seen those big blue eyes and pouty lips before, you're probably right. Here's why Elle Evans from The Kissing Booth 2 looks so familiar.
Joey King's first big role was in Ramona and Beezus with Selena Gomez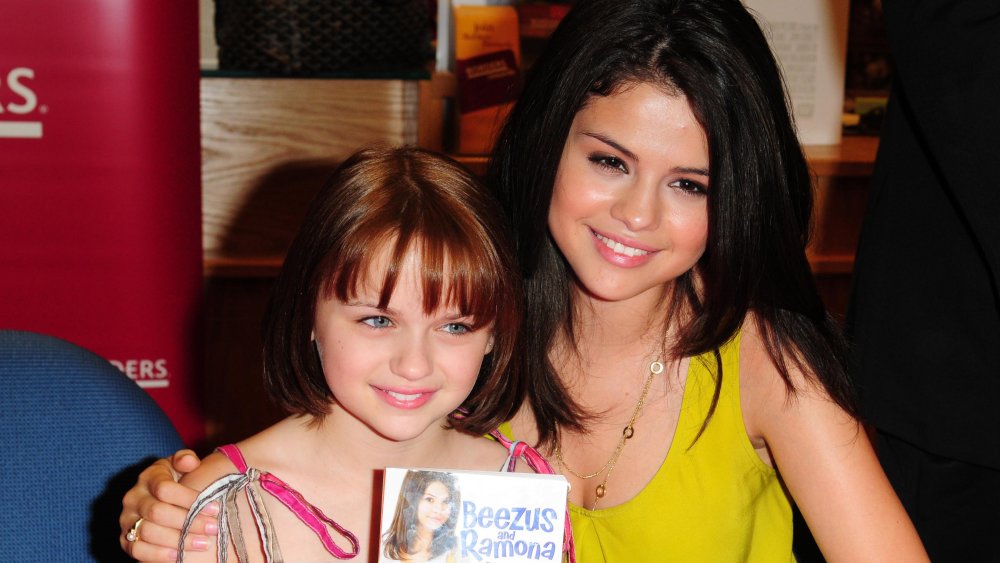 Vallery Jean/Getty Images
King started acting when she was just 4 years old. By age 10, she landed her first starring role in a major motion picture, 2010's Ramona and Beezus, which is based on Beverly Cleary's classic series of Ramona books. In the movie adaptation, King plays the adventurous-yet-accident-prone Ramona, who has a big heart and even bigger imagination, while former Disney Channel starlet Selena Gomez plays her older sister Beatrice, nicknamed Beezus.
The G-rated feel-good film follows the inexhaustible Ramona as she gets into Dennis the Menace-style mischief while trying to help save the family home after her father (John Corbett) loses his job. Her hyperactive antics usually get her in trouble at school, or wind up annoying — or, worse, embarrassing — Beezus. But at the core, Ramona means well.
In the years since Ramona and Beezus was released, King has gone from precocious child actor to rising star, but she still cherishes her time working alongside Gomez. "I've always really looked up to her," King told ET. "I'm really proud of everything she's done. She's a big inspiration to people, whether she realizes it or not."
Joey King has starred in music videos, including Taylor Swift's "Mean"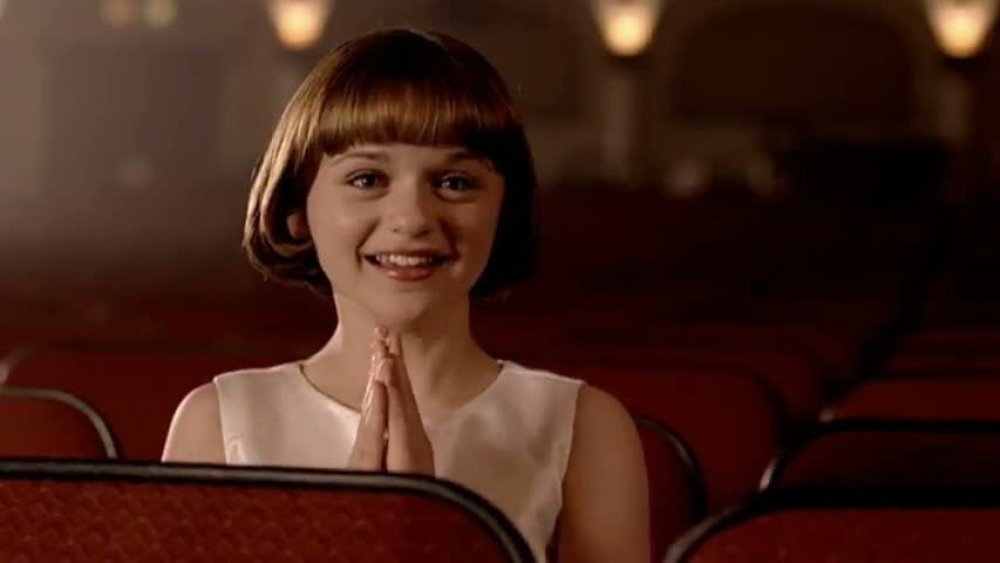 If you're a Taylor Swift fan, you may remember King from the music video for Swift's Grammy-winning single "Mean." Interspersed between Swift performing the song are snippets of stories about kids who don't fit in and are made fun of. Yes, that's King playing a tween wearing a dress that's a little different from her peers who won't let her sit at the lunch table with them.
The video shows young King's character as she eats lunch in a bathroom stall as Swift sings, "Someday I'll be living in a big old city, and all you're ever gonna be is mean." The video ends with King happily sitting in the auditorium where Swift is performing.
King has also appeared in Disney Channel star Sabrina Carpenter's Legally Blonde-inspired video for the hit dance song "Sue Me," in which King prances around helping Carpenter get over an ex, and in the dystopian rock video for "Tongue Tied" by Marshmello, Yungblud, and Blackbear.
Joey King has been in over 100 TV commercials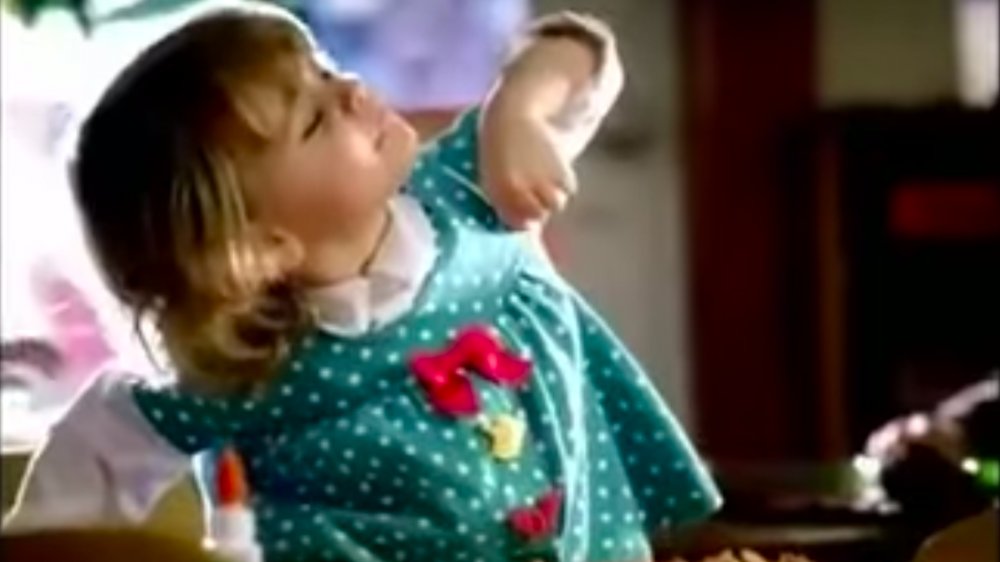 King got her start in acting by appearing in TV ads, her first being for Life cereal. As an adorably wide-eyed kindergartener, King clumsily pours herself a bowl of the tasty treat while in class as a voice asks, "How can cereal so simple taste so good?"
Since then, King has appeared in over 100 commercials. She was featured prominently in not one but two Eggo waffle commercials, first as a kid "expert" for Eggo Bake Shop Swirlz and then as a young grocery shopper looking for Bake Shop Twists at an actual bakery — because they're just that good.
One of King's more memorable ads was for Juicy Juice, in which she has a lemonade-style stand where she's selling glasses of fruit juice. But after a father and daughter each order a serving, she pulls out a giant bucket filled with "high fructose corn syrup" and pours it into the cup, followed by a large beaker filled with "red dye #40" before sweetly saying "enjoy!"
Other commercials King appeared in as a child were for Walmart and Ameriquest mortgage company. But even though her acting career has picked up, she hasn't stopped doing small-screen promotions. In 2019, a pixie-cut King starred alongside Lizzo in an Urban Decay ad.
In addition to The Kissing Booth, Joey King has been in dozens of films
While King may be best known for The Kissing Booth and Ramona and Beezus, she has had roles in more than two dozen other high-profile films. Her very first movie role was as the deceased daughter of Adam Sandler's character in 2007's Reign Over Me.
In 2012, King played the young incarnation of supervillain Talia al Ghul in The Dark Knight Rises, and the following year she portrayed the daughter of Channing Tatum's character in White House Down. By 2015, at age 16, King moved up to leading lady in the Canadian indie film Borealis, followed by the horror films Wish Upon (2017) and Slender Man (2018).
But even though King began acting at a young age, she doesn't like being called a "child actor." She told Refinery29, "I'm very proud of the accomplishments I made when I was a young child, and I'm proud of the person I became from that. But I think that when describing me, I'm an actor. That's who I am. I was an actor before; I'm an actor now. Being called an actor and being respected as an actor is something that I wish I felt more sometimes."
King has also had notable roles in Crazy, Stupid, Love, The Conjuring, Oz the Great and Powerful, and Independence Day: Resurgence, among others, and has performed voice roles in the animated films Horton Hears a Who, Ice Age: Dawn of the Dinosaurs, and The Boxcar Children.
Joey King has appeared on multiple TV shows too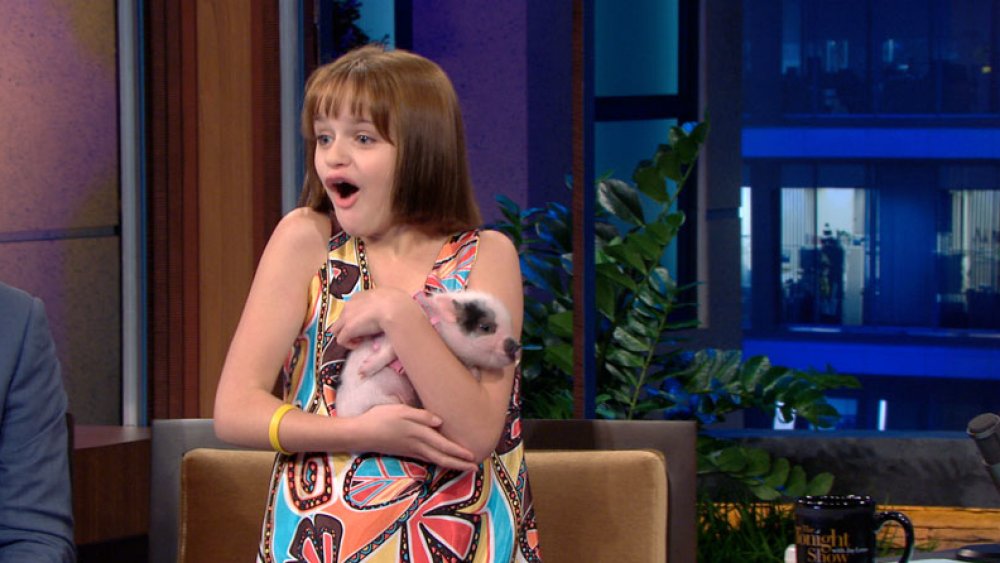 King made a splash on television when she was just 10 years old, when promoting Ramona and Beezus led her to the Tonight Show stage — where host Jay Leno gifted her with a pet pig, which she named JayJay.
King's first acting gig on TV was in 2006, starting with a two-episode stint on the Disney Channel's The Suite Life of Zack & Cody. King then made one-off appearances on such critically acclaimed shows as Entourage, CSI: Crime Scene Investigation, and Medium before landing a recurring role on the Emmy-winning Fargo series as the daughter of police officer Gus Grimly (Colin Hanks).
Wedged in between the original Kissing Booth movie and its sequel, King received rave reviews for her starring turn in the true crime series The Act, which follows an ailing teenager who discovers her mother suffers from Munchausen syndrome by proxy, which leads to her murder. King received both Emmy and Golden Globe award nominations for her performance.
Judging by the trajectory of King's career, it seems she's on her way to Hollywood A-list status — and her next stepping stone is starring in The Kissing Booth 2.