Why Tyler Young From Panic Looks So Familiar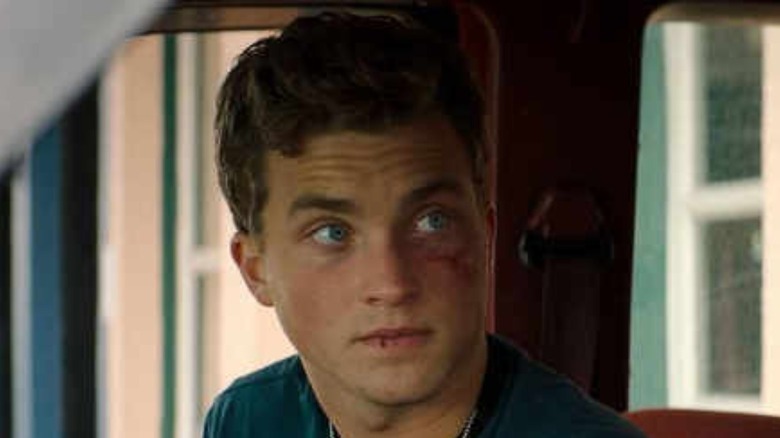 Amazon Studios
"Panic" is a new drama thriller series on Amazon Prime Video that could be the streaming service's latest young adult hit. It's based on a series of bestselling novels by Lauren Oliver, who also writes the show. It tells the story of a small Texas town where every summer, graduating high school seniors compete in a game where the prize is enough money to get out of the town and start a new life -– if they survive. The challenges in the game are extremely dangerous, like tightrope-walking between two industrial towers without a net or being buried alive. This town must be really terrible, if people are willing to die to leave it.
The main character is a girl named Heather Nill (Olivia Welch), who wants to go to college but can't afford it. As she gets deeper into the game, she starts to uncover a conspiracy about who's really behind it. She's just one of many kids involved in playing and administering, though. Other cast members include "Dear Evan Hansen" Broadway star Mike Faist as another player named Dodge Mason, "Split" actress Jessica Sula as Heather's best friend Natalie Williams, and Jordan Elsass as Tyler Young, a guy who the actor described to Schön! Magazine as "kind of an unsavory character."
Jordan Elsass is a rising young star who has been in a pair of notable projects in the past year. Here's where you may have seen him before.
Jordan Elsass broke out with Little Fires Everywhere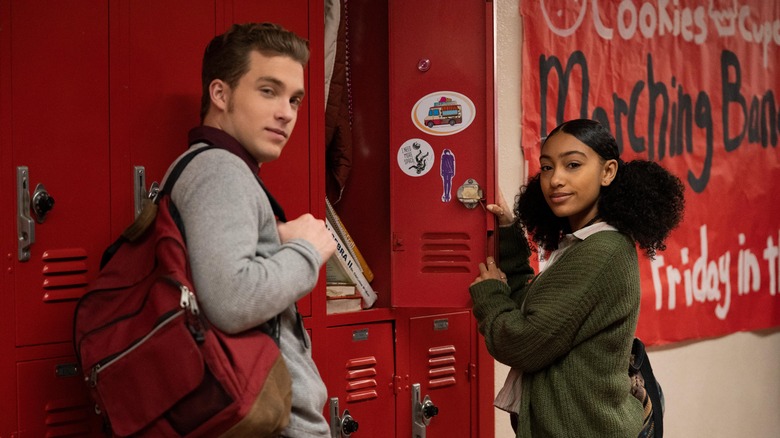 Erin Simkin/Hulu
Elsass' first prominent TV role was in Hulu's biggest show so far, "Little Fires Everywhere," which helped him ascend to the next level in his career. In the hit limited series, he played Trip Richardson, the older son of main character Elena Richardson (Reese Witherspoon) and her husband Bill (Joshua Jackson). Trip is a popular jock who develops a romantic relationship with Pearl Warren (Lexi Underwood), the daughter of mysterious new person in town Mia (Kerry Washington), who's in conflict with Trip's mother. Trip is a sensitive young man who's trapped by other people's expectations of who he should be, and Pearl is the first person he's ever known who sees him for exactly who he is.
For Elsass, landing the role of Trip meant that he may actually be able to have a career as an actor. "It was a validation of the work I had put in up to this point and showed me that I can have confidence that when the right roles come along, I have a real shot at them," he told Schön! Magazine. "My mom was not going to allow me to go to L.A. at all until I had finished at least my 2-year college degree, but L.A. came to me just a few months prior to meeting that goal when I booked this role" (though he did finish his degree online while filming the show).
He's Superman's son on Superman and Lois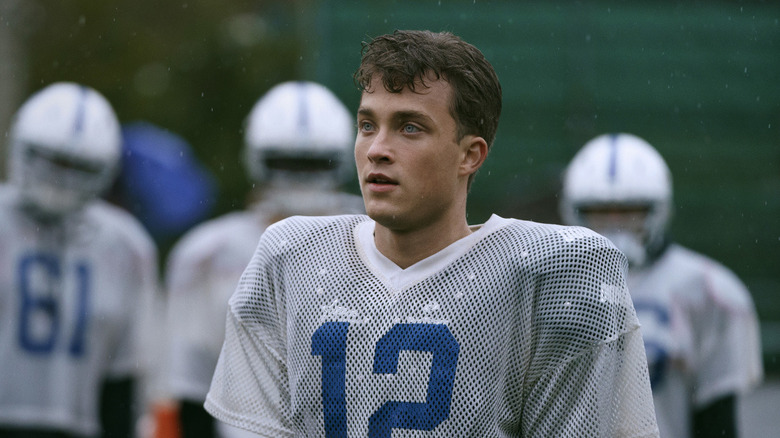 Dean Katie Yu/The CW
Hot off the success of "Little Fires Everywhere," Elsass booked another gig, this time as a series regular on a show with some very iconic characters: The CW's "Superman and Lois," which is a superhero family drama about Clark Kent (Tyler Hoechlin) and Lois Lane (Elizabeth Tulloch) raising their twin teenage sons in Smallville.
Elsass plays Jonathan Kent, Clark and Lois' son, who so far hasn't shown concrete signs of inheriting his father's powers, unlike his brother Jordan (Alex Garfin). He does possess above-average athleticism, though, and is the quarterback for the Smallville High football team. And even though he's very different from his introverted, video game-fanatic brother, he loves him very much and does whatever he can to protect him. Jonathan is a jock with a kind heart, so you could say that Elsass already has a type of role he plays (though it sounds like his part in "Panic" is a little different).
Elsass told Primetime Addiction that when he was eight years old, he watched the series "Smallville," so working on this show is a dream come true. "It's just crazy," Elsass said. "If you told me at that age, that one day I'd be playing one of Superman's sons in a very similar show on the same channel and in the same universe. It's unreal. It's truly incredible."