Twitter Reacts To The MCU Phase 4 Reveals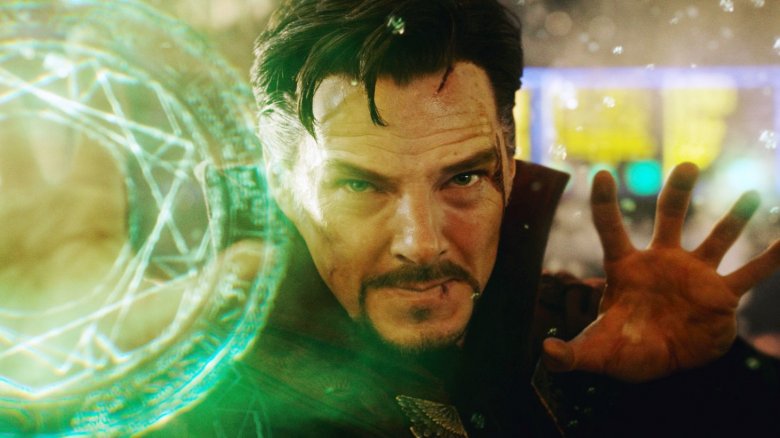 San Diego Comic-Con 2019 was the place to be for Marvel fans, who were treated to a truckload Phase 4 reveals. With the help of Marvel Cinematic Universe favorites, who took the stage to ring in the announcements, Marvel Studios president Kevin Feige confirmed five movies and five Disney+ superhero shows coming to screens in 2020 and 2021. Minds were blown, jaws were dropped, marbles were lost, and social media sites were nearly broken after Marvel announced its Phase 4 slate: Black Widow, The Falcon and the Winter Soldier, The Eternals, Shang-Chi and the Legend of the Ten Rings, WandaVision, Loki, Doctor Strange in the Multiverse of Madness, What If...?, Hawkeye, and Thor: Love and Thunder.
Here's what delighted fans on Twitter had to say about each upcoming Phase 4 project.
Directed by Cate Shortland and featuring Scarlett Johansson's iconic superhero, the Black Widow solo movie had fans pumped. 
"This Black Widow movie is going to be insane," one user wrote. 
Another added that they are thrilled Black Widow is finally getting a standalone film, which will begin the MCU's Phase 4 when it hits theaters on May 1, 2020. "We are less than a year away from a Black Widow solo film I am honestly SHOOK to my CORE. Natasha deserved her own movie from the get-go," they wrote.
A fellow Black Widow fan felt much the same, tweeting, "Crying but happy crying to hear officially #BlackWidow finally getting her own standalone movie Scarlett Johansson girl bring it in this solo movie. I could care less what others say this is truly amazing. I can't wait to see this Marvel movie in theaters May 1, 2020 #girlpower."
Many others were gushing about Black Widow's cast – which includes Stranger Things star David Harbour as Alexei Shostakov (a.k.a. Red Guardian), a Russian super-soldier comparable in power to Captain America; Oscar-nominee Rachel Weisz as the highly skilled assassin Melina who trained in the Soviet Russia Red Room; The Handmaid's Tale star O-T Fagbenle as Rick Mason, a contact from Black Widow's past with S.H.I.E.L.D.; and Midsommar standout Florence Pugh, who plays Natasha Romanoff's "sister figure" and eventual successor Yelena Belova. 
As for The Eternals, well, fans were flipping over that film's cast line-up as well.
The film, directed by Chloé Zhao and centered on the titular race of cosmic immortal beings created by the Celestials, features Angelina Jolie as Thena, Richard Madden as Ikaris, Kumail Nanjiani as Kingo, Lauren Ridloff as Makkari, Brian Tyree Henry as Phastos, Lia McHugh as Sprite, Don Lee as Gilgamesh, and Salma Hayek as Ajak, the leader of the whole Eternals crew. The star-studded roster, which features people of color and women in prominent roles, sent fans into a tailspin — as did its confirmed release date of November 6, 2020.
"Damn the cast of Eternals is straight up FIRE, its perfect. Angelina Jolie, Richard Madden and Kumail Nanjiani? The excellence. We are about to enter a whole new era of superheroes," one fan tweeted. Another added, "It is a mildly emotional moment to see this cast. The representation of people of color and women in this film in front and behind the camera is crazy. I can't wait to see this!!!"
Director Destin Daniel Cretton's Shang-Chi and the Legend of the Ten Rings garnered a similar response from fans for the same reason. 
Chinese actor Simu Liu will be the MCU's Shang-Chi, a role he actually reached out to Marvel about playing via Twitter. The film, due out in theaters on February 12, 2021, will feature a predominantly Asian cast alongside Liu's martial arts master Shang-Chi. Tony Leung is on board to portray the real Ten Rings criminal organization leader the Mandarin, while Awkwafina is attached in an undisclosed role.
One user wrote in response to the news, "MARVEL NOW HAS A FILM WITH ALL ASIAN ACTORS IN IT. COME ON, ASIAN REPRESENTATION!" Another tweeted, "i'm glad we have simu liu as shang chi. an unproblematic actor who constantly empowers asians, and has fought for representation. nothing but respect for my asian superhero." 
A Twitter user by the name of William Yu was especially moved by the Shang-Chi reveal, writing, "As a kid, I couldn't have even imagined a superhero movie with Asian leads. I can't believe it's really happening. The movement is real. It's not stopping. Representation matters today."
Marvel fans went fittingly mad over the news that Benedict Cumberbatch's Dr. Stephen Strange is finally getting a sequel with the Scott Derrick-directed Doctor Strange in the Multiverse of Madness, coming our way on May 7, 2021. Of particular note amongst Marvelites were three things: 1) the film's title that basically confirms the existence of the multiverse in the MCU; 2) the announcement that Elizabeth Olsen's Scarlet Witch will play a part in the story; and 3) Derrickson's promise that the Doctor Strange sequel would be a legitimate horror movie.
"Doctor Strange in the Multiverse of Madness. Logo: 9/10. HYPE AF. HORROR. ELIZABETH OLSEN + DOCTOR STRANGE? This looks incredible. Give me more of that crazy mystic dimension s***," user @blameitonjorge wrote. "Doctor Strange is lowkey one of my favorites and I'm super looking forward to this one."
"Pretty much everything Marvel announced today is super intriguing. They're clearly headed in a much more comic-booky direction and I'm hyped. This one excites me most of all. Doctor Strange magic & Wanda's magic and the multiverse? of MADNESS? What more could I ask for," another fan tweeted.
The fifth Phase 4 film announced at San Diego Comic-Con also has a totally campy title: Thor: Love and Thunder. But don't be fooled by the name — the fourth Thor flick, written and directed by Ragnarok helmer Taika Waititi, will pack a serious punch with the introduction of Natalie Portman's Jane Foster as the female Thor, plus the confirmation that Tessa Thompson's New Asgard ruler Valkyrie is bisexual, making her the first openly LGBTQ+ superhero in the MCU.
Understandably, fans freaked out over the reveal of Thor: Love and Thunder, scheduled to strike down in theaters on November 5, 2021.
"Natalie portman is back as FEMALE THOR. tessa thompson said valkyrie wants a girlfriend bc as the new king of asgard she needs her queen ... THOR 4 IS GONNA BE AWESOME AND LOVELY," user @wolvern tweeted, giving thanks to Waititi for making this movie happen.
Elsewhere in the Twitter-sphere, another fan said that they're most keen on Thor: Love and Thunder out of all the Phase 4 movies announced at SDCC 2019: "Thor: Love and Thunder excites me the most. Taika Waititi is director AND WRITER, allowing him to take it in his own insane way. The brilliant tone/structure created in Ragnarok now combined with the return of Natalie Portman as female Thor sounds like a match made in heaven."
As for the five Marvel superhero shows (four live-action and one animated) coming to the Disney+ streaming site, people had a whole lot of feelings. 
"The idea of this is interesting and I can't wait to see what the story will revolve around," said user @c4spoilers about The Falcon and the Winter Soldier, featuring Anthony Mackie and Sebastian Stan reprising their roles and arriving to Disney+ in the fall of 2020.
Many were hyped about WandaVision, the sure-to-be-strange limited series starring Elizabeth Olsen as Wanda Maximoff (a.k.a. Scarlet Witch), Paul Bettany as Vision, and Teyonah Parris as Monica Rambeau. 
One fan tweeted their guess at what the show, which Feige said is weird and wacky and "unlike anything" Marvel has done before, might be like: "I feel like wandavision is going to be kind of a mix between house of m and the 2015 vision comic and it's going to be great. also i dont know what monica rambeau would do in a show like this but i am SO EXCITED." 
Tom Hiddleston's Loki series got fans in a tizzy as well, with many tweeting that they're so happy the actor is getting to reprise his role. Though some poked fun at the Loki logo, the general consensus was overwhelming hype for the show that will feature an Avengers-era Loki getting mixed up in all sorts of adventures.
"I'm so happy for you and I'm really excited about loki tv series. Its gonna be good to see you again," one fan wrote, adding that the "KING IS BACKKKK."
"TOM HIDDLESTON AS LOKI AND FINALLY GETTING HIS OWN SERIES. WOW TRULY THE MOST POWERFUL THING IVE EVER HEARD OF AND WILL WITNESS. PLEASE ITS GOING TO BE SO AMAZING... IM SO EXCITED YOU DONT EVEN KNOW," another tweeted.
Loki will arrive on Disney+ in spring 2021. 
Starring Jeremy Renner as the arrow-flinging hero, the Hawkeye series has fans excited for its inclusion of Kate Bishop, Clint Barton's successor whom he'll train on the show. Marvel hasn't yet announced which actress will play Kate and take on the Hawkeye mantle when Clint steps down, but that hardly matters. Fans are already buzzing. 
"OH S*** A HAWKEYE SERIES! This is amazing!" user @BjoernMeansBear tweeted. "I'm very hyped for MCU Hawkeye. He's so underutilized in the movies (except Endgame) and I really wanted Marvel to explore good character more. Now it's finally his time to shine!"
That time will come when Hawkeye hits Disney+ in the fall of 2021. 
Marvel also unveiled at San Diego Comic-Con 2019 the first-ever animated series in the MCU: What If...?, premiering on Disney+ in the summer of 2021. 
The show — narrated by Jeffrey Wright as the "non-earthly being" the Watcher and featuring the voices of MCU favorites like Chris Hemsworth (Thor), Josh Brolin (Thanos), Chadwick Boseman (Black Panther), Samuel L. Jackson (Nick Fury), Mark Ruffalo (Bruce Banner), Paul Rudd (Ant-Man), and more — will add a twist to the 23-movie Infinity Saga. 
"Can't wait to see marvel studios' first venture into animation. I have high expectations. Can't wait to get Uatu The Watcher. Glad this is being treated as an important part of the slate just like everything else. Love what if scenarios!" one fan said. 
Prolific writer Eric Vespe was incredibly intrigued by the reveal of What If...?, tweeting, "This is one of my most anticipated projects on the Marvel slate. I grew up obsessed with these books. A lot of times I liked the What If stories better than the actual real ones. Can't wait to see what direction the animation is going. Cartoony like Clone Wars or hyper real?"
All reactions considered, it was Twitter user @CapMarvelPotter who perhaps best summed up the Marvel masses' feelings about the Phase 4 MCU reveals: "ANGELINA JOLIE, SALMA HAYEK, RACHEL WEISZ, DAVID HARBOUR, ALL THE MOVIES AND SHOWS ANNOUNCED, BLACK WIDOW (YEAH BABY), DOCTOR STRANGE AND WANDA, JANE FOSTER AS FEMALE THOR (OMG YES), EVERYTHING IS AMAZING #MarvelSDCC."
Strap in for Phase 4 of the Marvel Cinematic Universe starting with Black Widow on May 1, 2020, and be sure to keep your arms and legs inside the moving vehicle until it comes to a stop with Thor: Love and Thunder on November 5, 2021.