WandaVision: Star Elizabeth Olsen Dishes Details On Disney+ Series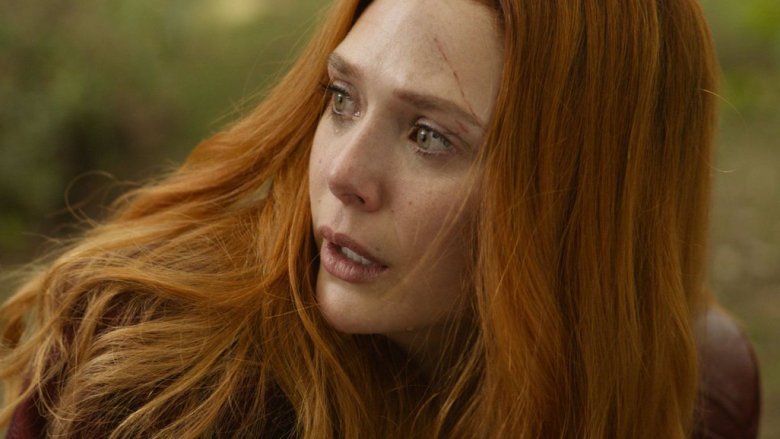 With the face of the Marvel Cinematic Universe set to change following the release of Avengers: Endgame, fans have been curious about what exactly is in store in the coming years. Marvel Studios is keeping mum about its five-year MCU plan until July of this year, after Spider-Man: Far From Home swings into theaters, but the company has been open about its upcoming television endeavors, having previously announced a slate of superhero series heading to the Disney+ streaming service. 
One such show is WandaVision, a limited series centered on Scarlet Witch (a.k.a. Wanda Maximoff) and Vision, which will debut on Disney+ in its second year post-launch. Reprising her MCU role as Scarlet Witch is actress Elizabeth Olsen, who recently chatted with Variety to offer additional insight into the project. 
First off, Olsen revealed a retro time setting for WandaVision: the 1950s. "There's quite a few other comic books that we're pulling from and it's going to be Wanda and the Vision, and I think at the Disney+ launch chat, they showed a photo of us in the '50s. And I think that's a good teaser," she told the outlet during the red-carpet event for Avengers: Endgame. "It's gonna be really fun. I'm really excited."
Olsen then indicated that WandaVision will run for roughly six hours, and though she didn't offer an episode count, one can assume that those six hours could be broken up into six 60-minute episodes, eight 45-minute episodes, or twelve 30-minute episodes. 
"Paul [Bettany, who plays Vision] and I are really excited. They have a great group of writers. I think it's going to be a total of six hours," Olsen shared, adding that filming on WandaVision is scheduled to begin this fall, likely before Disney+ rolls out on November 12. 
A major question that Olsen's comments here raise is whether WandaVision takes place pre-MCU, pre-Scarlet Witch and Vision disintegrating in Avengers: Infinity War, and pre-whatever happens in Endgame, or if it follows the title pair as they travel back in time to the 1950s, still retaining all the knowledge they've obtained and experiences they've endured. Could the 1950s be just one era in which WandaVision takes place? Might Scarlet Witch and Vision adventure through time and battle against baddies of the week? If WandaVision sticks to the '50s and doesn't stray, does that mean the series is almost a slice-of-life sitcom about the heroes' relationship? We've heard reports that their love is "just one of the highlights" of WandaVision, so there's a chance that's the tone and structure the show goes with.
Considering Scarlet Witch and Vision are one of Marvel Comics' most recognizable couples, sharing a storied history across tons of issues, there are plenty of directions in which WandaVision writer, producer, and showrunner Jac Schaeffer could take the series. Olsen's remarks to Variety seem to indicate that the one Schaffer has chosen is pretty darn awesome. 
Check back with Looper for future updates on WandaVision, as well as the other Marvel series set for release on Disney+.