Disney Confirms Tom Hiddleston Will Return As Loki In Limited Series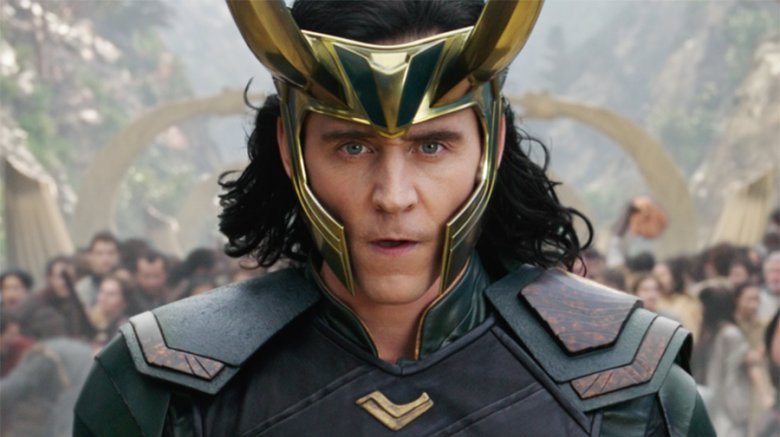 The rumors are true — we haven't seen the last of Marvel's trickster god.
Disney has confirmed that Tom Hiddleston, who played the role to perfection in five Marvel Cinematic Universe films, will return as Loki in a limited series for streaming service Disney+, according to Collider. The series had been rumored for months, but until now, nothing was official.
Loki has long been one of the most enigmatic, charismatic, and complex characters in the entire MCU. His unceremonious murder by Thanos in the opening moments of Avengers: Infinity War was shocking and heartbreaking for fans, and his return — even to the small screen — is bound to be greeted with enthusiasm, to put it mildly.
Of course, it's not at all clear when the series will fall within the MCU's timeline (although Loki has cheated death a time or two before), and there has been no announcement as to who will be writing, producing, or directing the series. What is known is that the project will fall under the umbrella of Marvel Studios, not Marvel Television — which means MCU guru Kevin Feige will have hands-on involvement in the project. Jeph Loeb — the creative shepherd behind the Marvel TV offerings of ABC, Freeform, and Netflix — will have none.
We've previously reported on the streaming service's rumored plans for a Scarlet Witch series (which is likely to feature Paul Bettany's Vision) and another featuring the wisecracking duo of Winter Soldier and Falcon, both of which are likely to be confirmed soon in light of this latest announcement. Disney+ has plenty of other plans for mining their many properties as well, including a series focused on Rogue One: A Star Wars Story's Cassian Andor and a final season of the Star Wars animated series Clone Wars.
Other confirmed projects for Disney+ include series based on the 2000 classic High Fidelity, venerable kids' hockey franchise The Mighty Ducks, and beloved Pixar feature Monsters, Inc.
Obviously, Disney+ is serious about ramping up its original offerings in advance of the streaming service's much-anticipated debut. A wide slate of choices for a diverse audience is one thing, but if the service can rope in the dollars of MCU fans, competition could have good reason to be seriously worried. Despite the valiant efforts of Marvel Television, MCU-related TV offerings have been a mixed bag, their connections to the film series tenuous at best.
Well, no longer. Giving fans the MCU experience on the small screen, with their favorite characters from the films, is an offer few will be able to refuse — and leading with one of the MCU's greatest villains (or is he?) is a serious shot across the bow in the slowly-building streaming wars.