Black Widow Solo Movie Begins Filming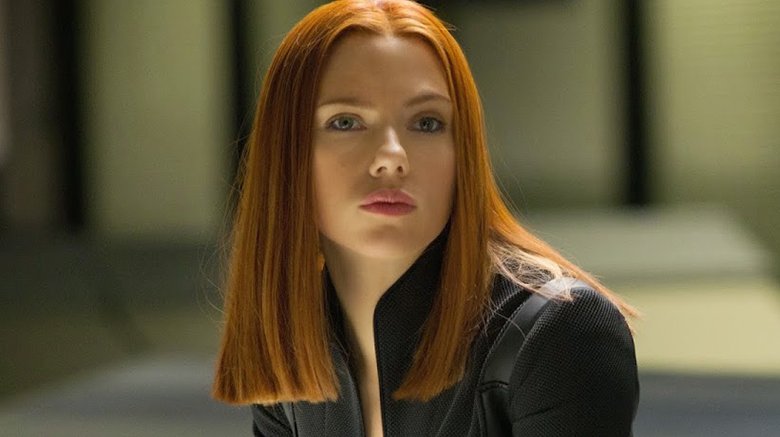 Marvel has officially begun spinning its Black Widow web. 
Snaps of Black Widow actress Scarlett Johansson on the set of the upcoming superhero standalone hit the internet on Wednesday, confirming that production is now underway in Sæbø, Norway. 
The photographs themselves, some shared by Norwegian news outlet Dagbladet and others uploaded by NRK, feature Johansson doing normal actor-type things while filming a movie and aren't all that interesting, if we're being totally candid here. She's seen filming scenes where Natasha Romanoff does relatively unremarkable stuff: she pops into a local convenience store, puts bags in a car, and takes a ferry to an unknown destination. No one else that Marvel fans would recognize can be spotted on the set, so it seems that Black Widow director Cate Shortland may be getting Johansson's solo scenes completed first.
Something that is of note, however, is Johansson's hair color. In the pictures, she sports Natasha's signature red tresses — which offers a clue as to when the Black Widow movie takes place. 
The only times Black Widow didn't have completely red hair in the MCU was when she rocked a blonde bob in Avengers: Infinity War, and when she sported a half-blonde, half-ginger hairdo after the five-year time jump in Avengers: Endgame. Given that Black Widow sacrificed herself in Avengers: Endgame, throwing herself off the cliff on Vormir so that Hawkeye (Jeremy Renner) could retrieve the Soul Stone and help complete the Avengers' time heist mission, the only option for the Black Widow film's time setting is the past. Her hair color in these set photos backs up that notion.
It also seems to corroborate previous reports claiming that Black Widow is a prequel film set in two different time periods — one that follows Natasha during her time spent working as a state secret agent for the KGB, and another that picks up 15 years after the dissolution of the Soviet Union, which happened in 1991. This would mean that Black Widow would partially take place during Natasha's teenage years, then document her trials and triumphs in the year 2006 as she forms her own identity and finds her way in the U.S. Since Johansson's Black Widow didn't debut in the Marvel Cinematic Universe until 2010, appearing in the Iron Man sequel, there's plenty of time to range over and gaps in the hero's on-screen story to fill. 
On the flip side, some have speculated that perhaps the solo movie is set in the more recent past — the five years between Avengers: Infinity War and Avengers: Endgame. Geeks WorldWide writer Thomas Polito theorized that the upcoming film will see the titular heroine spend the half-decade gap between the two Avengers flicks training a new Black Widow — potentially Yelena Belova — who will "factor into future movies." He also suggested that Black Widow will feature flashbacks to Natasha's past.
We can see how this would work: Avengers: Endgame showed audiences that while Hawkeye was going rogue as the dark assassin Ronin, Captain America (Chris Evans) was leading a support group for survivors of Thanos' (Decimation), Bruce Banner (Mark Ruffalo) was blending his brains with the brawn of his mean green alter ego to become Professor Hulk, and Thor (Chris Hemsworth) was drowning his sorrows in beer, Black Widow was trying to keep things together and continue protecting the world in the event of another massive threat. She organized meetings with the other heroes traversing through space to ensure no other dangers were looming, and even tracked down Hawkeye to bring him home. It wouldn't be the craziest thing to think that Natasha used a few years after the Snap and before the time heist to train another heroine to take her place, should something happen to her. 
That she has all-red hair in the snaps hints that Black Widow likely takes place long before Endgame and Infinity War — but, as Polito pointed out, perhaps the film includes flashback sequences where those fully ginger locks would naturally appear. 
Conjecture aside, there's one thing about Black Widow of which we are certain: Johansson will share the screen with a shining group of stars. Fighting with My Family and Midsommar actress Florence Pugh, The Handmaid's Tale actor O-T Fagbenle, Stranger Things and Hellboy actor David Harbour, and Academy Award-winner Rachel Weisz are said to be "in talks" for Black Widow – though it's all but guaranteed that they've formally boarded now that the film has started production. Each will apparently play major roles in Natasha's narrative, as Fagbenle is being considered for a "leading" role, Weisz is set for a "key role," and Harbour is in the same boat. Pugh has arguably the biggest part to embody: "a spy on the same level" as Natasha, described as the "moral opposite" to Black Widow. Will Pugh's character be the new Black Widow whom Nat trains between Infinity War and Endgame, or will she be her number-one competition under the KGB? Either way, we're keen to see the actresses work together. 
Marvel has yet to make any explicit announcements about Black Widow, but it won't be too long before the studio steps up and spills highly sought-after information. According to Marvel Studios president Kevin Feige, the house of heroes will confirm plans for the first few years of Phase 4 of the MCU after Phase 3 ends with Spider-Man: Far From Home on July 2. Between now and then, don't be surprised to see more Black Widow set photos make their way online.