Natalie Portman Reacts To Being The Next Thor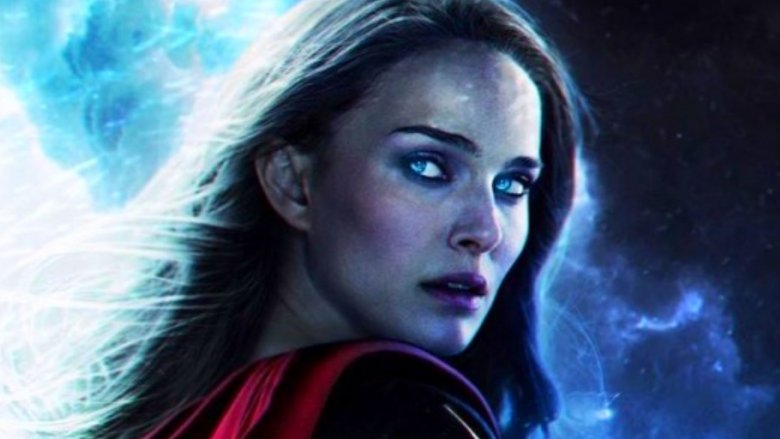 Marvel fans are about to get a whole lot more Thor — and we mean that literally. 
At Marvel Studios' 2019 San Diego Comic-Con panel, it was announced that Natalie Portman would reprise her Thor and Thor: The Dark World role as Jane Foster for the fourth Thor film, Thor: Love and Thunder. That fact alone was enough to spark intrigue, considering Portman's Jane was missing from Thor: Ragnarok and only appeared via old footage in Avengers: Endgame. What role would she play in Thor: Love and Thunder? Is the "love" of the film's subtitle meant to suggest Portman's Jane and Chris Hemsworth's Thor will rekindle their romance? Questions, questions!
The answer came at the tail end of the Thor: Love and Thunder section of Marvel's presentation: Portman is coming back as Jane Foster to take up the hammer and become the female Thor.
Visibly giddy over the announcement, Portman took to the Hall H stage to share her feelings about being the next Thor. She walked across the panel, backed by the cheers of hundreds of Hall H attendees, to accept a prop Mjolnir from director Taika Waititi. Portman then laughed, "I've always had a little hammer envy."
Clearly, Portman is excited about her character Jane taking over as the first female Thor and the second iteration of the god of thunder in the Marvel Cinematic Universe. But she's no dummy: the actress is fully prepared for the work that a role like this requires — specifically the blood, sweat, and tears she'll expend during what's sure to be an intense pre-filming training regimen. 
Taking to Instagram after Marvel's SDCC presentation, Portman shared two photos of herself on stage with Mjolnir, writing that she's "thrilled" about the news and wants everyone to remember what she looked like during Comic-Con so they can compare it to her physique in Thor: Love and Thunder.
"So thrilled to share the news with you today at #sdcc2019 that I'll be returning to the @marvel #mcu as female Thor with legends @taikawaititi @tessamaethompson and @chrishemsworth," she captioned the post. "(Remember this as the before picture for when I get jacked)."
Thor: Love and Thunder takes inspiration from the Mighty Thor comic series by Jason Aaron and Russell Dauterman, which reveals astrophysicist Jane Foster as being worthy to wield Mjolnir. At the start of the series, Jane is battling breast cancer when she learns she can carry the mystical hammer and take over for Thor after he loses his worthiness following the events of the "Original Sin" storyline. The Mighty Thor vol. 2, issue 1 explains that Jane using Mjolnir and transforming into Thor actually exacerbates the side effects of her cancer, as the metamorphosis from human to divine entity purges from her body the radiation she receives during cancer treatment. It's unclear how much of this arc Thor: Love and Thunder will adapt, it might be a pretty emotional ride.
It's also bound to be a wild one, as the female Thor possesses all the same abilities the OG guy does — incredible speed, superhuman strength, flight, stamina, and control over lightning — and then some. In The Mighty Thor, Jane has something Thor doesn't: an extra-keen dominion over Mjolnir. Jane is able to alter its velocity and trajectory after she's already thrown it, and can round up enemies with Mjolnir by sending it swirling around their bodies. Anyone thinking of arguing that Portman's iteration of Thor will be less powerful than Hemsworth's would be wise to bite their tongues. 
For this part, The Mighty Thor mastermind Aaron couldn't be happier that the female Thor is coming to the MCU, and is eager to see how Portman approaches this new side of Jane Foster. 
"Well wow," he tweeted. "Consider me thunderously excited. The Jane Foster Thor storyline I did with @rdauterman, (Eisner winner!) @COLORnMATT & so many more talented artists is one of my proudest moments in comics. I can't wait to see @TaikaWaititi & Natalie Portman bring the Goddess of Thunder to life."
Over on his Twitter page, Dauterman had but two words to share to sum up his feelings: "HOLY S***."
Whether your thoughts on Portman becoming the next Thor more closely align with her own, Aaron's, or Deuterman's, there's no denying that this is huge news for the actress. The last fans saw of her in the MCU was in Thor: The Dark World, in which she and Thor broke up. Portman herself had also seemingly parted ways with the Marvel movie world after the Thor sequel, telling The Wall Street Journal in 2016, "As far as I know, I'm done."
Of course, we know now that Portman isn't through with the MCU — and she may not be done with Thor, either. Marvel hasn't said one way or another whether Jane and Thor will give their relationship another shot in Love and Thunder, but we're betting it's possible. After all, the two are both worthy of wielding Mjolnir, in the eyes of the Asgardian gods. It seems as if their romance was written in the stars. 
See Natalie Portman's Jane Foster become the next Thor when Thor: Love and Thunder hits theaters on November 5, 2021.