Valkyrie Confirmed As MCU's First Openly LGBTQ+ Superhero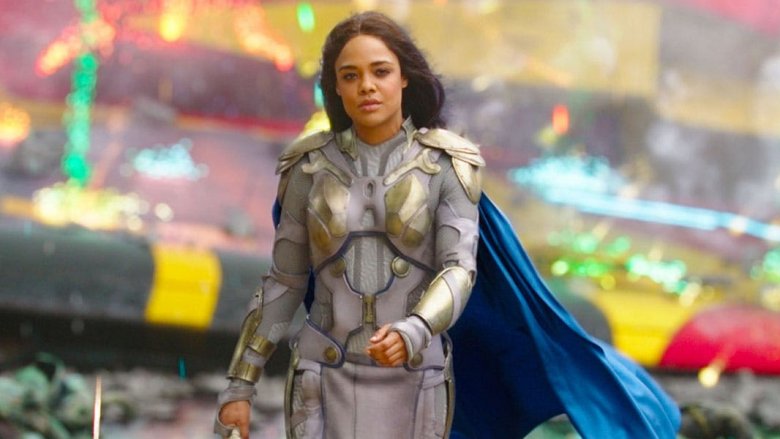 It's about time. 
Marvel Studios has confirmed that Tessa Thompson's Valkyrie will be the first openly LGBTQ+ superhero in the Marvel Cinematic Universe, with her sexuality being addressed in the upcoming Taika Waititi-directed adventure Thor: Love and Thunder. 
The announcement came in the aftermath of Marvel's riotous Hall H panel at this year's San Diego Comic-Con, and was revealed to the masses by our friends at io9, who were amongst the lucky Marvel ducks in attendance at the presentation. 
Chatting with the outlet on Saturday evening, when the company rolled out confirmation after confirmation for films and series coming to screens over the next two years, Marvel Studios president Kevin Feige confirmed what Thompson herself teased at the panel: Valkyrie will have an "LGBTQ+ storyline" in Thor: Love and Thunder. 
The forthcoming (or should we say "Thor-thcoming"?) Thor film is slated to see the hard-drinking heroine ruling over New Asgard — not as its matriarchal royal but as its king. Thompson explained during Marvel's panel amid all the Love and Thunder news that Valkyrie, whom Thor (Chris Hemsworth) appointed as his successor at the end of Avengers: Endgame, will be looking for a queen to stand beside her. When asked if this meant that Valkyrie might have a romantic relationship with the woman she selects as her co-ruler, as kings and queens usually do, Feige answered with an unequivocal "yes."
A development like this has been long-awaited, and is so wonderful to hear. Feige promised in July of 2018, a year prior to this confirmation, that the MCU would right the missteps of its past in terms of LGBTQ+ representation (i.e., that there was virtually none) by introducing several LGBTQ+ characters down the line. He noted at that time that at least two would join the Marvel movie mix in the near future — one that fans were familiar with, and one that was a new character not seen on screen yet. Fans were quick to speculate that the familiar Marvel face to be revealed as a member of the LGBTQ+ community would be Thompson's Valkyrie, who is bisexual in the Marvel Comics and was meant to be confirmed as such in Thor: Ragnarok. That film wound up scrapping the only scene that discussed Valkyrie's bisexuality, and so it will now be addressed in Thor: Love and Thunder. 
Introducing Valkyrie as the first openly LGBTQ+ hero in the MCU is a step in a fantastic direction for Marvel Studios, which has had a decidedly not-so-awesome track record with character representation. After basically ignoring any sexualities other than heterosexuality in most of the films in the MCU, Marvel decided to subtly feature a gay character (one played by director Joe Russo) in Avengers: Endgame, but many felt that the studio completely missed the mark there. They felt similarly about Marvel's fumbling of Black Panther, which many argued could have easily included a romance between two members of the Dora Milaje.
There's much to be excited about when it comes to Thompson's Valkyrie going down in history as the MCU's first LGBTQ+ superhero, so start counting down the days until Marvel adds some rainbow flair to its franchise when Thor: Love and Thunder hits theaters on November 5, 2021.