Black Widow Solo Movie Release Date, Cast, Logo Unveiled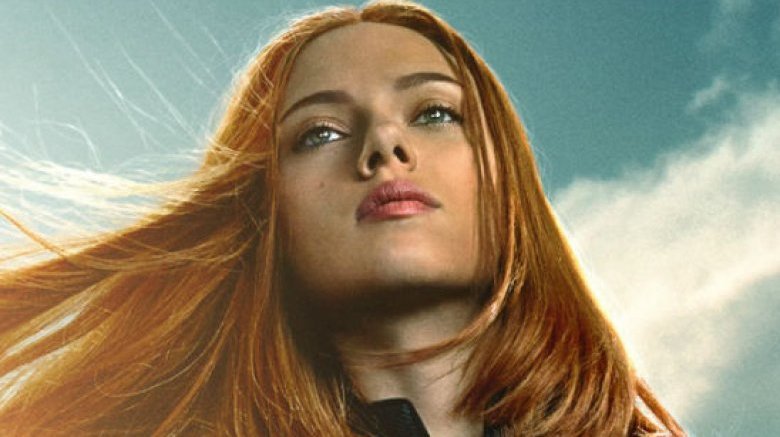 Black Widow is officially weaving her very own web in the Marvel Cinematic Universe. 
Marvel Studios has just unleashed a bevy of information about Black Widow, the forthcoming solo movie starring Scarlett Johansson in the eponymous role. At San Diego Comic-Con 2019, where the house of heroes gave a presentation packed with thrilling updates on its post-Avengers: Endgame plans, Marvel announced the release date and cast for Black Widow, then put a cherry on top of the news by unveiling the film's official logo.
For Black Widow — scheduled to arrive in theaters on May 1, 2020 — Johansson shares the screen with Midsommar standout Florence Pugh, Academy Award-nominated actress Rachel Weisz, The Handmaid's Tale star O-T Fagbenle, and Stranger Things favorite David Harbour. 
As many fans have speculated since news of Pugh's (then-potential) casting in Black Widow trickled out onto the internet, the actress is indeed playing Yelena Belova, a spy who serves as Natasha's counterpart and eventually takes up the Black Widow mantle. Pugh called Yelena a "sister figure to Natasha," per Entertainment Weekly's coverage of the panel.
As for the other major players, Weisz plays Melina, Fagbenle portrays Rick Mason, and Harbour plays Alexei Shostakov (a.k.a. Red Guardian). 
Fagbenle's Mason is "a contact from Black Widow's past" who serves as a romantic interest of her's. The actor said of his character's connection with Natasha, "There's a kind of romantic undercurrent. At least, I'm kind of into her."
Weisz described Melina as "a pretty tough chick," and gushed about working with the Black Widow cast. She also noted how important the film will be for female viewers since it places strong women at the center of the story — something Marvel Studios has been doing more and more with each new franchise entry.
"What is more exciting than the mythology of the Marvel universe? There is nothing more exciting and escapist and interesting. But also they've really put at the forefront really strong, powerful female characters," the actress said.
With a laugh, Weisz added that she was just as keen to work with Fagbenle and Harbour as she was with director Cate Shortland and actresses Johansson and Pugh: "David and O-T are pretty awesome, too. I love men as well as women."
Johansson also expressed excitement about playing a different version of Natasha in the film, which will explore the character's past as she forms her own identity in the time before the events of the first Avengers movie. (This confirms that Black Widow's death in Avengers: Endgame really is permanent, and the Black Widow solo movie is definitely a prequel.)
The actress opened up at the panel, "I don't think I could have played this iteration of Natasha 10 years ago. It would've been a very different film. I get to play Natasha as a fully realized woman and in all of her many facets. I'm excited for fans to see the flawed side of her — what she perceives to be the flawed side of her. And I'm looking to wipe out some of that red in my ledger, so you guys will be seeing a lot of that."
Also up on the Hall H stage to take part in the Black Widow goodness was Shortland, who noted that she was drawn to the character because of the many secrets she harbors and the darkness of her past, as well as the complexity of Natasha as a person and Black Widow as an almost larger-than-life figure.
"I think that's what drew me to the story — she's got so many secrets, she's got so much vulnerability, and I think that's what makes her such a great heroine," Shortland shared (via Collider), adding that Black Widow allows the audience the opportunity to "understand her past and put the pieces of herself together and come out a whole person."
One last juicy Black Widow tidbit from Marvel's SDCC 2019 presentation was the confirmation that Budapest is a very important location in the film, and that it will feature Taskmaster as its central villain.
Given how secretive the studio is known to be, it may be a while before Marvel divulges any more information on Black Widow. However, now that all its cards are on the table and every once-confined cat is now out of their bag, perhaps Marvel will throw caution to the wind and get more candid in the coming weeks and months. It really could go either way, so we advise anyone interested in the Black Widow solo movie to be on high alert for updates and news breaks (which you can find right here on Looper, of course) moving forward. 
Black Widow is set to hit theaters on May 1, 2020. Until then, drool over the film's official logo, shown below.