Marvel Reveals Details About Disney+ Series Loki, Hawkeye, WandaVision, The Falcon And The Winter Soldier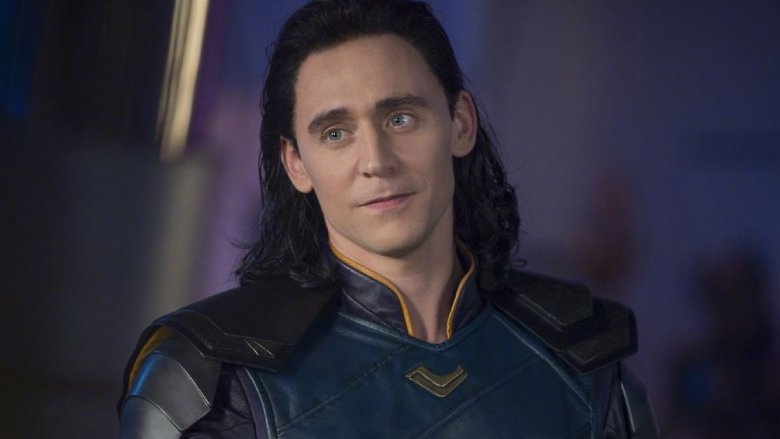 When it rains, it pours — and during Marvel Studios' Hall H panel at San Diego Comic-Con 2019 on Saturday, back-to-back-to-back announcements nearly flooded the dang place. 
One of the biggest news storms was the one that Marvel's Disney+ superhero series created at the entertainment convention. In quick succession, Marvel Studios unraveled a slew of details about each of four big shows heading to the direct-to-consumer streaming platform in the future — these being Loki, Hawkeye, WandaVision, and The Falcon and the Winter Soldier. 
Here's what Marvel revealed about each series. 
First up is Loki, the Tom Hiddleston-starring limited series that centers on the trickster god and adopted brother of Thor. The series will hit Disney+ in the spring of 2021, though no exact release date has been announced as of this writing. 
Fans of Hiddleston's cunning, charismatic character as he was seen in the earlier days of the MCU will be pleased to know that the upcoming show features an Avengers-era Loki — not the one who evolved, softened, and grew from an out-and-out villain to more of an anti-hero later on in the franchise. On Loki, the titular dude will be bad to the bone, ruthless and unflinching. 
"You guys saw Avengers right? So he's still that guy. And just about the last thing that happened to him was he got Hulk-smashed. So there's a lot of psychological evolution that is still yet to happen," Hiddleston explained to the Comic-Con crowd (via Entertainment Weekly). "Kevin [Feige, Marvel Studios president] has generally shown me what his plans are. I can't tell you any of them, but it is one of the most exciting creative opportunities I think I've ever come across. This is new territory, a new world, new challenges, and I cannot wait to get started."
Feige also indicated that Loki will address what happened with 2012 Loki after he stole the Tesseract and blipped out of thin air during Avengers: Endgame. The executive stated, "The question I got asked more than any other question in Endgame was where did Loki go, what happened to Loki? This series will answer where he went."
As for Hawkeye, the series stars Jeremy Renner as Clint Barton, who trains Kate Bishop to become the next arrow-flinging vigilante after he inevitably reties from the role. Marvel didn't announce which actress will be playing Kate on the series, coming to Disney+ in fall 2021, though excitement for Hawkeye is incredibly high from the revelation of the character's involvement alone.
For Renner's part, he's keen for his Marvel character to pass the torch onto someone new, and is certain fans will love watching Clint mentor an ambitious, up-and-coming hero. 
"What I get to do in the show ultimately is shepherd an amazing character, ultimately a better version of me and the sentiment of that is the fiber of what Hawkeye is, at least what I think Hawkeye is — a superhero without superpowers and I get to teach someone else to be a superhero without super powers," Renner said (via Collider).
Starring Elizabeth Olsen as Scarlet Witch (a.k.a. Wanda Maximoff) and Paul Bettany as Vision, WandaVision (ha — get it?) is scheduled to premiere on Disney+ in spring 2021 — the same season in which Loki will debut. 
The show will also feature Mad Men, Dear White People, and If Beale Street Could Talk actress Teyonah Parris as Monica Rambeau, previously portrayed in Captain Marvel by Akira Akbar. Marvel didn't address how Monica links to Scarlet Witch and Vision, but we have an inkling that perhaps they could band together to become a brand-new superhero group — especially since Monica Rambeau has been Captain Marvel (and has gone by a ton of other superhero monikers) in the comics.
What the studio did reveal, straight from president Feige's mouth, is that WandaVision is all sorts of weird. 
"Wait until you see this show. It's unlike anything we've done before," Feige said (via Collider). "I can't tell you how exciting and different and strange that show is going to be."
Added Olsen, "It's gonna get weird, we're gonna go deep, we're gonna have lots of surprises and we're going to finally understand Wanda Maximoff as the Scarlet Witch." Bettany then chimed in to say WandaVision is "going to be surprising and weird," and he hopes fans love it. 
"Last thing I knew I died in Infinity War, so I literally have never been this confused in front of this many people," he said with a laugh. "Every time we get to do this, the stories get richer and richer — and this is the richest of all."
Yet another live-action Disney+ series Marvel announced at this year's San Diego Comic-Con is the one arriving to small screens first: The Falcon and the Winter Soldier, due out in fall 2020. Anthony Mackie and Sebastian Stan are reprising their respective roles as Sam Wilson (Falcon) and Bucky Barnes (the Winter Soldier), with Daniel Brühl returning as his Captain America: Civil War villain Baron Zemo, who now sports a comics-accurate purple mask. 
Brühl couldn't make it to the panel, but his character did appear in a video message, delivering a warning to Sam and Bucky: "I can't imagine what you all must be thinking. A villain seizes control of the panel and you expect me to threaten some unspeakable act of violence. I simply wanted to say hello to some old friends. Gentlemen, I'll be seeing you very soon."
The Falcon and the Winter Soldier will pick up post-Avengers: Endgame, during which Captain America (Chris Evans) passed his shield on to Sam. With Zemo looming overhead, the pressure to live up to his old friend Cap's legacy may push Sam to move outside his comfort zone and don a new hero name in order to protect humanity. 
That's all the news regarding Marvel's live-action Disney+ series as announced at SDCC 2019, and clearly, there's a ton to get hyped up about. The wait for the first of the four new series will be a long one (over a year from the time of this writing), but knowing that once that fateful day comes, three more series aren't too far off should serve as consolation.