New Captain Marvel Posters Introduce You To Film's Full Cast Of Characters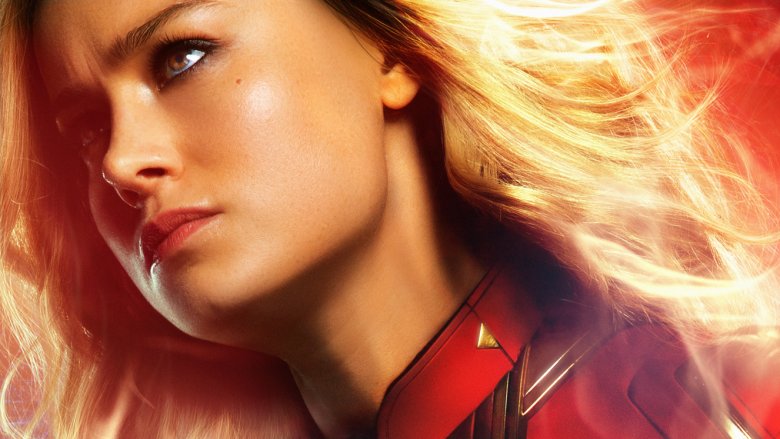 Marvel Studios
Everyone's present and accounted for in the newest batch of character posters for Captain Marvel.
Marvel Studios released 10 new one-sheets for the forthcoming superhero flick on Wednesday, leaving no man, woman, extraterrestrial, or could-be-evil cat behind. 
Brie Larson's Carol Danvers — the half-Kree, half-human former U.S. Air Force pilot who heads to space to join Starforce following the accident that imbued her DNA with that of a Kree alien and then returns to Earth when she learns that her home planet is being ravaged by hordes of shape-shifting Skrulls — leads the pack of posters, naturally. Seen sporting her iconic suit that shines in red, gold, and blue, Captain Marvel looks badass as ever, her brows slightly furrowed in determination as she looks upward toward something (or someone) off camera. 
Carol may be dripping in primary colors and repping her comic-accurate suit, but her Starforce cohorts are all about the opposite end of the color spectrum, seen rocking their cool-toned costumes of blue-green and black in the new Captain Marvel posters. 
There's Jude Law as Carol's mentor and the commander of Starforce, believed to be Mar-Vell but since conflicting information has thrown the character's true identity into question, we can't say with 100 percent certainty; Djimon Hounsou (Aquaman, Guardians of the Galaxy, Shazam!) as Korath the Pursuer, a Kree mercenary and the second-in-command of Starforce; and Gemma Chan (Crazy Rich Asians, The Favourite) as Minn-Erva, a blue-skinned Kree sniper who is "slightly threatened" by Carol's presence on the team, as she was once the "star of Starforce."
As for the humans of Captain Marvel, they're here in these promo posters, too. We get fantastic new looks at Samuel L. Jackson and Clark Gregg, who were digitally de-aged to portray younger versions of their respective characters Nick Fury and Phil Coulson, and a gorgeous poster featuring Lashana Lynch as Carol's best friend and fellow pilot Maria Rambeau, the "representation of love" in Captain Marvel whose friendship with Carol is filled with "playful competitiveness [and a] mutual respect."
Annette Bening's slightly mysterious character, a Kree scientist who rescues Carol and makes her part-alien, also snags her own poster — as does Ben Mendelsohn's Talos, the nefarious leader of the Skrulls who deceives Nick Fury by working as his boss at S.H.I.E.L.D. The one-sheet shows Talos in his human form, which Mendelsohn once described as "buttoned up" and carrying a "very military industrial complex," rather than in his more laid-back, green-skinned, elf-eared, Thanos-adjacent natural appearance, as seen in a previously unveiled character poster.
And for everyone who fell in love with Carol's fuzzy pet cat Goose, don't worry, Marvel didn't forget the little guy in this poster collection. See Goose, who might potentially be a shape-shifting alien himself, along with the rest of the Captain Marvel crew in the posters at the bottom of this article. 
Hype for Captain Marvel is about to reach its peak here in a few weeks, as the movie approaches its theatrical debut on March 8. Marvel has already issued several posters — ones centered on Captain Marvel alone, others that gave additional characters their second in the sun — and a number of trailers and television spots, so there's only so much more the studio can release from here on out to further promote the film. Theories have been crafted, trailer footage has been analyzed down to fractions of a second, interviews have been read (and re-read in case there was some double meaning to an actor's remarks), behind-the-scenes featurettes have been watched — and now all the central characters of Captain Marvel have gotten a poster of their own. It seems the only thing that remains on the to-do list leading up to Captain Marvel's debut is to patiently count down the days until we meet the strongest character the Marvel Cinematic Universe has ever seen. 
The wait will certainly be worth it, as Marvel Studios president Kevin Feige previously teased that the film will feature "homages to our favorite '90s action films" — like Terminator 2, for instance. "That's about as iconic as you get, looking at kind of those cool street level fights, street level car chases, and fun stuff like that. That being said, much of the movie takes place in outer space, as you might think a Captain Marvel movie would," he told Entertainment Weekly. "Like all of our genre inspirations, there are bits and pieces here and there." 
To balance out those epic action sequences, Captain Marvel will also offer heart, humor, and humanity. Like co-director Anna Boden once said, "This is not a superhero who's perfect or otherworldly or has some godlike connection. But what makes her special is just how human she is. She's funny, but doesn't always tell good jokes. And she can be headstrong and reckless and doesn't always make the perfect decisions for herself. But at her core, she has so much heart and so much humanity — and all of its messiness."
Described as one of the "most unique and inspiring origin stories" in the MCU, Captain Marvel will open in theaters on March 8.