Jude Law To Star As Mar-Vell In Captain Marvel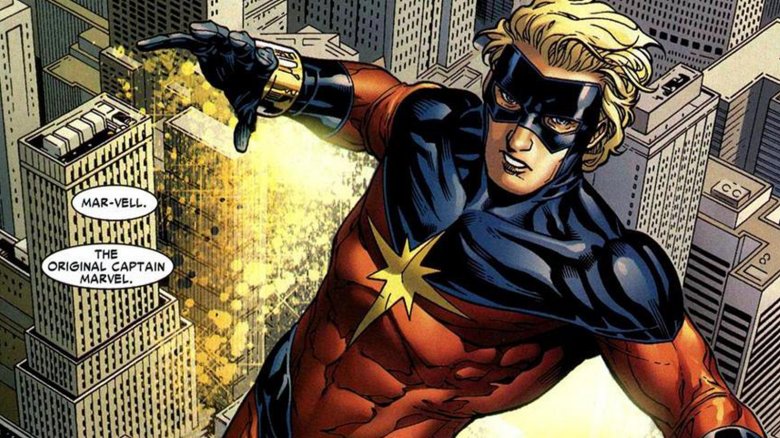 Captain Carol Danvers will meet her predecessor when she takes up the mantle of Marvel's Captain Marvel in 2019—and when she does, he'll look a lot like actor Jude Law.
Variety reports that the English actor is currently in negotiations to star opposite the Oscar-winning Larson as Mar-Vell, the original Captain Marvel, in the upcoming solo movie for Larson's Carol Danvers in the Marvel Cinematic Universe.
Mar-Vell is an alien from a race known as the Kree, a people previously alluded to on-screen in Marvel's Guardians of the Galaxy and Agents of SHIELD. On Earth, he has been known to disguise himself as a human scientist named Walter Lawson.
Carol Danvers received her powers following an incident in which Mar-Vell's Kree DNA was fused with her human DNA during an explosion, imbuing her with the powers of flight and super strength. In the comics, she spent decades operating under the name Ms. Marvel, before taking the title of Captain for herself in a series of comics by Kelly Sue McCormick starting in 2012.
At the time the news broke, Marvel had no comment about Law's casting. 
Previously this year, at San Diego Comic-Con, Marvel producer Kevin Feige stated that the Captain Marvel movie would take place in the 1990s, preceding all other entries in the MCU except for Captain America: The First Avenger and the TV series Agent Carter. 
Reportedly, Samuel L. Jackson will reprise his role in the movie as SHIELD leader Nick Fury. Ben Mendelsohn is also attached to the project as the villain.
Law is also attached to star in the role of young Albus Dumbledore in the upcoming Fantastic Beasts: The Crimes of Grindelwald, and is also set to reprise his role of Watson in an upcoming Sherlock Holmes sequel. On television, he recently headed up HBO's papal character study The Young Pope, and also provided voice work for the Netflix anime series Neo Yokio.
Captain Marvel will be out in theaters on March 8, 2019.