Captain Marvel Is 'One Of The Most Unique And Inspiring Origin Stories,' Says Kevin Feige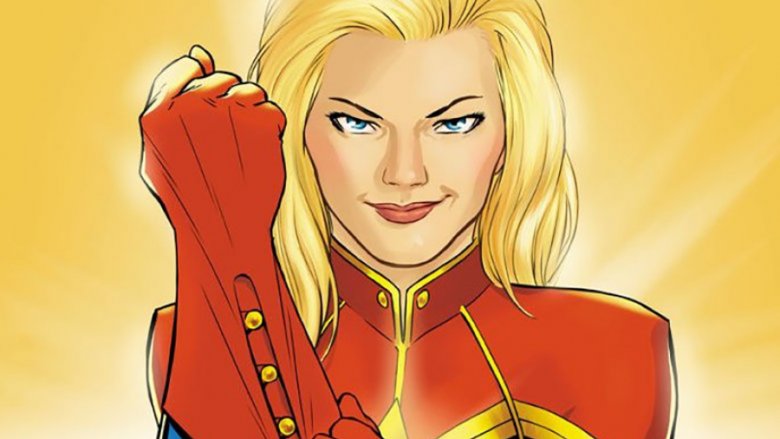 Marvel Comics
Captain Marvel may be joining the Marvel Cinematic Universe soon, but even after she does, she'll stand in a league entirely of her own.
According to Marvel Studios president Kevin Feige, Captain Marvel is shaping up to be something quite special. The film, which stars Brie Larson in the lead role of Carol Danvers who transforms into the titular Captain Marvel after a DNA-fusing accident grants her inhuman powers, promises to be one of the most unique and inspiring origin stories the Marvel movie pantheon has ever seen. 
"You're going to get the most powerful superhero we've ever introduced and what I think is one of the most unique and inspiring origin stories," Feige revealed to Variety at the red-carpet event ahead of the world premiere of Avengers: Infinity War on Monday night. "We are a little less than halfway through filming now. We had an early call time this morning so they could finish and get here for the premiere tonight and then they'll be back early tomorrow. It's going extremely well, and it's a great cast on that film."
This isn't the first time Feige has praised the superhero's powers, previously proclaiming that Captain Marvel will be the most powerful character in the MCU once she makes her silver-screen debut, but this moment in particular marks the first mention from the studio head of Carol Danvers' origin story being unique. It's an exciting thing to think about given how rinse-repeat, predictable, trope-y and even hackneyed some superhero origins can be. 
Feige continued, touching on the film's '90s time period and teasing a new side of Samuel L. Jackson's Nick Fury, explaining that Captain Marvel will set up the journey Fury embarks on that leads him to where he is in the present-day Marvel Universe. 
"Being able to tap into Carol Danvers story for the very first time, to bring that to the screen and tap into an era of the MCU we've never been in, the '90s. To see a version of Nick Fury whose reached a point in his career where he thought the Cold War's over and the best days are behind him. Certain things he encounters in this movie sets him up for the path where we are 19 films later," Feige said. "It's really special, and I can't wait for us to finish it, cut it together, put it in theaters so people can see it, and then people can go see the next Avengers film next year."
That's as auspicious a summary of a film as we have ever seen, and it appears evident that Captain Marvel will be a pivotal entry in the MCU regardless of how it performs at the box office or amongst critics (though we have a feeling it will do well in both arenas).
Directed by filmmaking duo Anna Boden and Ryan Fleck and starring Jude Law, Ben Mendelsohn, Djimon Hounsou, Lee Pace, Lashana Lynch, Gemma Chan, Clark Gregg, Algenis Perez Soto, Rune Temte, Mckenna Grace, and Robert Kazinsky, Captain Marvel is due out on March 8, 2019.