Taika Waititi In Talks To Join James Gunn's The Suicide Squad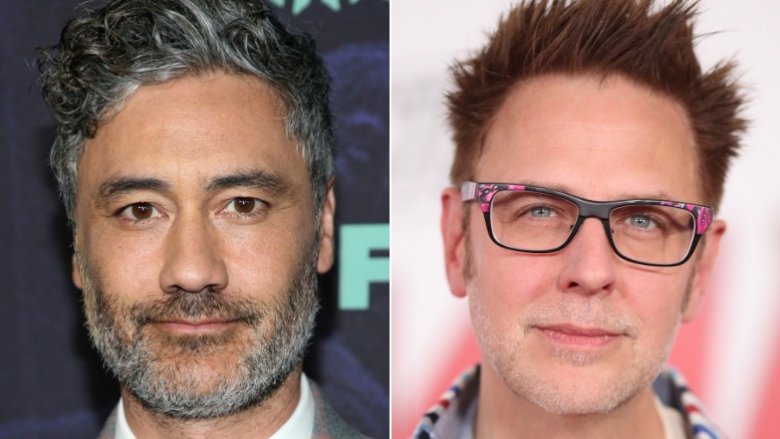 Phillip Faraone, Christopher Polk/Getty Images
The cross-pollination between Marvel Studios and Warner Brothers/DC is getting a little weird.
Thor: Ragnarok director Taika Waititi is reportedly in talk to join the cast of The Suicide Squad, the DC sequel/reboot to be helmed by Guardians of the Galaxy's James Gunn. (via Deadline)
In case you're not aware, Waititi is an experienced actor; he actually has more acting credits than directorial ones. For that matter, this won't even be his first time appearing in a DC comics adaptation — he portrayed Tom Kalmaku in 2011's widely reviled DC Universe non-starter Green Lantern. He also appeared onscreen in his own feature films What We Do in the Shadows and Hunt for the Wilderpeople, and he generously gave himself a plum voice role — and nailed it — as the benevolent, personable alien rock monster Korg in Ragnarok, a role he reprised in Avengers: Endgame.
Gunn, of course, is best-known for directing the smash hit 2014 MCU entry Guardians of the Galaxy and its 2017 sequel. In 2018, thanks to a series of very old, ill-advised tweets dug up by a right-wing pundit, Gunn was fired by Disney from Guardians of the Galaxy Vol. 3, and it was during this period that he agreed to jump ship to Warner Brothers to take on The Suicide Squad. 
Earlier this year, however, Disney magically reversed course, and Gunn will be back in the Marvel fold to complete the Guardians trilogy as soon as his work on The Suicide Squad — which has been penciled in for an August 6, 2021 release — is finished. Waititi also has an upcoming Marvel project on his plate: Thor: Love and Thunder, which is slated for release on November 5, 2021.
So far, there's no word on what Waititi's role will be — and for our part, we're disinclined to even hazard a guess, as The Suicide Squad's cast is largely rounded out. Returning from the original film are Margot Robbie (Once Upon a Time in Hollywood) as Harley Quinn, Viola Davis (How to Get Away with Murder) as Amanda Waller, Joel Kinnaman (The Killing) as Rick Flag, and Jai Courtney (Terminator: Genisys) as Captain Boomerang; joining the festivities this time around are David Dastmalchian (Ant-Man and the Wasp) as Polka-Dot Man, Daniela Melchior (The Black Book)  as Ratcatcher, Steve Agee (Brightburn) as King Shark, and Flula Borg (Ralph Breaks the Internet) and Idris Elba (Fast and Furious Presents: Hobbs & Shaw) in undisclosed roles.
Also recently joining the cast: beloved actor Nathan Fillion, a longtime buddy of Gunn's who had a voice cameo in the first Guardians film. His role is likewise not yet known, but we're hoping it's a slightly beefier (or, you know, way beefier) one this time. Fillion has been a mainstay on the small screen in recent years thanks to his lead role in the long-running ABC series Castle, but he is arguably still best-known (and likely always will be) for playing Captain Mal Reynolds in the adored 2002 cult series Firefly, which famously ran for only a single season.
Waititi will make a welcome addition the The Suicide Squad's cast, but the only question is just when in the heck he's going to sleep. He recently completed (and will soon be making the promotional rounds for) his singularly weird-looking World War II dramedy Jojo Rabbit; he's attached to write and direct Love and Thunder and at least one episode of the Apple TV series Time Bandits; and it's also been announced that he'll be writing What We Do in the Shadows sequel We're Wolves, as well as an upcoming animated reboot of the legacy sci-fi property Flash Gordon.
With all of that on his plate, we're going to venture a guess that his role in The Suicide Squad is likely to be a small one. Gunn is obviously fond of casting famous buddies in blink-and-you'll-miss-it bit parts, but as we saw with his hilarious turns as Korg in Ragnarok and Endgame, Waititi can make a big impression with very little screen time.
It's safe to say that The Suicide Squad is shaping up to blow its predecessor out of the water; that film, directed by David Ayer, was afflicted with a severe case of tonal whiplash thanks to a mid-production course correction aimed at injecting a little more levity to the proceedings. Gunn is a writer and director who always has a clear vision, and he got in on the ground floor with The Suicide Squad, scrapping the existing script and starting from scratch. 
As such, the flick is one of the forthcoming Worlds of DC efforts that we're most excited for, and Waititi being along for the ride makes us even more so. We'll keep both ears to the ground for any more developments around the project, and we'll be sure to keep you informed.