Spider-Man: Far From Home Is Now Sony's Highest-Grossing Film Ever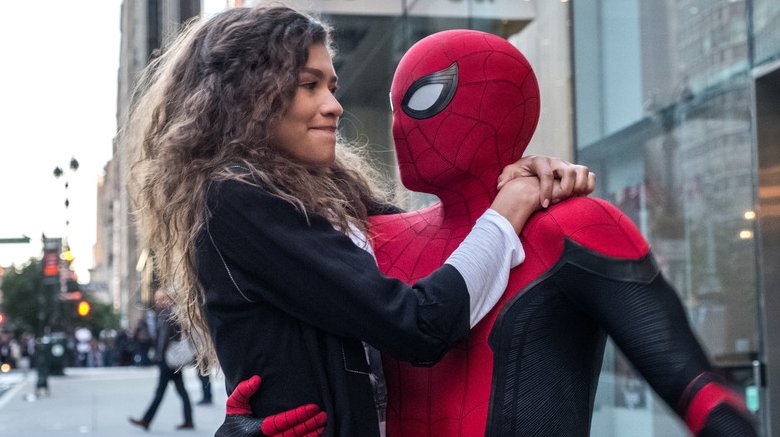 Sony/Marvel
Allowing Spider-Man into the Marvel Cinematic Universe has turned out to be a pretty good move for Sony Pictures.
Spider-Man: Far From Home, the web-slinger's second solo vehicle in the MCU, has grossed over $1.1 billion dollars worldwide — making it officially the studio's highest-grossing movie ever. (via Variety)
Far From Home claims the title which, since 2012, has been held by Skyfall, the third outing as iconic superspy James Bond for actor Daniel Craig. That flick finished its theatrical run with a take of $1.108 billion dollars at the international box office — a total which Far From Home has now eclipsed by a hair.
It's tough to read this development as anything other than fantastic news for fans of the MCU in general, and of star Tom Holland's endearing portrayal of Peter Parker in particular. The shared custody arrangement entered into by Marvel Studios and Sony (which holds the film rights to the character) in 2015 stipulated that Sony would continue to produce three solo adventures for the wall-crawler (with creative input from Marvel) while Marvel Studios would be free to use Spidey in three of its own productions. Sony would reap all of the profits from the solo flicks, while Marvel would be entitled to all of the profits from its movies featuring the wall-crawler.
For those keeping score at home, five of the six movies covered in that agreement are now in the rearview mirror. Marvel featured Spider-Man in 2016's Captain America: Civil War, 2018's Avengers: Infinity War, and this year's Avengers: Endgame, while Sony has offered up 2017's Spider-Man: Homecoming and Far From Home.
This means that, technically, there is only one movie left to be made under the agreement: a Spidey three-quel to be produced by Sony. As we reported last month, this forthcoming film may not even have happened had Far From Home's box office performance not lived up to expectations. It was reported by entertainment journalist Richard Rushfield that, under the original agreement, Sony would have had cause to wrest sole control of Spider-Man away from Marvel if Far From Home had failed to break a billion dollars internationally.
Of course, Sony could still take its Spider-Man and go home after the terms of the 2015 deal are completed — but it's looking more and more like doing so would be foolish in the extreme. Sure, the studio has at least one compelling reason to consider it: its agreement with Marvel states that it is free to continue producing non-MCU movies featuring a plethora of characters ancillary to Spider-Man,and it's using these characters to fill out its own shared film universe (which has been dubbed the "Sony Universe of Marvel Characters").
This endeavor got off to a rip-roaring start with last year's Tom Hardy starrer Venom, which cleaned up at the worldwide box office to the tune of $856 million dollars. They hope to keep that ball rolling with next year's Morbius (which will feature Jared Leto as the "living vampire") and Venom 2, which is is to be directed by motion capture king (and MCU actor) Andy Serkis. But, Sony is prohibited from featuring Spidey in these movies — and if that were not so, it's a fair bet that there would be even bigger box office dollars in the offing for future SUMC projects.
Sony has proven, however, that — when left to its own devices — it is prone to severely mismanaging Spider-Man, as illustrated by the rebooted Amazing Spider-Man series, which starred Andrew Garfield as ol' web-head. It was the comparatively poor box office performance (and lukewarm reception by fans) of 2014's The Amazing Spider-Man 2 that precipitated the Marvel deal in the first place — and, while it surely makes Sony execs hot under the collar to acknowledge it, it's plain that virtually the sole reason for Spidey's rehabilitated box office fortunes lies in the fact that he now resides in the Marvel Cinematic Universe, by far the highest-grossing film franchise of all time, and one that has come to utterly dominate pop culture.
At any rate, it's likely that we won't know whether Marvel and Sony will continue to play ball together for at least a couple more years — but with Spider-Man: Far From Home now officially Sony Pictures' best-performing movie of all time, Marvel has been given a big, fat bargaining chip to slap down on the table whenever those negotiations take place. For the sake of the wall-crawler's millions of fans, let's hope that Sony's brass comes to that table with a full understanding of just how sweet the Marvel deal has been for their studio — and how sweet it could (and should) continue to be for years to come.