Shazam! Eyes $45 Million Dollar Opening Weekend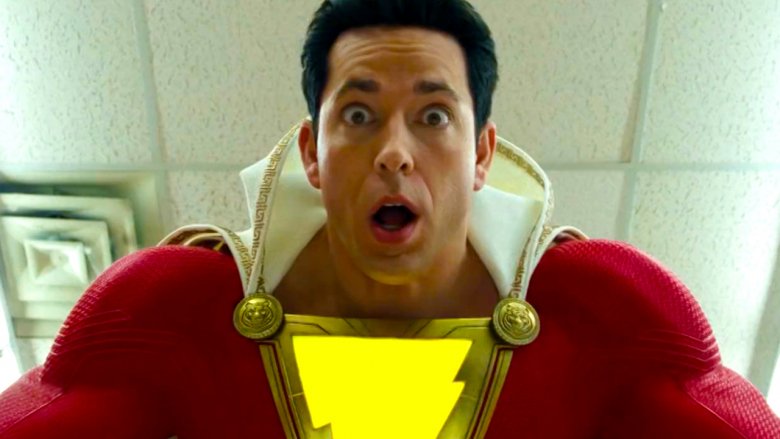 The latest entry into the DC Extended Universe is poised to make some big bank. 
Industry analysts are predicting that Shazam!, the origin story for the teenager turned muscle-bound superhero, will easily win this weekend with a domestic take of around $45 million dollars, according to Variety. While that would constitute DC's lowest opening frame total so far, it's actually pretty good news for studio Warner Brothers for a couple of reasons.
First, the titular character doesn't exactly enjoy the kind of name recognition of DC's more iconic heroes. He's no Batman, Superman, or Wonder Woman, and the character hasn't had the benefit of an introduction in any previous DCEU efforts. Second, consider the fact that relatively speaking, Shazam! was produced on the cheap. The picture was made on a modest $80 million dollar budget, right around half of what it cost to produce higher-profile efforts such as Wonder Woman and Aquaman.
Speaking of Aquaman, that flick posted the lowest domestic total for a DCEU movie thus far, with an opening frame of only about $68 million dollars. Of course, we all know how that turned out; thanks to positive word of mouth and a stellar overseas performance, it went on to become the DCEU's first entry to break the $1 billion mark at the international box office, finally petering out after grossing an eye-watering $1.15 billion dollars. Shazam! has a similar buzz surrounding it, courtesy of a truly awesome marketing campaign; its trailers make it look like an absolute blast, and early reviews have near-unanimously indicated that this is indeed the case.
Shazam! might not beat out Aquaman's stellar performance in the long run, but early indicators point to the possibility that it could actually come pretty close (again, on half the budget). Advance screenings organized through online ticket seller Fandango have already raked in $3.3 million dollars, handily besting Aquaman's advance total of $2.9 million dollars last December. Also, it's worth noting that Aquaman's domestic gross of $335 million dollars only accounted for just under 30% of its ridiculous total; the flick pulled in nearly as much ($284 million dollars) in China alone, where Shazam! is slated to open simultaneously with its stateside release. 
The picture could also prove to have decent legs given its release window. Warner Brothers craftily chose a weekend with very little in the way of competition which happens to fall smack-dab in between the releases of rival Marvel Studios' Captain Marvel (which crossed the $1 billion dollar mark internationally today) and Avengers: Endgame (which just might break the box office in unprecedented fashion). The only other significant wide release this weekend: Paramount's Stephen King adaptation Pet Sematary, which is projected to post an opening frame in the $20-$25 million dollar range.
With its pared-down budget, feel-good vibe, and positive reviews which keep pouring in by the minute (currently 93% on Rotten Tomatoes), Shazam! is looking like the next big success story for Warner Brothers and DC. For their next trick, they're going to go in the complete opposite direction: this October will see the release of Joker, the Joaquin Phoenix-starring standalone that received an absolutely killer teaser trailer earlier today. While Shazam! will continue the course-correction (see: lightening the hell up) of the main DCEU continuity, Joker will be a supremely dark, character-driven take on the iconic villain which will be decidedly its own thing, featuring no connections whatsoever to the previous films. It's an interesting two-pronged strategy aimed at setting the DCEU apart from the tightly-interconnected Marvel Cinematic Universe — and considering the fact that Aquaman made all the money, Shazam! looks positively amazing, and Joker looks just as amazing in a totally different way, it appears to be working.
Shazam! stars Asher Angel as young Billy Batson and Zachary Levi as his superpowered alter-ego; the flick also stars Mark Strong (Kingsman: The Golden Circle) as the villainous Doctor Sivana, Jack Dylan Grazer (It: Chapter One) as Billy's teen buddy Freddy Freeman, and Djimon Hounsou (Guardians of the Galaxy, Captain Marvel) as Shazam, the centuries-old wizard who endows Billy with the ability to gain godlike powers simply by saying his name. It was directed by David F. Sandberg (Annabelle: Creation) from a script by Henry Gayden (Earth to Echo). Its official synopsis (via Collider): "We all have a superhero inside us, it just takes a bit of magic to bring it out. In Billy Batson's case, by shouting out one word — SHAZAM! — this streetwise 14-year-old foster kid can turn into the adult superhero Shazam, courtesy of an ancient wizard. Still a kid at heart — inside a ripped, godlike body — Shazam revels in this adult version of himself by doing what any teen would do with superpowers: have fun with them! Can he fly? Does he have X-ray vision? Can he shoot lightning out of his hands? Can he skip his social studies test? Shazam sets out to test the limits of his abilities with the joyful recklessness of a child. But he'll need to master these powers quickly in order to fight the deadly forces of evil controlled by Dr. Thaddeus Sivana."
Shazam! opens this Friday, April 5, in wide release.