Read This Before You See Pet Sematary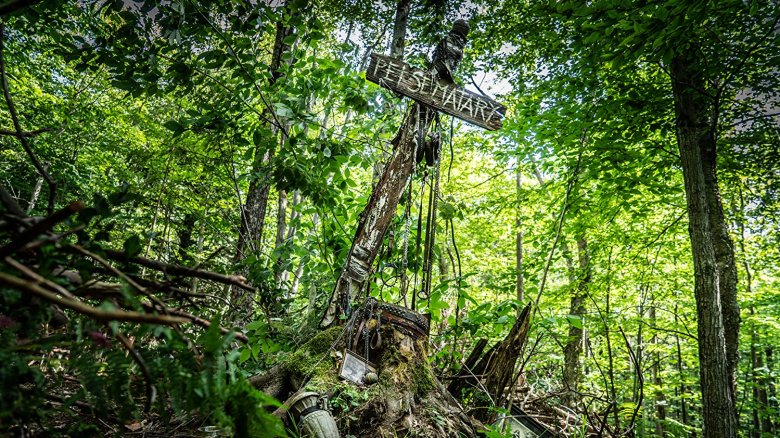 We're living in the middle of a Stephen King Renaissance, and it's quite a thing to behold. Later this year, the second chapter of Andy Muschietti's adaptation of IT will arrive to terrify us, a sequel to The Shining is heading to theaters soon, the TV series Castle Rock is remixing King's locales and characters to the delight of fans, and of course, one of King's' most frightening novels is about to head back to the screen.
Pet Sematary is, infamously, the book that even King thought might be too horrific to publish. The book did finally land on shelves in 1983, though, and became an instant classic. Its adaptation in a terrifying film in 1989 further cemented its place among the King canon, and now Pet Sematary is on the verge of an all-new adaptation.
But what about this version of Pet Sematary sets it apart? What do you need to know about the story, the new film's ambitions, and the changes the filmmakers have made to the story before you head into theaters? We've got you covered. Read this before you see Pet Sematary.
SPOILERS AHEAD for both King's original novel and the 1989 film.
What is Pet Sematary?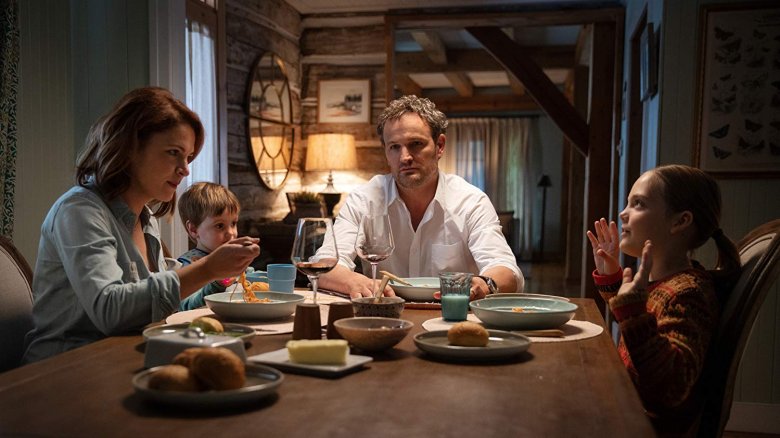 For many Stephen King fans, there are non-scary books, there are scary books, and then there's Pet Sematary. King's first decade of published novels had already included classics like Carrie, The Shining, and The Dead Zone, but even among those, this book was particularly terrifying.
The novel follows the Creed family as they move to a house in rural Maine so the patriarch, Louis, can take a job as the head of the University of Maine's medical service. Their new house is beside a road frequented by fast, heavy trucks that often claim the lives of local pets. As a result, neighborhood children have established a pet cemetery in the woods, complete with the misspelled sign that makes up the book's title. When his daughter Ellie's cat, Church, is run over and killed, Louis and his neighbor Jud Crandall bury the cat near the cemetery... but Church soon returns to the Creed family home. 
Something's off about the seemingly resurrected family cat, though. It's behaving strangely, not quite like a living thing anymore, and even as Jud begins to regret bringing the cat back to life, another tragedy strikes the family. The Creeds' youngest son, Gage, is hit by another speeding truck, and Louis — shaken by grief and his new understanding of the pet cemetery — begins to ponder the unthinkable.
What makes this cemetery supernatural?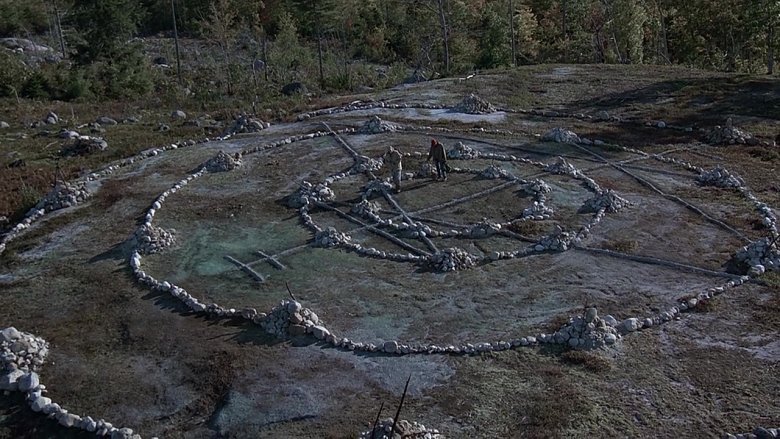 Technically, the "pet sematary" of the novel's title isn't the actual supernatural part of the story. That honor goes to what Jud calls "the real cemetery," a burial ground set up beyond the "deadfall" of brush and limbs at the back of the pet cemetery. That burial ground was built by the local Native American tribe, the Micmacs, and sits on a stony hilltop that makes burials difficult. When Church dies, Louis chisels out a hole for him in the burial ground (according to Jud's instructions) and makes a pile on top of the dead cat of the stones he's cut out.
Jud explains that he once did the same thing, after being told about the burial ground as a boy, with his own dog, Spot, who was also never quite the same after coming back. This leads to Jud's lesson for Louis: "Sometimes, dead is better."
Later in the novel, King reveals that the burial ground was at some point used for bodies partially consumed by cannibals, and that the legendary supernatural creature the Wendigo had made a home there. Jud says the ground went "sour" and now anything buried might come back as a hostile shell of its former self.
Of course, none of this stops Louis after his toddler son Gage is killed.
It's the story King infamously didn't want to publish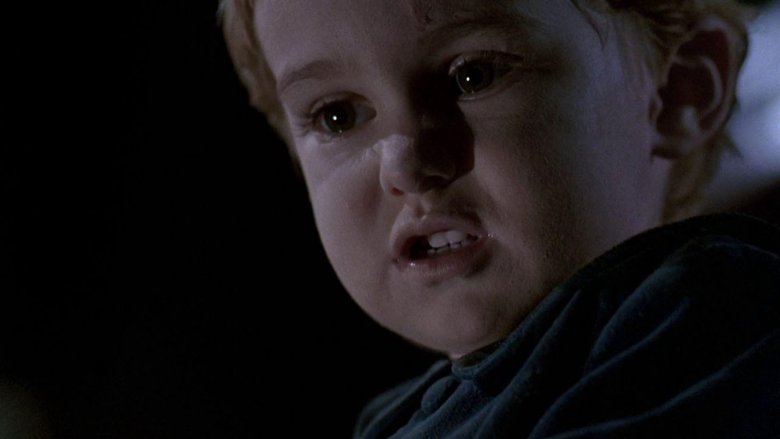 King first conceived of Pet Sematary when he found himself in a very similar situation to Louis Creed's. He and his family moved to a rural home near the University of Maine, which also stood alongside a road frequented by dangerous trucks and was also near a local pet cemetery. King's daughter's cat was killed by one of the trucks, and her resulting grief over the incident helped inspire him to ponder what might happen if the cat came back.
By the time he'd finished the novel, and thus gone through pondering the notion of losing a child and trying to resurrect them, King thought Pet Sematary was simply too dark to publish. Believing that even he had finally gone too far, he put the novel in a drawer and believed it would never be released to the public in his lifetime. Pet Sematary was ultimately pulled out and submitted as the last book in King's contract with his former publisher Doubleday (King barely did publicity for the book because the author/publisher split was an unhappy one). It was a success, and is still among King's most widely read and celebrated books, made all the more sought-after and infamous because of King's own misgivings about publishing it.
The cinematic history so far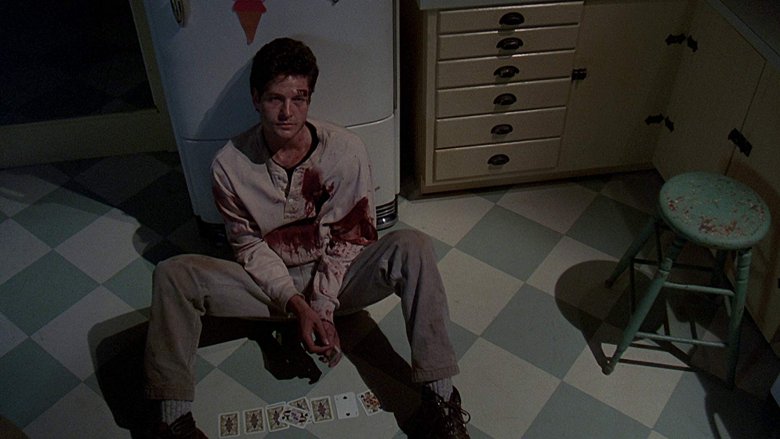 The 1980s were a particularly fertile time for King's works. Six years after its publication Pet Sematary was made into a film, with King himself providing the screenplay and insisting that the movie be shot in his home state of Maine. Mary Lambert directed the adaptation, which starred Dale Midkiff as Louis Creed, Fred Gwynne as Jud Crandall, Denise Crosby as Rachel Creed, Miko Hughes as Gage Creed, and Blaze Berdahl as Ellie Creed. The film was a box office success and has gone on to be revered as one of the best Stephen King adaptations.
In 1992, Lambert returned to direct Pet Sematary Two, a film following a different family and their horrific experiences with the Micmac burial ground, starring Edward Furlong, Anthony Edwards, and Clancy Brown. Scripted by Richard Outten, it was not as successful as its predecessor, and King successfully lobbied the studio to have his name removed from the project.
In 2018, Lambert worked with Paramount Pictures on a new 4K restoration of the original Pet Sematary, released in a Special Edition timed for both the 30th anniversary of the film and the release of the new adaptation.
The long road to a new movie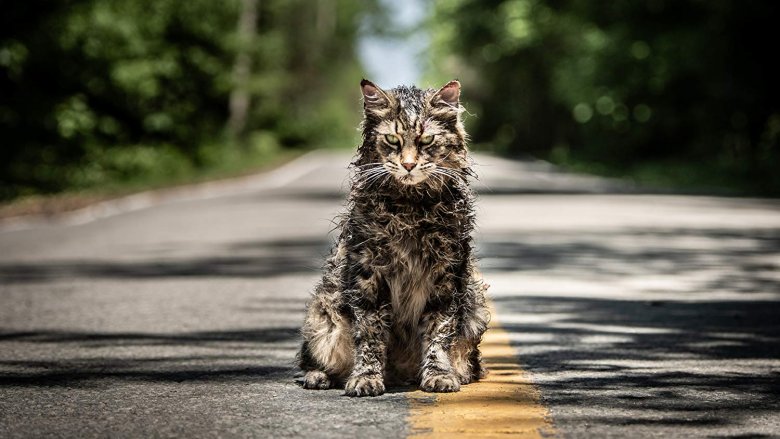 In the years since Lambert's film was released, Pet Sematary has retained its reputation as one of King's most frightening stories, so it was not surprising that someone would eventually want to make an updated film adaptation. Word of a new version of Pet Sematary first began to bubble up back in 2010, when writer Matthew Greenberg (1408) was attached to write the screenplay. Greenberg eventually fell by the wayside, and now has a story credit only on the new film.
Development on the project stalled a bit, and then in 2013 director Juan Carlos Fresnadillo (28 Weeks Later) was brought on to helm the remake. Fresnadillo also eventually dropped out, and development quieted again. Then, in 2017, directors Kevin Kolsch and Dennis Widmyer (Starry Eyes) were hired to tackle the new adaptation, which now had a script by Jeff Buhler. Kolsch and Widmyer stuck, and the film moved forward with a cast that now includes Jason Clarke as Louis Creed, John Lithgow as Jud Crandall, Amy Seimetz as Rachel Creed, Jete Laurence as Ellie Creed, and Hugo and Lucas Lavoie as Gage Creed.
What is Stephen King's involvement in the new movie?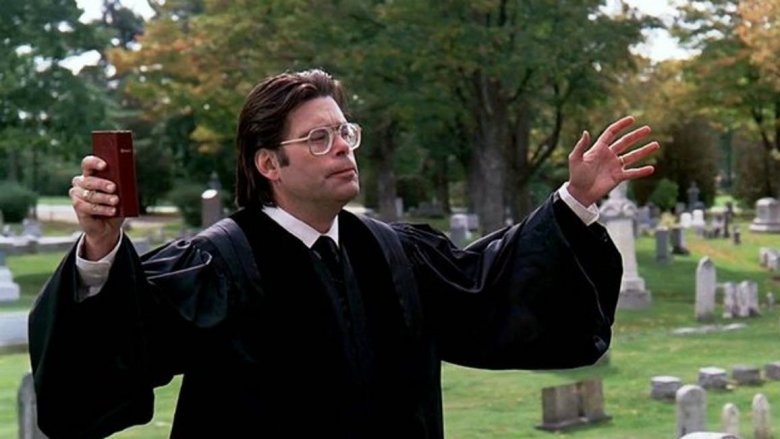 So many adaptations (and sequels to adaptations) have been made from Stephen King's work in the 45 years since Carrie was published that, if he had a direct hand in all of them, he'd have very little time for writing new work anymore. As a result, King's attachment to different films, TV movies, series, and miniseries based on his novels and stories has varied widely. He wrote the screenplays for films like Pet Sematary and the 1994 miniseries adaptation of The Stand, and in 1986 he wrote and directed Maximum Overdrive, a film based on his short story "Trucks" which was poorly received upon its release but has gone on to develop a cult following.
In recent years, King has contributed screenwriting work to adaptations of Cell and A Good Marriage, but has often stayed on the sidelines with new film adaptations, becoming more of a cheerleader for the work than an active participant. This includes the recent adaptation of IT and, according to producer Lorenzo di Bonaventura, the new adaptation of Pet Sematary. King did issue his review of the film via Twitter, though, warning fans that they were in for a scary ride.
One major story change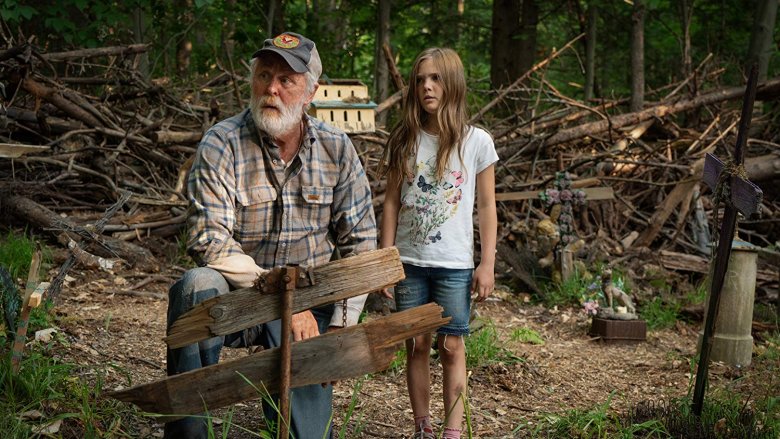 Though the new film seems to be very much in keeping with the spirit of King's original novel, there's one major change in Pet Sematary that the filmmakers have already put right out in the open. In the second trailer for the film, it was revealed that the Creed child who's killed and resurrected is not the youngest, Gage, but rather the oldest, Ellie. The reveal sent a shock through fans expecting another largely faithful adaptation of the book, but the filmmakers have some very good reasons for the change — among them the simple fact that an older, and therefore larger child, is a bigger threat in the midst of a horror movie. Plus, much of the horror achieved in the 1989 film revolving around the resurrected Gage was done with a doll, limiting what the filmmakers could do if they tried to go that route again. As producer Lorenzo di Bonaventura put it, it was an opportunity to show the audience something new.
"Trust me, we were nervous about it," he said. "I feel this way about anything that you remake or update. If we gave you what you had before, we didn't do the subject matter much good. I'm very protective of movies too, but I want a new experience each time, and feel like filmmakers have really thought about the choice. That was one, we thought, 'All right, let's make this choice.'"
Reckoning with that big change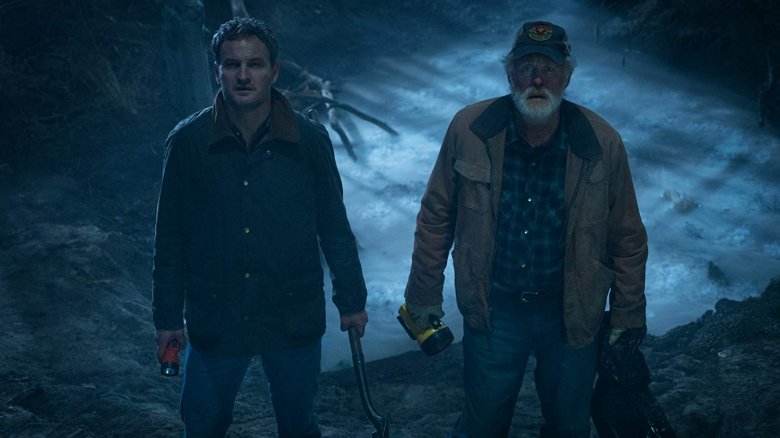 Such a major deviation from Pet Sematary's original plot was, of course, bound to divide fans of both the source material and the original film. On one hand, there are purists who would argue that Gage's death is the natural progression of the story, and that as the most vulnerable member of the Creed family, his death is the most tragic and his resurrection is therefore the most horrifying. On the other, there are fans who are intrigued by the choice, and interested in seeing how things take shape. Screenwriter Jeff Buhler admitted that even he took a little while to come around to the idea.
"I was like, 'We can't do this,'" he said. "And then once it settles, once that initial Stephen King purist shock settles and you start thinking about the mechanics of writing the story and how it would feel on film, it all started to feel more and more right ... It's impossible to adapt a work like Pet Sematary and not step on somebody's toes so we just kind of picked one big toe to step on and just left it at that. Otherwise, people would nitpick other little story ideas and it was just like, 'We're just gonna go for it.'"
So, what did King think of the big change to his story? According to star Jason Clarke, he "didn't have an issue with it."
An Easter egg hunt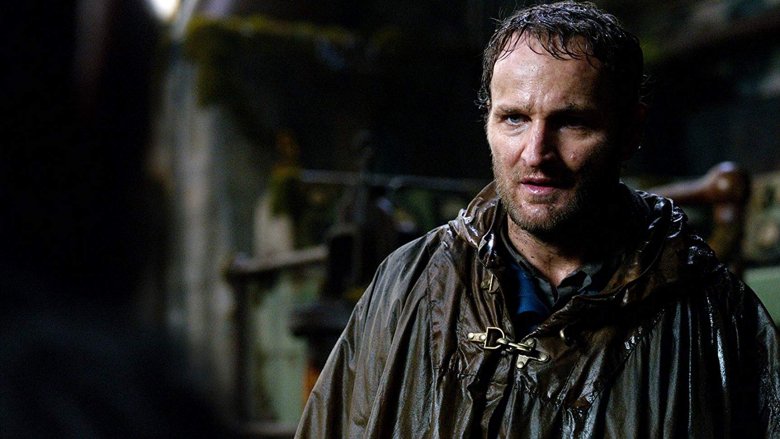 Throughout his career, Stephen King has built a fictional universe all his own that expands to connect, in ways both small and large, even his most self-contained novels. This is most overt in his Dark Tower saga, which deals with the notion of a multiverse, but even other novels contained these kinds of lateral references. The original Pet Sematary novel features references to Cujo, IT, and 'Salem's Lot. Sometimes they're just there to set up the geography of where the novel is set within King's fictional version of Maine, but they're there. With that in mind, and with series like Castle Rock throwing out King Easter eggs left and right, it makes sense that the new film would also have its own list of references for King fans to spot. Don't expect them to be too on the nose, though.
"We embraced that but set rules on it. Wherever we could, if something would tie into the world and would be there, we'd do it," co-director Dennis Widmyer said.
"Some of our art directors were like, 'How about we have some signage in Ludlow that says, like, Danny Torrance Realty?' No, because he wouldn't have a realtor office in Ludlow. Carrie White wouldn't have a prom dress shop, because she's dead. Every little Easter egg, and there are a lot of them you probably haven't caught yet, are things that could exist within the world of Ludlow and this story."
Why did it need to be R-rated?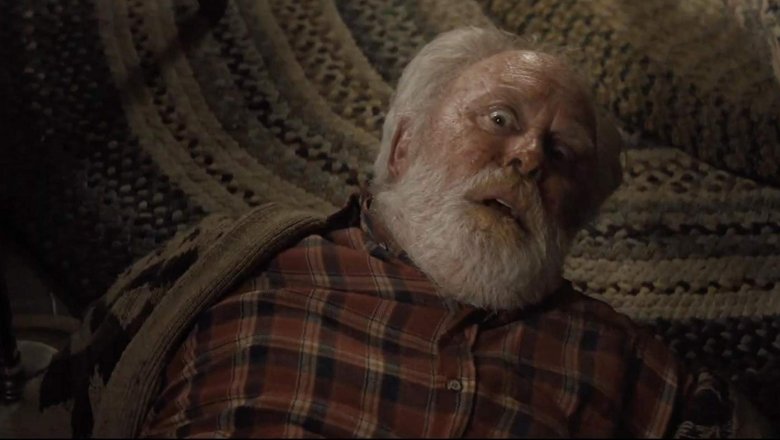 You can make a very scary, very stylish, and even violent horror film that still comes away with a PG-13 rating. For some filmmakers, that's the way to go, because it's easier to get a teenage audience eager to hold on to each other during Friday night dates to buy tickets. For others, though, there's just no substitute for pushing the horror all the way into the rated R territory. For Pet Sematary, which Widmyer calls "a dark f***ing movie," that was always going to be the right path. In some ways, according to producer Lorenzo di Bonaventura, it felt like the only path.
"Having tussled with the ratings boards more than I'd care to admit, when you have a child in jeopardy, which we have throughout this story, you're automatically an R," he said. "I'll say it this way also, we've never had a conversation with the studio about it being PG-13. My feeling about rating in general is I think some movies really demand one or the other. In this case, I think you let it be what it is. And so, I would tend to want it to be R."
Restoring a key monster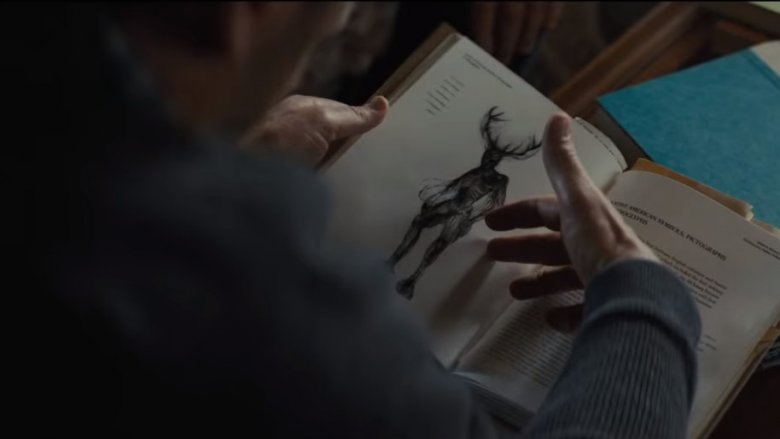 Lambert's 1989 adaptation of Pet Sematary has most of the elements that make the novel so terrifying. It's got Church's death, the speeding trucks, Gage's tragic funeral, the "deadfall" of brush at the back of the cemetery, the Micmac burial ground, the ghost of car crash victim Victor Pascow haunting Louis, and even the traumatizing flashbacks showing the death of Rachel Creed's sister Zelda. One thing it leaves out, though, is the Wendigo.
In King's novel, the Wendigo — a creature from Native American folklore — is responsible for the turning the burial ground "sour," and holds a supernatural sway over the land beyond the deadfall. Jud and Louis can hear it as they journey to bury Church, and as things turn more horrific it seems to be directly influencing events in a way that encourages Louis to bury first his son, and then his dead wife in the burial ground, in the hopes of continuing its evil. 
In the film, Pascow makes reference to something wanting Louis to go on, but never specifically names what it is. The deadfall has a kind of eerie glow around it, but the Wendigo is never referenced. The second trailer for the new film hints that this version of the story will feature the creature in some capacity, making it all the more creepy.
Rave early reviews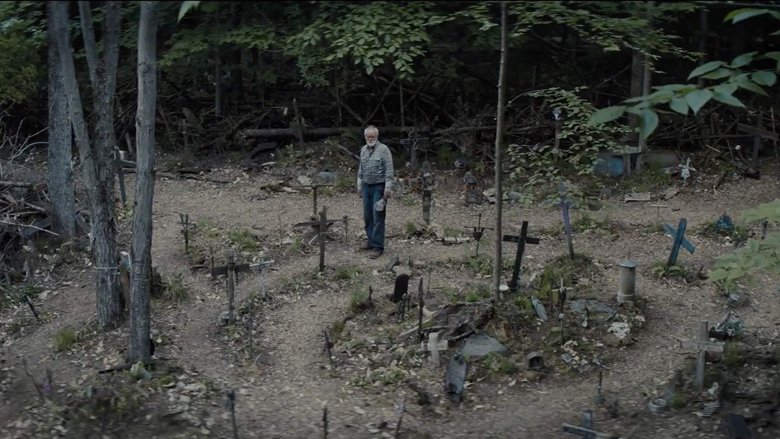 Pet Sematary premiered at SXSW this year, making it the second major horror release of 2019 — along with Jordan Peele's Us — to claim a key spot at one of America's biggest and trendiest film festivals. That means that while we still have a little while to wait before we see the film, we can now at least hear others try to answer the most important question: is it scary?
Well, according to those who saw it at SXSW, Pet Sematary is most definitely a terrifying film, which also manages to blend in dark humor and a sense of subverted expectations.
"Kolsch and Widmyer keep things moving at such a brisk pace. They also layer in an unexpected lever of dark humor, which helps when the horror sinks to visceral, singular levels of edge-of-your-seat terror. And it does, often," Megan Navarro of Bloody Disgusting wrote. "There's a level of danger that wasn't present in the '89 adaptation. The changes are such a big departure from the source material that it's quite likely to ruffle feathers of book purists, but it retains the core essence of King's themes and it always works for the better. And the final act is so absolutely off the rails bonkers that it's amazing that a big studio release ever let it pass. It's freaking twisted."