Where You've Seen The Cast Of The Curse Of Bridge Hollow Before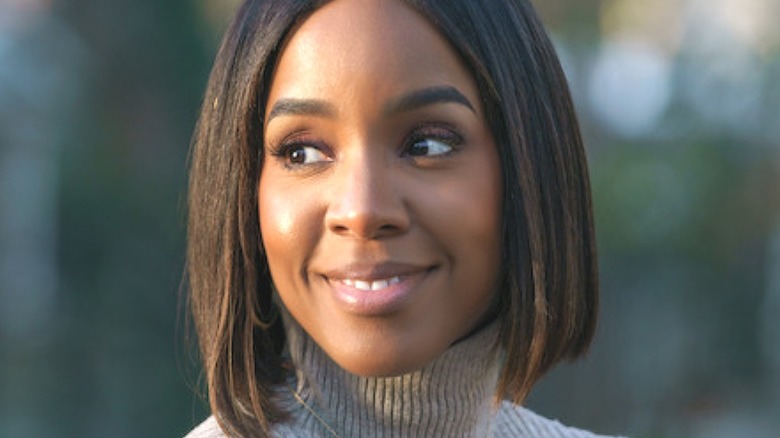 Netflix
Following the fourth season of "Stranger Things," Priah Ferguson reunites with Netflix for another horror project with the supernatural comedy feature "The Curse of Bridge Hollow." At the helm is "Kick-Ass 2" filmmaker Jeff Wadlow — no stranger to the horror genre, having previously directed Lucy Hale-led films "Truth or Dare" and "Fantasy Island," as well as four episodes of Nickelodeon's "Are You Afraid of the Dark?" revival.
In "The Curse of Bridge Hollow," a family of three moves from Brooklyn to one of the safest little towns in America. Unbeknownst to them, they're about to embark on an unforgettable Halloween adventure as they uncover the mystery surrounding their new home while the town's fabled monster awakes. Ferguson is joined by Marlon Wayans as they portray a feuding father-daughter duo who must set aside their differences to take down an ancient evil spirit bent on raising a terrifying army by bringing the titular town's Halloween decorations to life. 
Ferguson and Wayans are joined by an incredible ensemble cast consisting of comedians, TV actors, a Grammy winner, an Oscar nominee, and a retired marine. Get to know more about the cast of "The Curse of Bridge Hollow" and discover where you've seen them before.
Marlon Wayans as Howard Gordon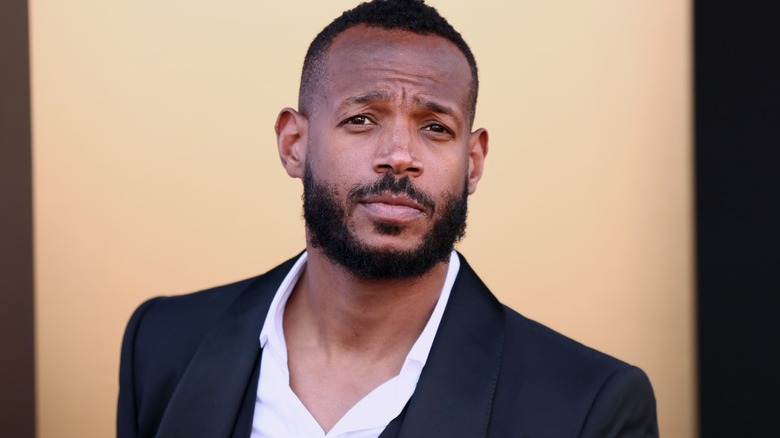 Matt Winkelmeyer/Getty Images
Leading the cast of "The Curse of Bridge Hollow" is Marlon Wayans in the role of Howard Gordon. His character is an overprotective father and a man of science who's a skeptic on all things supernatural. Wayans gained recognition for being a part of a celebrity family, with five older siblings who are also actors, including Damon Wayans and Shawn Wayans.
Marlon Wayans started his career in 1988, when he was cast as a background character in the blaxploitation parody "I'm Gonna Git You Sucka," which was written and directed by his second eldest brother, Keenen Ivory Wayans. In the early '90s, he became a featured cast member on the classic sketch comedy "In Living Color" for two seasons. His first big break came in 1995, after he and brother Shawn began headlining the five-season sitcom "The Wayans Bros." 18 years after their show ended, Marlon got the chance to star in his own solo sitcom "Marlon," which he co-created and executive produced for NBC.
Besides making people laugh on television, Marlon Wayans has also made notable performances in popular comedy films. This includes the first two installments of the parody franchise "Scary Movie" and the buddy cop comedy "White Chicks," which he co-wrote with brother Shawn Wayans. Outside of comedy, he has also starred in other film genres, showcasing his versatility as an actor. In 2000, he portrayed Tyrone C. Love in Darren Aronofsky's acclaimed psychological drama "Requiem for a Dream." He followed that up with supporting roles in the fantasy adventure "Dungeons & Dragons," the Coen Brothers' comedy thriller "The Ladykillers," the action-packed "G.I. Joe: The Rise of Cobra," and the Aretha Franklin biopic "Respect."
Priah Ferguson as Sydney Gordon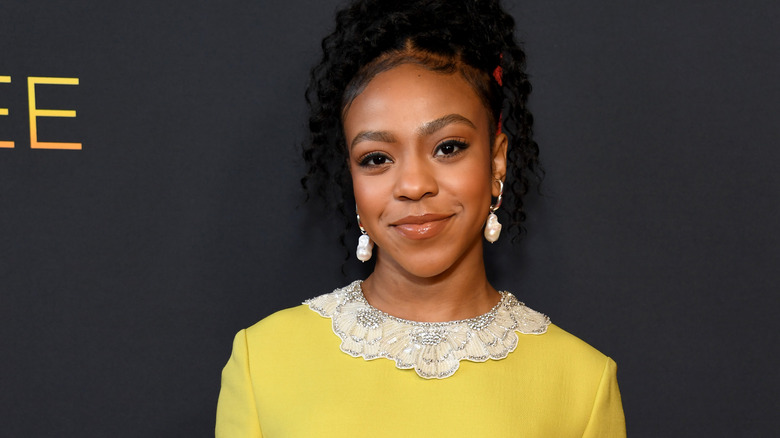 Jon Kopaloff/Getty Images
Priah Ferguson stars in "The Curse of Bridge Hollow" as Sydney Gordon, a teenager from Brooklyn who has unwillingly relocated with her family to the small town of Bridge Hollow. Despite not being thrilled with her parents' decision to leave their lives in the city, Sydney eventually warms up to Bridge Hollow after seeing the town's commitment to its Halloween festivities.
Ferguson gained worldwide recognition for her scene-stealing performance as Erica Sinclair on Netflix's widely-popular sci-fi horror series "Stranger Things." Her character is the sassy younger sister of Caleb McLaughlin's Lucas Sinclair, and she strongly dislikes when people try to use her age to underestimate her. Since her first introduction in Season 2, fans have been enamored with the character's witty jabs, quick-thinking, and mature personality. In a social media post shared through Netflix's Instagram account in 2021, Ferguson expressed how proud and grateful she is to be playing a richly realized character like Erica, a Black girl who isn't afraid to speak her mind. She hopes that through her portrayal that she can inspire young Black girls to always stand up for themselves and embrace all parts of their identity (including being a nerd).
Before landing "Stranger Things," Ferguson first started acting in short films like "Suga Water" and "Ends." In 2016, she scored a one-episode appearance on the FX dramedy "Atlanta." She also had brief roles on the medical drama "Mercy Street," the dramedy "Daytime," and the legal drama "Bluff City Law." Following her "Stranger Things" entrance, she made her feature-length acting debut in the black comedy "The Oath" starring Ike Barinholtz and Tiffany Haddish. "The Curse of Bridge Hollow" marks her first major film project as a lead.
Kelly Rowland as Emily Gordon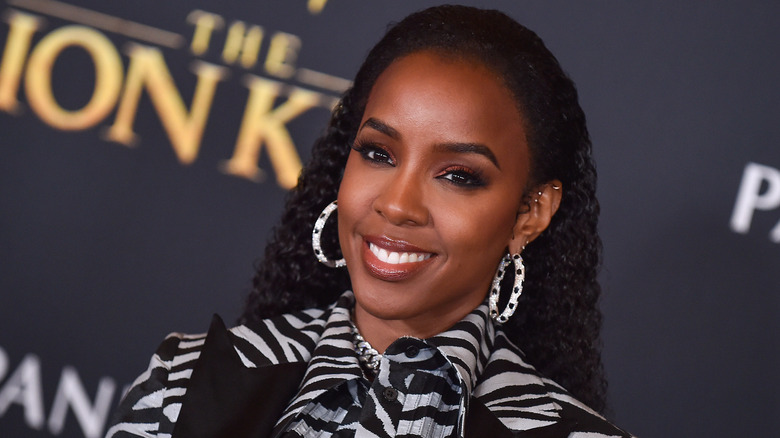 DFree/Shutterstock
Taking on the role of Sydney's level-headed mother Emily Gordon in "The Curse of Bridge Hollow" is Grammy-winning singer-actress Kelly Rowland. Her character always acts as the family mediator between her husband and daughter whenever they get into a disagreement.
Rowland is probably best known as a member of Destiny's Child, performing alongside Beyoncé Knowles for the group's entire 1997 to 2005 run. (Founding members LaTavia Roberson and LeToya Luckett were replaced by Michelle Williams and Farrah Franklin in a label-mandated shake-up in 2000, per Billboard.) Outside of the superstar group, Rowland has sold over 40 million records as a solo artist (via Entertainment Tonight). She's best known for her hit R&B singles "Stole," "Like This," and "Motivation" as well as her chart-topping song collaboration with Nelly "Dilemma." The latter claimed the number one spot at the Billboard Hot 100 and also earned the duo a Grammy Award for Best Rap/Sung Collaboration.
During Destiny's Child's three-year hiatus in the early 2000s, Rowland began pursuing her solo music career, but she also branched out to acting in 2003, when she landed a supporting role in the slasher crossover film "Freddy vs. Jason." She followed that up with a leading performance in the rom-com musical "The Seat Filler." Afterward, she only appeared in a few notable films, including "Think Like a Man," "Bad Hair," and Beyoncé's "Lion King" tie-in film "Black Is King." Rowland also nabbed recurring roles on a handful of TV shows, including "The Hughleys," "American Dreams," "Girlfriends," "Empire," and "American Soul."
Lauren Lapkus as Tammy Rice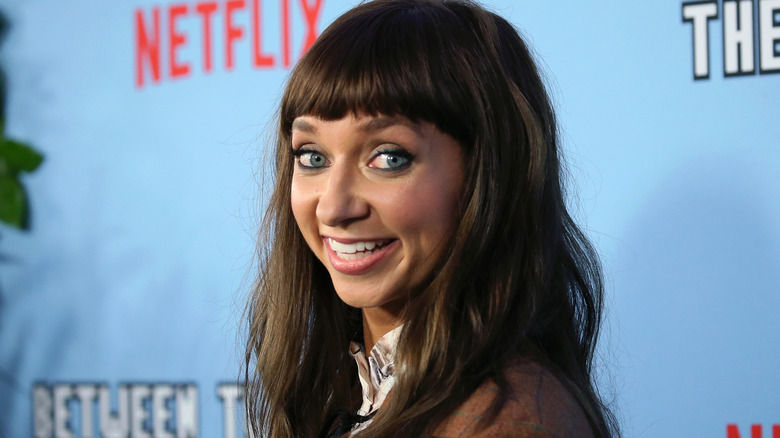 David Livingston/Getty Images
Lauren Lapkus plays the role of Tammy Rice, the quirky and dedicated mayor of Bridge Hollow who introduces herself to the Gordon family early on in the film. Mayor Rice drives an orange car with a giant pumpkin on top, showing how committed she is in the town's Halloween celebrations.
Lapkus first started honing her comedy skills while she was in high school by attending professional improv classes (via Box Los Angeles), and she's still doing improv performances as a member of the Asssscat and Wild Horses groups. She made her feature-length acting debut in the dramedy "Are You Here," starring Owen Wilson, and she followed that up with a brief appearance in the Aubrey Plaza-led rom-com "The To Do List." Afterward, she continued landing supporting roles in high-profile projects like "Jurassic World," the Adam Sandler vehicle "Blended," and the mystery comedy "Good Girls Get High." In 2020, she starred alongside David Spade in her first leading feature role in Netflix's romantic comedy "The Wrong Missy."
As for her television career, one of Lapkus' early TV roles was the character of Dee Dee on the short-lived NBC sitcom "Are You There, Chelsea?" She also appeared on the acclaimed dramedy "Orange Is the New Black" as security guard Susan Fischer. In 2016, she starred opposite Ben Schwartz on the web series "The Earliest Show," which earned her an Emmy nomination for Outstanding Actress in a Short Form Comedy or Drama Series. Since then, Lapkus has been scoring recurring roles on shows like "Crashing," "American Dad!," and "The Big Bang Theory." She recently portrayed Phoebe Donnegan in 17 episodes of the crime series "Good Girls."
John Michael Higgins as Principal Floyd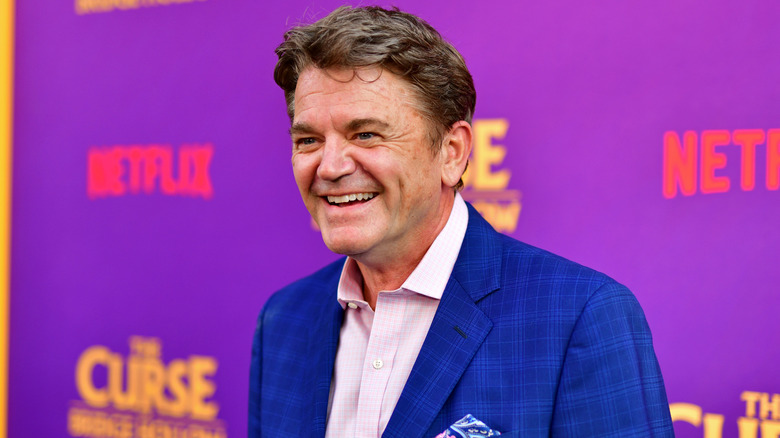 Jerod Harris/Getty Images
In "The Curse of Bridge Hollow," John Michael Higgins portrays Principal Floyd, Howard's welcoming new boss. As it turns out later in the film, he's also a serious collector of all things occult. Throughout more than three decades in the industry, Higgins has established himself as a familiar figure in both film and television, thanks to his many recurring and supporting performances.
Higgins officially began his onscreen acting career in 1988, when he nabbed a minor part in the horror comedy "Vampire's Kiss" starring Nicolas Cage. Afterward, he started making one-episode appearances on shows as varied as "Miami Vice," "The George Carlin Show," "Cybill," "Seinfeld," "Weird Science," "Party of Five," and the HBO miniseries "From the Earth to the Moon." In the 2000s, he started picking up regular recurring roles like Steven Milter on "Ally McBeal," Wayne Jarvis on "Arrested Development," Professor Eustice Whitman on "Community," Rodney Jesko on "The Good Wife," and Dr. Cahill on "Wilfred." Higgins also had major roles on the Fran Dreschner-led sitcom "Happily Divorced," the animated sequel series "Avatar: The Legend of Korra," and Peacock's short-lived "Saved by the Bell" reboot.
In addition, Higgins has also built his film career through his supporting appearances in comedies, including "Wag the Dog," "The Break-Up," "Evan Almighty," "Fred Claus," "Bad Teacher," and "We Bought a Zoo." He's long been a staple of Christopher Guest's troupe, with memorable performances is "Best in Show" and "A Mighty Wind." He's also starred in all three "Pitch Perfect" films as competition commentator John Smith.
Rob Riggle as Sully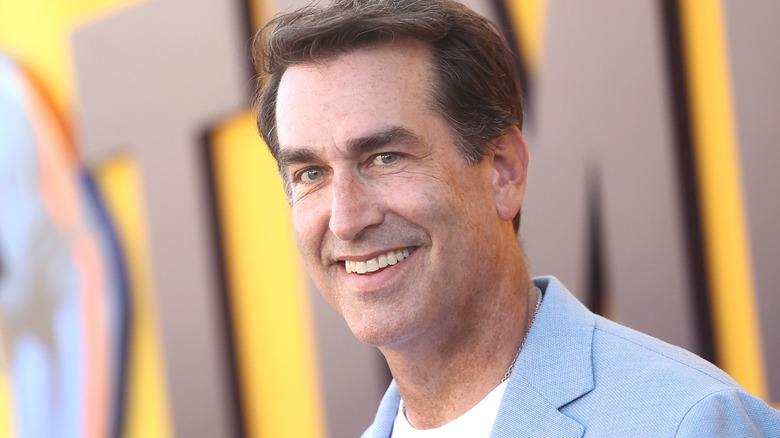 Tommaso Boddi/Getty Images
Rob Riggle plays the Gordon family's next door neighbor Sully in "The Curse of Bridge Hollow." Like everyone in the town, Sully is passionate about Halloween, decorating his lawn with zombie figures. Before pursuing a career in comedy, Riggle first joined the Marines, initially planning to become a naval aviator (per Military.com). He served until 2013 as a decorated member of the United States Marine Corps Reserve, with experience in Albania and Afghanistan. During his 23 years of service, he received multiple medals including the Meritorious Service Medal, Combat Action Ribbon, and Humanitarian Service Medal (via VME).
Riggle started his acting career in the late '90s on the sketch comedy series "Upright Citizen Brigade," in which he played various characters from 1998-2000. Before becoming a regular correspondent on "The Daily Show," he briefly worked as a featured player on "Saturday Night Live" during its 2004-2005 season. He's had a memorable run of one-episode appearances on popular shows like "The Office," "Arrested Development," "Chuck," "30 Rock," "Key & Peele," "Fresh Off the Boat," and "Brooklyn Nine-Nine." Regular recurring roles include Big Schmidt on "New Girl" and Gil Thorpe on "Modern Family."
Riggle might be a more familiar face to moviegoers, thanks to his many supporting appearances in comedy films like "Talladega Nights: The Ballad of Ricky Bobby," "Step Brothers," "The Other Guys," and "The Hangover." Audiences may have also heard his voice in animated fare like "The Lorax," "Hotel Transylvania," and "Ugly Dolls."
Nia Vardalos as Madam Hawthorne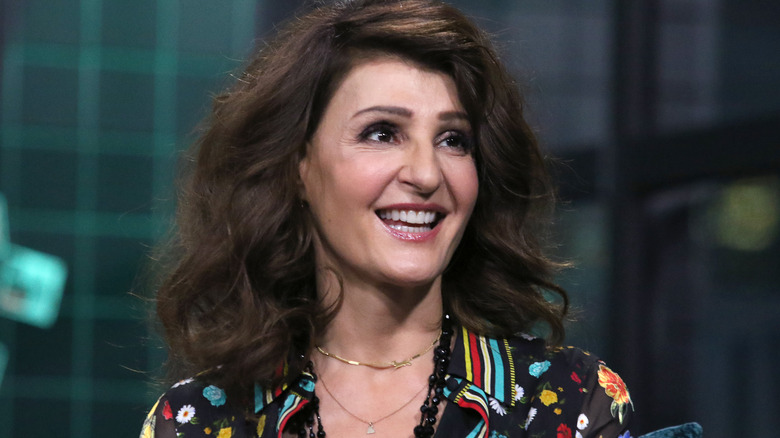 Jim Spellman/Getty Images
Nia Vardalos plays the mysterious Madam Hawthorne, the original owner of the Gordon family's new house who lived long ago as a spiritual medium dabbling in witchcraft. Vardalos began her acting career with minor roles on shows like "Missing Persons," "High Incident," "Common Law," "The Drew Carey Show," and "Boy Meets World." She also voiced the character of Domino on the action crime drama "Team Knight Rider."
Vardalos' big break came in 2002, when she wrote and starred in the sleeper hit romantic comedy "My Big Fat Greek Wedding." For her screenplay and leading performance as Toula Portokalos, she received multiple award nominations, including an Oscar for Best Original Screenplay and a Golden Globe for Best Actress in a Motion Picture Comedy or Musical. Following its commercial success, she wrote and led another comedy film, "Connie and Carla," which also starred Toni Collette. Since then, she's continued appearing in major roles, including her feature directorial debut "I Hate Valentine's Day" and "Larry Crowne," which she co-wrote with Tom Hanks.
In 2003, Vardalos adapted "My Big Fat Greek Wedding" into a spin-off sitcom for CBS titled "My Big Fat Greek Life," which was canceled after one season due to a decline in ratings (per Entertainment Weekly). She also scored one-episode appearances on popular shows like "Grey's Anatomy," "Jane the Virgin," "Crazy Ex-Girlfriend," and "Love, Victor." Following "The Curse of Bridge Hollow," Vardalos can be seen in an episode of Netflix's horror anthology "Guillermo del Toro's Cabinet of Curiosities." She's also expected to reprise her iconic role in the upcoming third installment of the "My Big Fat Greek Wedding" movie series.
Doug Dawson as Stingy Jack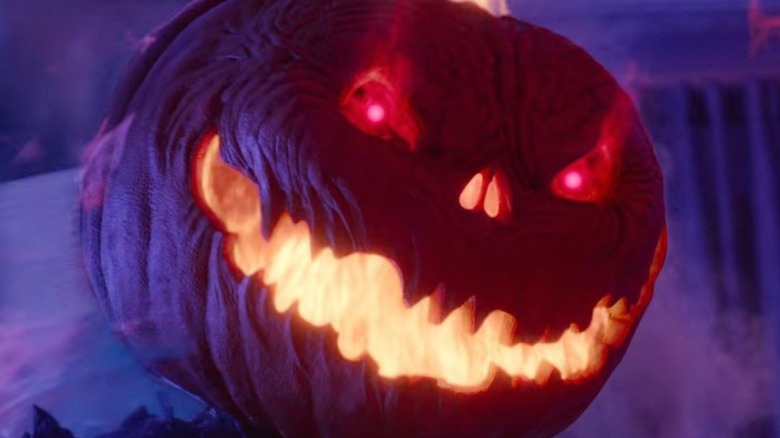 Netflix
Doug Dawson plays the ghost of Stingy Jack, the main antagonist of "The Curse of Bridge Hollow" who has the abilities to bring inanimate objects to life. Priah Ferguson's Sydney unknowingly unleashes Stingy Jack from his pumpkin prison, and he intends to finally fulfill his plans of taking over Bridge Hollow by making every day Halloween.
Dawson made his acting debut in 2013 when he was tapped to join the TV movie "Toast." The following year, he nabbed a recurring appearance on Syfy's zombie drama "Z Nation" in the role of Skeezy. Later on, he appeared in two episodes of the fantasy crime drama "Grimm" as two different supporting characters. In 2018, he scored his first feature film project in the sci-fi adventure "Prospect" alongside "The Mandalorian" star Pedro Pascal and "Yellowjackets" breakout Sophie Thatcher. In the film, he portrayed the character of Heshir.
Dawson followed this up with a supporting appearance in the independent music drama "Dreamin' Wild" starring Casey Affleck and Zooey Deschanel. The film had its world premiere at the 2022 Venice International Film Festival, but has yet to be picked up by a distributor. After "The Curse of Bridge Hollow," he will next be seen in two independent horror films, "The Outpost" and "Ebenezer Falls." The former marks "Brooklyn Nine-Nine" alum Joe Lo Truglio's feature directorial debut.
Jonathan Kite as Mr. Skinner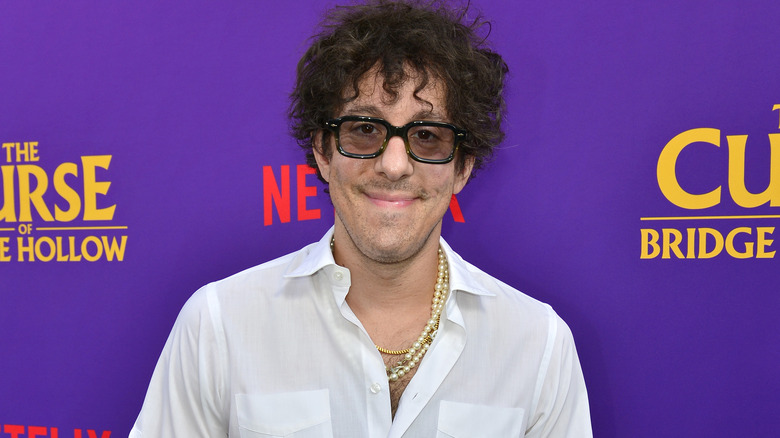 Jerod Harris/Getty Images
Jonathan Kite takes on the supporting role of Mr. Skinner in "The Curse of Bridge Hollow." Having bought Madam Hawthorne's book of spells, he's the one who sells it to Principal Floyd.
Kite's early acting credits include one-episode appearances on several Disney shows, including "The Suite Life on Deck," "Wizards of Waverly Place," "I'm in the Band," and "Kickin' It." He's best known for his series regular role on the Kat Dennings-led comedy series "2 Broke Girls." For six seasons, Kite played Max and Caroline's pervy co-worker Oleg, who later on the series became the love interest of Jennifer Coolidge's Sophie. Four years after the show ended its run, he landed another series regular role on Netflix's short-lived Jamie Foxx-led sitcom "Dad Stop Embarrassing Me!" Audiences might have also heard his voice on a few animated shows, including "Black Dynamite," "The Boss Baby: Back in Business," "Cleopatra in Space," and "M.O.D.O.K."
As for his film career, Kite has only appeared in a few independent films, including "Deeply Irresponsible," "The Bellmen," "Supercool," and "The Best Worst Christmas Ever." Following his brief appearance in "The Curse of Bridge Hollow," he can be seen in the coming-of-age drama "James the Second," starring Lynn Collins and Bryce Gheiser.
Helen Slayton-Hughes as Victoria Hawthorne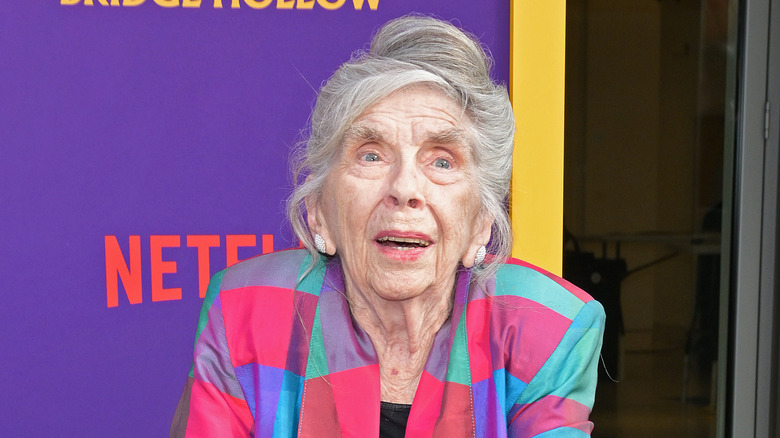 Michael Tullberg/Getty Images
Portraying Madam Hawthorne's granddaughter Victoria is Helen Slayton-Hughes. In the film, Victoria tells Sydney about the time she saw her grandmother conjure and fight off Stingy Jack. Slayton-Hughes started her acting career in the early 1980s, when she was cast in minor parts in films like "Mafia on the Bounty" and "Shoot the Moon." She then shifted her focus to professional stage acting, racking up over 200 credits.
At the age of 70, Slayton-Hughes returned to the screen. Since the early 2000s, she's been landing supporting roles on a number of hit shows as varied as "Nash Bridges," "The Drew Carey Show," "Judging Amy," "The West Wing," "Malcolm in the Middle," "That's So Raven," "My Name is Earl," and "Desperate Housewives," among many others. Her most prominent TV role to date is Ethel Beavers on "Parks and Recreation."
On the big screen, she's played supporting roles in the historical drama "Good Night, and Good Luck," the rom-com "I Want Someone to Eat Cheese With," Tim Allen's feature directorial debut "Crazy on the Outside," the dark comedy "Hersher," the "Veronica Mars" movie, and "Don't Worry, He Won't Get Far on Foot" featuring Joaquin Phoenix. She can also be heard in Netflix's animated holiday adventure "Klaus."