The Best New Movies And TV Shows To Watch On Netflix In April 2020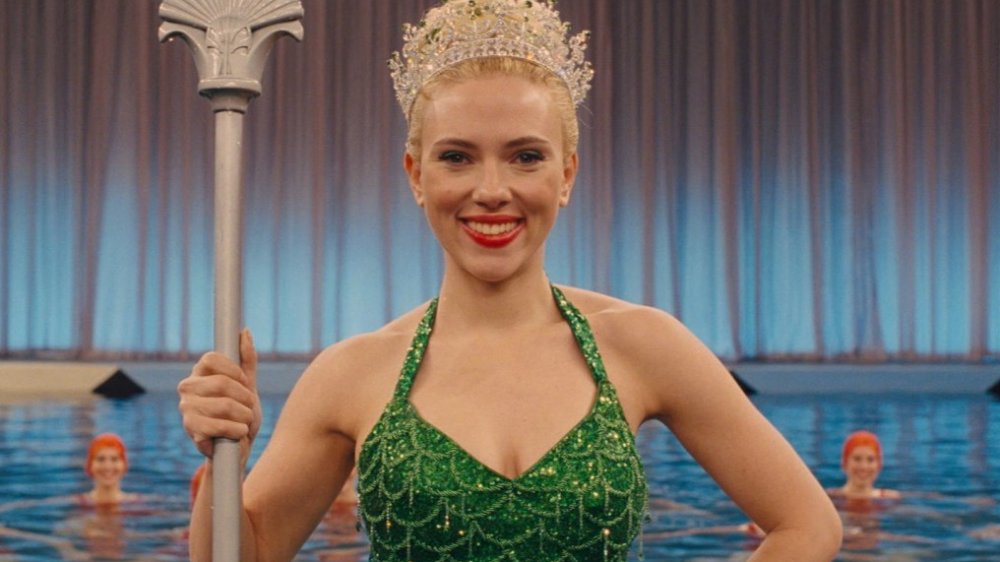 Though the world is currently in the middle of a health crisis as COVID-19, the disease caused by the novel coronavirus, continues to spread, spring has indeed sprung — despite the collective global mood feeling anything but warm and cheerful. As with the onset of any new season, coronavirus pandemic carrying on simultaneously or not, the turning of the calendar means that Netflix is clearing its catalogue of old content and bringing in a truckload of fresh additions. April 2020 is quickly approaching, and the king of the streamers has announced an impressive slate of movies and television shows that will be new to Netflix throughout the month. 
From family comedy series and stand-up specials to mysterious Netflix originals and heartwarming rom-coms to all sorts of well-loved flicks, here are all the best new movies and TV to watch on Netflix in April 2020. Plus, stick around to find out what Netflix is getting rid of to make way for its latest offerings.
Netflix is packing plenty of heat when it comes to its April 2020 action and sci-fi offerings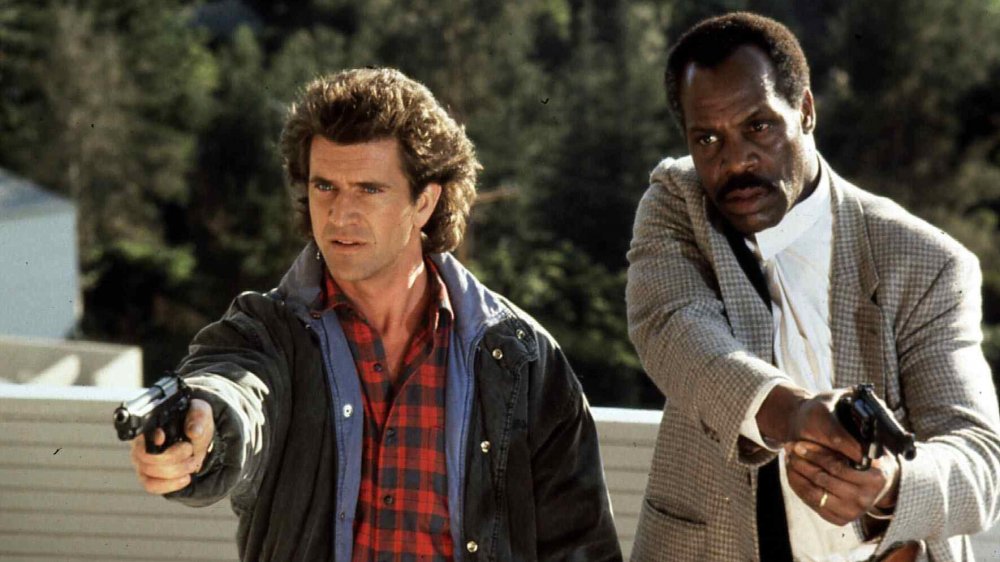 Warner Bros. Pictures
Not even an April shower will be able to douse excitement around these explosive new additions to Netflix in April 2020.
Among the streamer's early dump of popular previously released action titles are several franchise entries, including all four installments of the classic action hit Lethal Weapon. Once you've got your fix of Mel Gibson and Danny Glover's spit-fire chemistry, you might want to try your hand at several other action entries that are classics in their own right. Among them are the '90s video-game crossover Mortal Kombat, and, for Quentin Tarantino buffs, his bloody, Academy Award-winning 2013 feature Django Unchained.
Despite having several oldies but goodies populating this month's list of action and adventure releases, one new film Netflix is clearly banking on to be its number one streaming hit of spring 2020. That's the Joe and Anthony Russo-produced, Chris Hemsworth-led film Extraction, which follows a fearless black market mercenary's rescue of an imprisoned crime lord's son.
April 1
Lethal Weapon
Lethal Weapon 2
Lethal Weapon 3
Lethal Weapon 4
Mortal Kombat
Salt
Sherlock Holmes
April 2
The Good, the Bad and the Ugly
April 4
Angel Has Fallen
April 24
Extraction
April 25
Django Unchained
The sci-fi films coming to Netflix this April will blow your mind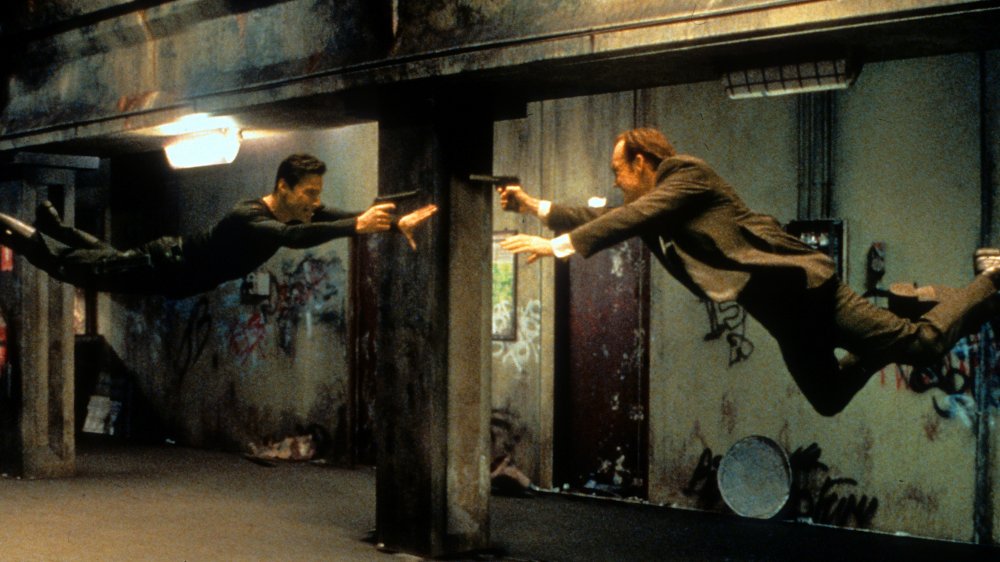 Warner Bros. Pictures
Netflix is putting the battle for the future of the human race on Earth and in space front and center with these April additions to its library.
The current coronavirus quarantine may find you more reliant than normal on your gadgets, something that's sure to have you questioning your ongoing relationship with your home's digital intelligence. If the pandemic has you pondering how you and your tech are going to get along trapped inside your home together for the next few months, consider watching these films from three of science fiction's greatest minds.
Re-enter the simulation with all three of parts of the Wachowskis' game-changing Matrix trilogy, or watch Tom Cruise as he attempts to survive a very flawed futuristic crime technology in the Philip K. Dick-inspired Minority Report. If thinking about how your Alexa might soon have you ordering its groceries feels like a bit too much right now, consider watching humans battle a different kind of intelligence: alien. Despite its lukewarm critical reception, Battle: Los Angeles' extraterrestrial invaders might be just the thing you need to take your mind off of the current viral threat facing humans.
April 1
Deep Impact
Minority Report
The Matrix
The Matrix Reloaded
The Matrix Revolutions

April 18
The Green Hornet
April 27
Battle: Los Angeles
These dramas coming to Netflix in April 2020 will take your mind off your stresses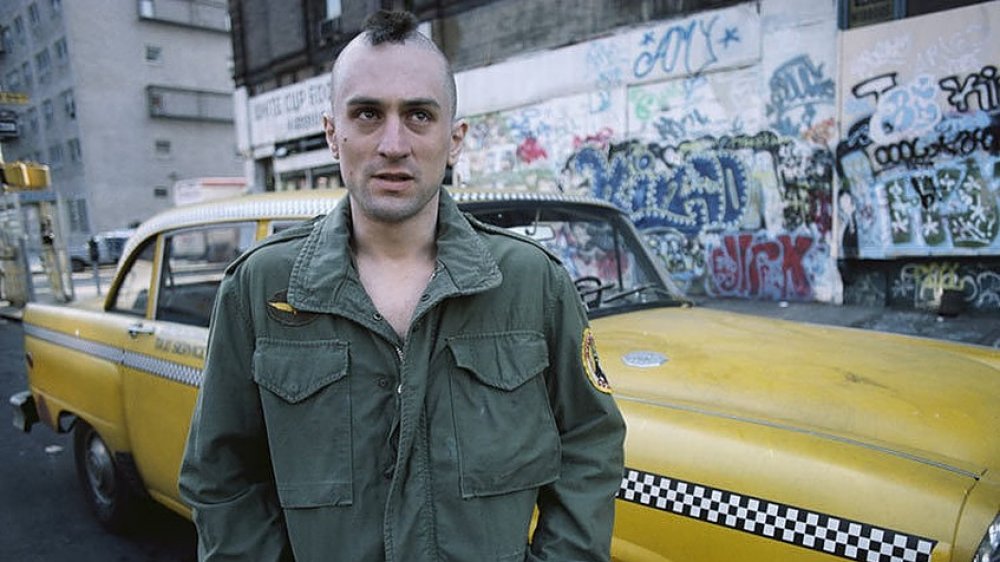 Columbia Pictures
Spring cleaning is always a good way to take your mind off of personal stresses. But Netflix also has a solid list of titles dropping this month that will just as easily make you forget — or appreciate — your own dramas in comparison.
For those looking to escape the now for the good old days especially, Netflix has a handful of April additions right up your alley. In April 2020, consider distracting yourself with the likes of Hollywood A-listers Josh Brolin, George Clooney, and Scarlett Johansson in Hail, Caesar! — the 2016 comedic mystery drama that centers on fixer Eddie Mannix's scramble to save kidnapped actor Baird Whitlock and his swords-and-sandals epic from certain death. There's also the music-infused Cadillac Records, about the turbulent lives of 1940s musicians; or the black-and-white, French-language, silent film-style dramedy The Artist, about a 1920s silent film star whose affair is interrupted by the growing popularity of sound in music.
Netflix also has a few darker April offerings, including Robert DeNiro's wholly unsettling turn as Travis Bickle in the iconic film Taxi Driver, or Jesse Eisenberg's performance as the only sometimes unsettling Mark Zuckerberg in the Facebook origin story The Social Network.
April 1
Cadillac Records
Molly's Game
Mud
Road to Perdition
Taxi Driver
The Social Network
April 16
Hail, Caesar!
April 25
The Artist
The comedies hitting Netflix in April 2020 will help you start spring off with a good laugh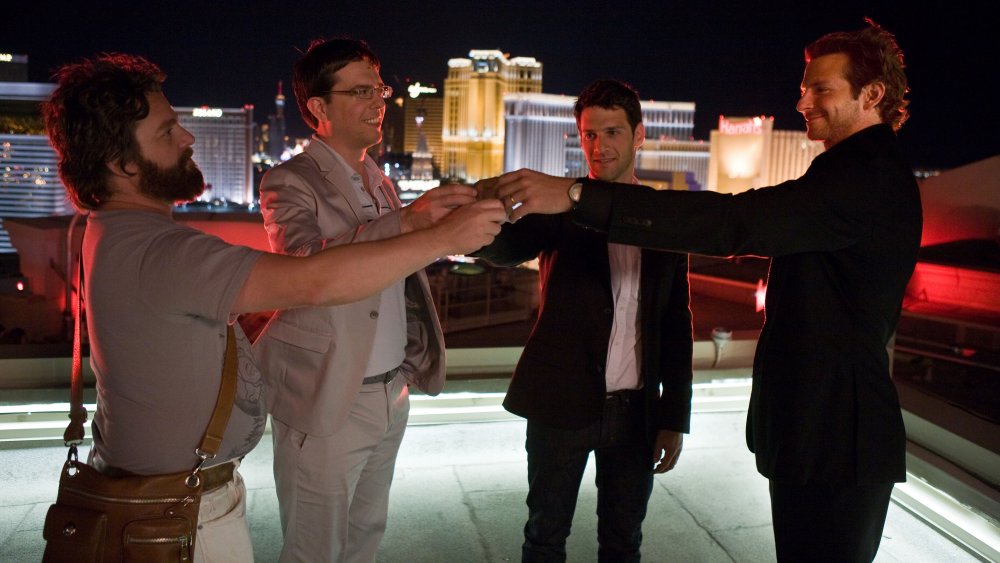 Warner Bros. Pictures
Though March 19, 2020 marked this year's spring solstice, it never really feels like the new season until April 1. It's a time of blossoming flowers, increasing sunshine, and a sense of renewal. That makes it the perfect time to opt for a movie that brightens — not dampens — your day. These comedy titles coming to Netflix in April 2020 will make the job of cheering yourself up by getting in a good laugh a lot easier.
Ed Helms is helping lead the comedic charge this month — first with his starring role as the uptight dentist Stu in The Hangover, and then with his turn in an all-new Netflix original. Starring opposite Taraji P. Henson in Coffee & Kareem, Helms plays police officer James Coffee, whose relationship with Vanessa Manning (Henson) is being sabotaged by her 12-year-old son Kareem (Terrence Little Gardenhigh). Things take a turn when the boy and Helms must team-up to save her.
In addition to a slew of comedy specials, there's a Ryan Reynolds addition to the Netflix library that may or may not win you over — though it certainly delivers on the same one-of-a-kind comedic charm that made the actor a perfect fit for Deadpool. Just Friends is a Christmas comedy about a high school nerd, played by Reynolds, who tries to escape the friend zone of his lifelong crush and best friend (Amy Smart).
For those looking for funnies in a different comedic medium, stream You season 2 actor Chris D'Elia's newest stand-up comedy special No Pain on April 14.
April 1
40 Days and 40 Nights
Just Friends
David Batra: Elefanten I Rummet (Special)
The Hangover
April 2
Coffee & Kareem
April 14
Chris D'Elia: No Pain (Special)
April 21
Middleditch & Schwartz
April 24
Yours Sincerely, Kanan Gill (Special)
Let these April 2020 Netflix offerings get under your skin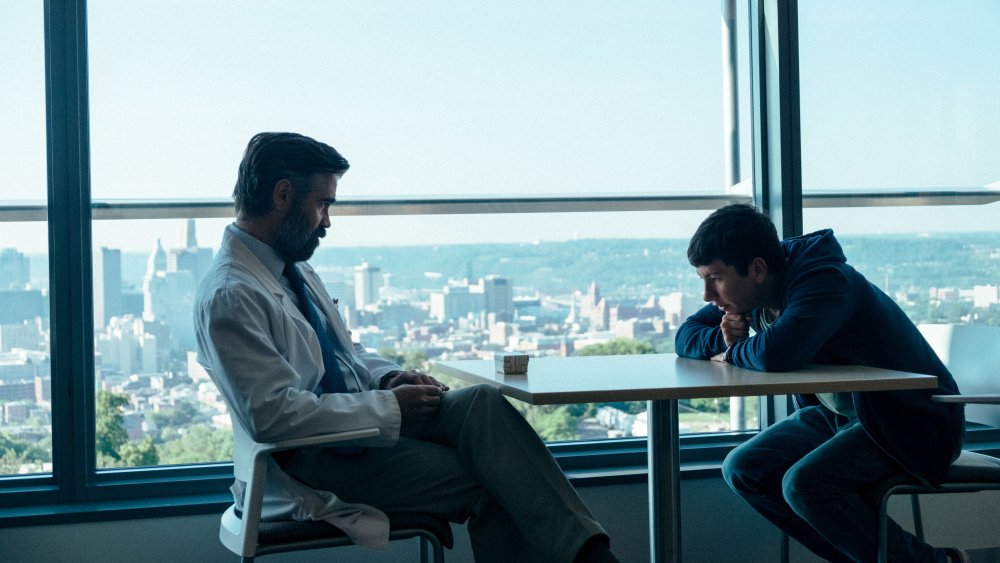 Curzon Artificial Eye/A24
Spring might signal brighter days ahead, but that doesn't mean you still can't enjoy a darker flick on Netflix.
The streamer is offering a decent amount of sinister fare in April 2020, much of which scares up fears not about the unknown but that — and those — which we do know. From deadly siblings, roommates, and neighbors to clowns and demons, Netflix's thriller and horror offerings for April are frightfully fantastic.
Start the month with classics that go out of this world for their chills like Killer Klowns from Outer Space. Or tackle your fears of being replaced with the Leighton Meester-led The Roommate or 2017's The Killing of a Sacred Deer, which follows a cardiovascular surgeon (Colin Farrell) and his wife (Nicole Kidman) after their picture-perfect suburban life is disrupted by a fatherless teen who inserts himself into their lives.
End the month with two new Netflix originals: Dangerous Lies, a star-studded mystery thriller starring Riverdale's Camila Mendes alongside Jamie Chung, Cam Gigandet, Sasha Alexander, and Elliott Gould; and The Forest of Love: Deep Cut, a deeply dark dramatic re-telling of the real-life murders, torture, and extortion of a Japanese family.
April 1
Killer Klowns from Outer Space
The Roommate
April 5
The Killing of a Sacred Deer
April 20
The Vatican Tapes
April 30
The Forest of Love: Deep Cut
Dangerous Lies
Netflix's library of new and original animation and anime is growing in April 2020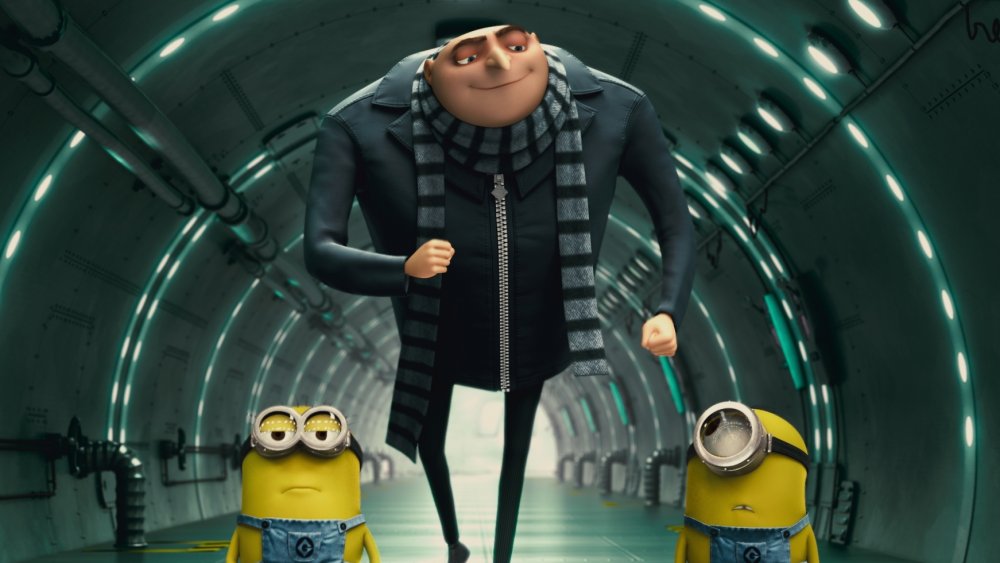 Universal Pictures
Dreamworks, Disney, and Pixar have dominated the animation field for years, while anime has largely remained an offshore import. But with a wide range of highly popular releases like Voltron: Legendary Defender, She-Ra, Beastars, Castlevania, and Devilman Crybaby, Netflix is drawing a future where it's a true competitor in the genres.
April 2020 library additions continue Netflix's trend of offering subscribers a variety of new and classic anime and animation. The month's most interesting include the original series The Midnight Gospel, which draws on interviews from the Duncan Trussell Family Hour podcast as it follows a spacecaster looking for the meaning of life as they travel the galaxy. There's also the arrival of the film that birthed minions mania, Despicable Me, as well as two chapters in the classic Bleach anime franchise, Bleach: The Assault and Bleach: The Bount. Pokémon fans can also check out the third season of Pokémon the Series: Sun & Moon, subtitled Ultra Legends.
April 1
Pokémon the Series: Sun & Moon — S3: Sun & Moon – Ultra Legends
April 16
Despicable Me
April 20
The Midnight Gospel
April 21
Bleach: The Assault
Bleach: The Bount
April 30
Drifting Dragons
These TV shows coming to Netflix in April 2020 will get you through a rainy day stuck indoors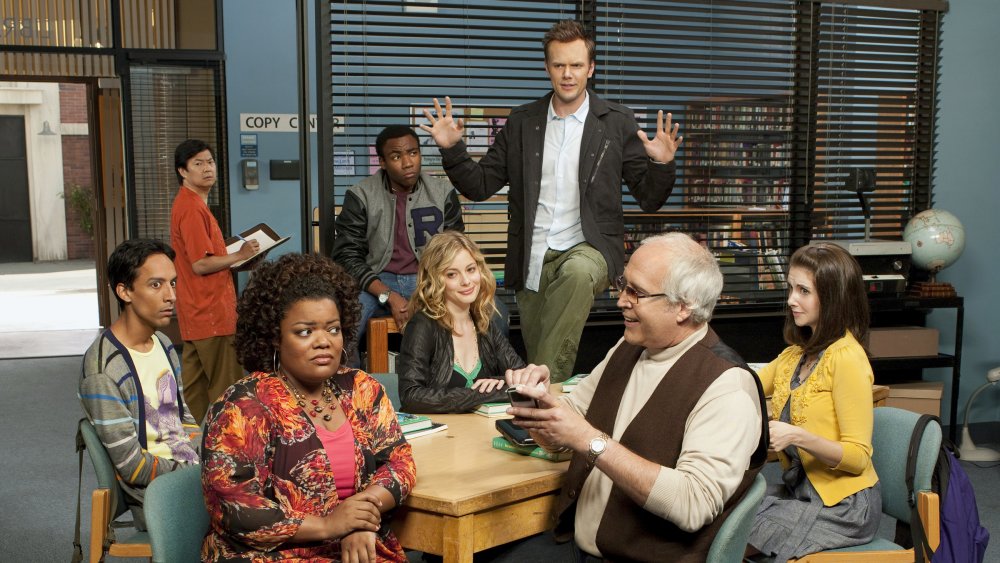 NBCUniversal
April showers might see you confined to your house even if the coronavirus pandemic doesn't, and that means you'll need much more than a cinematic distraction. Good thing Netflix has a bunch of binge-worthy television series hitting the streaming service in April 2020.
Rick & Morty fans who haven't caught one of showrunner Dan Harmon's earliest gems, Community, can load up the show when all six seasons drop at the start of the month. The series follows a group of heartwarming but oddball community college students who try to survive their non-traditional post-secondary education — and each other. Marvel fans looking to get an idea of what makes Shang-Chi and the Legend of the Ten Rings star Simu Liu perfect for the role can catch him on the fourth season of the hit Canadian comedy Kim's Convenience.
On the more dramatic side, expect to see new seasons from the Ricky Gervais grief-centric drama After Life, as well as two new small-screen originals. First up is Outer Banks, a young adult treasure-infused mystery about eight teens who search for one's missing father leads to a treasure map and a long-buried secret. The second, Never Have I Ever, is a coming-of-age drama about a modern first-generation Indian American teen. The series comes from the mind and life of The Office alum Mindy Kaling.
April 1
Community: Seasons 1-6
Kim's Convenience: Season 4
Nailed It!: Season 4
April 15
Outer Banks
April 24
After Life: Season 2
April 26
The Last Kingdom: Season 4
April 27
Never Have I Ever
The best movies leaving Netflix in April 2020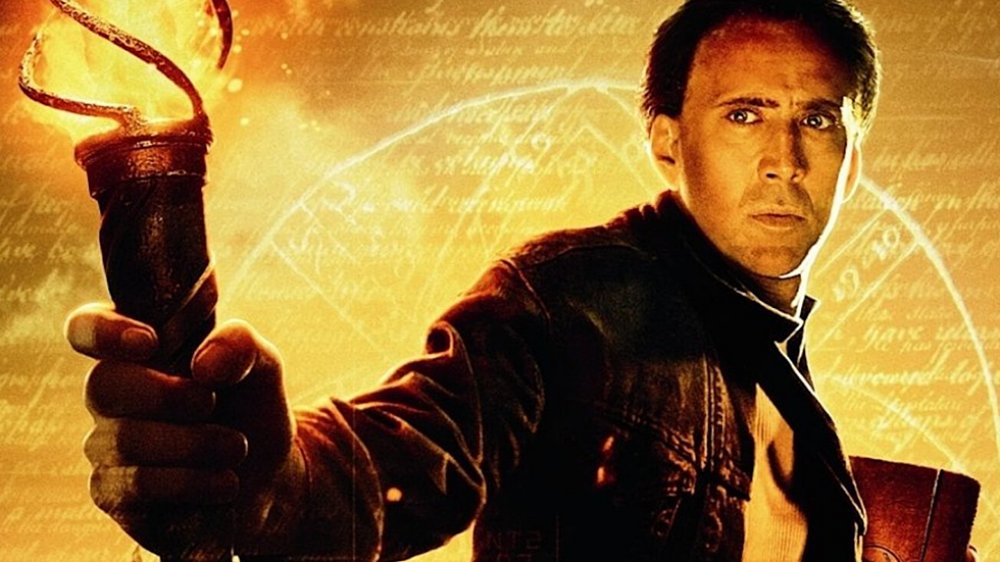 Walt Disney Pictures
While you're busy social distancing to avoid contracting coronavirus, you really have no excuse not to get your money's worth with that Netflix subscription. There's no worse feeling than opening up the app on your streaming device of choice to discover that classic flick you were finally going to watch has departed from the rolls without ceremony. If any of these features are on your Netflix bucket list, it's time to get after them with a renewed sense of urgency.
On April 29, Nicholas Cage's family adventure movie National Treasure is taking a bow. The 2004 feature film from Walt Disney Pictures was produced by Jerry Bruckheimer and stars Cage alongside an all-star cast consisting of Harvey Keitel, Sean Bean, Justin Bartha, Chris Plummer, and Diane Kruger. Cage plays historian and cryptologist Benjamin Franklin Gates, a man on a quest to uncover the lost treasure of the American Freemasons. It's basically The Da Vinci Code for the whole family, which makes it the perfect bit of escapism to help your clan get through these troubled times.
Then comes the real culling on April 30. At month's end, Netflix is saying goodbye to over 30 classic movies including The Talented Mr. Ripley (1999), Blade Runner: The Final Cut (2007), and True Grit (2010). Still putting off that Police Academy marathon you've been planning since before the holidays? Better get to it, because the entire film series is on its way out at Netflix. Didn't get your fill of Scorsese's mobster schtick from The Irishman? Well, hurry up and stream Goodfellas, because the 1990 crime story is playing on borrowed time. Both Scream sequels are scheduled to follow suit, as are other horror classics Rosemary's Baby (1968), Friday the 13th (1980), and the campy '90s witch romp The Craft. If you haven't seen Fairuza Balk hamming it up as a teenage wiccan gone to the dark side, then you haven't lived.
Here's some of the other great stuff that will be vanishing from your recommendations in April:
Leaving April 8
Movie 43
Leaving April 17
Big Fat Liar
Leaving April 19
The Longest Yard
Leaving April 24
The Ugly Truth
Leaving April 29
National Treasure
Leaving April 30
A Nightmare on Elm Street
Blade Runner: The Final Cut
The Craft
Crouching Tiger, Hidden Dragon
Friday the 13th
GoodFellas
The Hangover
Harold & Kumar Go to White Castle
Lemony Snicket's A Series of Unfortunate Events
Police Academy 1-7
Rosemary's Baby
Rounders
Scream 2 & 3
The Shawshank Redemption
Step Brothers
True Grit
The best TV shows leaving Netflix in April 2020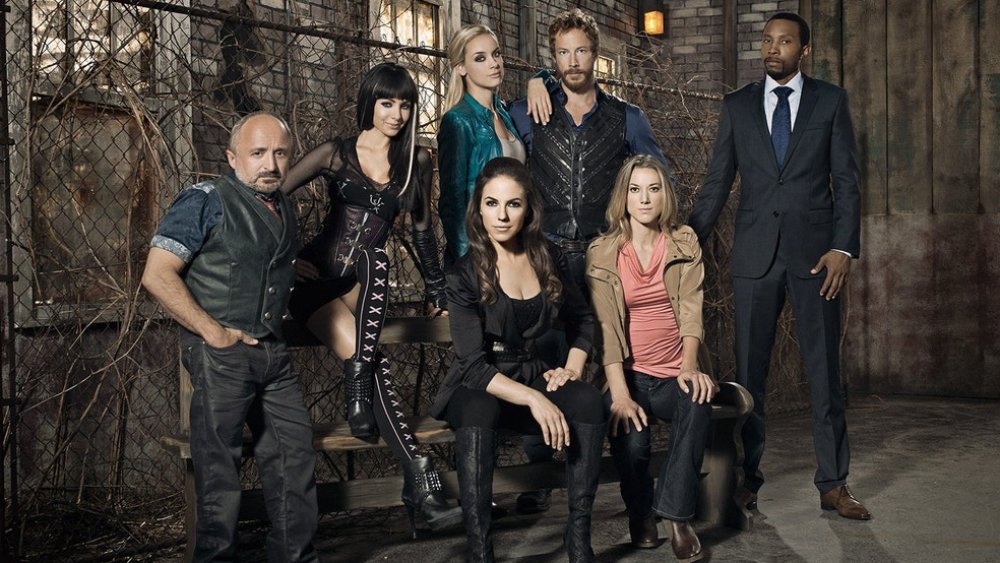 Syfy
The beginning of spring is usually a time when most of us turn off the TV, slip out of our soft pants, and squeeze back into some jeans to venture outside from our winter hibernation. Thanks to COVID-19, this spring is going to be a little... different. But maybe you're more of a binge-watcher than a cinephile, so if cannonballing five seasons of premium television is your preferred coping mechanism, then Netflix has some good news for you in the upcoming weeks. Comparatively few of the streamer's lauded television series are heading for the exit in April.
Early in the month, Netflix is saying sayonara to American Odyssey season 1. The 2015 thriller series that originally aired on NBC was adapted from a U.K. series entitled simply Odyssey. The first and only season stars Anna Friel and Peter Facinelli as U.S. military personnel embroiled in an international crisis when a military team on a mission to Mali discovers that an American company has been secretly (and illegally) funding a violent group of Islamic extremists. If you enjoy shows like Homeland and Jack Ryan, American Odyssey just may be your cup of tea.
Then, mid-month, all five seasons of Lost Girl are getting, well, lost. The Canadian series began airing aired on Syfy in the U.S. beginning in 2012 after originally debuting on Showcase in 2010. It stars Anna Silk as Bo, a bisexual succubus in the big city, hitting the town doing exactly what you'd expect from a bisexual succubus. Perfect for fans of Supernatural or The Vampire Diaries — and with five seasons of demonic content to binge before April 16, you'd better get cracking ASAP.
Leaving April 4
American Odyssey: Season 1
Leaving April 16
Lost Girl: Season 1-5