Jack Ryan: John Krasinski Talks Playing A 'Superhero' In Amazon Series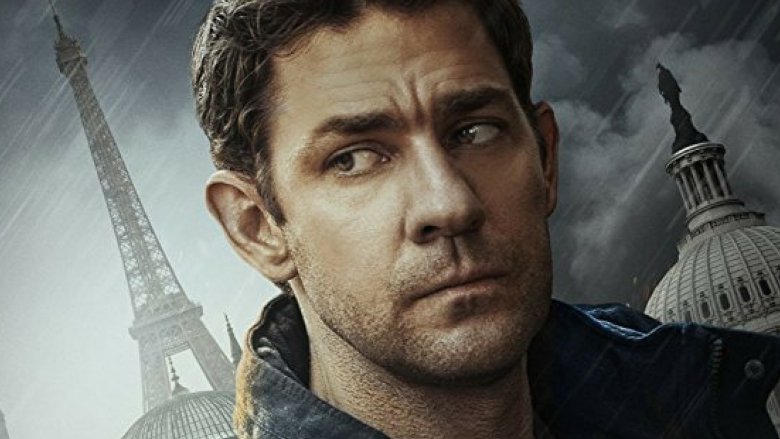 John Krasinski may have missed out on a few big superhero roles, but the A Quiet Place mastermind believes that he's finally getting his chance to play one in Amazon's Jack Ryan series. The actor said in a recent event at the Monte-Carlo TV Festival (via The Hollywood Reporter) that he was drawn to the series because he "really loved the idea of playing a superhero whose only real superpower is using his brain, and his instincts."
Amazon's eight-episode Jack Ryan series, based on the Tom Clancy novels of the same name, will put Krasinski in the title role that has previously been held in films by the likes of Alec Baldwin, Harrison Ford, Ben Affleck, and Chris Pine. The show will follow the up-and-coming CIA analyst as he finds a pattern of terrorist communication that could threaten the whole world. 
Krasinski drew comparisons between Ryan and his The Office character Jim Halpert, noting that they're both everyman characters. "It's very inspiring in the world of superheroes and capes and flying and shooting things out of your hands," he said. "It's nice to focus on real people and real heroes. We have not been telling their stories recently, people who believe in this country in a way that is apolitical, that's about being proud of where you're from, not which side of the aisle you stand on."
Carlton Cuse, who is a co-showrunner for the series alongside Almost Human's Graham Roland, said that the series' version of Ryan is "a classic hero" who stands against the cynicism present in many current big screen action stars. "Big tentpole movies are about wish fulfillment," Cuse said. "I think that there's is an audience that wants to see a more morally-centered heroic character, which was proven by American Sniper, a movie that did huge business, outsized and surprising business."
Roland said that Krasinski's take on the character will differ from what we've seen on the big screen, showing more of the grey zone in the story. "The movies kind of focused on Jack Ryan in that this guy's good, this guy's bad and that's it," he explained. "We get to be a little more sophisticated and a little bit more real." That will include empathy shown to both the bad guys and the good guys, including the CIA.
"There's a kind of earnest professionalism, commitment and devotion to the job that is under-portrayed," said star Wendell Pierce. "The easier and more cliched version these days is to make them all seem evil and corrupt, whereas the reality is these institutions are mostly filled with really smart, well-meaning people. Part of why they're doing those jobs is that they have a moral sense that they have a greater responsibility to the country and to the world."
Abbie Cornish, Ali Suliman, Dina Shihabi, Amir El-Masry, Mena Massoud, Timothy Hutton, Peter Fonda, and Al Sapienza also star in Jack Ryan. Krasinski will executive produce alongside Cuse, Roland, and Michael Bay, among others. The series, which has already been renewed for a second season, will debut on Amazon on Aug. 31.