Natalie Portman Responds To Brie Larson Lifting Mjolnir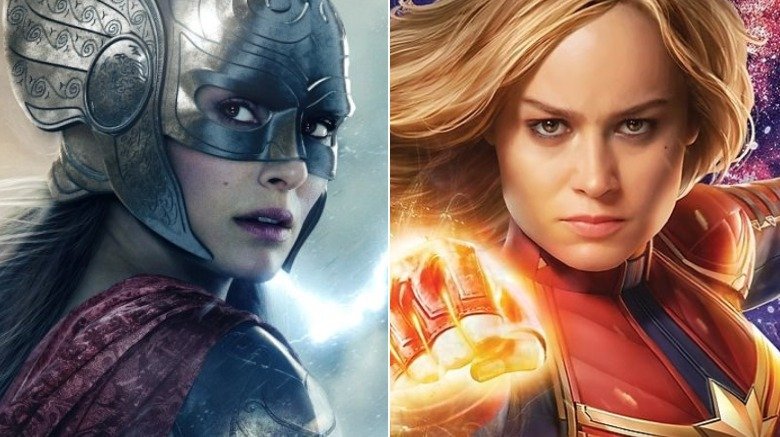 It takes a mighty hero to tell Captain Marvel to cool it.
Natalie Portman, who will reprise her role of Jane Foster in the upcoming Thor: Love and Thunder, had a few choice words for fellow Marvel Cinematic Universe star Brie Larson after the latter posted a cheeky shot of herself wielding Thor's legendary hammer.
In case you were unaware, Portman won't simply be returning as the Odinson's love interest in Love and Thunder; she'll be taking up the mantle of Mighty Thor herself, following her character's recent trajectory in the pages of Marvel comics. It appears that, at least for awhile, there will be two Thors — and as far as Portman is concerned, there's no room for one more.
Earlier this week, Captain Marvel and Avengers: Endgame star Larson posted the photo below to her Instagram, which appears to have been taken in an office at Marvel Studios (check out the Spider-Man: Far From Home poster adorning the wall, and the multiple Iron Man suits in the background). Larson captioned the image, "Not to be whatever, but... I told you I could lift it."
Larson was making reference to a 2018 interview with Buzzfeed Brasil, during which she was asked, "Do you think Captain Marvel is able to lift Thor's hammer?" Larson grinned widely, nodded, and replied with one word: "Definitely." Well, it took her a little while to get around to proving it, but never say that the good Captain doesn't put her money where her mouth is.
Larson post has so far garnered over 1.8 million likes, but sharp-eyed Instagram users noticed that Portman was quick to chime in with a response. "Hey muscles," the star wrote, "easy with my hammer!!!" Portman's remark has amassed over 50,000 likes of its own, and the display of good-natured rivalry between two of the MCU's biggest female stars prompted an outpouring of love from fans. Black Panther star Michael B. Jordan also chipped in with a couple of laughing emojis, and one user — remarking on the recent breakdown in negotiations between Marvel Studios and Sony Pictures over the character of Spider-Man — won the entire thread with their comment: "Gr8! Now throw it at Sony!" (via We Got This Covered)
The announcement of Portman's return to the Marvel fold was one of the biggest surprises of the studio's San Diego Comic-Con 2019 panel, and the reaction to the news that Foster would become the Mighty Thor (the terminology preferred by Love and Thunder director Taika Waititi; no "Lady Thor," thank you very much) has been predictably divided. Of course, there will always be a misguided contingent of fans who are simply uncomfortable with female heroes, but many have also raised the question of Foster's worthiness — and despite the fact that Larson was obviously joking around with her post, the trolls also came out in the comments to raise the same question about Captain Marvel.
Fans swooning over the pic had those trolls far outnumbered, though, and one shut them down with a succinctly worded post: "Brie Larson is far more worthy than these dudebros who are commenting rubbish here." Well played.
It's always great to see these displays of camaraderie between Marvel's stars, but unfortunately, it seems like it'll be awhile before we see either of them on the big screen again. Thor: Love and Thunder won't hit the big screen until November 5, 2021, and the sequel to Captain Marvel — while certainly in the works — wasn't discussed during Marvel's Comic-Con panel. 
Marvel's Phase 4  will be significantly shorter than previous phases, running only through 2021 and consisting of five feature films: Black Widow, The Eternals, Shang-Chi and the Legend of the Ten Rings, Doctor Strange in the Multiverse of Madness, and the Thor four-quel. So far, only one Phase 5 film has been officially announced: Blade, which will star Mahershali Ali in the title role. Assuming that Phase 5 will also span a couple of years, it's highly likely that we'll see Larson's Carol Danvers back on the big screen sometime in 2022, or 2023 at the latest.
It's also not clear how large or small a role Portman's Mighty Thor will play in the MCU going forward; perhaps, once series star Chris Hemsworth hangs up the hammer for good, Portman's Foster will carry the franchise a little further, or it could be that some Phase 5 guest appearances are in the offing — possibly even in Avengers 5, which is rumored to be a massive crossover which may feature the likes of the X-Men and Fantastic Four, who recently plopped down in Marvel's sandbox after parent company Disney's acquisition of Fox Studios.
We'll just have to wait to see what the future holds for these two mighty heroes, but in the meantime, we'll just have to make do with some winking Instagram banter. There's probably more where this came from... it turns out that, just like the rest of us, it's tough for even superheroes to resist taking friendly pot-shots at each other on social media.