Marvel And Sony's Spider-Man Agreement Has Reportedly Ended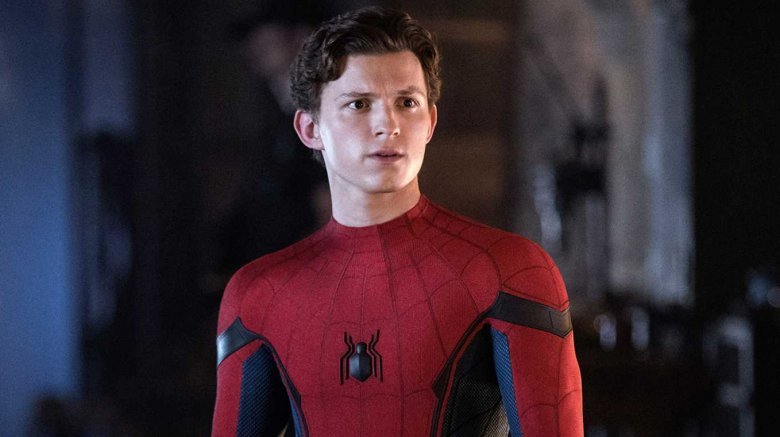 Peter Parker continues to have bad luck with his parents. 
While his real mom and dad are long gone, Spider-Man's proverbial guardians Disney and Sony have been disputing over how best to look after him. The web-flinging vigilante is a member of the Marvel Cinematic Universe thanks to two Tom Holland-topped films — 2017's Spider-Man: Homecoming and 2019's Spider-Man: Far From Home — and a handful of appearances in ensemble movies, but he's always remained property of Sony Pictures. For months now, Disney, its subsidiary Marvel Studios, and Sony have been engaged in conversations about how to split stakes in the Spider-Man franchise and update the deal they struck in 2015 — which allowed Marvel to produce Spider-Man films while Sony retained ownership, financial and creative control, and distribution of the franchise.
The stand-off reportedly ended on August 20, when, according to Deadline, the two companies failed to reach an agreement. 
The inability to strike new terms in a deal, which would have seen Disney obtain a co-financing stake in the property, means that Marvel Studios president Kevin Feige will no longer produce Spider-Man films. (Feige produced both Spider-Man: Homecoming and Spider-Man: Far From Home.) Furthermore, Marvel will cease any involvement in the Holland-starring Spidey universe moving forward — meaning that Spider-Man is swinging away from the MCU and crawling back into the Sony web. 
Sources close to Deadline have indicated that the reason for this outcome is financial in nature. Disney is said to have requested a 50 percent co-financing stake in future Spider-Man films — of which there are reportedly two, anticipated to feature returning director Jon Watts and star Holland — and conducted talks with Sony about potentially extending that stake into other Spider-Man-adjacent films, like the growing Venom franchise. A 50 percent stake is a hefty increase from Marvel Studios' current share of the Spider-Man movie series: "five percent of first dollar gross," or the money that a film makes during its first day out in theaters. Sony wanted to keep that deal in tact, Disney didn't, and so Disney came forward with its own proposition. 
As Deadline's Mike Fleming Jr. put it, Sony executives Tom Rothman and Tony Vinciquerra "turned that offer down flat" — apparently not even approaching Disney with a counteroffer, as the studio had no interest in splitting ownership over its most commercially successful franchise in history and didn't think it wise to alter the terms of the standing agreement. It's unclear when exactly Sony denied Disney's request, but something tells us that it happened not long after Spider-Man: Far From Home officially edged out Skyfall to become Sony's highest-earning movie ever. 
There's apparently no animosity coming from Feige, who "loves Spider-Man" and had every intention of continuing to produce movies featuring the teen hero if Disney and Sony were able to renegotiate terms. Even so, Sony is clearly confident that the franchise has a bright future ahead without Feige, Marvel, or anyone at the House of Mouse involved in producing it. It may seem from the outside that Sony is making a huge mistake by losing Feige, who has been the mastermind behind the $22.6 billion-earning MCU, but we're certain that the studio has its reasons (beyond money-related ones) for arriving at this decision. 
Truly, it isn't as if Sony will be hurting looking ahead. The studio evidently has two more Spider-Man movies in the pipeline, and is confirmed to be working on Venom 2 (directed by Andy freakin' Serkis), a Morbius movie starring Jared Leto, and a film centered on Kraven the Hunter. Interestingly, Deadline notes that the long-dead Silver Sable and Black Cat two-hander may be alive again at Sony — a good sign for the overall Spidey universe under the studio's umbrella. 
As for what this outcome does for Marvel, well, it goes without saying that the studio will keep itself busy. Disney recently acquired Fox and with it scored a ton of Marvel Comics characters that the company was never able to use in films or television projects due to rights restrictions. Feige himself is taking over the X-Men movie franchise, with an aim to recast Wolverine with a younger actor and potentially even bring Deadpool into the MCU, so he's got big fish to fry even without Spider-Man in the pan. And, of course, there's the entire Phase 4 of the MCU to look forward to. Disney and Marvel won't be pinching pennies anytime soon, either, as the companies basically run the entertainment industry and are only going to get bigger with the launch of Disney+, the streaming platform set to be the home of a slew of Marvel superhero series. 
However, the big question is how this will affect the MCU, which has heavily featured Spider-Man in its overarching narrative. In just a handful of movies, Holland's Spider-Man went from a spunky kid who helped out during a tense battle to a hero who would put his life on the line to save other people. Peter Parker also developed a deeply moving dynamic with Tony Stark (Robert Downey Jr.), serving as his protégé-on-the-rise and the closest thing to a son that Tony ever had prior to his death in Avengers: Endgame. Based on the information at hand, it seems like Spider-Man will never again cross paths with other MCU heroes, and will instead cozy up to characters in Sony's shared Spidey universe. How this will personally affect Peter Parker, especially in this vulnerable time following Tony's death and the whole "I and billions of other people spent five years in the void before getting snapped back to life," is anyone's guess. 
It's unfortunate that this is the end result of months of negotiations, and though the two parties should be just fine financially, it's a sad day for Marvel fans. There are no winners in his custody battle — least of all Spider-Man, who will have to spend all his time at his mom Sony's house, never again visiting his dear ol'  dad Marvel.