First Jay & Silent Bob Reboot Poster Reveals Bluntman V Chronic Showdown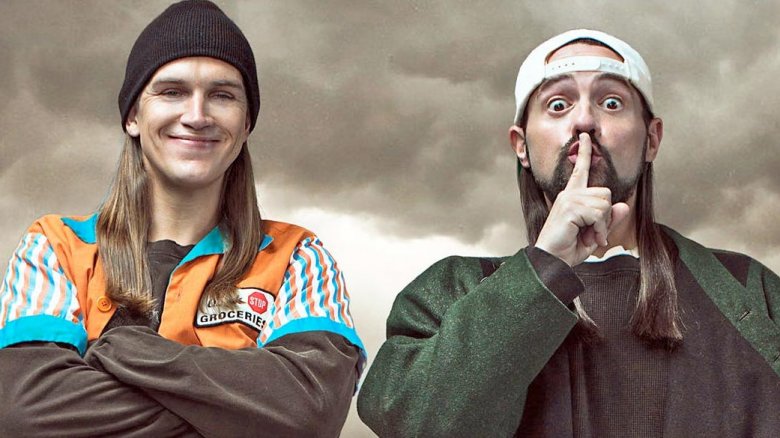 Ladies and gentlemen, start your blunts.
Filmmaker Kevin Smith took to Instagram to reveal the first poster for his long-awaited Jay and Silent Bob reboot — one which puts a decidedly modern spin on the awesomely ridiculous alter-egos of the lovable stoners played by himself and longtime cohort Jason Mewes, Bluntman and Chronic.
Fans of Smith know that the guy can hardly help himself from going meta with virtually any of his projects, and not only does the Jay and Silent Bob reboot look to continue that trend, it seems it'll be taking it to the extreme. Come on, it's a reboot; how could we possibly expect Smith to keep from offering his signature sarcastic commentary on the whole trend of remakes and reboots while partaking of it himself?
It's only fitting, then, that the new poster isn't so much a one-sheet for his forthcoming film as it is in-universe marketing material for the Bluntman and Chronic reboot which will be central to the flick's plot. Check it out:
That's right, the endearingly odd duo will once again be storming Hollywood to thwart the machinations of evil studio executives who want to exploit their property, much as they did during the events of 2000's Jay and Silent Bob Strike Back. Only now, superhero pictures are big business — and as you can see, it appears that Bluntman and Chronic are getting the big-budget tentpole treatment a la Batman V. Superman: Dawn of Justice, which must surely irritate the duo to no end. Also, in keeping with the current trend of inclusivity, the reboot our heroes will be attempting to put a stop to features a female Chronic who, we must say, looks more than a little bit like Captain Marvel. The new Bluntman, of course, is highly visually reminiscent of Ben Affleck's Batman in the early Worlds of DC films; Smith has at various times penned comic books for both Marvel and DC, so this all makes a weird kind of sense.
Smith's caption also features a couple of very interesting teases. First, he'll be presenting at San Diego Comic-Con's fabled Hall H this weekend, where the assembled crowd will be treated to the first trailer for the reboot (the real one, not the in-universe one, we assume). Said trailer will reveal "who's behind the masks" on the new poster, so we're going to go ahead and make our guesses now. Affleck and Smith have a famously complicated relationship, but the former has recently gone on record saying that he'd be down for an appearance in the Jay and Silent Bob reboot; you couldn't get any more meta than having him suit up as Bluntman, so that seems like a no-brainer.
As for Chronic, Captain Marvel's Brie Larson would be the obvious choice, but that doesn't look much like her on the poster. Squint a little bit, though, and the new Chronic's face does bear a bit of a resemblance to Jennifer Lawrence, of whom Smith is a fan; he's even said that, if it were up to him, he'd jump at the chance to cast her as Catwoman or Poison Ivy in a DC film. Consider our guess made.
Smith's caption also teases the amazing detail that, even more so than Jay and Silent Bob Strike Back, the new flick will basically serve as a "meta scrapbook of [his] entire career," which will "sequelize" every one of his previous films "in one sprawling story." As Strike Back demonstrated, the characters of Jay and Silent Bob serve as the perfect, weed-fogged lens through which to view the cracked characters and sensibilities of Smith's films, so the reboot should be a pretty wild ride. 
The movie features a host of players reprising their roles from previous Smith efforts, including Shannon Elizabeth as Justice, Jason Lee as Brodie Bruce, Brian O'Halloran as Dante Hicks, Diedrich Bader as Gordon the Security Guard, and James Van Der Beek and Jason Biggs — who starred as Bluntman and Chronic in Strike Back's in-universe film production — appearing once again as themselves. Joining the fun this time around are (pardon us while we take a deep breath): Chris Hemsworth (Avengers: Endgame), Joe Manganiello (True Blood), Grant Gustin (The Flash), Justin Long (F is for Family), Joey Lauren Adams (Still the King), Kate Micucci (The Big Bang Theory), David Dastmalchian (Ant-Man and the Wasp), Frankie Shaw (SMILF), professional wrestler Chris Jericho, and beloved Hip-Hop buddies Method Man and Redman.
We'll be covering all of the goodness to come out of San Diego Comic-Con all weekend long, so you can expect more news on the Jay and Silent Bob reboot (including, hopefully, a title) very soon. Stay tuned!