The Flash: It Director Andy Muschietti In Talks To Direct DC Movie, Ezra Miller Still Starring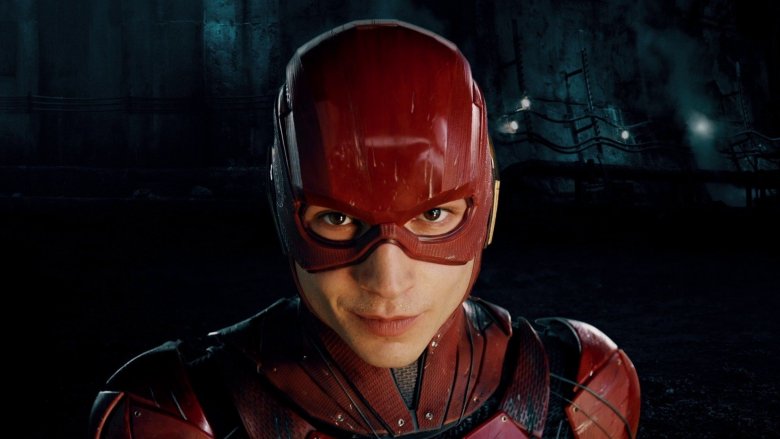 Warner Brothers/DC
Just like that, The Flash is back on track.
Andy Muschietti, who directed It: Chapter One and its forthcoming sequel, is reportedly in talks to take on the  long-in-development big-screen solo vehicle for the Scarlet Speedster. Ezra Miller, who appeared in the role in Batman V. Superman: Dawn of Justice and Justice League, is set to return. (via Collider)
It's an amazing turn of events, as The Flash has had a road to production that could charitably be described as "troubled." The project was first tentatively announced way back in 2013, when studio Warner Brothers was still reasonably optimistic about the future of what was then still informally known as the DC Extended Universe. At that time, the plan was for The Flash to arrive in 2016, with Justice League following in 2017, but those plans obviously changed.
In 2014, the project was officially announced along with Suicide Squad, Justice League, Wonder Woman, and Aquaman, all of which you may recognize as films that actually got made. Miller had already been cast at that point, and the flick was slotted for release in 2018. The director's chair was offered to Phil Lord and Chris Miller in 2015, but they declined due to their workload; later that year, Seth Grahame-Smith (The Lego Batman Movie) was handed the job, and even penned a script, but he departed in 2016 after butting heads creatively with Warner Brothers.
In June of that year, Rick Famuyiwa (Dope) was brought on board, with production scheduled to begin in January 2017. But Famuyiwa lasted all of about four months before he, too, exited over those pesky creative differences. Early 2017 brought the exciting news that Joby Harold (King Arthur: Legend of the Sword) had been hired to rewrite the script from the ground up, and in April, it was reported that none other than Back to the Future helmer Robert Zemeckis was in talks to direct. This, however, failed to pan out, and in June of that year Warner Brothers came full circle, once again courting Lord and Miller to rescue the picture.
It may not surprise you to learn that those talks went nowhere, and in early 2018, the studio tapped Spider-Man: Homecoming screenwriters John Francis Daly and Jonathan Goldstein to take over the film. As late as September, the pair still appeared to be on track to direct, but then, yet another problem reared its head. 
Miller became unhappy with the direction the pair were taking with the film, which promised a lighter tone along the lines of Homecoming. In a last-ditch effort to save the film, Miller made the bold choice in March of this year to rewrite the script himself, with an assist from comics legend Grant Morrison. At that time, it was reported that the fate of the movie largely depended on whether Warner Brothers was happy with whatever Miller and Morrison turned in, and that was pretty much the last we heard of the whole mess until today.
According to today's report, Warner Brothers has turned to a trusted source to tackle the nagging issue of the script: Christina Hodson, who has become a sort of go-to scribe for troublesome DC pictures. After she penned the screenplay for Bumblebee, by far the most well-reviewed of any film in the Transformers series, she was handed scripting duties on Birds of Prey (And the Fantabulous Emancipation of One Harley Quinn), which is currently before the cameras. Warners' brass was apparently impressed enough with her work on that script that she was subsequently assignedto Batgirl, and that is apparently going well enough that she's now been entrusted with The Flash.
The choice of Muschietti, whose background is largely in horror, to direct may seem like an odd one at first glance — but it makes perfect sense when a couple details are taken into consideration. First, horror maestro James Wan did a bang-up job on last year's Aquaman, delivering the first billion-dollar-plus hit for the franchise now known as Worlds of DC. Second, Muschietti was not the first director to be involved with It. Cary Joji Fukunaga was attached to that project for a substantial amount of time, and departed over creative differences with the studio. Muschietti climbed aboard and promptly delivered the highest-grossing horror film of all time — so it's no wonder that Warner Brothers would entrust him with salvaging The Flash, which appeared dead in the water mere months ago.
We should stress that both Muschietti and Hodson are merely in talks at the moment, with no formal offers having been made. But both parties are uniquely qualified to render first aid to a film that has had the DC fan base salivating for over five years, and which has proven unreasonably difficult to bring to the screen.
As for Miller, his Warner Brothers contract — which was widely reported to have expired in May of this year — has apparently been reworked, which is great news for him and his near-fanatical devotion to the character. So far, there's no word on whether Warner is keen to continue working with the Flashpoint storyline which has been the basis for at least one previous iteration of the script. But we expect that, once the details of Muschietti and Hodson's deals are hammered out — and we're quite certain they will be — the studio will be offering up more information.
It's still all a little hazy at the moment, but at long last, there's reason to be excited about the big screen future of Miller's Barry Allen. The Flash has no official release date, but we'll be keeping an eye out for this and any other details, and we'll fill you in as soon as they become available.