The Secret History Of LEGO Batman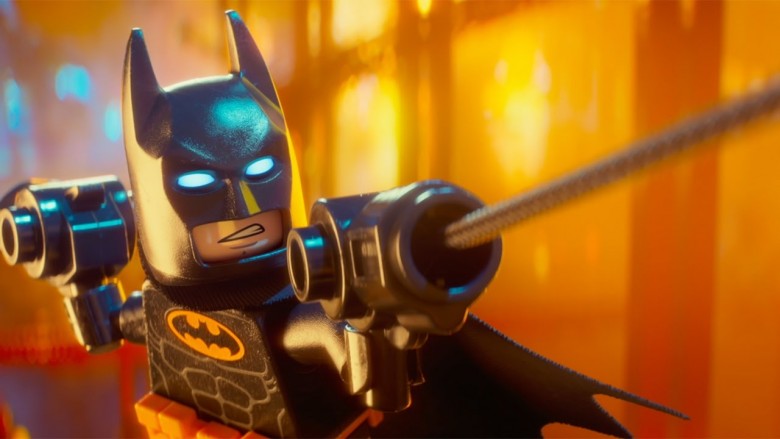 The films, shorts, and TV specials based on the long list of LEGO properties have a ton of quirky charm. With their kitschy, funny dialogue, ultra-bright color palettes, star-studded voice casts (seriously, some of these productions rival Saturday Night Live reunions and Golden Globe winner get-togethers), and, of course, the tiny construction toys we all know and love, it's hard to resist their pull. Perhaps none more than the most recent building block-based film, The LEGO Batman Movie. Many have applauded its self-aware humor, its heart-warming message, and its fresh take on a classic character.
Or maybe it isn't so fresh. While The LEGO Batman Movie has an official-sounding title, it's technically neither singular nor anything really new in the history of LEGO Batman. The Chris McKay-directed flick is actually the seventh to star LEGO Batman, with the prior six installments going straight to DVD. Curious to know more? We can't blame you. Let's dive into the secret history of LEGO Batman, film by film.
LEGO Batman: The Movie – DC Super Heroes Unite
First up in the franchise is a 2013 direct-to-video film based on a video game of almost the same name: LEGO Batman 2: DC Super Heroes. Filmmakers and producers snagged cutscenes from the game to anchor the movie's story, swapping out areas where gameplay footage would normally be seen with some never-before-seen moments—with, you guessed it, Batman at the forefront of the action. What remains in LEGO Batman: The Movie – DC Super Heroes Unite, however, are the well-seasoned voice talent that also appeared in the Traveller's Tale-developed action adventure game (like Troy Baker as Batman, Christopher Corey Smith as Joker, and Clancy Brown as Lex Luthor) and a bunch of tongue-in-cheek jokes and jabs.
The premise of this inaugural LEGO Batman movie is what most of us have come to expect from films starring shiny, shrunken versions of our favorite superheroes. It's a little bit kooky and a whole bunch of fun, sprinkled with light-hearted banter for good measure. Here, fans can see Bruce Wayne battle embarrassment at the Gotham City Man of the Year awards ceremony and battle a Lex Luthor/The Joker-led team of heroes and villains bent on taking Batman and the whole town down. What follows is a descent into chaos, as Lex takes his chances and runs for President, his entire campaign founded in fear-based politics, and brings good ol' Joker along to build the Black LEGO Destructor Ray to shift Gotham's power balance in their favor.
LEGO DC Comics: Batman Be-Leaguered
We kick it down a notch with the next addition to the LEGO Batman timeline, LEGO DC Comics: Batman Be-Leaguered, a cheekily named short film developed for Cartoon Network in 2014. In its 22-minute runtime, this bite-sized flick follows Batman as he (somewhat reluctantly) teams up with the members of the Justice League. While Batman finds comfort in his solitude—priding himself on being "a self-sufficient loner," as the short's synopsis says—Superman is keen to have him join the League's ranks, but it's only after the red-caped crusader mysteriously goes missing that Batman springs up to do what's right. The gang traverses the depths of Gotham City and the deep blue sea in search of Superman, but what they find are a pack of evil villains who've nabbed various treasured items.
The film blends themes of togetherness and justice (duh!) with even more laughs and some subtle topicality. It also brings back Troy Baker as Bruce Wayne/Batman, alongside some new voices for Wonder Woman, Superman, Cyborg, Black Manta, and the Flash.
LEGO DC Comics Super Heroes: Justice League vs. Bizarro League
Don't let the title scare you off; this film is more brilliantly goofy than it is outright terrifyingly strange. Brandon Vietti and Michael Jelenic pair together as director and screenwriter to bring a double-sided story to the LEGO Batman franchise with 2015's LEGO DC Comics Super Heroes: Justice League vs. Bizarro League, in which Superman catches wind of his eccentric clone, Bizarro. Superman's same-but-different twin has a huge potential for disarray and a penchant for destruction, as he's seemingly stuck in backwards mode: he "hears the opposite of what is said, says the opposite of what he means and does the opposite of what is right." Knowing that the safety of Earth is at stake, the Man of Steel vows to find Bizarro a place he can call home. They land upon Bizarro World (not the most original name ever, but we'll take it) and all seems well. But, as is the case so often in life, things aren't that simple.
"When Bizarro World is threatened with destruction by the galactic tyrant, Darkseid, Bizarro returns to Earth and clones the Justice League to create more 'heroes' like himself; the Bizarro League is born! From Batman, Wonder Woman, Green Lantern and Cyborg, backward clones are spawned called Batzarro, Bizarra, Greenzarro and Cyzarro," the film's synopsis explains. The right-way-'round Justice League back on Earth decide to merge with their outlandish counterparts for the greater good, in an effort to put an end to Darkseid and restore peace to the galaxy.
The film claims there are two sides to every hero, and it absolutely delivers on that intriguing premise through its nearly 50 minutes of awesome action, cleverly-placed adult humor (that will likely sail over younger viewers' heads, making it even funnier), and slightly offbeat plot.
LEGO DC Comics Super Heroes: Justice League: Attack of the Legion of Doom
Six short months after the Bizarro/Justice mega league gave it their all to ensure any antagonists lurking about the universe would get their just desserts, a danger few saw coming paid a visit. Negative forces started to seep into the Justice League's dynamic as they bickered about who should receive nomination (and later be elected) for team leader, a rift made much deeper when a "new member sows seeds of discontent among them." While tensions are high, a more sinister pack begin to capitalize on the Justice League's vulnerability.
Headed up by Lex Luthor (noticing a trend in the LEGO Batman franchise for the Big Bad?), Sinestro, and Black Manta, the Legion of Doom utilized an obstacle course to pick its members (three of whom were rejected due to a parking space issue). The final lineup features Cheetah, Captain Cold, and Gorilla Grodd, but that doesn't stop Joker, Man-Bat, Penguin, Deathstroke, and Giganta from donning the black hat for some bad guy "fun."
The LEGO Batman timeline returns to a more traditional form with LEGO DC Comics Super Heroes: Justice League: Attack of the Legion of Doom, as it's the first feature-length film since the Dark Knight made his toy transformation debut in 2013. And it might be the most exciting in the bunch thus far, with bumped-up stakes, more smarmy villainy, and punch after powerful punch of heart and humor. What could very well be the cherry on top is a certain someone on the cast list: Mark Hamill—beloved to Bat-animation fans for his work as the Joker—appears here as the Trickster.
LEGO DC Comics Super Heroes: Justice League: Cosmic Clash
In this 2016 flick, Batman finds himself up against the chaotic mastermind Brainiac. Yearning to gather up a collection of planets like some sort of intergalactic hoarder (new TLC show, anyone?), the crazy-evil Brainiac eyes Earth as his next addition. It's up to the Justice League to strip him of his power and his prized planetary possessions, but can they prevail against his reality-warping abilities? The movie's teaser-y summary details their precarious position:
"Until now, the Justice League has triumphed over every foe who has challenged them. This time, they face Brainiac, a super-intelligent invulnerable machine whose mad quest endangers all life in the galaxy. When Brainiac zaps Superman, Wonder Woman and Green Lantern to different places in time, the race is on for Batman and the Flash to re-assemble the Justice League!"
With a nice mix of familiar and fresh talent, a more mature (as silly as that may sound) story foundation, and a cool neon color palette, this film seems (literally) out of this world.
LEGO DC Comics Super Heroes: Justice League – Gotham City Breakout
The final LEGO piece of this Batman puzzle is LEGO DC Comics Super Heroes: Justice League – Gotham City Breakout, a joint directorial effort from Matt Peters and Melchoir Zwyer that strangely serves as a cautionary tale for employees on the dangers of too much time off. (Stick with us, we'll explain.)
Life can be tough for a superhero, especially one tasked with constantly protecting a city as dangerous and unpredictable as Gotham. Needing a little R&R, Batman finally agrees to a vacation and leaves Batgirl and Nightwing in charge. While he flies (no pun intended) off to visit a former mentor, the Justice League looks over Gotham City. That is, until everything gets flipped on its head thanks to three little villains called Bane, Deathstroke, and adult responsibilities...whatever those are.
In LEGO DC Comics Super Heroes: Justice League – Gotham City Breakout, Batman, Nightwing, and Batgirl take down old foes with a fierceness, and the Justice League bring in some Teen Titans for backup to defeat a slew of notoriously naughty enemies. The action-packed film shows how easy it is for things to fall apart when just one (LEGO) piece goes missing.
Those who watch can hear Will Friedle (yep, the one who stole our tween hearts as Eric Matthews in Boy Meets World) as Nightwing, voice-acting legend Tara Strong as Harley Quinn, and Modern Family star Sarah Hyland as Batgirl.