David Harbour Joins Cast Of Black Widow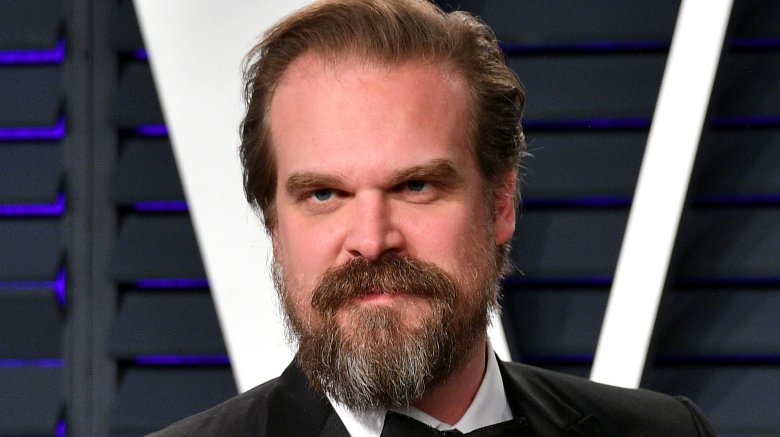 Getty Images
The casting news keeps rolling in for Black Widow.
The forthcoming Marvel Cinematic Universe flick centered on Scarlett Johansson's S.H.I.E.L.D. agent turned Avenger has cast Stranger Things star David Harbour in an undisclosed role, according to The Hollywood Reporter. It's the second significant bit of casting news for the project today, as we reported earlier that Rachel Weisz (Disobedience) is also in talks to come aboard the flick, although her involvement is not yet confirmed.
Harbour has worked steadily in TV and film for the better part of the last two decades, but his breakout role didn't come until 2016, when he appeared as police chief Jim Hopper in the first season of Netflix's smash hit supernatural series. He reprised his role in Stranger Things' second season and will do so again for its upcoming third outing. He'll also appear very soon in the title role in another superhero flick: Hellboy, the second cinematic iteration of the Dark Horse comics character, which will mark Harbour's first lead in a tentpole picture. In a strange bit of serendipity, he also recently completed work on the action drama Dhaka, which will see him co-star alongside Chris Hemsworth (known to true believers the world over as the MCU's Thor) in a project scripted by Joe Russo, whose co-directing credit on the hotly anticipated Avengers: Endgame will be his fourth for Marvel following Captain America: The Winter Soldier, Captain America: Civil War, and Avengers: Infinity War.
Fans have long been clamoring for Natasha Romanoff to headline her own movie, and Marvel Studios head honcho Kevin Feige has been promising them that it would eventually happen for literally years. The character was introduced in 2010's Iron Man 2, and has since appeared in no fewer than five MCU releases, with Endgame about to add another notch to that belt. Johansson's star power and utter embodiment of the role has made Romanoff among the most recognizable and well-loved of the venerable franchise's supporting characters, and fittingly enough, her Black Widow paycheck will reflect that status. It's been reported that she'll be paid $15 million dollars for the film, the same figure commanded by Hemsworth for his work on Thor: Ragnarok and Chris Evans for his turn as the Star-Spangled Avenger in Captain America: Civil War.
Although Marvel Studios hasn't officially announced which of its upcoming films will appear on its release schedule beyond this year, it's beginning to look more and more likely that we could see Black Widow — which will be the MCU's second female-led solo movie, behind this year's box office-busting Captain Marvel — sooner rather than later. The project has a completed script from Jac Schaeffer, who will showrun the upcoming Vision and the Scarlet Witch limited series for Disney+; her screenplay is currently undergoing revisions courtesy of Ned Benson, who impressed Marvel execs with his work on the Disappearance of Eleanor Rigby film series. Aussie director Cate Shortland has been slotted to direct since July of last year, and just last month, it was announced that Florence Pugh (Fighting With My Family) had joined the cast as a similarly-skilled foil for Johansson's super-spy. When casting news begins to fly this fast and furious, it's usually a pretty good indicator that the production is gearing up in earnest, and it would surprise us not at all if we were to soon get an announcement slotting the flick for a late 2020 or early 2021 release.
Natasha's solo vehicle is said to take place in the mid-'00s before her recruitment by S.H.I.E.L.D., but if we know Marvel — and we're pretty sure we do — it's a safe bet that the film's story will figure somehow into whatever overarching plotline the studio is cooking up for the post-Infinity Saga era. Its official synopsis: "At birth the Black Widow is given to the KGB, which grooms her to become its ultimate operative. When the U.S.S.R. breaks up, the government tries to kill her as the action moves to present-day New York, where she is a freelance operative. The standalone film will find Romanoff living in the United States 15 years after the fall of the Soviet Union."
We have a funny feeling that there will soon be more Black Widow news to report, so stay tuned; we'll be here to report it as soon as it becomes available. In the meantime, you can get your Widow fix when Avengers: Endgame hits screens on April 26 — assuming, of course, you were able to navigate the Great Avengers Crash of 2019 effectively enough to score tickets.