Black Widow: Florence Pugh In Talks To Star Alongside Scarlett Johansson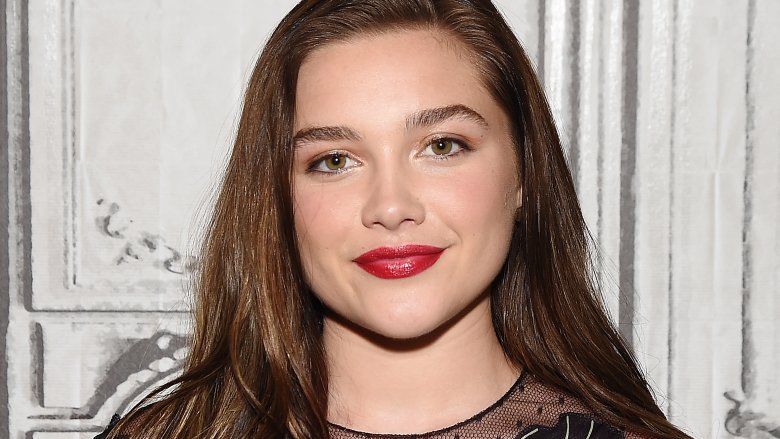 Getty Images
This up-and-coming actress may have just gotten caught in the Black Widow web. 
According to The Hollywood Reporter, The Little Drummer Girl and Outlaw King actress Florence Pugh is in talks to star in Marvel Studios' standalone Black Widow movie, which stars Scarlett Johansson as the titular hero. 
Sources close to the outlet have indicated that Pugh, should she formally board Black Widow, will portray "a spy on the same level" as Johansson's Natasha Romanoff. But the duo won't be best pals; the part Pugh is reportedly up for will likely be the "moral opposite" to Black Widow, per THR's scoop. No other details on Pugh's involvement with Black Widow were available at the time the news dropped, which isn't exactly surprising considering how tightly Marvel keeps its curtains drawn. 
Directed by Australian filmmaker Cate Shortland, best known for helming the thriller flick Berlin Syndrome and writing and directing the World War II drama Lore, the Black Widow movie is said to take place in various different international locations; feature a story that follows Johansson's Natasha in the years she spent training under the KGB, prior to escaping to become a S.H.I.E.L.D. agent and later member of the Avengers; and focus on Natasha's adventures in America pre-Iron Man 2 – the Marvel Cinematic Universe entry in which she made her silver screen debut. Captain Marvel scribe Jac Shaeffer penned the script for the solo pic, which also apparently includes Bucky Barnes (Sebastian Stan), better known as the Winter Soldier. Within several storylines in the Marvel comics, Bucky took Natasha under his wing and even sparked up a romantic relationship with her. It's only fitting that he would play a part in her solo film. 
Marvel reportedly placed Pugh on the "hot list" for the secondary role in the Black Widow standalone in the fall of 2018, and kept her there until earlier this year, when the studio is said to have expanded its parameters and cast a wider net looking for other actresses who might be a good fit for the role. It seemed Marvel's attention was slipping away from Pugh while the studio's executives met with "several candidates," but when her recent feature film Fighting with My Family (one of the most underappreciated movies of this year) attracted positive reviews from the industry's top critics, Marvel quickly reverted focus back to Pugh. 
Pugh seems a great choice for Black Widow, as she's a relatively fresh face that brings a ton of talent to the table. Rather than feature an A-lister with a laundry list of credits to their name and have viewers look at the actor in Black Widow and not be able to think of them as a new Marvel character, going with someone like Pugh — a talented star on the rise who can enliven the MCU — is a smart decision. Anyone familiar with Pugh's work in the AMC limited series The Little Drummer Girl, Netflix's Outlaw King, or Fighting with My Family knows that she has what it takes to stand out and shine even amongst the likes of Dwayne "The Rock" Johnson, Alexander Skarsgård, Michael Shannon, Lena Headey, and Chris Pine. Starring opposite Johansson for Black Widow will be a breeze for Pugh. 
Before she (possibly) stars in Black Widow, Pugh will appear as Dani in Hereditary mastermind Ari Aster's newest horror film Midsommar and as Amy March in Greta Gerwig's upcoming adaptation of Little Women. 
Marvel Studios has yet to date the Black Widow solo movie. Check back with Looper for more updates on the project as additional information becomes available.