Vin Diesel Announces Writers Of Female-Centric Fast And Furious Spin-Off Movie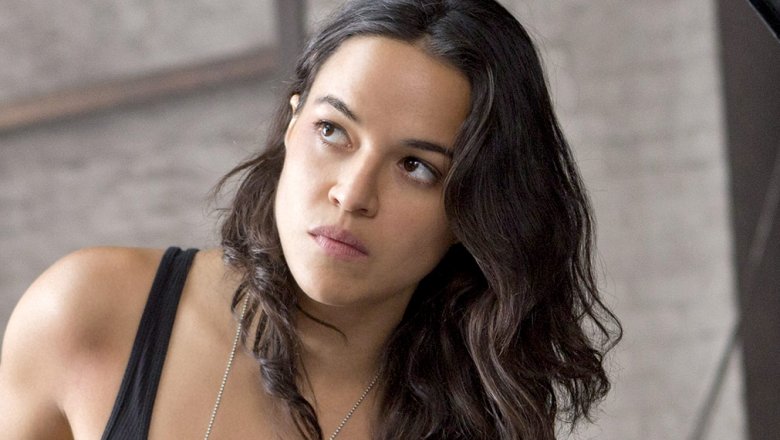 The Fast and Furious franchise is adding more female fire power moving forward.
Vin Diesel, who has played Dominic Toretto in the high-octane action series since the first installment debuted in 2001, took to Instagram to offer an update on one of Universal Pictures' three in-development Fast and Furious spin-off movies — that being the female-centric one believed to star Michelle Rodriguez's character, Letty Ortiz.
In the caption of a photo of himself with his sister, long-time Fast and Furious franchise producer Samantha Vincent, Diesel revealed that Universal has tapped Nicole Perlman, Lindsey Beer, and Geneva Robertson-Dworet to pen the upcoming spin-off. 
"As you know, there are three new spin offs that We have promised Universal... well this week we heard a pitch for the Fast female protagonist driven spinoff I created in 2017, and you can tell by the smile on Samantha's face it was VERY exciting," wrote Diesel. "Shout out to Nicole Perlman, Lindsey Beer, Geneva Robertson-Dworet. Welcome to the Fast FAMILY..."
Most will recognize Perlman and Robertson-Dworet's names in connection with Marvel Studios, as both screenwriters lent their talents to the Captain Marvel script at various points during the film's production. 
Perlman, who enrolled in Marvel Studios' writers program in 2009, recently wrote the first draft of Pokemon: Detective Pikachu (though she isn't credited for the final version), and had a huge hand in crafting Guardians of the Galaxy, spending two years digging through Marvel Comics backlogs and researching storylines to write the script before director James Gunn boarded the project. Her efforts made her the first woman to write a Marvel movie, so clearly, Perlman not only knows her stuff but is also incredibly talented. 
And so is Robertson-Dworet, whose screenwriting credits include the 2018 Tomb Raider reboot, the script for which she co-wrote with Alastair Siddons and Evan Daugherty. She's also set to write the newest Sherlock Holmes movie, a film based on the role-playing game Dungeons and Dragons, and the screenplay for Artemis, based on Andy Weir's sci-fi novel of the same name. On the superhero side of film, Robertson-Dworet is attached to write Gotham City Sirens and was originally meant to pen Sony's Silver & Black, the team-up movie intended to center on Silver Sable and Black Cat. Sadly, the studio yanked the project from its production schedule, and then completely cancelled it in favor of separate solo films.
As for Beer, she's best known for writing and producing Netflix's teen rom-com Sierra Burgess Is a Loser, starring Stranger Things actress Shannon Purser and breakout heartthrob Noah Centineo of To All the Boys I've Loved Before fame. Though she only has one released feature script to her name, Beer has a slew of projects coming down the pipeline. These include Chaos Walking (meant to launch on March 1, but we haven't yet seen a trailer for it), Sam Raimi's The Kingkiller Chronicle, Visionaries: Knights of the Magical Light, the untitled Teenage Mutant Ninja Turtles reboot, that Silver Sable standalone we mentioned above, Short Circuit, M.A.S.K.: Mobile Armored Strike Command, and Empress.
Perlman, Robertson-Dworet, and Beer should make a strong team for the female-led Fast and Furious spin-off for a few reasons. The first: they're all women, and there's no one better fit to write a movie centered around women than women themselves. Secondly, the three are clearly skilled scribes and have caught the eyes of executives at enormous film studios, which says a lot about their creative talents. And lastly, the trio have actually worked together in the past, having been involved in Paramount Pictures and Hasbro Inc.'s writers room to work on projects in the Hasbro Cinematic Universe based on properties like G.I. Joe, Micronauts, M.A.S.K., ROM, and Visionaries. 
Not much else is known about this new Fast and Furious spin-off, but it's great to hear that Perlman, Robertson-Dworet, and Beer are officially aboard the project, as their involvement indicates the film is chugging along the road to development quite nicely.
Until Universal (or Diesel) announce more about the upcoming movie, fans can look forward to seeing another Fast and Furious spin-off in theaters this year: Hobbs & Shaw, starring Dwayne Johnson and Jason Statham as Luke Hobbs and Deckard Shaw, due out on July 26.