American Horror Story: Apocalypse Adds Murder House Stars Connie Britton, Dylan McDermott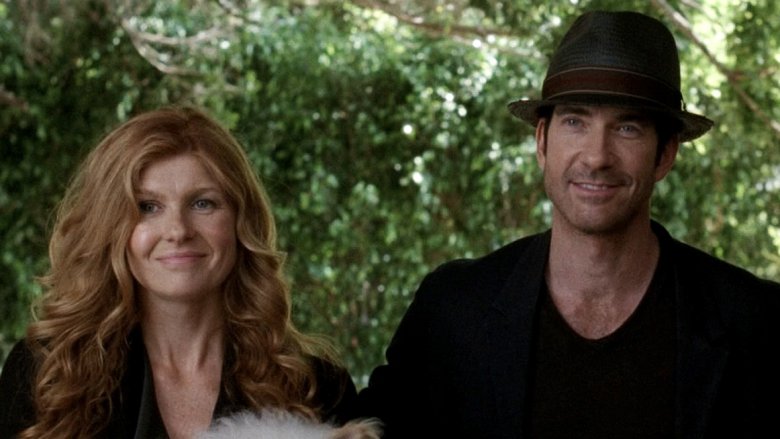 American Horror Story: Apocalypse truly will be the crossover event to end all crossover events. 
Both Connie Britton and Dylan McDermott, who starred as (unhappily) married couple Vivien and Ben Harmon on the first season of American Horror Story, subtitled Murder House, will return for the anthology series' upcoming eighth season.
The casting news comes by way of TheWrap, which notes that Britton is expected to film her scenes for Apocalypse at the Murder House shooting location in Los Angeles this Friday, August 24. A source close to McDermott shared that the actor will begin shooting his Apocalypse sequences on Wednesday. This suggests that Britton either has more screen time than McDermott does in the new season, or that McDermott and Britton won't share as many scenes as they did on Murder House. Regardless, we and American Horror Story fans everywhere are pretty darned chuffed about Britton and McDermott's return. 
A blending together of the first season, Murder House, and the third season, Coven, Apocalypse takes place 18 months in the future and has been described by series creator Ryan Murphy as "a very high concept." He also teased that fans will see "so many fan favorites return that you'll feel like it's The Love Boat" — which is an unexpected but intriguing comparison to make. (No word yet on whether Apocalypse will include a catchy theme tune and tons of romantic adventures like the hit comedy series did. How wild would that be?)
Murphy has made good on his promise of bringing back familiar faces, having tapped Taissa Farmiga to reprise her role as Zoe Benson and Emma Roberts to step back into her wild child witch character Madison Montgomery. Also returning for Apocalypse are American Horror Story favorites Sarah Paulson, Evan Peters, and Cathy Bates, as well as Billy Eichner, Cheyenne Jackson, Leslie Grossman, and Billie Lourd. 
Of course, it wouldn't be a Murder House-Coven crossover without the witches of the latter season. Murphy recently revealed a cast photo featuring Farmiga as Zoe, Roberts as Madison, Gabourey Sidibe as Queenie, Lily Rabe as Misty Day, and Stevie Nicks as herself. 
Jessica Lange is also on board for Apocalypse — but she's only playing one of her past American Horror Story characters. On Murder House, Lange portrayed Constance Langdon, the mother of Evan Peters' murderous teenager-turned-ghost Tate Langdon. And on Coven, she took on the role of one-time Supreme witch Fiona Goode, the mother of Sarah Paulson's Cordelia Foxx. According to The Hollywood Reporter, fans can expect to see Lange's Constance back on their small screens soon. 
Britton and McDermott's involvement with American Horror Story: Apocalypse is exciting not only because the pair are joining so many beloved series actors, but also because their characters will have a massive amount of influence on the season's story. 
For those who need a refresher in American Horror Story history, at the end of Murder House, Britton's Vivien gave birth to a son named Michael, the child she conceived with Tate in an earlier episode. Michael, as it so horrifically happens, is the Antichrist who is poised to bring about the apocalypse. 
Murphy previously confirmed that Cody Fern is attached to play an adult version of Michael on Apocalypse, signaling that the half-human, half-demon entity will likely control the entire narrative of the season. Adding Britton's Vivien, Michael's deceased mother, and McDermott's Ben, Michael's technical step-father who is also chilling in the Murder House as a ghost, to the party? Yeah, Apocalypse is going to be 50 shades of messed up. 
Watch the chaos unfold when American Horror Story: Apocalypse premieres on FX on September 12.