American Horror Story: Taissa Farmiga, Emma Roberts Returning For Season 8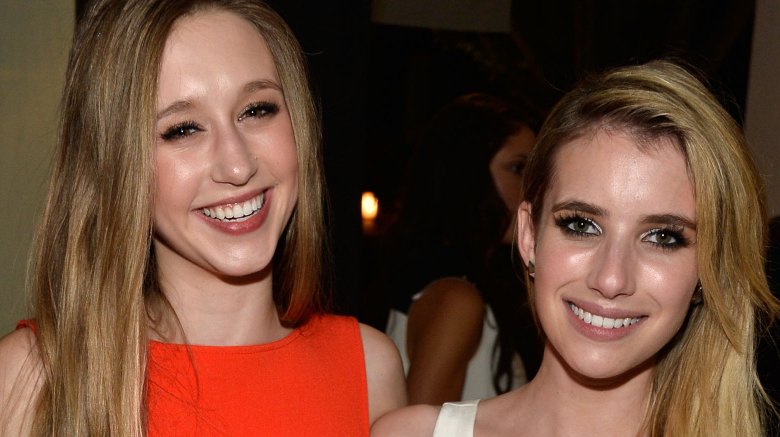 Getty Images
Two American Horror Story favorites are circling back for another cycle of the horror anthology show.
Following the announcement that the upcoming eighth season of American Horror Story will be a crossover of the first season (subtitled Murder House) and the third season (Coven), series creator Murphy confirmed that Taissa Farmiga and Emma Roberts will return to reprise their respective roles as Zoe Benson and Madison Montgomery. 
The news came via Twitter, where an American Horror Story fan asked Murphy if Farmiga would be a part of season 8. Murphy responded in a tweet that has since been deleted (but was screenshotted by Deadline) that "all witches are being asked back." 
Roberts later took to her Instagram account to address her involvement in the witchy eighth season of American Horror Story. She posted a video of herself wearing a black dress with a white collar, similar to what she would have worn walking alongside her fellow enchantresses in Coven, and saying, "Surprise b****, bet you thought you'd seen the last of me." Her remark in the clip, which she partially captioned #ahs8, is a reference to her character Madison's quip in the eighth episode of Coven, during which she confronts Jessica Lange's ailing Fiona and reveals that she was resurrected from the dead. 
Farmiga hasn't commented on her role in American Horror Story season 8 just yet (she's busy promoting her forthcoming film The Nun), and while it's clear based on Murphy's statement that she'll portray her Coven character Zoe, it's unknown whether the actress will do double duty and step back into her Murder House role as Violet Harmon too. As fans will recall, Violet committed suicide midway through Murder House but continued existing as a ghost, only realizing weeks later that she had actually died and that Evan Peters' Tate didn't rescue her. 
It's not unusual for the series to cast the same actor across multiple roles in a single season (Evan Peters played Kai Anderson, Andy Warhol, Marshall Applewhite, David Koresh, Jim Jones, Charles Manson, and literal Jesus in American Horror Story: Cult; Sarah Paulson portrayed Sally McKenna and Billie Dean Howard in American Horror Story: Hotel; and Billie Lourd was Winter Anderson and Linda Kasabian in Cult as well), so it seems plausible that Farmiga could play both AHS characters for which she's known — one ghost and one for-real, living girl — especially in a season that blends together two previous installments.
In addition to bringing back the two shining starlets, the new season of American Horror Story will take place 18 months in the future, is "a very high concept," and sees Sarah Paulson, Evan Peters, and Kathy Bates starring in lead roles. Later anthology additions Billy Eichner, Cheyenne Jackson, Adina Porter, and Leslie Grossman will also appear in season 8. 
Rumored to be subtitled Radioactive, which might mean the witches we know and love will get blown to bits, American Horror Story season 8 is scheduled to launch on FX this September.