American Horror Story Season 8 Will See Return Of Kathy Bates, Evan Peters, Sarah Paulson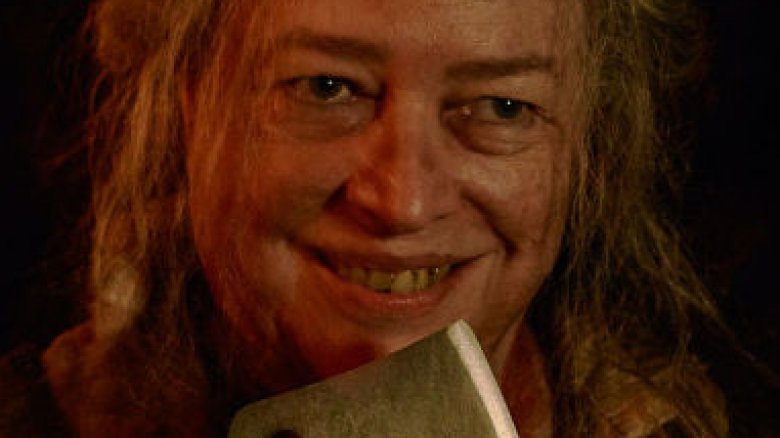 FX
American Horror Story is bringing back some of its favorite faces. 
Series creator Ryan Murphy confirmed to Entertainment Weekly that Kathy Bates, Evan Peters, and Sarah Paulson will return to star in American Horror Story season eight.
"Kathy and Sarah Paulson have a lot of great stuff to get to do," Murphy said. "So, with Evan Peters, the three of them are the leads this year."
Bates has appeared in the American Horror Story installments Coven, Freak Show, Hotel, and Roanoke, having played Marie Delphine LaLaurie, Ethel Darling, Iris, and Thomasin White and Agnes Mary Winstead, respectively. She was missing from the most recent season, the politically charged and killer clown-filled American Horror Story: Cult, due to scheduling conflicts. The Oscar-winning actress was filming her (now-canceled) Netflix series Disjointed while American Horror Story: Cult was in production. Now that the streaming site has given Disjointed the ax, Bates is free to jump back into the wicked world of AHS. 
Both Paulson and Peters have been involved in American Horror Story since its inception in 2011. In the series' freshman turn, American Horror Story: Murder House, Paulson played Billie Dean Howard while Peters led as the tormented killer Tate Langdon.
Paulson has since portrayed Lana Winters in Asylum; Cordelia Foxx in Coven; Bette and Dot Tattler in Freak Show; Sally McKenna (and Billie Dean Howard again) in Hotel; Shelby Miller, Audrey Tindall, and Lana Winters in Roanoke; and Ally Mayfair-Richards and Susan Atkins in Cult. Peters has gone on to have a similarly strong run, playing Kit Walker in Asylum, Kyle Spencer in Coven, Jimmy Darling in Freak Show, James Patrick March in Hotel, and Edward Phillipe Mott and Rory Monahan in Roanoke. In Cult, the actor portrayed Kai Anderson, Andy Warhol, Marshall Applewhite, David Koresh, Jim Jones, Charles Manson, and Jesus (yes, really). 
American Horror Story season eight is rumored to be subtitled Radioactive, but Ryan Murphy wouldn't say for certain whether that theory is true. "I heard about that rumor. Well, that's based on a fact that we've cleared a lot of titles for that show," he stated. "It's an interesting idea. I can neither confirm nor deny."
Whatever its title may be, the new season of American Horror Story is scheduled to begin production this summer.