American Horror Story: Apocalypse: See The Coven Cast Reunited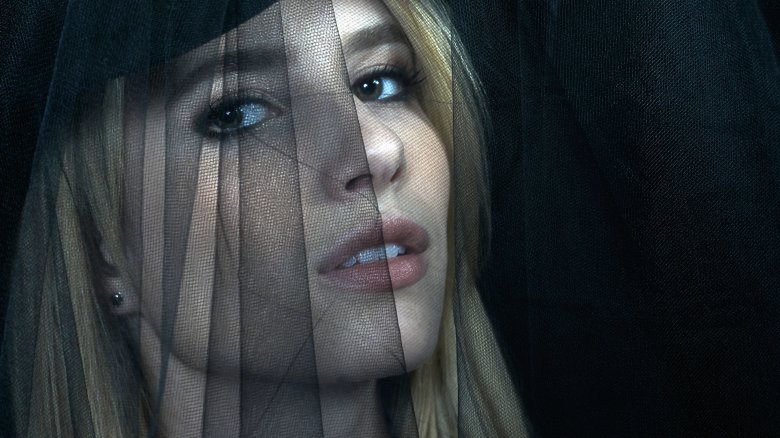 FX
Welcome back, witches. 
Over the weekend, American Horror Story co-creator Ryan Murphy shared a few new looks at the upcoming eighth season of the anthology series. Subtitled Apocalypse, the new season is a crossover between the first and third installments, Murder House and Coven. And though we haven't yet seen Evan Peters back as his grim ghost character Tate Langdon from Murder House, Murphy's reveals on social media give us something just as good: snaps of the Coven witches reunited.
One photo, uploaded to Instagram on Sunday, August 19, shows Sarah Paulson and Lily Rabe standing on either side of Stevie Nicks, who appears in the AHS lore as herself. 
Paulson wears a patterned, jewel-toned blouse with a black skirt in character as Cordelia Foxx, the Headmistress of Miss Robichaux's Academy for Exceptional Young Ladies and the current reigning Supreme who took over from her deceased mother Fiona Goode, played by Jessica Lange. Rabe accents her all-black ensemble with an ornate gold belt and a pink streak in her hair — the kind of flair to be expected from her character, Misty Day, the eccentric witch with the power of resurgence. 
"The Return. Cordelia, Stevie and Misty casting a bewitching spell," Murphy wrote in the photo's caption. 
Things got truly beguiling over on Murphy's Twitter account, where he unveiled a snap of Paulson, Rabe, and Nicks standing alongside fellow Coven actresses Emma Roberts, Taissa Farmiga, Frances Conroy, and Gabourey Sidibe. 
On Coven, Roberts played the troublesome (and deeply troubled, as viewers come to learn) Hollywood starlet and sorceress Madison Montgomery, who served as a thorn in the side of Farmiga's cursed witch Zoe Benson. Conroy portrayed Myrtle Snow, the ginger-haired head of the Witches' Council and alumnus of Miss Robichaux's Academy who was twice burned at the stake — the second time famously screaming "Balenciaga!" before she and her ruby dress went up in flames. As for Sidibe, she took on the role of Queenie, the "human voodoo doll" who becomes a member of the Witches' Council with Zoe at the end of Coven. 
"The Coven Returns," Murphy captioned the image. "What a thrilling night with the legend Stevie Nicks on the set of AHS."
Seeing the witches back together again for American Horror Story: Apocalypse is sure to excite fans, but as mentioned before, we haven't gotten a whole lot in the way of Murder House-related reveals. Peters is confirmed for Apocalypse, reprising his role as Tate, and Murphy previously announced that Cody Fern is on board play the grown-up version of Tate's son Michael, the Antichrist Connie Britton's Vivien Harmon gave birth to on Murder House. A half-human, half-demon hybrid, Michael is meant to bring about the end of days — hence why the new season bears the Apocalypse name. While Murphy hasn't posted any photos of Peters and Fern shoulder to shoulder as Tate and Michael just yet, we have our fingers crossed that an unveiling like that sits on the horizon.
American Horror Story: Apocalypse is scheduled to premiere on September 12 on FX.
The Coven Returns. What a thrilling night with the legend Stevie Nicks on the set of AHS. pic.twitter.com/wsI1FlfN1W

— Ryan Murphy (@MrRPMurphy) August 19, 2018