Joaquin Phoenix's Joker Origin Movie Gets Release Date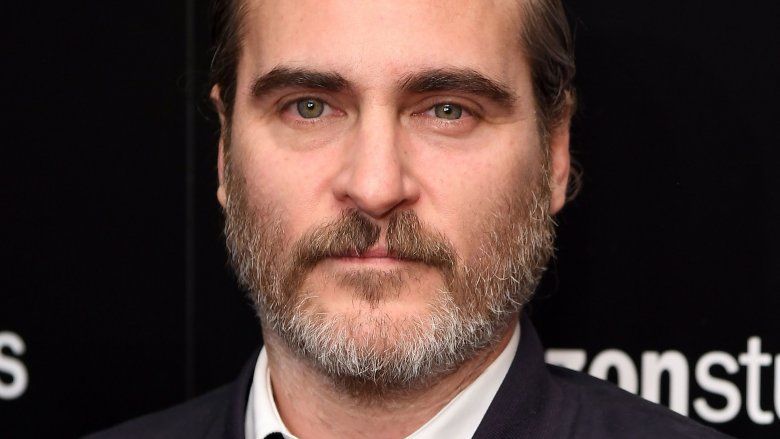 Getty Images
This is no joking matter. 
Warner Bros. and Village Roadshow have announced, with The Hollywood Reporter confirming, an official release date for the upcoming Joker origin story film starring Joaquin Phoenix. The flick, directed by Todd Phillips (Old School, The Hangover Trilogy), will launch in theaters on October 4, 2019. 
Alongside the release date announcement, which happened on Wednesday amid the hustle, bustle, chaos, and comic book fan sweat of San Diego Comic-Con, came another confirmation: the film's official title. Rather than take a page out of Marvel's book and give the origin story pic a subtitle like Joker: Clown Prince or Joker: The Grime of Gotham, Warner Bros. went simple, choosing to name the movie Joker — just Joker. 
An October 2019 release date puts Joker in the same debut month as Disney's Dwayne Johnson and Emily Blunt-starring Jungle Cruise and another of Warner Bros.' new films The Goldfinch, both of which are set to bow on October 11 of that year. It also pushes the film into direct competition with director Ang Lee's Gemini Man and the Amy Adams-led thriller The Woman in the Window. 
Joker will also have to duke it out within its own comic book universe at the box office three weeks after it opens, when Warner Bros. and DC Films send Wonder Woman 1984 soaring into theaters on November 1. 
The hotly anticipated Wonder Woman sequel already has an enormous fanbase, given how (forgive our pun) wonderful its record-shattering predecessor was, and will continue to pull in more viewers with its litany of flashy elements — Chris Pine returning as Steve Trevor! Gal Gadot's Diana Prince fighting crime in America! A totally '80s aesthetic! Kristen Wiig playing the evil Cheetah! While Joker might top the box office in its first few weeks out, Wonder Woman 1984 will likely crush the Clown Prince of Crime come the start of November. 
But even if that does happen, and we're willing to bet our last crumpled-up-in-the-bottom-of-our-bag dollar that it will, it won't be any skin of Warner Bros. and DC's proverbial backs. Both films exist in the DC Extended Universe and are, of course, housed at the same parent studio, so whether Wonder Woman winds up performs better than Joker from a monetary standpoint or vice versa, the cash will ultimately funnel to a shared endpoint. Warner Bros. stays winnin'. 
What will help Joker stand out amongst the rest of the box office offerings and set it apart from your average, everyday comic book movie is its unique tone. Described as a "gritty character study," Joker reportedly positions its titular baddie as a failed comedian in the 1980s and explores the man "disregarded by society" while also acting as a "broader cautionary tale." (Exactly what the story will warn us of, we're not sure. Maybe to not go off the deep end and become a full-blown villain hell-bent on vengeance and bringing people to some false, fabricated justice after tasting just a tiny bit of defeat? Probably.)
With a budget of $55 million, much lower than the $100 million-plus sums it usually takes to make a superhero (or super-villain) blockbuster, Joker will have to do a lot on just a little when it starts production this September. Hopefully the experimental character study-slash-crime drama-slash-cautionary tale flick can prove successful for its studios and enjoyable for the fans at home. And if not, we've got five other Joker movies to focus on.