The Untold Truth Of Dwayne 'The Rock' Johnson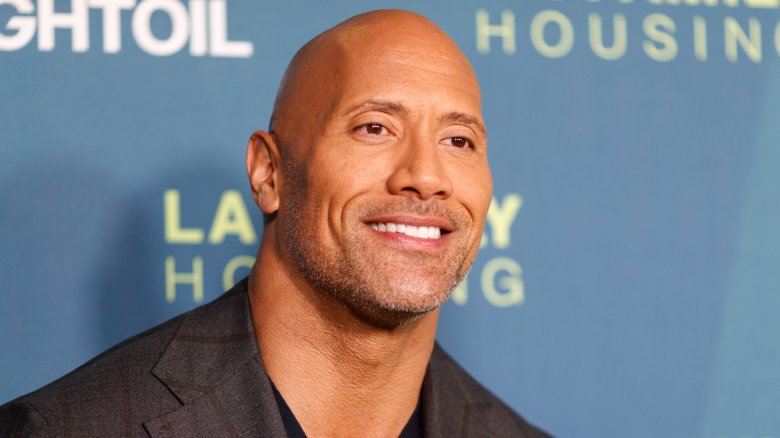 Getty Images
Dwayne 'The Rock' Johnson is huge, both literally and figuratively. He has, over the last several years, become not so much a breakout star as he has a breakout icon. There are few working actors more recognizable today, and his brand is solid gold. From TV shows to blockbuster films, clothing lines to documentary production, Johnson has his hands in a ton of projects — and, to nobody's surprise, most of them are massive successes. 
One of the things that has made Johnson so compelling over the years is how open he is about his story. Very few topics are off-limits to him. He talks frequently about his upbringing, his struggles as a young adult, and even the joys of parenthood. Nonetheless, there are still a few stones that are largely unturned to even the biggest fans of the artist formerly (currently?) known as the Rock. This is the untold truth of Dwayne "The Rock" Johnson.
The Rock wasn't built in a day
Before Fast and Furious, before Ballers, before he became the biggest star in Hollywood, Dwayne Johnson was — and still is, to many — the Rock, an eternal icon of professional wrestling. In his heyday, the Rock was the biggest name in the business, with his bombastic personality, excellent microphone skills, and classic matches with the likes of Stone Cold Steve Austin and Triple H cementing him as an all-time great of the industry. He was so great, in fact, that it's sometimes easy to forget that at one point he was perhaps the least popular wrestler on the roster.
Johnson didn't debut as the Rock. He debuted under the name Rocky Maivia, the name drawn from his father and grandfather's wrestling identities. Maivia competed with a goofy costume and an even more ridiculous haircut. This didn't go over too well with fans and quickly they turned on him, filling arenas with "ROCKY SUCKS!" chants regularly. It wasn't until Maivia turned heel (wrestling-speak for "bad") and started referring to himself in the third person as the Rock that they began warming to him. He's since become a legend, but even legends often have humble (and slightly embarrassing) beginnings.
The world heavyweight champ of paychecks
Johnson's ascent as a pro wrestler transcended the industry and reached into pop culture in a way few, if any, wrestlers have been able to do before or since. After a hosting gig on Saturday Night Live, he found Hollywood opening its doors to him; it wasn't long before he made his big-screen debut as the Scorpion King in The Mummy Returns. The film was released at the height of Johnson's fame as a wrestler and did great at the box office. A Scorpion King spinoff followed, and nobody came out of that movie in a better place than Johnson, due to a particularly cool record he set while making it.
The $5.5 million paycheck Johnson received for The Scorpion King is the largest ever given to an actor for their first starring role. It's an appropriate start for Johnson, who since has set records as the highest-paid actor in the world. He's clearly been primed for that accolade since day one.
Missed opportunities
It's hard not to notice how personable Johnson is. His demeanor onscreen and off is totally magnetic. He's got a great sense of humor, and his charm is palpable. We often see him carry this over into roles, with his characters frequently being just as smooth as he seems to be in real life. As it turns out, we almost saw him carry that charm over to a film adaptation of a very appropriate cartoon character.
In the early 2000s, a live-action adaptation of Cartoon Network's hit series Johnny Bravo was in the works. The show revolves around an Elvis-esque wannabe ladies' man who still lives with his mom and chases women fruitlessly (and often to a degree that's borderline creepy). Johnson was in talks to play Bravo — he apparently told producers he was a huge fan of the show at the time, which led to his consideration for the role — and it's a shame it never panned out. Johnny is basically a parody of Johnson's public persona, and given how great his comedic timing is, he would have killed in the role. Unfortunately, it wasn't to be. 
Hail to the King
It's hard to think about Johnson as a normal person. He's one of the biggest celebrities in the world and has built a thriving career spanning multiple industries. That said, one look at his Instagram makes it clear that he has more in common with average folks than you'd think. He loves hitting the gym, kicking back with his dog and his daughters, and harbors a healthy obsession with his favorite musician. That musician? None other than the King.
Johnson is a die-hard Elvis Presley fan. He's very open about how obsessed he is and has even managed to inject a healthy dose of his fandom into a few of his projects. For example, all the Elvis memorabilia depicted in the film The Game Plan actually belongs to Johnson in real life. There was also that time he dressed up as Vegas-era Elvis to serenade a crowd of United States servicemen with a rendition of "Jailhouse Rock." Johnson seems like a guy who doesn't settle for anything but the best, so it makes perfect sense that his favorite musician is one of the indisputable all-time greats.
A sweet tooth
Tim Burton and Johnny Depp are like peanut butter and jelly — they're often at their best when put together, but if you have it every day, you're going to get sick of it real quick. One of their more famous collaborations in the mid-aughts was a remake/adaptation of the Roald Dahl novel Charlie and the Chocolate Factory, with Depp playing the quirky chocolatier Willy Wonka. Perhaps the most shocking thing about the film? Burton's second choice for Willy Wonka.
In the most out-of-left-field twist since, well, the original novel's ending featuring a glass elevator launching into outer space, Burton's second choice for the role of Willy Wonka was none other than Johnson. It's so entirely on the other end of the spectrum in terms of casting that it honestly might have worked. Depp's impish, whimsical performance is fun, but it's hard not be curious about what Johnson's take on the character could have been. All we know for sure is that we were deprived a shot of Willy Wonka bench pressing two giant root beer barrels strapped to a barbell, and the world is a worse place for it.
Mr. Guinness
These days Johnson is just as famous for how generous he is with his fans as he is for starring in massively popular movies. His Instagram is regularly filled with photos he takes with fans he runs into in public, outside his sets, and even in the gym. It's impossible to measure how generous a celebrity is with their fans, but Johnson has got what's just about the next best thing.
In 2015, Johnson set a Guinness World Record for the most selfies taken within a three-minute period. He set this record on the red carpet premiere of his film San Andreas, and did so by running around and taking as many selfies with fans as possible. It would have taken just over 75 selfies to set the record — and of course Johnson crushed it, with a stunning 105 selfies in three minutes. Even with the photos that had to be disqualified for being out of focus, he set a record that's going to be insanely hard to beat in the future... although if anybody can top it, it's probably Johnson: he's since gone on to set four more Guinness World Records, including the one for the largest seven-layer dip and another very strange one involving toppling cereal boxes like dominos.
He doesn't need LinkedIn as long as Facebook is around
The chapter of Johnson's career in which he became a true unstoppable global icon began with 2011's Fast Five. The fifth installment of any franchise is rarely as good as the first, but Fast Five is the rare exception. Not only did it revitalize the franchise and turn it into a global juggernaut, it propelled Johnson to the forefront of pop culture. He hasn't budged since. It's funny to realize that it all happened because of a fan's Facebook post.
Originally Johnson's role of Luke Hobbs was meant for an older actor, specifically Tommy Lee Jones. It was only when a fan named Jan Kelly posted on Vin Diesel's official Facebook page that she'd love to see Johnson and Diesel work together someday that Diesel was inspired to hit up director Justin Lin and see if they could book Johnson for the role. It obviously worked out well for all parties involved — well, until that little feud of theirs, but we're choosing to remember the good times, not the bad.
Building a better future after a turbulent past
Johnson is an open book when it comes to his upbringing. Certain facets of his past aren't just regular topics of conversation, but fully integrated into his brand. His production company, which is titled Seven Bucks Productions, takes its name from the day that he moved back home to Florida to live with his parents after being cut from the Canadian Football League after just one game. He went back to Florida with only seven bucks in his pockets. However, that's not the only down note in the actor's past.
Johnson has also been very open about his less-than-shining legal record as a teen. While growing up in Hawaii, he was frequently arrested for his involvement in a local theft ring. Johnson is on the record as saying the only reason he isn't in jail is because of his extremely supportive family. He's also taken those experiences and turned them into something good. He now works frequently with rehabilitation programs and even made one the subject of his HBO documentary Rock and a Hard Place. Leave it to Johnson to find something good in the darker moments of his past.
Even the dictionary isn't immune to his charms
It's impossible to undersell the importance of Johnson's catchphrases. He's easily one of the most quotable pro wrestlers of all time, from, "It doesn't MATTER what your name is!" to "SMELL WHAT THE ROCK IS COOKING!" One particular phrase that came up often in his one-liners and promos was "smackdown." It became vital to both Johnson and the WWE, who later launched a secondary weekly program titled Smackdown.
The phrase becomes all the more interesting when you realize it's a genuine creation of Johnson's. If anybody had said it before, they hadn't done so loudly enough. The phrase is a part of our modern vernacular because of Johnson and it's even been recognized by the dictionary. That's right, Merriam Webster itself has made smackdown an official word in the English language. Johnson didn't just break box office and Guinness World records, he effectively created a word. Let us know when John Cena can say that for himself.
There's something fishy about his diet
Johnson's physique obviously plays a major role in his allure as a star. The guy is supernaturally jacked. His body is probably the most famous in the world these days, somewhat akin to Schwarzenegger's in the '80s. Johnson leans into it, too, posting insane gym videos on Instagram regularly and launching his own workout clothing line through Under Armour. You probably already know how much work he puts in while at the gym, but what will really blow your mind is what Johnson has to do in the kitchen to keep his muscle mass up.
Johnson eats enough food for several families every day. He downs massive amounts of proteins, greens, and healthy carbs, enough to make any mere mortal sick. The impressive stat, though? His fish intake is off the charts. Johnson is big on cod — so much so that he eats over 800 pounds of it every year. That's more than two pounds of fish every single day. We're sure it gets old after the first few hundred pounds, but credit where it's due: it pays off.