Joker Origin Movie Is Reportedly About A Failed Stand-Up Comedian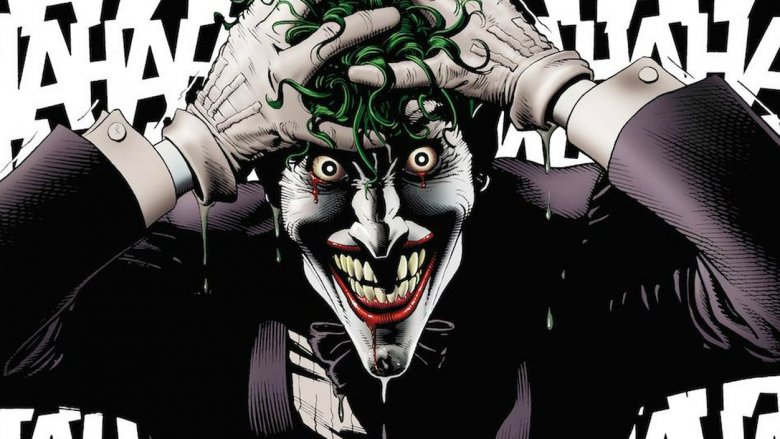 DC Comics
Rumor has it that the upcoming Joker origin movie will be at least partially inspired by the landmark graphic novel Batman: The Killing Joke, and that's no laughing matter.
According to TheWrap, director and co-writer Todd Phillips (The Hangover) is working on a script that would depict the Clown Prince of Crime as a failed 1980s comedian who snaps after bombing with audiences. That's pretty close to the Joker's origin story in The Killing Joke, Alan Moore's one-shot graphic novel released in 1988. 
In that book, the Joker is an engineer who quits his job at a chemical company to become a stand-up comedian. But when he fails miserably, he agrees to take two criminals through the chemical plant where he used to work so they can rob the playing card company next door. When Batman shows up, the engineer escapes through a pound lock filled with chemicals that permanently change his appearance and help drive him mad.
Martin Scorsese is said to be a producer on the new movie, and if this new report is true, his involvement would make a little more sense. The film would have elements similar to Scorsese's 1982 classic The King of Comedy, which starred Robert De Niro as a comedian who can't get his big break. 
The report also says that Joaquin Phoenix is "close to a deal" to star as the Joker, but nothing has been confirmed yet. About six months ago, Leonardo DiCaprio was believed to be the frontrunner for the part.
Details about the movie are still a little hazy, but it's expected to take place outside of the existing storylines of the DCEU as part of a new Warner Bros. production banner. That means that Jared Leto's version of the character would still be around, and the actor will supposedly return for Suicide Squad 2 and other future Joker movies.
The Joker origin film was originally expected to begin filming later this year, but that could be pushed due to rewrites. Phillips is currently working on the script with Scott Silver (8 Mile, The Fighter), so there's still plenty of time for things to change.