Joaquin Phoenix's Joker Origin Story Movie Gets The Green Light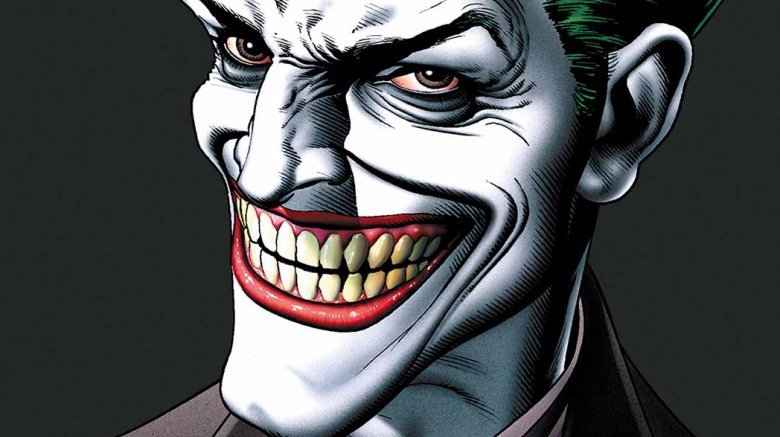 DC Comics
Joaquin Phoenix playing the Joker? That's no joke. 
Per The Hollywood Reporter, Warner Bros. has officially given the green light to director Todd Phillips' Joker origin story film starring Joaquin Phoenix as the Clown Prince of Crime. 
The outlet notes that the actor "recently finalized his deal" to portray Batman's forever-smiling foe. Phillips will get behind the camera — and Phoenix in front of it — this September in New York. DC Films and Warner Bros. are reportedly developing the flick under the working title Romeo.
Billed by Warner Bros. as "an exploration of a man disregarded by society [that] is not only a gritty character study, but also a broader cautionary tale," the Phoenix-led Joker standalone is said to take place in 1980s Gotham City and will reportedly position the iconic DC Comics villain as a failed comedian — a similar depiction seen in Alan Moore and Brian Bolland's graphic novel Batman: The Killing Joke. 
Warner Bros. Animation and filmmaker Sam Liu actually already adapted that 1988 one-shot into an animated movie (titled Batman: The Killing Joke, naturally), which sadly fell flat on its white paint-covered face in front of critics and fans when it debuted in July of 2016. Perhaps DC and Warner Bros. are viewing Batman: The Killing Joke as a "broader cautionary tale" in its own right and will avoid making any of the same mistakes with the Joker origin movie.
Carrying a small-for-major-studio-tentpoles budget of $55 million, the upcoming Joker pic is intended to stand separate from typical comic book movie fare. Words like "gritty" and "experimental" have been tossed around like rice after a wedding ceremony when describing the film, but DC and Warner Bros. are apparently molding it feel more like a crime drama and less like the moody mostly-mush of the rest of the DC Extended Universe. Anyone who has taken issue with what Zack Snyder made of Man of Steel, Batman v Superman: Dawn of Justice, and Justice League (pre-Joss Whedon, that is) probably shouldn't stress too much about the "darkness" of the Phoenix-starring Joker film. 
Martin Scorsese and The Wolf of Wall Street's Emma Tillinger Koskoff are on board the film as producers. The Fighter and The Finest Hours scribe Scott Silver is attached as its co-writer, having penned the script with Phillips. Considering that the flick reportedly chronicles how a one-time comedian transforms into the Joker after a particularly horrible set, it makes perfect sense that Scorsese is involved in its production. Back in 1982, the multi-talented creative directed the satirical black comedy film The King of Comedy — a pic all about a mentally messed-up aspiring comedian who goes to extremes to get his career off the ground. 
According to THR, "there is a chance" that the Joker origin story movie will launch "as early as late 2019." DC Films and Warner Bros. haven't confirmed anything to that effect as of yet. The good news is that while we wait for the studios to make an official release date announcement, we have five — count 'em, five — other Joker movies to focus on. 
Before he gets gussied up as the Joker to become an official member of the DCEU, Phoenix will appear on the big screen in Don't Worry, He Won't Get Far on Foot.