Actors Who Made Their Big Comeback In A Superhero Project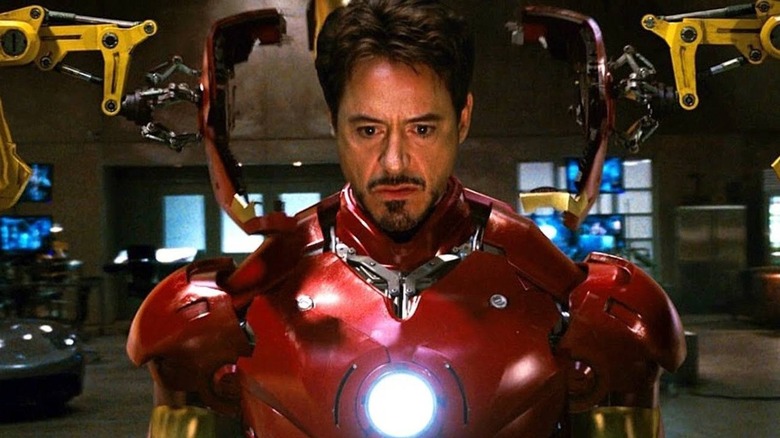 Paramount Pictures
Superhero movies are experiencing some lean times at the box office, comparatively speaking. The genre utterly dominated the market through the 2010s and in 2019 "Avengers: Endgame," "Spider-Man: Far From Home," "Captain Marvel," and "Joker" all made over a billion dollars each. However, the pandemic changed viewing habits, and this has caused films like "Shazam! Fury of the Gods" to flop at the box office. Still, superhero stories remain a reliable way to grab the spotlight, as they have built-in fanbases, broad appeal, and are primed for sequels if successful. 
That goes for up-and-coming stars like "Black Panther: Wakanda Forever" breakout Tenoch Huerta, and it holds true for seasoned veterans looking for a way to return to the public spotlight. Just ask "Game of Thrones" alum Emilia Clarke, who will soon star in "Secret Invasion," or even Harrison Ford, who's set to replace the late William Hurt as Thunderbolt Ross. 
However, Marvel isn't the only game in town. Actors from diverse backgrounds and with diverse talents have made use of the superhero movie as a catalyst for a career comeback, often with measurable success. After years (or even decades) in the wilderness of waning fame and employment, these performers donned the uniforms of superheroes (or supervillains) and remade a name for themselves at the movies or on TV. 
Anna Paquin in X-Men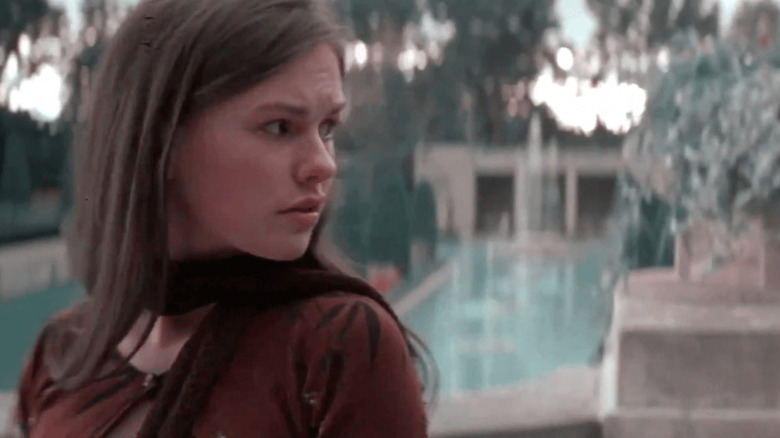 20th Century Fox
Anna Paquin achieved a level of success most aspiring actors can only dream about, and she did it her very first time on the job, which made for a hard act to follow. Paquin's screen debut came in 1993's "The Piano," written and directed by the acclaimed New Zealand filmmaker Jane Campion. Campion cast a then nine-year-old Paquin as Flora McGrath, the plucky daughter of the mute main character, Ada, played by Holly Hunter. "The Piano" went on to become one of the most celebrated films of the year, and Paquin's star-making performance was a frequently mentioned highlight. She took home the best supporting actress Oscar, becoming the second youngest winner ever at 11, and Roger Ebert called her performance "one of the most extraordinary examples of a child's acting in movie history."  
The Canadian-born actor continued to land roles following her out-of-the-gate triumph, but most were in a featured or supporting capacity, and none garnered quite so much attention as "The Piano." Then, in 2000, she remerged just as the superhero genre was making a resurgence. Paquin scored the lead role in 2000's "X-Men" as Rogue, opposite Hugh Jackman's Wolverine, and the film was a well-received hit at the box office. While Jackman got the lion's share of critics' and audiences' praise, a now young adult Paquin was a capable scene partner. She went on to appear in three more "X-Men" films, then found a home on the steamy HBO vampire series "True Blood."
Craig T. Nelson in The Incredibles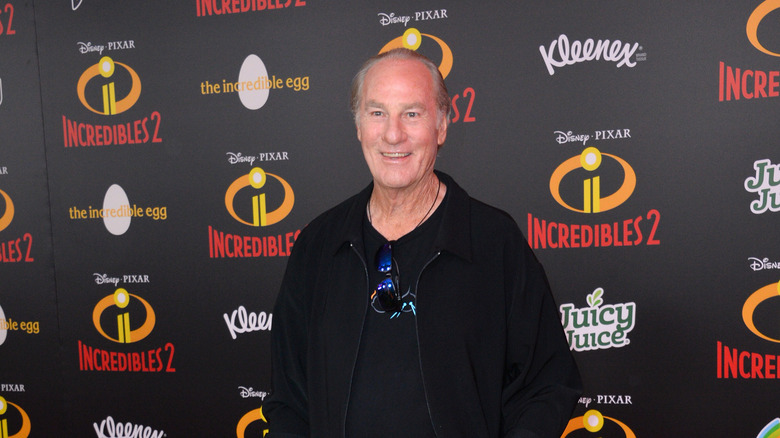 Featureflash Photo Agency/Shutterstock
Craig T. Nelson worked as both a comedian and dramatic actor before being cast in the title role of the ABC sitcom "Coach" from 1989 to 1997. The comedy revolved around Nelson's Hayden Fox, the head coach of the fictional Minnesota State University Screaming Eagles football team. "Coach" often used real athletes as guest stars, but it relied on its sports-centric premise to delve into the personal lives of its characters, most notably the relationship between Fox, his daughter, and the other men on his staff. In 1992, Nelson won the Primetime Emmy for outstanding lead actor in a comedy series. However, when "Coach" wrapped, the actor struggled to find opportunities befitting his award-winning stature. 
Besides Hayden Fox, Nelson is best known for voicing Bob Parr, otherwise known as Mr. Incredible, in Pixar's 2004 hit about a family of superheroes trying to live normal lives after the government attempts to regulate superpowered individuals. "The Incredibles" (which also co-starred Holly Hunter as Elastigirl) was a critical and commercial success. Nelson's chemistry with Hunter is, well, incredible, and his affectation as a bored-to-death suburban dad who secretly takes up the mantle of saving the day again helped the film achieve the perfect balance of social satire and heartwarming family saga. 
Nelson's career surged and he followed up "The Incredibles" with 2005's "The Family Stone" before returning to the role in 2018's "Incredibles 2." In between, he guest starred in series such as "My Name is Earl," "Monk," "CSI: NY," and "Grace and Frankie," while starring in "Parenthood" and "Young Sheldon."  
Robert Downey Jr. in Iron Man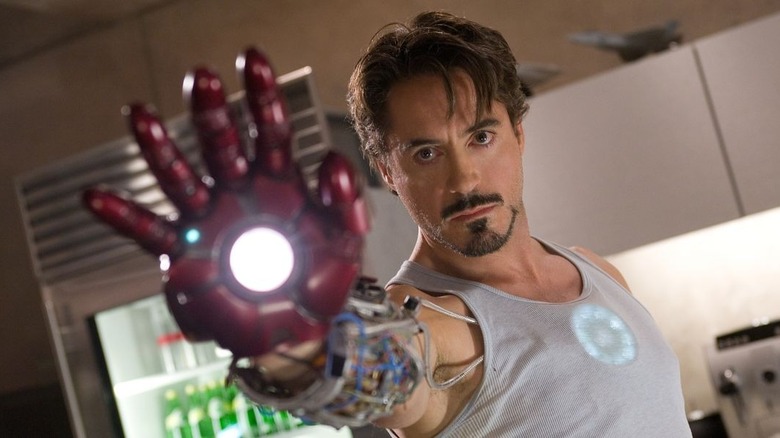 Paramount Pictures
The quintessential example of a down-and-out actor using a superhero movie to relaunch their career is Robert Downey Jr., who will forever be synonymous with Tony Stark and Iron Man. The son of filmmaker Robert Downey Sr., the boy who would be Iron Man got his start with bit parts in his father's films. However, their fraught relationship (Downey Sr. introduced his child to drugs) would also contribute to his public fall from grace. In his youth, Downey Jr. received rave reviews for performances in movies like "Less than Zero" and "Short Cuts," and he was nominated for an Academy Award for his portrayal of the legendary silent film star in the 1992 biopic "Chaplin." He was considered one of the most promising talents of his generation before addiction got in the way. 
After a years-long battle, Downey Jr. could finally declare that he was sober and get back to acting. He had been working intermittently in films like "Gothika" and "Good Night, and Good Luck," but with 2008's "Iron Man," he made good on his potential. Downey Jr. turned who many fans and critics considered to be a B-tier comic book character into an instant icon. With his charismatic performance, he didn't just catapult himself back into the celebrity stratosphere, he also jumpstarted what became the MCU, perhaps the most ambitious cinematic endeavor of all time. The beloved actor has hit ("Tropic Thunder") and missed ("Doolittle") outside of the MCU, but there's no denying that the actor and the superhero genre greatly benefitted each other. 
Kieran Culkin in Scott Pilgrim vs. the World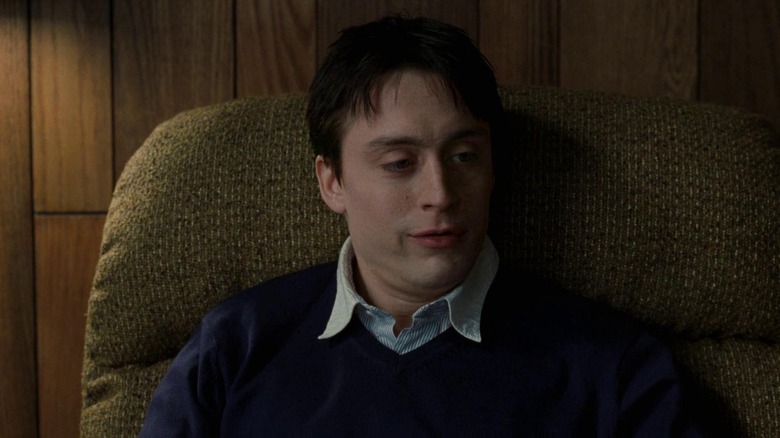 Universal Pictures
Kieran Culkin may once have been best known as the little brother of famed nineties child star Macaulay Culkin, but he has always been a gifted actor in his own right. Kieran shared the screen with Macaulay in the 1990 Christmas classic, "Home Alone," but also appeared in 1991's "Father of the Bride," 1998's "The Mighty," 1999's "The Cider House Rules," and 2002's "The Dangerous Lives of Altar Boys." At 20 years old, he had firmly established himself as an indie and prestige film darling. However, just when his stock was at its highest, following his memorable lead performance in 2002's "Igby Goes Down," he disappeared from the industry altogether. 
Culkin began his personal renaissance with 2010's "Scott Pilgrim vs. the World." The quirky genre-heavy comedy, based on a graphic novel of the same name, follows the bassist of a band's attempts to win the heart of a girl by taking on and defeating her so-called evil exes. The stylized and Easter egg-filled homage to comics, video games, and indie rock music has since become a cult classic. Its cast was a who's who of rising stars — Michael Cera, Anna Kendrick, Chris Evans, Mary Elizabeth Winstead, Brie Larson — many of whom would go on to play superheroes in projects of their own. 
Culkin doesn't have a ton of screen time, but his presence showed audiences that this witty, charming kid had grown into an even wittier and more charming adult, as would later be seen in his celebrated run on "Succession."
Chris Evans in Captain America: The First Avenger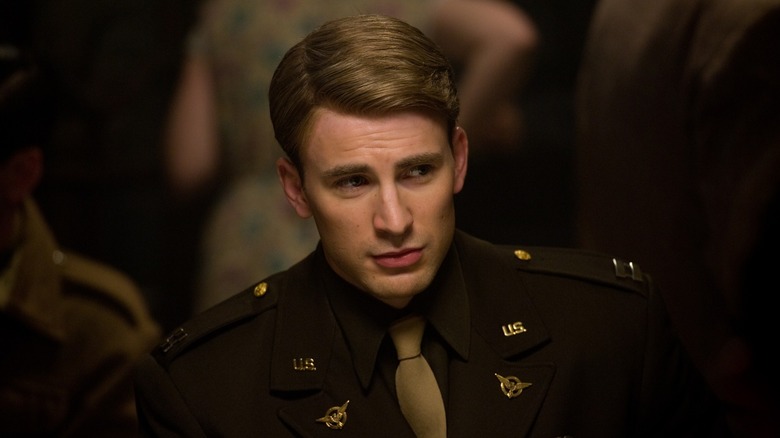 Paramount Pictures
Chris Evans also appeared in "Scott Pilgrim vs. the World" – as evil ex Lucas Lee — but it was another superhero film that helped revive his career. After breaking onto the scene as Jake Wyler in 2001's "Not Another Teen Movie," Evans was often typecast as a slightly obnoxious alpha male, which he'd later revisit as Ransom in 2019's "Knives Out." He was Johnny Storm in the much-maligned 2005 version of "Fantastic Four," and he's also in the ensemble of the 2007's dystopian sci-fi film "Sunshine," Danny Boyle's well-reviewed box office bomb. Essentially, Evans was neither quite an A-lister nor the poster boy of a wholesome hero until Marvel made him an offer he couldn't refuse.
Chris Evans' career received a huge shot in the arm thanks to his contract to appear in multiple MCU projects as Steve Rogers, starting with 2011's "Captain America: The First Avenger." Over the next decade, the actor and his character became integral to the mega-franchise. To balance out Tony Stark's snark, Evans imbued Steve Rogers with a level of chivalry and sincerity that stood in contrast to some of his earlier work. His eight-movie stint as Cap helped anchor the MCU through its first three phases, and the goodwill he earned playing Marvel's most patriotic superhero afforded him the chance to collaborate with some of the new century's most interesting filmmakers, like Bong Joon-ho and Rian Johnson, whenever he had time to put down the shield. 
Anthony Mackie in Captain America: The Winter Soldier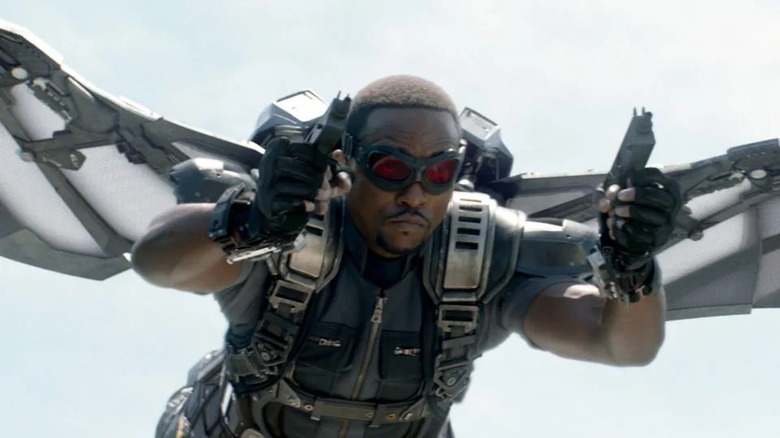 Walt Disney Studios Motion Pictures
Anthony Mackie is a Juilliard-trained actor with extensive experience on the stage and the screen. He made a name for himself with significant roles in well-chosen films such as 2002's "8 Mile," 2004's "Brother to Brother," 2006's "Half Nelson," the Denzel Washington remake of "The Manchurian Candidate" and the sports drama "We Are Marshall." He appeared in two best picture winners — 2004's "Million Dollar Baby" and 2009's "The Hurt Locker." In the latter, Mackie and his co-star Jeremy Renner were commended for their unflinching performances as Iraq War soldiers, but Renner's career took off first. He snagged roles in the "Mission: Impossible" and "Bourne" franchises as well as key parts in "The Town" and "American Hustle." 
Meanwhile, Mackie appeared in supporting roles in modestly successful movies like "Real Steel" and "The Adjustment Bureau" as well as bombs like "What's Your Number?" and "Gangster Squad." He didn't take flight until he joined Renner in the MCU as the Falcon in 2014's "Captain America: The Winter Soldier." Mackie's involvement in that film, widely considered one of the best Marvel movies, led to a working relationship that's still going strong. 
Mackie's Falcon teamed up with Sebastian Stan's Bucky Barnes in the Disney+ series "The Falcon and the Winter Soldier" and returns as the new Cap in the upcoming "Captain America: New World Order." Since strapping on his Falcon wings, Mackie has also starred in "Detroit" and "The Hate U Give." 
Keanu Reeves in John Wick
When we think about versatile actors, Keanu Reeves might not be the first name that comes to mind. Still, the unassuming Canadian actor has a filmography that spans nearly four decades and nearly every genre. Reeves became a household name thanks to his portrayal of an affable time traveler in 1989's "Bill and Ted's Excellent Adventure." He's done period pieces (1988's "Dangerous Liaisons"), indie dramas (1991's "My Own Private Idaho"), Shakespeare (1993's "Much Ado About Nothing"), and that was all before he became one of the biggest stars in the world with 1994's "Speed" and 1999's "The Matrix."
However, between 1999 and 2014, Reeves didn't have another hit of the same caliber. His big-budget films, like 2005's "Constantine," were underwhelming. His attempts at being a romantic leading man in 2001's "Sweet November" and 2006's "The Lake House" met with disappointing results. Then, in 2014, he was reborn as a more mature action star in "John Wick." The original action revenge thriller and the character Reeves helped create proved so popular with critics and audiences they spawned a four-film franchise, all of which have maintained stellar reviews and pleased crowds. 
While John Wick isn't technically a superhero and the "John Wick" movies aren't based on existing comics, the titular hitman does everything a superhuman protagonist would do, and the four chapters are arguably more expertly choreographed and filmed than any DC or Marvel movie. Keanu's action hero (okay, maybe sympathetic anti-hero) second act couldn't have happened to a more deserving guy. 
Evangeline Lilly in Ant-Man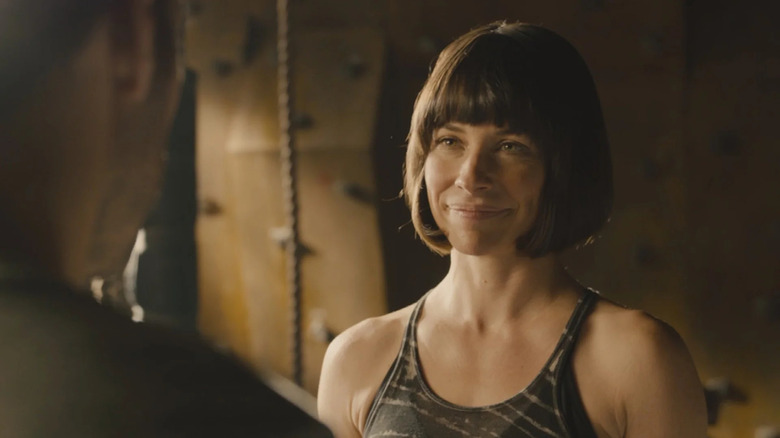 Walt Disney Studios Motion Pictures
When the supernatural drama "Lost" took the world by storm in 2004, a few of its marquee actors were already famous faces. Matthew Fox was familiar to audiences from "Party of Five," Dominic Monaghan had just finished "The Lord of the Rings" trilogy, and Harold Perrineau had a role in "The Matrix" franchise. Evangeline Lilly wasn't a complete nobody — she had some guest star credits under her belt — but she became the breakout star of the series that dominated water cooler conversations for years as Kate Austen, a capable survivalist with a shady past. 
Though "Lost" waned in popularity (and coherence) after it concluded, many expected Lilly's skills to translate easily to the big screen. Her first project off the island was 2011's "Real Steel." She followed that up with two appearances as Tauriel in "The Hobbit" trilogy, but the relatively small role didn't catch on with Tolkien fans as she and Peter Jackson may have hoped. After five years of a downward trajectory (and more if you count the dwindling relevance of "Lost"), Lilly finally got a part that — at least in theory — would rival cool, tough Kate. 
As Hope van Dyne (and eventually as the Wasp) in the "Ant-Man" franchise, Lilly could quip, flirt, and fight opposite Paul Rudd's Scott Lang. The character may not have reached her full potential as of "Ant-Man and the Wasp: Quantumania," but the Canadian actor isn't done with the MCU yet.
Marisa Tomei in Spider-Man: Homecoming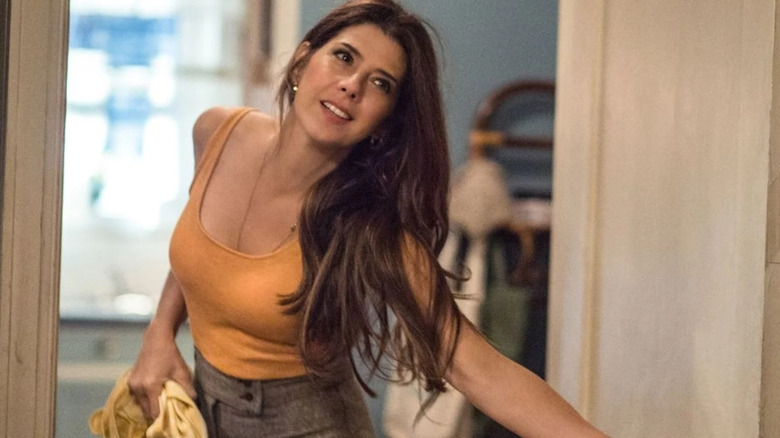 Sony Pictures Releasing
Marisa Tomei started as a TV actress in the 1980s on the soap opera "As the World Turns" and the college sitcom "A Different World." Then, she took home one of the most notorious Oscars ever for her dynamic performance as Mona Lisa Vita in 1992's "My Cousin Vinny." While her charisma and acting prowess are undeniable in the film, there was still controversy surrounding her win when the untested ingenue prevailed in a broad comedy over heavyweight contenders like Vanessa Redgrave. Tomei would put any doubts about her talent to rest with subsequent nominations for "In the Bedroom" and "The Wrestler." 
The Brooklyn-born actor has appeared in nearly 100 films and television shows, and she had a particularly strong run throughout the 1990s and early 2000s in films like "Untamed Heart," "What Women Want," and "Anger Management." However, by the 2010s, Tomei was mostly starring in short films and popping up in cameos. Actresses have long complained that the types of roles they get offered change as they age. This explains Tomei's shift from a love interest to a parental figure — but with Spidey's introduction into the MCU, she got to do both. 
Tomei redefined the character of Peter Parker's Aunt May. Her May wasn't a spring chicken, and she was still Peter's guardian, but she was as mentally sharp, independent, and attractive as her superhero nephew. Despite Tomei's renewed fame, she worries that — because of her tenure in the MCU and films like 2020's "King of Staten Island" –  she'll continue to get typecast as a mother figure. 
Joaquin Phoenix in Joker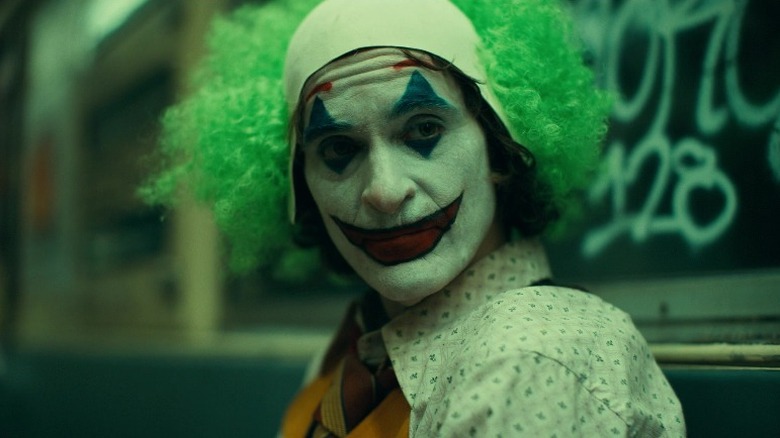 Warner Bros. Pictures
Joaquin Phoenix never really went away — he's been one of the most respected film actors in the business for most of his adult life. However, after an almost unprecedented multiyear run of critically acclaimed and award-nominated performances in films like "Gladiator," "Walk the Line," "The Master," and "Her," working with top-tier directors such as Ridley Scott and Paul Thomas Anderson, he still had no Oscar to show for it. In between prestige projects, Phoenix also starred in M. Night Shyamalan's "Signs" and "The Village." It seemed like he'd be able to maintain his status as both an indie darling and a legitimate movie star going forward. 
Then, the actor who made a career for himself playing oddball characters veered a little too far afield for his own good. The years after his 2013 Academy Award nomination were less than kind to Phoenix. He appeared in a number of smaller-budget auteur-driven films, most of which received good reviews but none of which made much of an impact. His reputation and professional momentum had also taken a hit during his bizarre involvement in and press tour for "I'm Still Here." 
However, with 2019's "Joker," Phoenix got the last laugh. The critically and commercially successful film defied the Oscars' bias against comic book movies, nabbing 11 nominations and two wins, including — at long last — best actor for Joaquin Phoenix.
John Cena in Peacemaker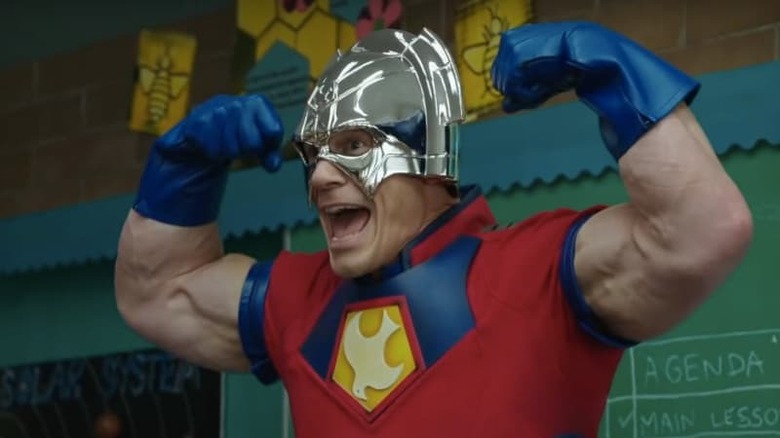 HBO Max
John Cena belongs to a class of entertainers who've transitioned from professional wrestler to professional actor thanks in no small part to the superhero genre. Dwayne Johnson might be the best-known example, but time might tell that performers like Dave Bautista and Cena have chosen better-quality projects and improved their longer-term prospects. Like Johnson, Cena first tried his hand at acting in action-heavy films such as "The Marine" and "12 Rounds." However, he never became a proper action hero as Johnson did in movies like "San Andreas" and "Skyscraper." Instead, he popped up in guest roles and cameos in things like "Parks and Recreation" and "Trainwreck," establishing himself as something of a comedian. 
Writer-director James Gunn noticed and did for Cena what he'd done for Bautista in the "Guardians of the Galaxy" franchise over at the MCU. He cast him in "The Suicide Squad" as Peacemaker, then devoted a whole TV show to him. HBO Max's "Peacemaker" — which is as gnarly, silly, and well-made as audiences expect of James Gunn — delves into the complicated character's backstory. It's been a winner with critics and audiences while allowing Cena to show off the full range of his abilities.
Ke Huy Quan in Everything Everywhere All at Once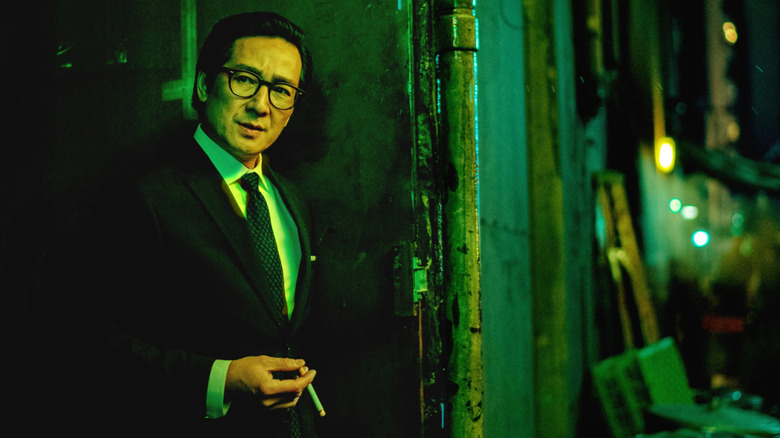 A24
Ke Huy Quan was never a superstar, though he was a part of two iconic 1980s properties: "The Goonies" and the "Indiana Jones" franchise. In 1984 he played Short Round opposite Harrison Ford in "Indiana Jones and the Temple of Doom," and followed that up as Data in the Steven Spielberg-produced kids' adventure movie. He continued to act for a while but in films and TV series that didn't have the reach of his first two jobs, in part because opportunities for Asian actors were limited — even for those who'd demonstrated their box office might. Eventually, Quan enrolled in film school at the University of Southern California and occasionally worked as a stunt coordinator and assistant director. 
The Daniels' extremely lauded absurdist multiverse dramedy, "Everything Everywhere All At Once," presented Quan with a once-in-a-lifetime role that became his triumphant return. He plays Waymond Wang, the meek soon-to-be ex-husband of main character Evelyn Wang (Michelle Yeoh). Quan excels at playing that version of Waymond, but since this is a multiversal superhero story (and an Academy Award winning one at that), he gets to play a myriad of Waymonds — including Alpha-Waymond, who's downright cool. 
Quan delivers the emotional knockout line of the movie — "In another life, I think I would have really liked just doing laundry and taxes with you" — and rightly took home a statuette of his own for his performance. He's now one of the hottest commodities in Hollywood and appears in Season 2 of the Disney+ series "Loki."