How Dave Bautista Went From Break-Dancer To Movie Star
This content was paid for by Netflix and created by Looper.
Dave Bautista is now a true Hollywood heavyweight, with not one but two successful entertainment careers under his belt. Long before he became such a headliner in the worlds of wrestling and acting, though, Bautista was just a shy guy with odd jobs, including bouncing and lifeguarding. He didn't know what his future would hold.
Since then, he's come a long way. As Scott Ward, a simple taco truck owner who becomes a zombie-slaying legend in Zack Snyder's "Army of the Dead," Bautista is the man leading a team of mercenaries into dangerous territory in order to complete a daring heist. Like Bautista, Scott is reserved but strong, and deeper than you'd suspect on first glance. It's a great role for Bautista, and the culmination of a very long journey — here's exactly how Dave Bautista went from a young break-dancer to a fully-fledged movie star.
An inauspicious start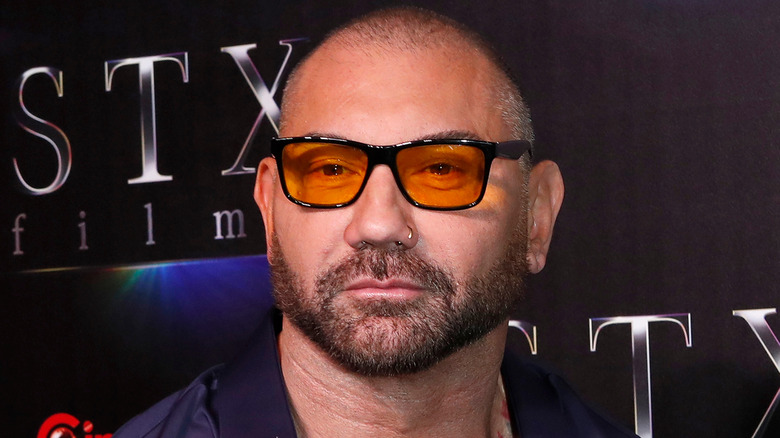 Shutterstock
Bautista grew up in the Washington, D.C. suburbs and had a pretty difficult childhood. He recounted the details of his difficult upbringing in his 2008 memoir, "Batista Unleashed," in which he revealed that he experienced poverty as a kid and witnessed many scenes of violence in his rough neighborhood, including multiple homicides.
In a 2020 appearance on the "Inside of You with Michael Rosenbaum" podcast, Bautista said that these tough life experiences made him unambitious early on, "I didn't have any goals growing up," Bautista said. "When I was growing up, I wanted to be not dead and not in jail. Those were my goals. I know it sounds ridiculous, but those were my goals." In addition to being surrounded by trouble, Bautista also battled the severe social anxiety that would continue to haunt him throughout his life. Thankfully, he eventually found a creative outlet that helped him grapple with both his desire to overcome his less-than-fortunate circumstances and also his shyness.
Making a move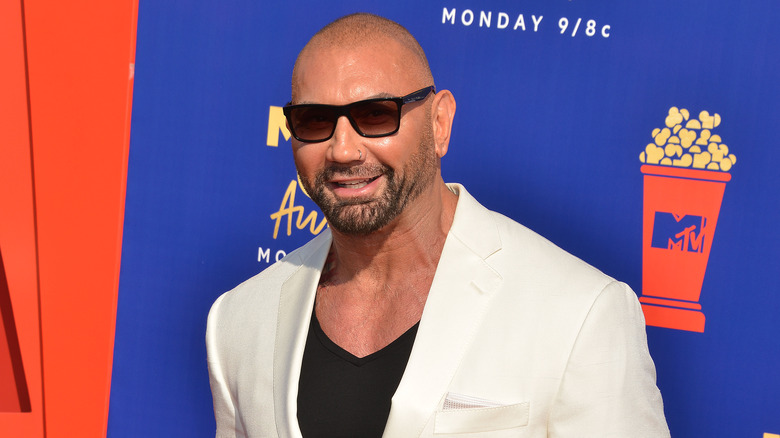 Shutterstock
See, teen Bautista and his buddies found a unique way to stay safe: breakdancing. On "Live! With Kelly and Ryan," Bautista explained, "It was for fun, and it was also a social thing. And it was to stay out of trouble. I grew up in the street, and we were either fighting or getting in trouble or dancing, if you wanted to be cool and to hang out and to be social." Not that it was easy. Since this all took place long before the internet, Bautista and his friends had to learn their moves the old-fashioned way: by teaching them to each other.
Ultimately, Bautista didn't use his dance routines to go pro — at least, he hasn't yet — but his ability to bust a move has come in handy during his film career, particularly for that hilarious dance scene in "My Spy."
The first job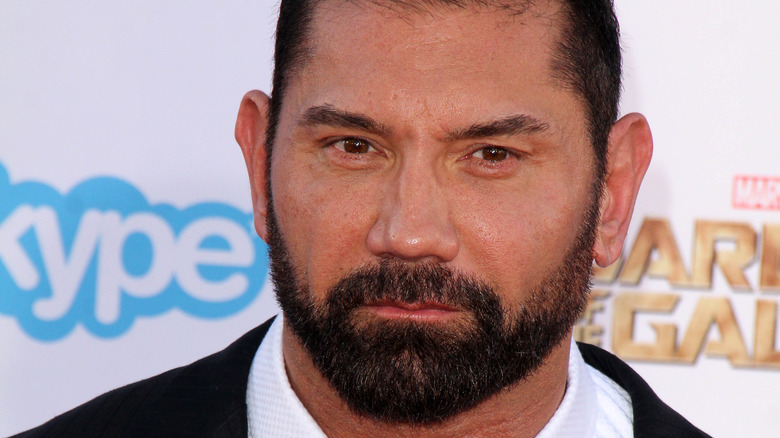 Shutterstock
In addition to dancing, Bautista also fell in love with weightlifting when he was 17. In his memoir, Bautista wrote that, before he hit the gym, he was tall but quite thin. However, he discovered that bodybuilding was a perfect match for his physique. As he quickly bulked up, Bautista became obsessed with lifting. That changed everything. Not only did weightlifting give Bautista the bulk that would lead to his show business career, but it also got him his first job: a desk clerk position at his favorite gym.
It would be several years before Bautista's bodybuilding prowess led to bigger things, but Bautista still considers his workout regimen to be both a professional requirement and a personal form of therapy.
A tough gig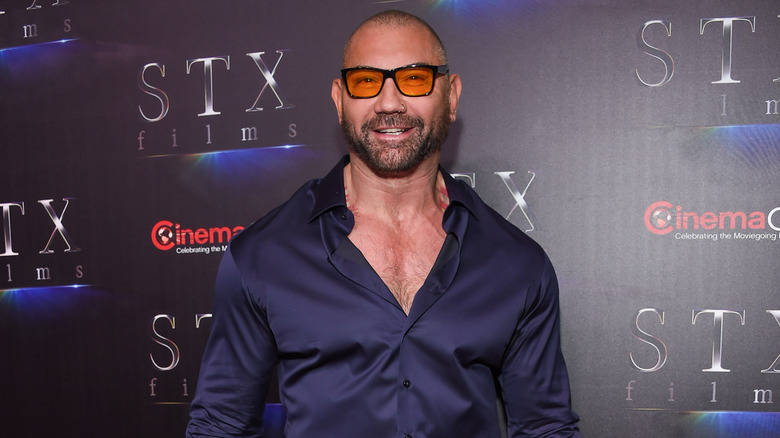 Shutterstock
After the birth of his first child, Bautista realized that he needed to make a good living to provide for his new family, so he began working as a bouncer in D.C. The work made him a decent wage, but Bautista found that there were serious drawbacks to the job.
On Rosenbaum's podcast, Bautista remembered, "I was worried. We were all worried. We were getting threatened nightly. It was such a violent place at the time. It was like a war zone." Bautista said that he was often afraid for his life while leaving his workplace. "I was, on a nightly basis while I was bouncing, getting threatened." Bautista also found himself in a bit of legal trouble after he lost his temper and got into an altercation with a patron, which earned him a year of probation. However, Bautista didn't decide to change careers until he realized that he wasn't bringing in enough money to support his children.
Bautista explained on "The Darkest Timeline with Ken Jeong and Joel McHale" that, when he was around 30 years old, he had a particularly crushing financial situation that convinced him it was time for a change. "I was humiliated that I had to go and borrow money from one of my employers to buy my kids Christmas presents. It was awful. It was so humiliating. I remember crying about it and just feeling so worthless," Bautista said. "That was when I made a conscious decision, like, I gotta do something with myself ... get out of my comfort zone, do something bigger with my life to make my life mean something." It's then that he decided to give wrestling a whirl, and his life changed forever.
A new start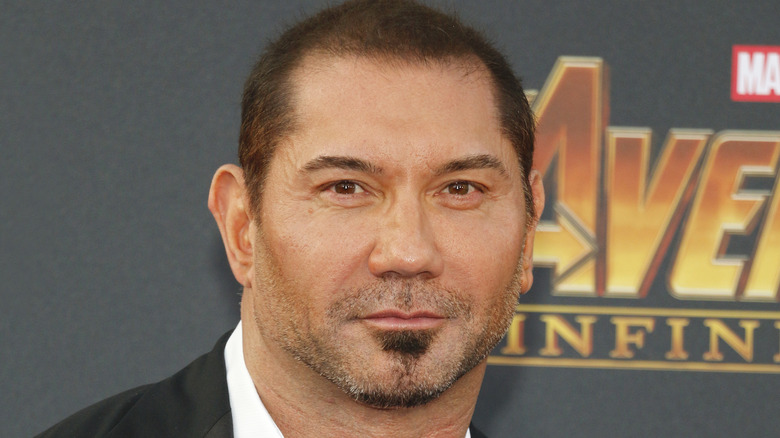 Shutterstock
Bautista's first brush with wrestling came when he met wrestler Curt Henning, aka Mr. Perfect, and Animal of the Road Warriors, and subsequently decided to try out for World Championship Wrestling's training school, the WCW Power Plant. However, his first audition did not go well, and pro-wrestler Sgt. Buddy Lee Parker told him he had no future in the industry. Luckily, Bautista was motivated by this experience, not deterred.
On "Live! With Kelly and Ryan," Bautista explained that WCW's rejection made him even more committed to an in-ring career. "I was broke and I was looking for a way to make money. So, I went to a tryout, and they told me I was horrible and to leave and to never come back, and I would never be a professional wrestler," he said. "I needed that. That just made me mad, so I wanted to pursue it. And I just became obsessed with it." He went on to train at the Wild Samoan Training Center, and he made his professional debut under the name "Khan" at a World Xtreme Wrestling event in 1999. Bautista signed with the World Wrestling Federation — now known as WWE — the next year, adopting the stage names "Leviathan" and "Demon of the Deep." After a few big wins, he became known as Batista, with the nickname "The Animal."
A world champion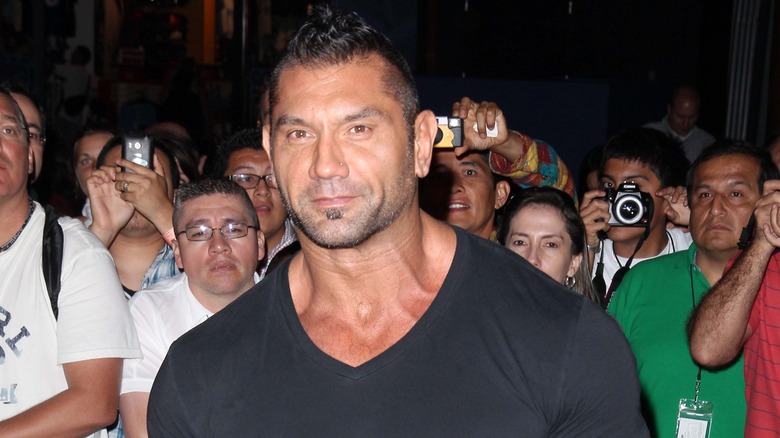 Shutterstock
Bautista spent years working his way up the ranks at WWE, and made several allies along the way. This included a close friendship with Paul Levesque, better known as Triple H. The two ultimately went head-to-head at WrestleMania 21 in 2005, where Batista beat Triple H to secure the World Heavyweight Championship belt for the first time. Bautista enjoyed five more title reigns until he stopped wrestling full-time in 2010, but even as he started to pursue a film career, Bautista returned to WWE for some guest runs.
Things between Bautista and Triple H came full circle in 2019, when Bautista fought his former mentor at WrestleMania 35. As per wrestling tradition, Bautista's in-ring career ended with a loss. In an interview on wrestling personality Lillian Garcia's podcast, Bautista explained that he wanted to go out losing to his friend, saying, "I felt like my career really got started when I started working with Triple H. I never have been around the bush about it, Hunter made me a star. ... I wanted to finish out my career for him by just saying thank you to go out laying on my back for the guy."
A different performance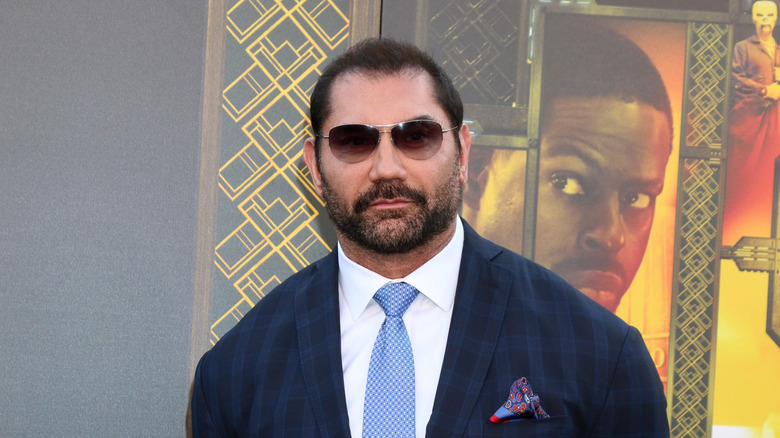 Shutterstock
After a decade in the pro wrestling business, Bautista decided to make a major change. In 2010, he announced his intentions to begin a career in mixed martial arts. Bautista is trained in jiu jitsu and won his debut MMA match in 2012. However, he soon found another, more illustrious outlet for his passion: the world of acting.
For Bautista, the transition from pro wrestling to on-camera acting seemed natural. As he told "Good Morning Britain," he'd already been engaged in "physical theater" for years. However, Bautista soon discovered that there was a big difference between putting on a show for a live audience and performing in a much smaller setting. As Batista explained, "It was one of those things, when I was wrestling, and I got used to it, speaking to audiences as I went along, but it's so big and so broad. It's very conversational. But when acting becomes so intimate, it almost becomes claustrophobic, and I was terrified of it." 
Slowly but surely, however, Bautista nabbed parts in television series like "Smallville" and "Chuck." He secured the role of villain Brass Body in the 2012 martial arts action film "The Man with the Iron Fists," and soon after won the marvelous part that would catapult him to the A-list.
The big break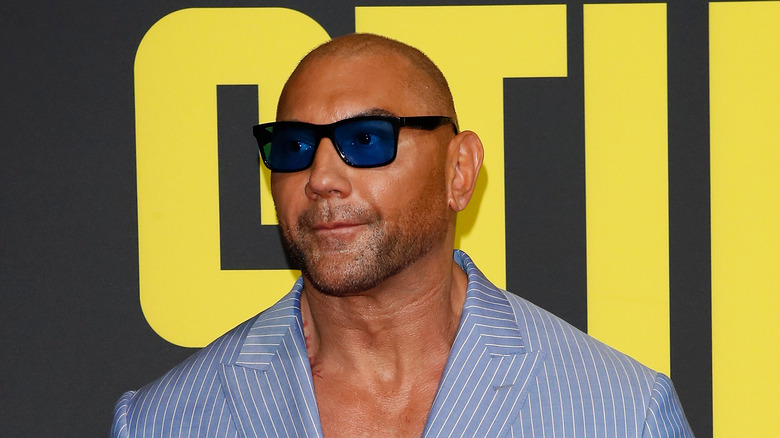 Shutterstock
Before he became Drax the Destroyer in "Guardians of the Galaxy," Bautista wasn't really known for his comedic talents, but writer-director James Gunn knew exactly what he was doing when he chose Bautista for the role. While Gunn initially had to fight Marvel's brass to secure Bautista's casting, MCU mastermind Kevin Feige admitted that Gunn was right after the movie's first screening.
Bautista has since returned the favor. When it looked like Gunn might not come back for "Guardians of the Galaxy Vol. 3," Bautista risked his relationship with Marvel to stick up for the director. But it's not just Bautista's sense of loyalty that impresses Gunn. The director has also heaped praise on Bautista's acting abilities. In 2021, for example, Gunn said on Twitter that what sets Bautista apart from other wrestlers who try to make it in Hollywood is that Bautista "takes the craft seriously," is "present in the moment" for his scenes, and has an innate "rawness" that makes him a natural.
A killer career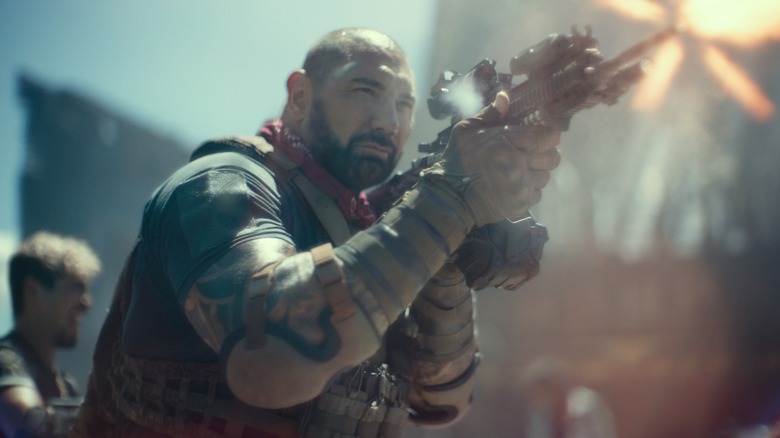 Clay Enos/Netflix
Gunn may have helped thrust Bautista into the spotlight, but the actor now has no trouble securing work on his own. In addition to reprising his role as Drax in various "Guardians" and "Avengers" movies, Bautista has also branched out into other genre work. In the 2015 James Bond film "Spectre," Bautista starred as the assassin Mr. Hinx. He appeared as security guard Jason Cox in the 2015 action film "Heist," and had a whole lot of fun as Arun in the 2016 martial arts film "Enter the Warriors Gate." In 2017, Bautista stole the show as replicant medic Sapper Morton in "Blade Runner 2049." He has a recurring role in the "Escape Plan" films as Trent Derosa, and has lent his comedic talents to movies like "Stuber" and "My Spy."
Bautista's latest film, "Army of the Dead," gives the wrestler-turned-actor a chance to show off his dramatic chops, too. After all, the story is about more than just an undead apocalypse. At its heart, it's a story about the strained relationship between a father, played by Bautista, and his daughter. In fact, Bautista claims that he's most in his element during dramatic scenes, not action setpieces. As he told Rosenbaum, "I don't really enjoy doing action ... What I really want to do, I like drama. Just regular old drama ... Those roles for me are hard to get a hold of, but I'm constantly searching for them." 
And indeed, in "Army of the Dead," Bautista gets the opportunity to show off more of his heart than his muscles, although don't worry: Given that Bautista's character is engaging a war against an undead army and running a daring casino heist at the same time, "Army of the Dead" is still plenty exciting.