Upcoming Video Game Movie Adaptations To Put On Your Must-Watch List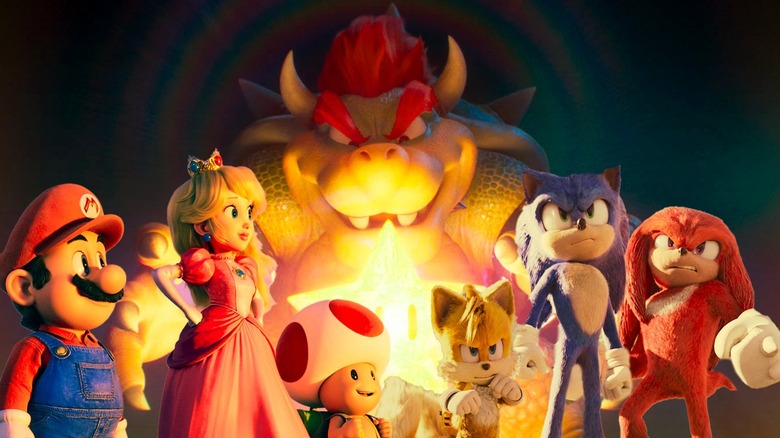 Universal Pictures/Paramount Pictures
Video game adaptations have recently become a dominant force on the big and small screens, showing that the video game movie/tv show curse is broken. "Sonic the Hedgehog" and "Pokémon" have come to the big screen for live-action adaptations that killed it at the box office and expanded the audience for their franchises. Netflix's "The Witcher" and "League of Legends"-based series "Arcane" have provided the streamer with strong franchises that even earn some awards recognition. Now, HBO's "The Last of Us" has brought one of PlayStation's most beloved franchises to life and is already breaking records left and right. Best of all, this is just the beginning. 
There are plenty more gaming franchises looking to turn their beloved characters into cinematic and small screen heroes. From a first-time animated adventure featuring the likes of a particularly famous red-dressed plumber to a wild apocalyptic world filled with psychos and no rules, the list of gaming adaptations heading our way continues to grow by the day. Some of the most popular ones that have already graced the screen are even set to return. So before we see any warriors shape up for "Mortal Kombat" or head deep into the world of "Bioshock," let's take a look at what gaming movies and TV shows we should expect to see soon.  
The Super Mario Bros. Movie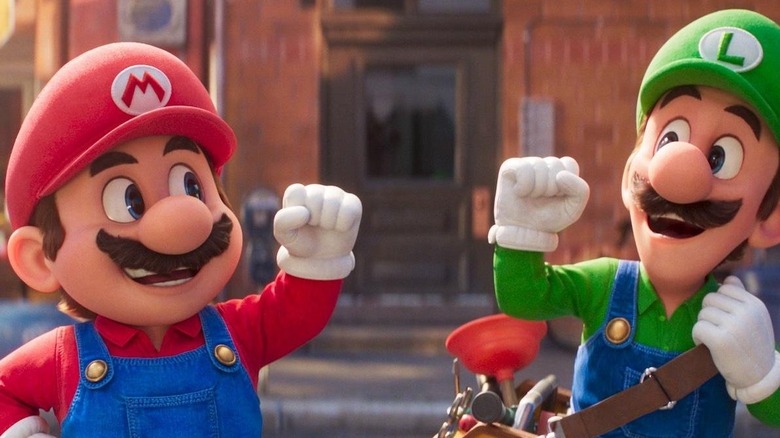 Universal
The next big video game movie fans can expect to hit theaters is Universal and Illumination's long-awaited "Super Mario Bros. Movie." The film will see Mario (voiced by Chris Pratt) warped into a new world where he must stop Bowser (voiced by Jack Black), the king of the Koopas, from earning powerful stars to take over the Mushroom Kingdom. While the film's star-studded but strange voice cast has been the primary talking point of the film thus far, its trailers have shown it to be a visually stunning homage to the "Super Mario" franchise. 
The film looks like it's going to feature a wide array of "Mario" characters, including lesser-known characters from the Donkey Kong crew, and bring audiences to iconic areas of the "Mario" world. The trailers have even highlighted that spin-off games like "Mario Kart" and possibly even "Luigi's Mansion" are going to be involved in some way, and there's hope that this first "Mario" adventure could lead to something bigger. There's already a film led by Donkey Kong (voiced by Seth Rogen) in the works and some fans are hoping (via Reddit) that the success of the "Mario" movie could lead to a "Luigi's Mansion" film or maybe even be the start of a "Super Smash Bros." cinematic universe. For now though, we'll just have to wait and see what Mario's latest animated adventure has in store for us when it comes to theaters on April 7, 2023. 
Gran Turismo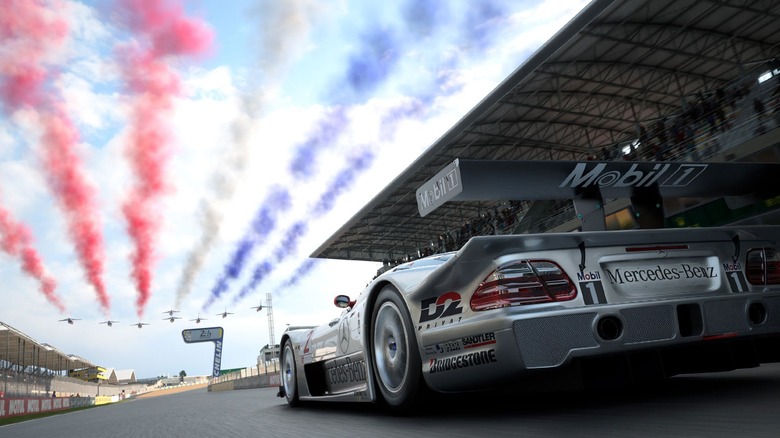 Sony Pictures
PlayStation's newly formed PlayStation Productions continues to bring some of PlayStation's most notable franchises to life with an adaptation of "Gran Turismo" set to hit theaters soon. Given that "Gran Turismo" is just a racing game, fans are curious as to what kind of story will unfold in the film. Surprisingly, the movie is based on the true story of Jann Mardenborough, a teenage Gran Turismo player who participated in the competition series "GT Academy" and won, leading him to become a professional race car driver. It's a fitting story to adapt for the big screen and has clearly attracted some big names both in front of and behind the camera. 
"District 9" and "Elysium" director Neill Blomkamp is directing "Gran Turismo," while Archie Madekwe will be portraying Mardenborough alongside David Harbour, Orlando Bloom, Darren Barnet, and Djimon Hounsou in supporting roles. The "Gran Turismo" games have always been known for their high-quality racing experience, both visually and in performance, so the film could easily deliver something special on the big screen when it speeds into theaters on August 11, 2023.
Borderlands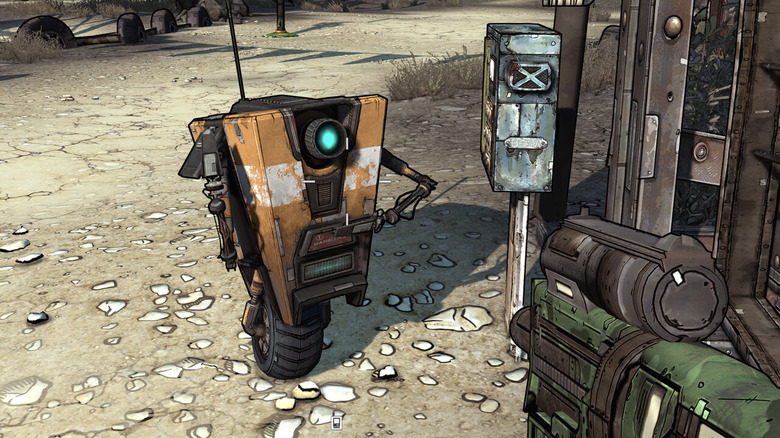 2K Games
The "Borderlands" movie, based on the popular game series of the same name, is likely to arrive sometime soon and is one of the most high-profile adaptations currently in the works. The film will bring audiences into a chaotic, bloodthirsty, and kind of hilarious world of carnage and mayhem where Lilith (Cate Blanchett), an infamous outlaw, leads an unlikely team on a mission to find the missing daughter of a powerful entity known as Atlas (Edgar Ramirez). Along with Blanchett, the cast of "Borderlands" is filled with big names, including Kevin Hart, Jack Black, Jamie Lee Curtis, and more. 
Also notable is "Borderlands'" director Eli Roth, whose experience with blood and gore makes him the perfect person to bring the explosive and gruesome action of "Borderlands" to life. Recently, it was reported that Roth wasn't directing reshoots due to a scheduling conflict (via Deadline), with "Deadpool" director Tim Miller stepping in. With both Roth and Miller behind this adaptation, the "Borderlands" movie feels like it's in good hands. Now we're just waiting for a trailer that will give viewers their first real glimpse at the world of "Borderlands" and its wild assortment of characters. 
Sonic the Hedgehog 3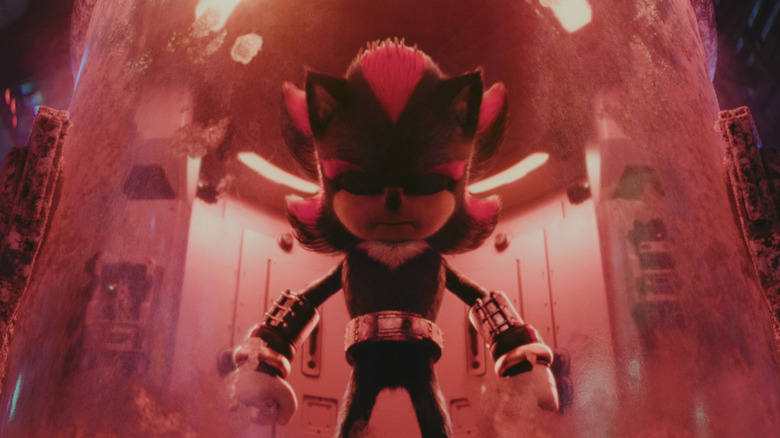 Paramount
While Knuckles the Echidna is set to star in his own spinoff series for Paramount+, Sonic the Hedgehog is currently slated for a third feature film and, based on who "Sonic the Hedgehog 2" introduced, no fan is going to want to miss this one. At the moment, there isn't much known about the plot of "Sonic 3," but the post-credits scene in "Sonic 2" revealed the existence of Shadow the Hedgehog. Shadow is the black-and-red-colored polar opposite of Sonic, with his power generally coming from chaos energy and his personality being much darker and moodier. 
The third film will likely delve into Shadow's origins and see him and Sonic collide in a chaotic and destructive battle. Ben Schwartz is once again returning to voice Sonic, with Idris Elba (voice of Knuckles), Colleen O'Shaughnessy (voice of Tails), and James Marsden (Tom) also set to reprise their roles. Fans will eagerly await the news of who will voice Shadow and can currently expect to see Sonic's next cinematic adventure in theaters on December 20, 2024.
God of War (TV Series)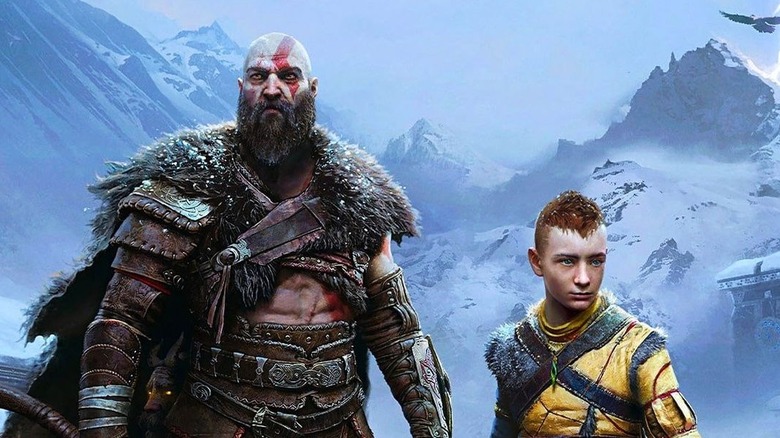 Sony Interactive Entertainment
Along with "The Last of Us," PlayStation is bringing another one of its most beloved and successful game series to the small screen with the upcoming adaptation of "God of War" for Prime Video. With the success of the more recent Norse Saga, the series will likely follow Kratos after his massacre of the Greek gods and will see him as a god in hiding until he and his son Atreus are forced into a new journey full of conflict. There's currently not much information on the series aside from "Wheel of Time" co-creator Rafe Judkins currently acting as showrunner (via Variety), but there's a lot of potential for this series to be awesome.
Those who have played through Kratos and Atreus' two-game journey know that there's plenty of Norse lore for the series to touch on and a masterful coming-of-age father/son story with Kratos and Atreus. Who knows, maybe we can even get Christopher Judge and Sonny Suljuc to reprise their roles as Kratos and Atreus, respectively, from the games. Prime Video's "God of War" series likely won't be happening for quite a while, but expect fans to savor every bit of news that comes leading up to its release. 
Ghost of Tsushima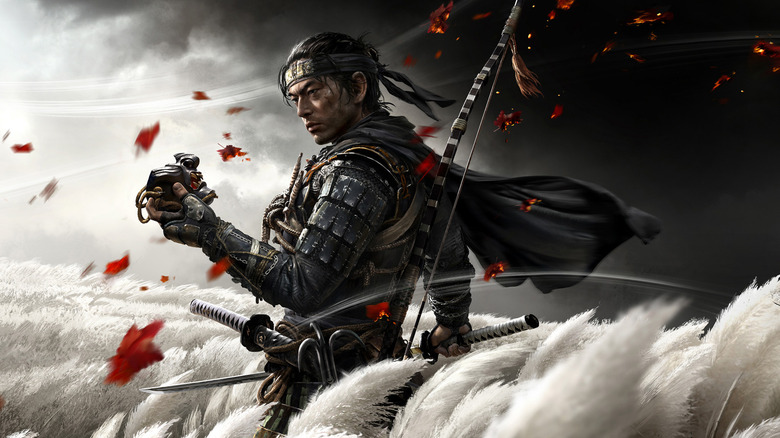 Sony Interactive Entertainment
After delivering another action-packed chapter in the "John Wick" franchise, director Chad Stahelski is set to helm a film adaptation of PlayStation and Sucker Punch's breakout 2020 hit, "Ghost of Tsushima." In the game, participants play as Jin Sakai, who must throw traditions to the wayside after his clan is decimated and he's forced to stop the Mongolian army from taking over his home island of Tsushima. Although there aren't many details on the upcoming film since it's still in pre-production, there's a lot that fans should be excited for with Stahelski behind the camera. 
With the "John Wick" films, Stahelski has shown his incredible vision for action, making him the perfect person to bring the refined sword combat and stealth sequences of "Ghost of Tsushima" to life. Fans on Reddit are definitely curious to see who will get cast, with many hoping to see Daisuke Tsuji reprise his role as Jin from the game for live-action. "Ghost of Tsushima" isn't likely to come out any time soon, but it should remain one of the most hotly anticipated video game movies. 
Mortal Kombat 2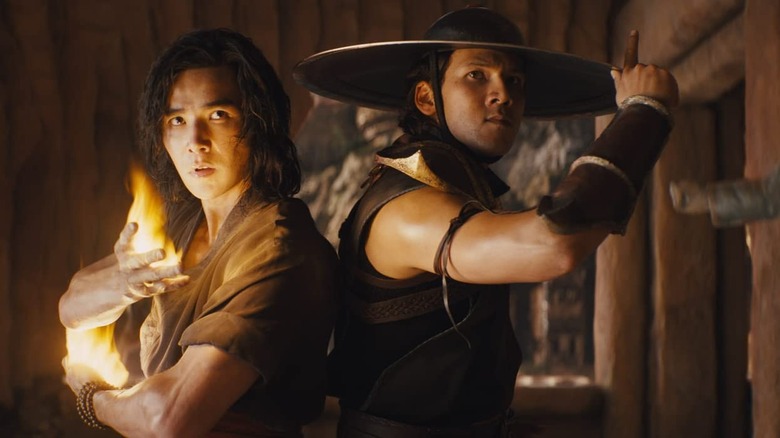 Warner Bros.
Warner Bros' 2021 adaptation of NetherRealms Studios' "Mortal Kombat" delivered all the guts and gore that fans have wanted to see for years and brought some of the franchise's most iconic characters to life. As of last year, a sequel is in development that'll likely go deeper into the "Mortal Kombat" mythos and introduce some more fan-favorite characters. While the plot of the upcoming sequel is unknown, there are things that fans can expect to see. 
We already know that Johnny Cage is expected to appear since he was teased at the end of the previous film and many are wondering who will play him. Tons of names are floating around, with wrestler Mike "The Miz" Mizanin a top pick for many, including "Community" alum Joel McHale. Fans should also expect to see the fearsome Shao Kahn rear his head at some point and perhaps we could stop just talking about the Mortal Kombat tournament and see it in action. The only thing guaranteed at the moment with the new "Mortal Kombat" film is that its going to be bloodier than ever and deliver new fatalities when it eventually arrives.  
Twisted Metal (TV Series)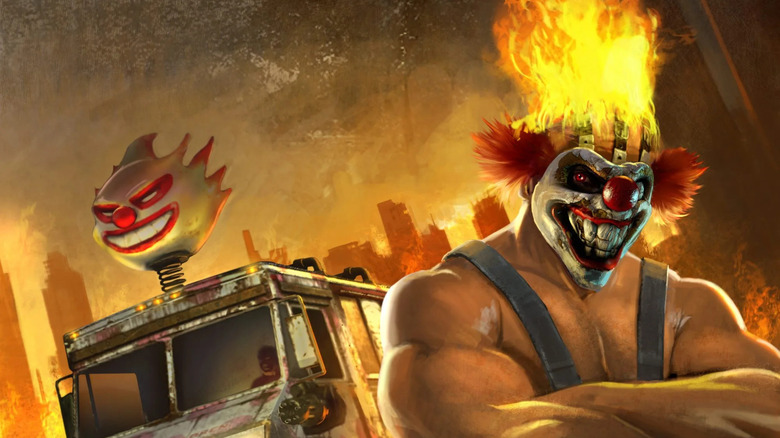 Sony Interactive Entertainment
Although there isn't much known about PlayStation's upcoming "Twisted Metal" series for Peacock, there are some details that are making everyone a little curious. The series follows a driver named John Doe (Anthony Mackie) as he delivers a mysterious package across a violent and chaotic wasteland while dealing with an onslaught of psychotic characters. Along with Mackie, actors Thomas Haden Church, Neve Campbell, Stephanie Beatriz, and Richard Cabral are set to play supporting characters while fan-favorite character Sweet Tooth will be brought to life by two people. 
Professional wrestler Samoa Joe will physically portray the character, while Will Arnett will provide the voice. With "Twisted Metal" being a franchise filled with car carnage and unadulterated destruction, this series adaptation should provide something similar alongside showrunners Rhett Reese and Paul Wernick's style of comedic fun. It remains to be seen what exactly we're getting with the "Twisted Metal" series, but it has tons of potential to blow fans away. 
Bioshock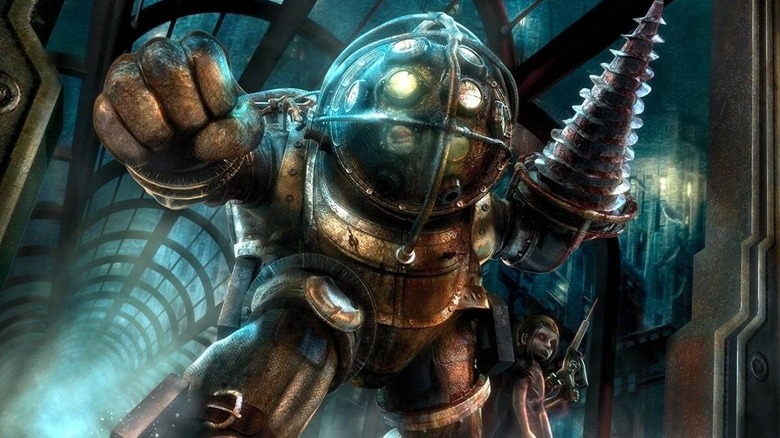 2K Games
A "Bioshock" adaptation has been in the works for quite some time, with "Rango" director Gore Verbinski's attempt never seeing the light of day. However, Netflix seems to be making it happen with their own upcoming film adaptation. The film will take viewers into the world of Rapture, a once-promising utopian community under the sea that's turned into a visceral nightmare of twisted drugs and a destructive power struggle. Netflix's "Bioshock" movie is still in pre-production, but does have some notable talent behind it. 
Francis Lawrence, the director of "I Am Legend" and Netflix's "Slumberland," is currently set to direct the film. while "Logan" and "Death on the Nile" writer Michael Green is penning the script. It doesn't seem like we're getting this "Bioshock" film any time soon, but given the incredible lore, character, and horrors that the game's world features, Netflix could deliver something really special that'll shock and surprise audiences, especially if they nail the game's iconic twist. 
Five Nights at Freddy's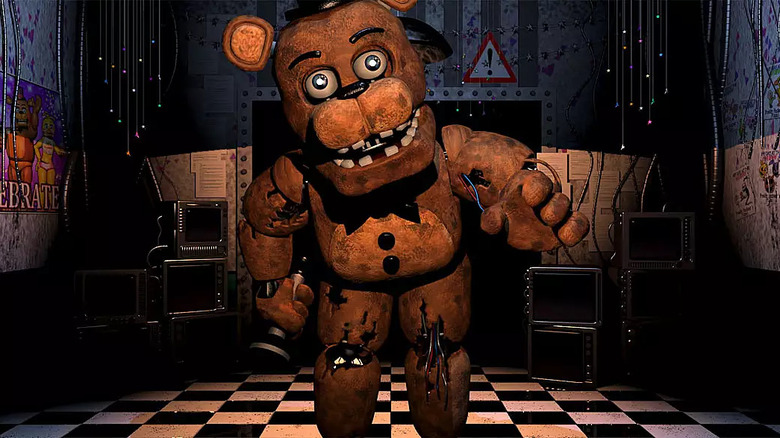 Scottgames
Blumhouse's "Five Nights at Freddy's" movie has been in development for what feels like forever. In fact, it's been so long that there have been seven mainline games in the series released since the film adaptation was initially announced back in 2015, when it originally was going to be made by Warner Bros. However, the film's release could finally be upon us as there have been major developments recently, including stars and a director being attached to the project. 
Emma Tanni, director of "The Wind," is now helming the film, with Josh Hutcherson and Matthew Lillard set to star. Based on the games, Hutcherson will likely play the young security guard at Freddy Fazbear's Pizza who is terrorized by the place's animatronic animals that come to life at night, while Lillard will play the voice of the old security guard who coaches the young guard every evening. With production on Blumhouse's vision for "Five Nights at Freddy's" reportedly set to begin soon, Freddy and his animatronic friends' big screen debut could be just around the corner. 
Silent Hill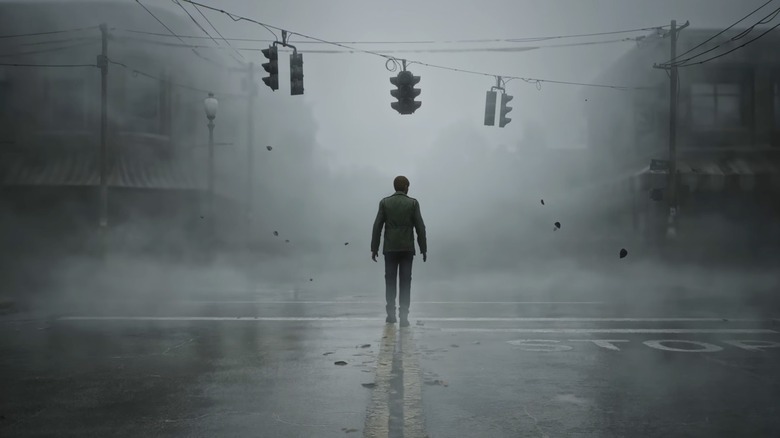 Konami
Last year on their "Silent Hill" Transmission announcement stream, Konami dropped the news that a "Silent Hill" movie reboot is in the works. The film, currently titled "Return to Silent Hill," seems to be inspired by the story of "Silent Hill 2" as it follows a man going to Silent Hill in search of a former loved one. Christophe Gans, the director of the 2006 adaptation, is returning to direct this one, which is actually a great thing. 
The 2006 adaptation is super-underrated (per Polygon), since it delivered a great horror atmosphere that felt fitting to the games and crafted live-action adaptations of some of the series' most iconic monsters, including the prolific Pyramid Head. This new movie adaptation likely isn't going to hit theaters for a while, but "Silent Hill" fans have plenty of new games to enjoy, including a remake of "Silent Hill 2" that maybe Gans and company could take more inspiration from. 
Tomb Raider (TV Series)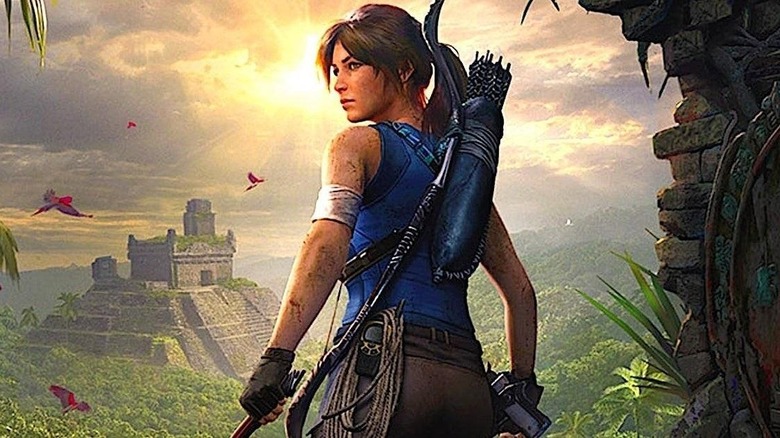 Square Enix
While the live-action "Tomb Raider" films continue to face obstacles with Alicia Vikander's recent departure, Netflix is moving forward with its own "Tomb Raider" adaptation in the form of an upcoming anime series based on the games. The series will follow legendary explorer Lara Croft on a new adventure and feature a unique anime style that's unlike anything we've seen in the franchise before. While plot details are slim, there have been some casting announcements that have caught fans' attention. 
According to Variety, Hayley Atwell is set to voice Lara Croft, with Allen Maldanado voicing Croft's hacker friend Zip and Earl Baylon reprising his role as Jonah from the games. Netflix has seen a lot of success with its anime gaming adaptations before, with series like "Castlevania" and "Arcane," and "Tomb Raider" stands a good chance at seeing that same success, especially with "Castlevania's" Powerhouse Animation Studios also animating this series. It's tough to say when we'll see it, but Netflix's "Tomb Raider" anime is almost certainly a highly-anticipated series for fans. 
Castlevania: Nocturne (TV Series)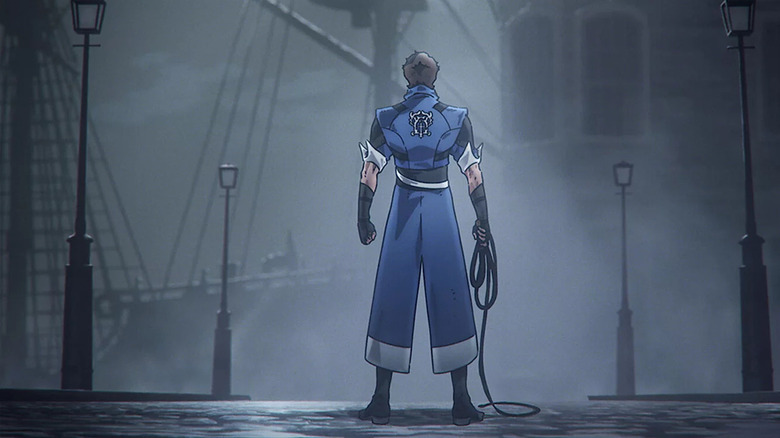 Netflix
"Castlevania" is one of Netflix's most popular adaptations to date, putting a fresh coat of paint on the iconic franchise and lasting a solid four seasons. However, Netflix is far from being done with "Castlevania," as the streamer announced a new series in the franchise last year called "Castlevania: Nocturne." Although there haven't been many details since Netflix showed off a teaser trailer for the project, there are some things that fans can be hopeful about. 
"Nocturne" will have a new lead character in Richter Belmont, a descendent of Simon Belmont and a fan-favorite protagonist within the series. Just from the small teaser trailer we got, the animation still looks just as good as it did before and fans recently got a look (via Twitter) at another character from the series set to appear in "Nocturne," Maria Renard. With no release date in sight for "Nocturne," it seems like fans will have to wait a little while longer to see the next chapter in Netflix's "Castlevania" saga. 
Splinter Cell (TV Series)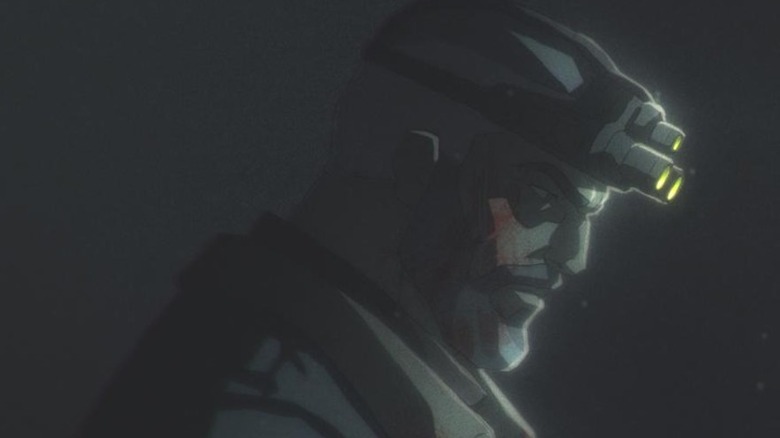 Netflix
While "Splinter Cell" fans are left wondering what Ubisoft will do next with the franchise, Netflix is preparing to deliver its own animated series that features a modern action aficionado as showrunner. The series is currently being developed and written by "John Wick" creator Derek Kolstad (via What's On Netflix) and will supposedly see beloved protagonist Sam Fisher embark on different missions each season, meaning that each season tells a self-contained story. With Kolstad leading the charge, fans should expect some epic animated action and a Sam Fisher that isn't afraid to get his hands dirty
Other than that, there's not much to go on, but the first few images we've seen from the show present the kind of shadowy world of lies and spies that "Splinter Cell" fans want to see. With "Splinter Cell" being pretty dormant on the gaming scene since "Blacklist," which came out a decade ago, fans are definitely hungry for a fresh take on the series and that's what Netflix and Kolstad can hopefully provide with this series.