Matt Bomer Pulls Back The Curtain On His Return To The American Horror Story Universe - Exclusive Interview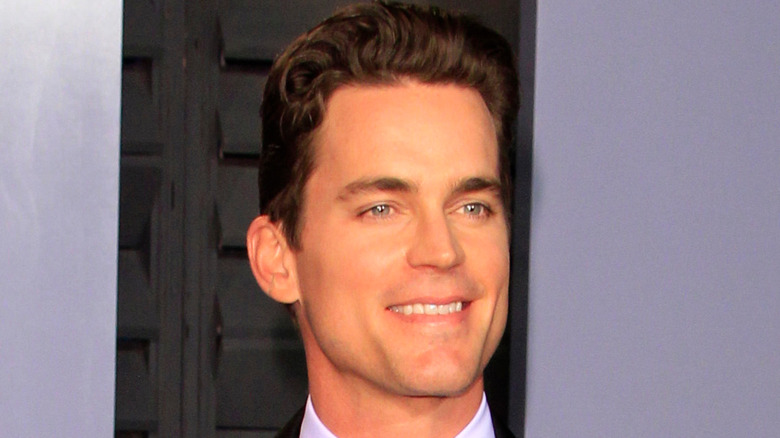 Shutterstock
While Matt Bomer hasn't had as much screen time as top-billing "American Horror Story" cast members such as series regulars Sarah Paulson and Evan Peters, he's certainly a memorable face who's had his fair share of the blood, guts, and gruesome mayhem that comes with the territory. In "American Horror Story: Freak Show," he played Andy, a sex worker who met his tragic and prolonged end at the hands of the demented Dandy (Finn Wittrock). In "American Horror Story: Hotel," he played Donovan, the immortal and vampiric Hotel Cortes resident with the dashing good looks and, as Countess Elizabeth (Lady Gaga) would so matter-of-factly state it, a "jawline for days."
Bomer has graced the screen in films such as "Magic Mike," "Magic Mike XXL," and "The Magnificent Seven." You might also recognize him from notable TV offerings such as "The Sinner," "Will & Grace," and most recently, as the face and voice of Larry Trainor and his bandage-faced alter ego, Negative Man, in HBO Max's "Doom Patrol." Now he's back for his third outing in the "American Horror Story" universe — and no, it's not the next full season of the flagship series, but in the all-new "American Horror Stories," a weekly anthology-style spinoff from creators Ryan Murphy and Brad Falchuk that premiered on FX/Hulu in July 2021.
In the series' first two episodes, titled "Rubber(wo)Man Part I" and "Rubber(wo)Man Part II," Bomer stars as Michael, a husband and father who moves his family into a haunted house. In case you can't tell from the title, most "AHS" fans will surely sniff out that the two-part premiere episode is based on "American Horror Story: Murder House" baddie the Rubber Man — arguably one of the most recognizable and disturbing figures from the entire franchise. And yes, the infamous location where "Rubber(wo)Man" takes place is the titular Murder House from the first season that started it all.
While Bomer only appears in the anthology spinoff's premiere episodes, that doesn't mean he's exactly done with Michael or "American Horror Story" just yet. During an exclusive interview with Looper, he told us about the phone call with Ryan Murphy that lured him back to the fray and shared his thoughts on which characters he'd like to revisit again (assuming he's asked to come back), what themes he'd like to see "AHS" explore, and who he thinks holds the reigning title of American Horror Story's scariest character: the Rubber Man, Twisty the Clown, or Piggy Man.
Matt Bomer loves anthology shows like Twilight Zone, Tales from the Crypt, and Tales from the Darkside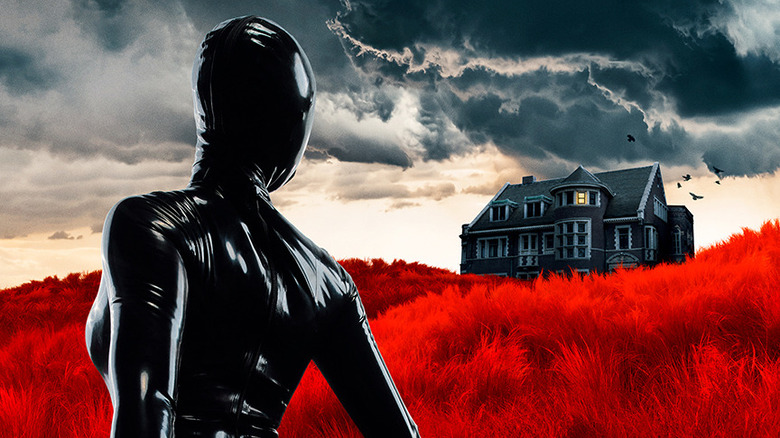 FX
First of all, welcome back to "American Horror Story." We haven't seen you since "Hotel." What was your first reaction to not only finding out that you were going to be in the Murder House, the place that started it all, but also being in an episode with the Rubber Man?
Well, Ryan had reached out to me back in maybe November, and told me that he was going to be doing an anthology series. I grew up loving sci-fi and horror anthology series like "Twilight Zone," "Tales from the Dark Side," "Tales from the Crypt," and more recently "Black Mirror" and shows like that. It was really intriguing for me, because you get to come in, have some fun, and then go. And then when he told me that it was going to take place in this iconic location that I'd fallen in love with in the first season, I was even more intrigued. And then I knew that the Rubber Man was going to be involved in some way and I thought, "Okay, this is close to my house. I've taken care of my family the past year and maybe it's time to venture out into the world and have a little 'American Horror Stories' fun."
When you were filming this episode, were you secretly hoping that Jessica Lange, Evan Peters, or any of the other season one cast members would make some sort of secret last-minute appearance?
Well, of course. I mean, who wouldn't hope that suddenly Jessica Lange, Evan Peters, or Taissa Farmiga walk into a scene with you? I mean, there are things I can't say and there are things that we shot that didn't make it in — it's kind of a bigger story. That's not my business to tell.
You played Andy in an episode of "American Horror Story: Freak Show" and you played Donovan in "Hotel," which was obviously your meatiest role, and now Michael in "American Horror Stories." In this franchise, there's a lot of connective tissue, and they have a tendency to revisit past seasons or storylines. Out of the three roles you've played so far, who is your favorite, and would you be up for revisiting all three of them in the future if the opportunity should arise?
I think it'd be fun if they ever do an "American Horror Stories" episode that dips into the "Freak Show" world, just to have Andy trying to find a trick in the back of a bar, even if it's just in the background. No, I have enjoyed them all for different reasons. And I do think that, as a parent and as a husband, there were aspects of Michael I related to and was interested in and found funny and scary and so, I think because it's the most recent one, he's the one that I kind of relate to the most.
On a psychological level, Rubber Man is the scariest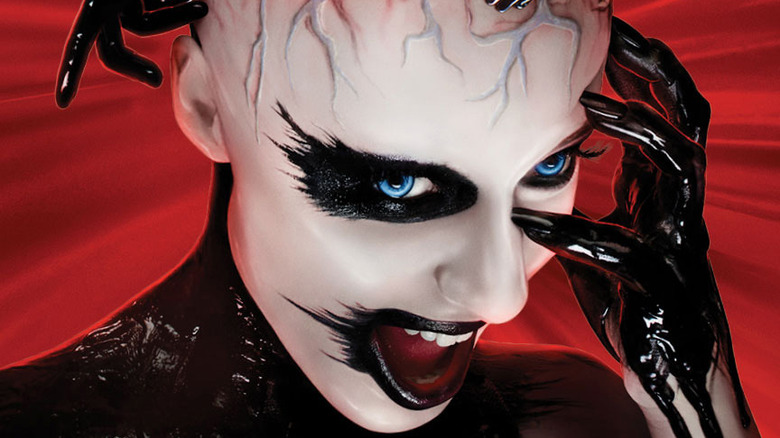 FX
Do you think you've had enough time with Michael? With this new formula, we have these standalone two-part episodes versus a full serialized season. But with Michael, in a way, do you feel like less is more and his story is over? Or do you feel like you want to spend more time with the guy and there's more story to tell? If that's all the time we get with him, fine. But I actually kind of want to see more of that new murder household.
I mean, look — it's a great thing to never die. When you die in the Murder House, you're put there forever, so they could pop up at any time and then we have a built-in relationship with them, so who knows how it could be fleshed out. What I loved growing up, watching anthology series, is that you don't really know what you're going to get week to week. It's always an amazing surprise. There are arresting characters, but it's really about the circumstances of that week, so you get to sort of let it wash over you that week and then you're moving on to the next. And that's just sort of the nature of that particular structure. The nature of that structure is to just consume and move on to the next.
"American Horror Story" is known for its growing list of many memorable horror villains. Obviously, you have franchise mascots like the Rubber Man in "Murder House," and "Freak Show" introduced us to Twisty the Clown. In "American Horror Stories," you actually got to come face to face with both the Rubber Man and Piggy Man. Who of those three do you think is the scariest?
Between Piggy Man, Twisty and Rubber Man? It's so funny. I've never done a comparison scale in terms of the horror. I do think there's something really terrifying about Piggy Man. It's a giant pig head and he has a butcher knife or a meat cleaver. There's just something so terrifying about it and he's massive, so I would say that was a pretty easy scene to be scared in. But I think there's something really terrifying about the anonymity of Rubber Man. It's almost like a Hitchcockian device. It plays into the fear of the unknown. There's something so much scarier when you just don't know who it is or why they're wearing that suit or what's going on — or why they're descending down from the ceiling! So I think, on a psychological level, Rubber Man is scariest. And on a primal level, Piggy Man is.
There are so many fan-favorite alumni cast members in "American Horror Story" — Sarah Paulson, Evan Peters, and Frances Conroy, to name a few. The next season, "American Horror Story: Double Feature," got so many people back. You've only been in three seasons so far. If you were asked to come back for another full season, who would you like to have more screen time with? Are there actors you feel you didn't get enough time with in "Freak Show" or "Hotel"?
Oh my God. I love all of them. I love all the actors in the Ryan Murphy universe. I really do. And I've been so fortunate to get to work with so many of my idols, like Kathy Bates and Lady Gaga. All the wonderful actors on that show. Sarah Paulson, all those great actors — Denis O'Hare. "Hotel" alone was such a dream come true in terms of all the actors I actually got to work with. The one actor I would like to work more with is probably Jessica Lange because I've been in the same season, but I've never gotten to work with her. I would have loved to, and would love to have a scene with her at some point.
Being near a body of water would be the best eternal afterlife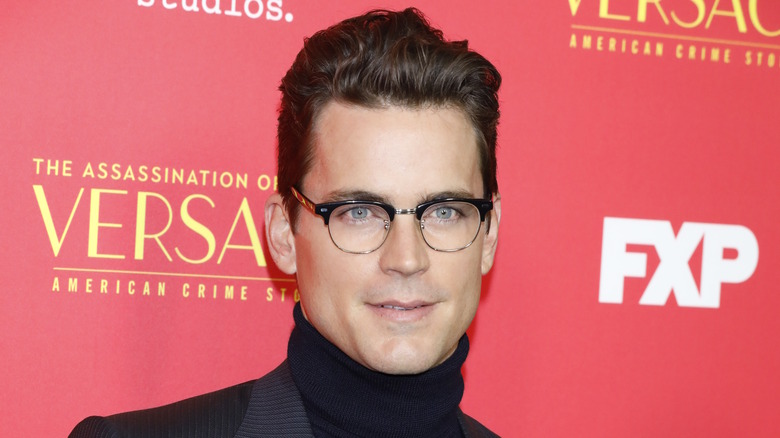 Shutterstock
"American Horror Story" is known for exploring so many themes, time periods and unique settings with each season. It's explored the past and present, such as the '60s, the '70s, and modern times — we've had settings from asylums and carnivals to apocalyptic futures. If you had some creative control, what theme, era, or setting would you like to see the Murphyverse explore?
That's a great question. And it's a hard one to answer because they've done such a great job of exploring so many different ones. I'm at the beach right now and I'm looking at the water and I think there's something that can be creepy and interesting in terms of, like, a small beach town and things coming out of the water. I think in terms of the Hitchcockian device, psychologically, if the water is like the subconscious and they don't really know what, something in the water is dangerous. I think that could be an interesting season.
I know these are usually set on American soil, but I always thought it would be cool if they went into outer space to pay homage to old sci-fi horror movies, such as "Alien," and do something entirely set on a space station.
Ooooh. That would be a dip trip for sure. I mean, that would definitely be like a big step out. I think that could be great. Look, "Alien" is one of the most iconic movies of all time. That's one of my favorite films of all time. I'd be there in a heartbeat.
As we know, based on the rules set in the "American Horror Story" universe, if you die inside the Murder House, or on the campgrounds from "AHS: 1984," or within the Hotel Cortes from "AHS: Hotel," you spend an eternal afterlife in those places. If you had to pick a place to spend your eternal afterlife, where would it be and why?
Well, I'm on the beach right now, so I can't imagine a much better place to spend the rest of your life — as long as I had a little bit of shade to dip into from time to time. I love the water. I love the ocean. So yeah, I probably want to be in some kind of beach locale or next to a lake. I want to be near a body of water. I know this is turning into a therapy session for me about water [laughs], but I guess I'd, yeah — I'd want to be somewhere in nature. Let's put it that way.
"American Horror Stories" is now streaming on Hulu.