Dave Bautista's Surprising Reaction To Being Cast In Knives Out 2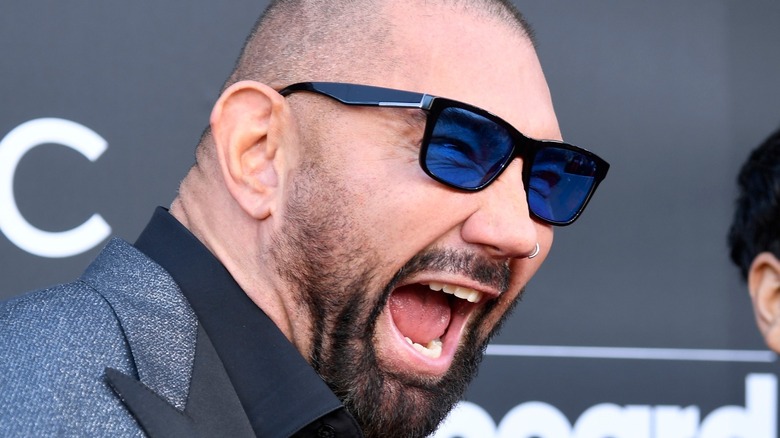 Frazer Harrison / Getty Images
One of the newest additions to the "Knives Out" cinematic universe is nervous about his upcoming role.
After news broke that writer-director Rian Johnson would be bringing two more "Knives Out" films directly to Netflix — resulting in an extraordinarily lucrative deal for both Johnson and his star, Daniel Craig, who plays the central detective Benoit Blanc — fans have feverishly wondered who might join Craig, considering how star-studded the original film's cast was. In the original 2019 film, Craig was flanked by huge names like Ana de Armas, Jamie Lee Curtis, Toni Collette, Chris Evans, Katherine Langford, Don Johnson, LaKeith Stanfield, Michael Shannon, and the late Christopher Plummer, among others.
As far as "Knives Out 2" is concerned, as of this writing, its cast is already pretty incredible, with Edward Norton, Janelle Monae, Kathryn Hahn, and Dave Bautista already confirmed as major players. In an interview with SlashFilm, Bautista — who, like Hahn and Norton, is an alum of the Marvel Cinematic Universe — revealed that he had an unexpected reaction to this huge casting news. Here's the surprising reaction Dave Bautista had when he found out he was going to be a part of "Knives Out 2."
Dave Bautista is a little freaked out about Knives Out 2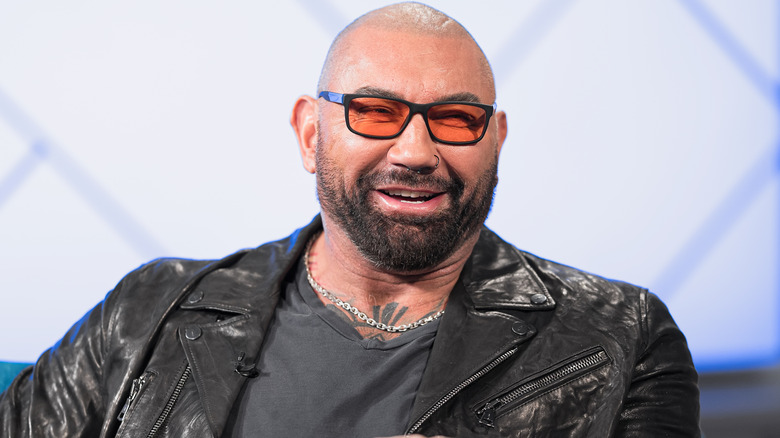 Rich Polk/Getty Images
As Bautista told interviewer Jacob Hall in Slash Film, the "Guardians of the Galaxy" star revealed that he's actually pretty nervous about this huge role, which reunites him with his "Spectre" co-star, Craig (whose final outing as James Bond, "No Time to Die," still hasn't hit theaters).
"It feels terrifying," Bautista admitted to Hall. "I'm nervous about it. I'm really nervous. It's one of those things where now the pressure's on, because people are expecting things from you. I want to deliver. I take pride in that. I'm a game player. I want to throw a touchdown pass. I know the script is brilliant, I know the director is brilliant, and I know everybody that they're going to cast – obviously Daniel [Craig] is there, he's brilliant, and I believe Ed Norton's been cast as well. So the names are going to get bigger and better, and for me, I can't get it out of my head that – there's always going to be a part of me that feels like I'm new to this and I'm still learning, and I want to be able to hold my own."
"So there is a bit of an intimidation factor, because all these actors and directors are just accomplished and seasoned and award-winners," Bautista clarified. "But at the end of the day, this is how I gauge my career, the people I'm working with. The projects that I'm on, the directors that I work with. So I know being announced as part of this cast is a huge statement, because the first film crushed."
The pro wrestler turned blockbuster actor also noted, once again, that as scary as "Knives Out 2" might feel, it's still a major stepping stone for him. "Like you said, the cast was a who's who, and I like being in that conversation, man," Bautista continued. "It's just validation. This is why I was in this. I still aspire to be a great actor, and I don't know if I can get there unless I get those roles that require me to be a great actor. So again, I'm just kind of stepping the ladder, but it's very validating to get a role like this in a film like this."
There's no release date just yet for "Knives Out 2," but there's no doubt that with actors like Hahn, Norton, Monae, and, of course, Bautista, the film will be just as delightful as the original.