How Dave Bautista Really Felt About Playing Drax The Destroyer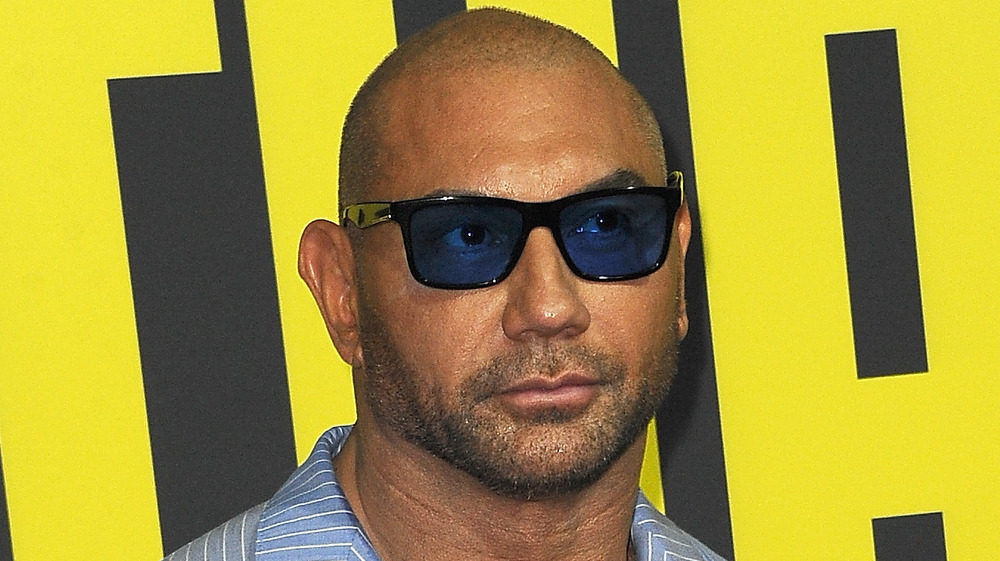 Albert L. Ortega/Getty Images
By 2014, the Marvel Cinematic Universe was up and running with more hits under its belt than misses. From Iron Man to The Avengers, the burgeoning blockbuster franchise had proven itself capable of maintaining its popularity and its box office returns. In response, Marvel Studios took a leap with the first-ever Guardians of the Galaxy live-action feature, with James Gunn sitting in the director's chair. Considering the relative obscurity of the main characters, it would take a solid story as well as an all-star cast to ensure the film's success and recognition as a valuable MCU entry.
Chris Pratt was cast as Peter Quill, aka Star-Lord, the leader of the titular team, alongside Zoe Saldana as the fearsome daughter of Thanos (Josh Brolin), Gamora. In non-physical roles, both Bradley Cooper and Vin Diesel lent their voice talents to Rocket Raccoon and Groot, respectively, but the roster doesn't end there. Professional wrestling icon and then-acting newcomer Dave Bautista signed on to play Drax the Destroyer — a character who very well could've gotten lost in the shuffle, but has instead become a standout name in the MCU. 
His unique look, dry sense of humor and genuinely heartfelt backstory made him a key member of the Guardians lineup. It's not controversial to say that Dave Bautista absolutely nailed the part, despite his feelings toward it early on.
Dave Bautista was terrified to become Drax the Destroyer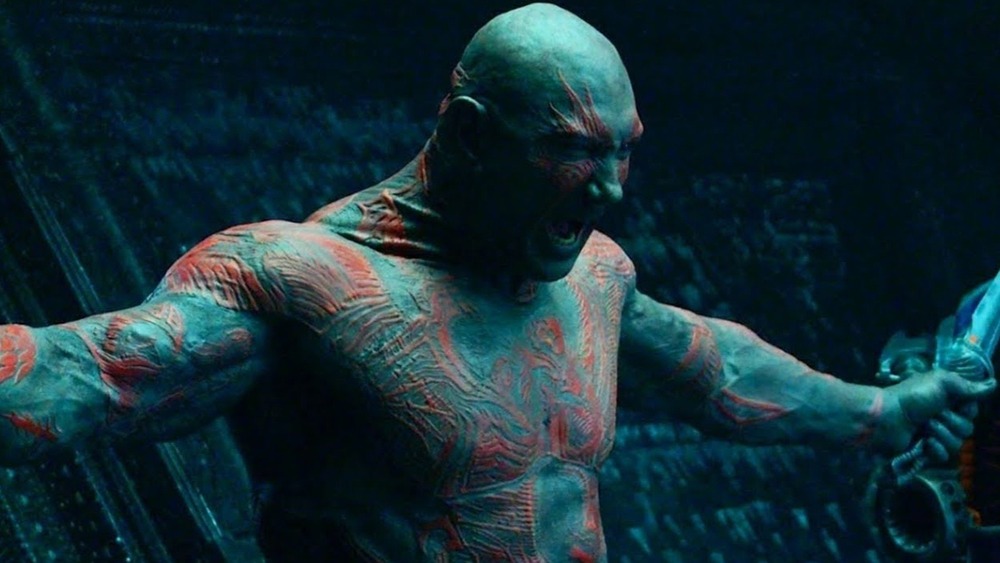 Marvel Studios
Hot off the heels of his remarkable run in WWE, Dave Bautista's filmography wasn't very extensive. Some of the more notable titles it included at the time were The Man with the Iron Fists and Riddick, so his experience with Hollywood blockbusters was limited, to say the least. This made his Guardians of the Galaxy audition especially stressful, telling Wired in 2014 that he was "terrified" to even try out for the Drax role given how much of a step up it was from his previous work.
"It was such a higher level, this huge project which originally I never thought I'd have a chance in hell of getting. Each time I was called back it became more nerve-wracking and more real. And of course, there was a bigger chance I wouldn't get the part," Bautista revealed. Though he wound up landing the gig, that did little to ease his nerves, noting "I came into shooting about two weeks after everybody else started, so I turn up and everyone was in work mode while I was trying to get caught up, get in the groove with everybody else."
He later adds that even though he was quite self-conscious and stressed, he found his footing in no time. However, his troubles didn't end there either, as the extensive makeup and prosthetics presented their own set of problems. "It was a four-hour application, every day, then about an hour-and-a-half to take it all off," he said, mentioning that it temporarily harmed his skin and he was unable to sit while in full costume. 
Somehow these conditions didn't scare Dave Bautista off, but they did add a new level of appreciation from fans toward his Drax the Destroyer portrayal.