What The Rotten Tomatoes Reviews Are Saying About Knives Out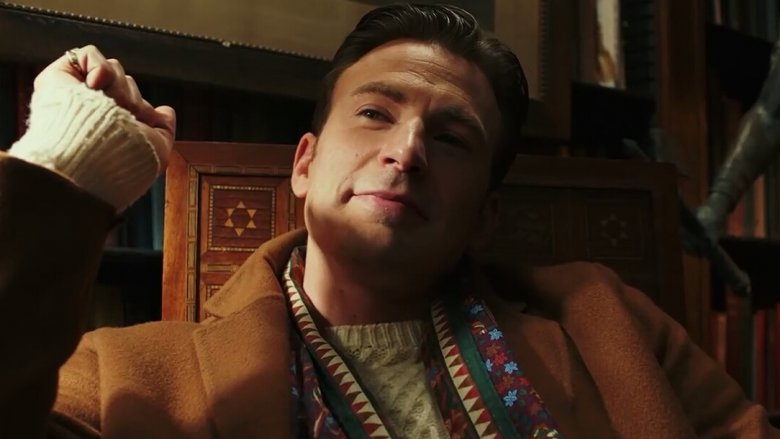 Get ready to get your cash out for Knives Out. 
The first reviews for the film are in, and they're more than enough motivation for you to score your ticket for an opening-night screening ASAP. 
Written and directed by Star Wars: The Last Jedi filmmaker Rian Johnson, Knives Out debuted at the Toronto International Film Festival on Saturday, September 7 to high praise. The flick — a black comedy murder mystery that follows a pair of detectives (Daniel Craig and Lakeith Stanfield) as they investigate the suspicious death of wealthy novelist Harlan Thrombey (Christopher Plummer) and probe the many members of his dysfunctional family in the process — sits at a flawless 100 percent rating on Rotten Tomatoes as of this writing, well over two months ahead of its theatrical premiere. 
Danielle Solzman of Solzy at the Movies gave Knives Out a perfect score, calling it "one of the best laugh riots in 2019" and "a hysterical whodunnit for a new generation of movie lovers." She also praised the performances from Craig (whom she argued "gives us his best Southern accent" as Detective Benoit Blanc), Jamie Lee Curtis (who "does amazing work for laughs by delivering a deadpan performance" as Linda Drysdale-Thrombrey), and Ana de Armas (who can "hold her own" alongside her decorated co-stars while playing Marta, Harlan's caregiver). 
Slashfilm's Chris Evangelista also predicted that Knives Out will land on many best-of-the-year lists when it hits theaters in November. His review of the film — which he called "hilarious, clever, and endlessly entertaining" — reads in part, "The game's afoot and everyone's a suspect in Knives Out, Rian Johnson's deliriously funny whodunit. It's the most fun you'll ever have trying to solve a murder. Gathering together a killer cast of movie stars and character actors, Johnson has crafted a film that's both a loving homage to locked room mysteries and a giddy, laugh-out-loud funny comedy that keeps pulling the rug out from under you just when you think you've found your footing. It's a total blast."
Evangelista also gave kudos to Johnson's direction, which he felt was tight and trim without any superfluous stuff kept in, that made for an incredible viewing experience: "Johnson's assured direction — quick cuts, characters bathed in shadow, and an ability to truly let a punchline land — is coupled with Steve Yedlin's inky, foggy, gorgeous cinematography, adding visual flair to an already enjoyable experience. I left the theater feeling absolutely giddy, and eager to see it again as soon as possible. Bet on it: Knives Out is one of the year's most entertaining films."
Writing for Collider, critic Adam Chitwood said that "the world needs more movies like Knives Out," which he described as a "supremely entertaining whodunit [that's] one part Agatha Christie mystery, one part Hitchcock thriller, and one part broad comedy." He praised Johnson's creative vision and execution of it, applauded the star-studded cast, and echoed Evangelista in saying that Knives Out is one of the best and most enjoyable movies of 2019 that shakes up the superhero-and-horror-filled box office with something wholly unique. 
"While Knives Out is thematically rich, technically astounding, and superbly acted, it's also just a complete and total blast of a movie. This is a film that's designed to be enjoyed in a packed theater, surrounded by strangers sharing in the twists, turns, and hilarity that ensues," wrote Chitwood. "This is an original story with no explosions, space ships, or aliens, just extremely talented actors in rooms spouting words written by one guy. And yet it's one of the most purely satisfying and enjoyable moviegoing experiences I've had in recent memory."
Charles Bramesco of The Playlist especially liked how quickly Knives Out gets to the meat of things — "Johnson's script briskly and efficiently introduces the major players in a murder investigation most foul, then assigns them each a plausible motive for the killing of mystery novelist Harlan Thrombrey," he wrote — and what it has to say about our modern society. Argued Bramesco, "Everyone knows rich people have weak moral fiber, but Johnson sees how that weakness comes from fear, which comes from the knowledge of how precarious their station in life really is ... There's so much to love about Johnson's triumph, both as gratuitously enjoyable entertainment and the first film to take on the significance of a President Trump without lapsing into corny preachiness."
He also added that Knives Out serves as a rejoinder to the backlash Johnson received for his work on The Last Jedi: "This film has been palpably informed by the amount of time that Johnson spends on Twitter, and in no small way, it doubles as a bracing f***-you to the sort of cretins that have been harassing him ever since he went to the galaxy far, far away."
Elsewhere, David Rooney at The Hollywood Reporter called Knives Out "a treat from start to finish"; RogerEbert.com's Brian Tallerico said that Johnson directs his "wildly charismatic" cast with complete confidence to always stay "a step or two ahead of his audience, leaving them breathless but satisfied at the end"; and A.A. Dowd at The A.V. Club praised the film as not just "deviously intelligent but also consistently gut-busting, and an impeccably crafted blast of Hollywood entertainment, built around several exceptional (and juicily venomous) performances." 
Since Knives Out is currently without any negative reviews logged in Rotten Tomatoes, there's nothing bad we can say about the film. This will probably change when the film opens in theaters — given that it's incredibly rare for films to maintain a perfect critical score on the review aggregator — but it's clear that Knives Out is a movie that's so easy to love and so tough to find any flaws in. 
Knives Out — which also stars Toni Collette, Don Johnson, Michael Shannon, Katherine Langford, and Jaeden Martell — is due out on November 27.