The Real Reason Netflix Paid Over $450 Million For Knives Out 2 And 3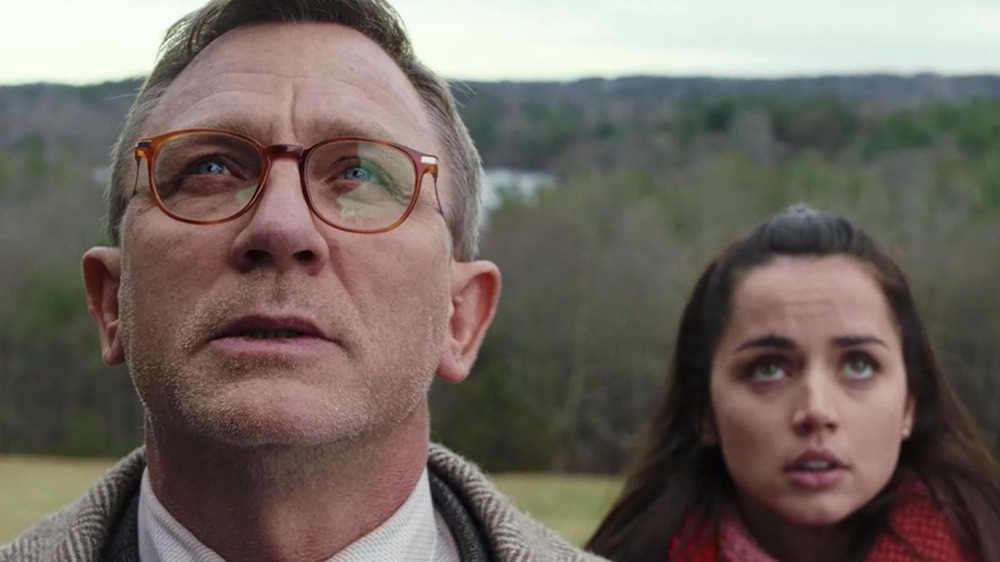 Lionsgate
At the end of March 2021, shock waves went through Hollywood when Netflix announced that it would produce not one, but two sequels to Rian Johnson's 2019 whodunit Knives Out — for a hefty sum.
After the first film — which boasts a star-studded cast that includes Jamie Lee Curtis, Ana de Armas, Don Johnson, Michael Shannon, Toni Colette, Chris Evans, Katherine Langford, and the late Christopher Plummer, among others — became a breakout success, earning $311 million at the box office on a budget of $40 million and scoring rave reviews from critics across the board, the movie's original studio, Lionsgate, was ready to kick off a bona-fide franchise. Alongside Johnson, Lionsgate announced, in February of 2020, that the writer-director would pen a sequel featuring the original film's star detective, Benoit Blanc (Daniel Craig), featuring an entirely new mystery.
Now, it looks like Netflix has stolen Lionsgate's thunder by paying an astounding $469 million for two new Knives Out films. Between the COVID-19 pandemic and the first film's overwhelming success, here's the real reason Netflix paid so much more for Knives Out 2 and 3.
The Knives Out franchise will be a huge hit for Netflix
As an analysis in The Hollywood Reporter reveals, Netflix's "power play" in securing the Knives Out sequels comes down to a few particular factors: the COVID-19 pandemic, and a particularly shrewd deal the streamer offered to director Rian Johnson.
THR reports that Netflix offered Johnson ultimate creative control of both films — meaning they won't even give him any notes or offer input — and as long as Johnson keeps the budget around $40 million and Craig stars in both films, the director and actor both stand to make huge money from the deal. Obviously, this must have been a huge draw for Johnson, but there's also another factor — the ongoing COVID-19 pandemic and the state of the film industry.
After movie theaters shuttered en masse thanks to the global health crisis in March 2020, plenty of huge films — including No Time to Die, Craig's final James Bond film — have been either shelved indefinitely or rescheduled repeatedly as the fate of the moviegoing experience is still unknown. With this in mind, it's likely that Johnson, aware that streaming services have become the de facto way for moviegoers to discover new content, knew that Netflix would be the safest bet as the film industry undergoes enormous changes thanks to the coronavirus crisis.
In any case, Lionsgate is out where Knives Out is concerned and Netflix is in, and eventually, Netflix subscribers will get to watch these highly anticipated sequels right from their own home. For now, the first Knives Out movie — a perfectly crafted murder mystery that will keep you guessing until the very end — is available to stream on Amazon Prime.