The Mandalorian Cameos Ranked From Worst To Best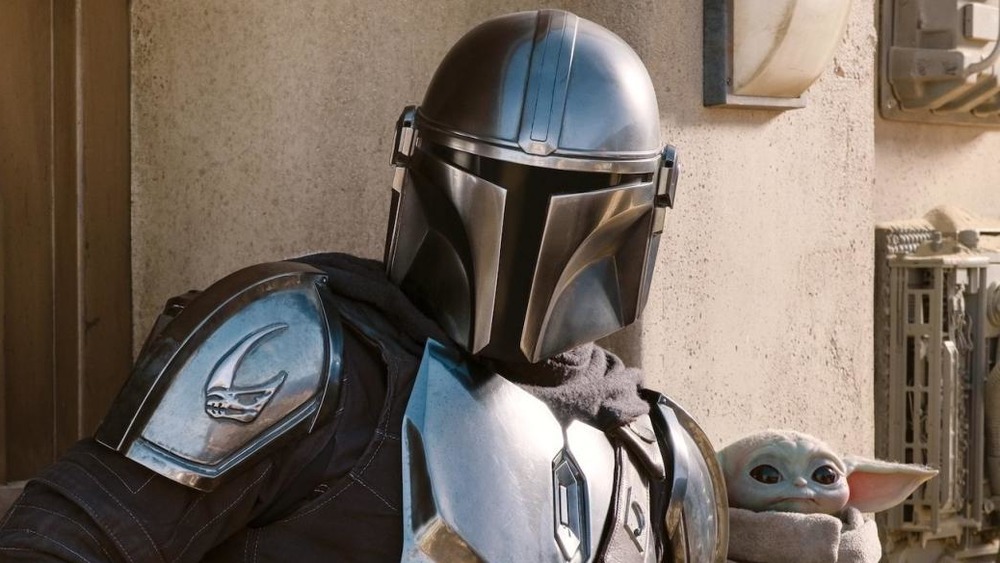 Disney+ arrived on our TVs in November 2019. Along with its catalog of Marvel films and Disney Channel originals came The Mandalorian. It was set up for success, being part of the Star Wars landscape, but not even Jon Favreau could have seen its iconic status coming.
Latching onto the Western-in-space motif, The Mandalorian follows the sharp-shooting bounty hunter Din Djarin, better known as Mando. His world is drastically altered when he is hired to retrieve the Child. After some not-so-enjoyable encounters with Imperial soldiers, Mando becomes the Child's protector, and the adventure to find his place in the galaxy begins. The world fell in love with this dynamic duo, and they fell hard. After all, you'd be hard-pressed to find a creature more endearing than the Child, more famously known as Baby Yoda, and actually known as Grogu.
While the show centers the main characters of Mando, played by the brilliant Pedro Pascal, and the Child, its supporting cast brings immense dimension and strength to an already compelling show. Greef Karga (Carl Weathers) and Cara Dune (Gina Carano) are Mando's partners in crime — albeit, in the name of good. Season two brought us more of Moff Gideon (Giancarlo Esposito) and Fennec Shand (Ming-Na Wen). Plus, this season introduced Bo-Katan Kryze (Katee Sackhoff) and Boba Fett (Temuera Morrison). These star-powered cameos set this show apart from other Star Wars works, so let's rank them from worst to best.
Richard Ayoade as Zero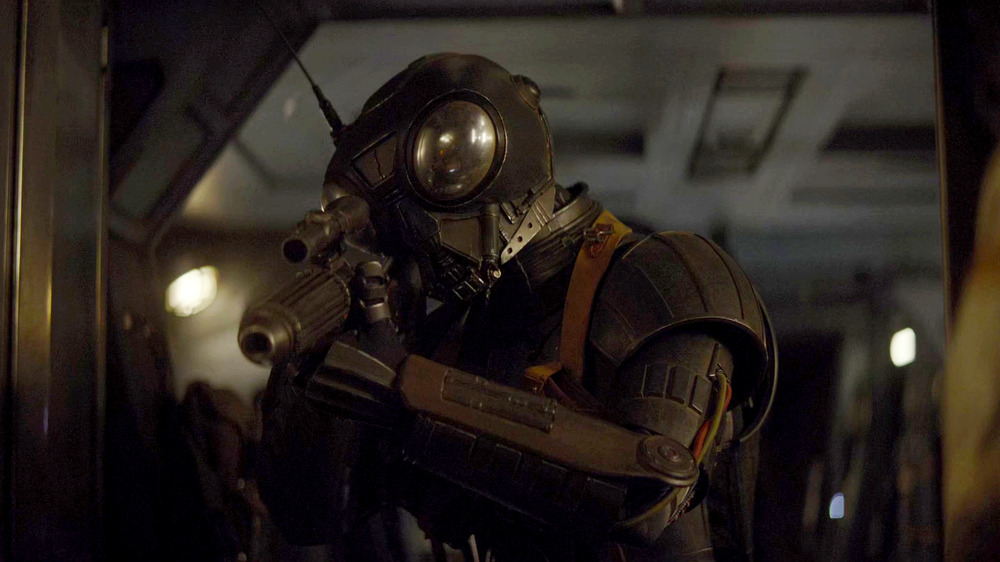 It seems only fitting that someone from the IT department who asks if you've tried turning it off and on again ends up playing a droid who malfunctions. In "Chapter 6: The Prisoner," Richard Ayoade lends his voice to Zero. A bug-eyed droid with precision timing and an apparent cynicism function that can't be turned off, Zero is part of the missionary team that includes Mayfeld and Xi'an. He is tasked with flying Mando's ship, the Razor Crest, en route to invade a New Republic vessel.
Ayoade's comedic timing and dry wit is unparalleled, but he's bringing it to a character who is, to be blunt, a big jerk. He criticizes Mando's ship non-stop and betrays the entire team after finding a holographic message from Greef Karga. Plus, he tries to kill Baby Yoda! Sorry buddy: If your character points a gun at Grogu, you don't get to be higher on the list, even if you are supremely funny.
Titus Welliver as an Imperial Captain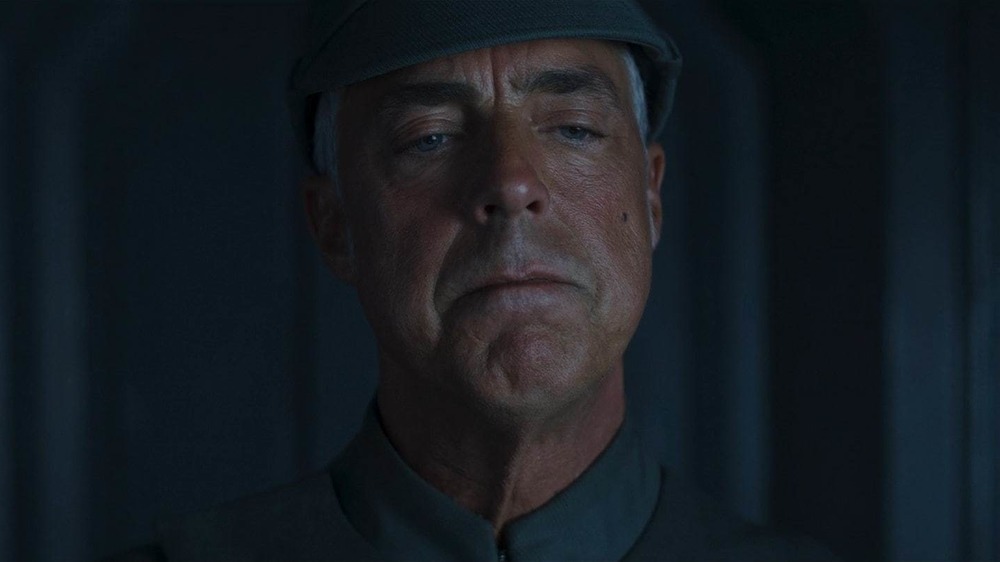 You may not know him by name, but Titus Welliver has been playing gruff badasses for years. He's always popping up on various TV shows, including some of our favorites, like Agents of S.H.I.E.L.D, Law & Order: SVU, and The Good Wife. For the past six years, he's been playing the titular role on Amazon's brilliant crime series, Bosch. You may also remember him from something a little further back — does "the smoke monster" ring any bells? Yep! Titus Welliver is Lost's Man in Black. So, becoming the villainous Imperial Captain with no name in "Chapter 11: The Heiress" is actually pretty perfect.
This Imperial Captain is an evil follower who is ready to die for Moff Gideon — and does. Welliver is an incredible actor who plays someone super terrible very well, which, while it doesn't sound like it, is definitely a compliment. This level of acting might have landed him higher on the list, but supporting someone on the dark side keeps him ranked lower. He clearly won't be coming back, but that's probably a good thing for Mando. And hey, at least we get to enjoy another season of Bosch.
Dave Filoni as Trapper Wolf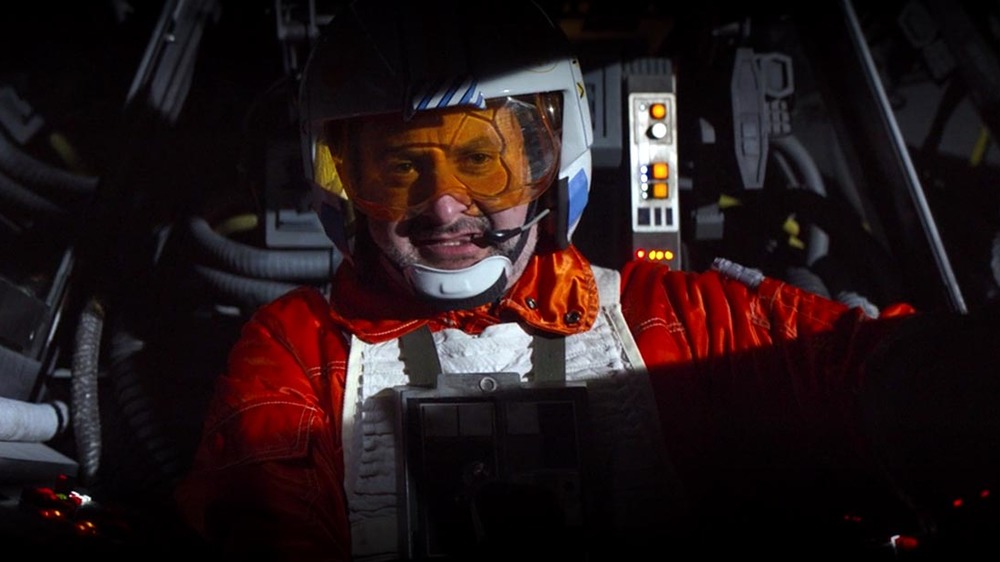 Honestly, we owe so much to Dave Filoni for bringing Baby Yoda into the world. A brilliant animator, Filoni first crafted The Clone Wars alongside the one and only George Lucas. This Star Wars aficionado has become a force to be reckoned with — on the light side, of course. He built two wildly popular series and has managed to win over even the most hardened skeptics.
When Jon Favreau needed to fill the role of a Resistance X-wing pilot, who better than his co-creator and director, Filoni? Being behind the camera is great, but becoming a character in the Star Wars canon — well, that's next level. Being that the character is written for Filoni, his name is Trapper Wolf, due to the director's love of wolves. Fun fact: Directors Rick Famuyiwa and Deborah Chow also appear as X-wing pilots, which means almost all of the directors from season one appear as actors in some capacity. You just never know who'll show up in The Mandalorian – perhaps one day, George Lucas himself will be in it.
Natalia Tena as Xi'an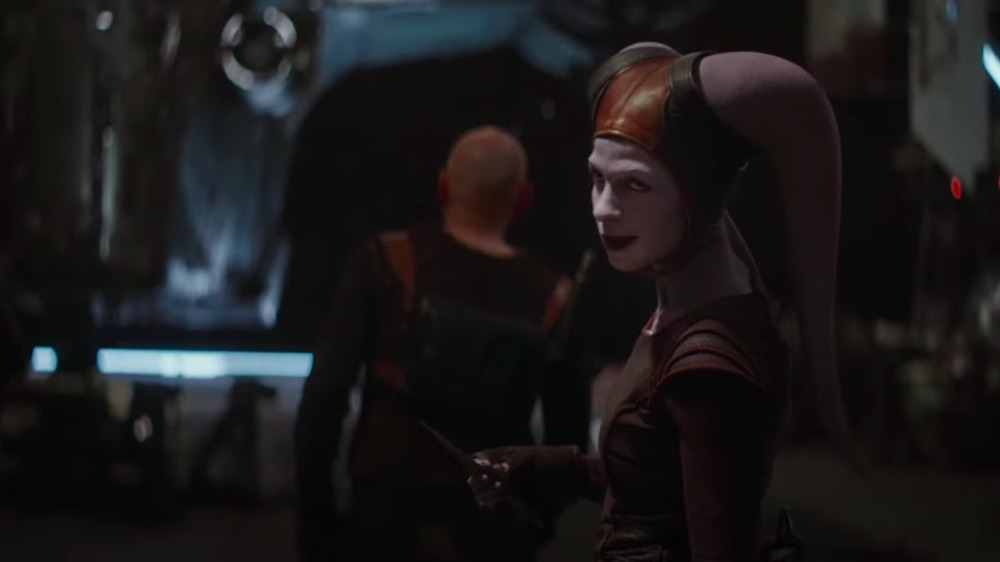 You may not immediately recognize the woman playing Xi'an, part of Mayfeld's mercenary team, since she's, well, purple. But that's Natalia Tena under that makeup, meaning she's officially appeared in three of the biggest franchises in the world. In Game of Thrones, she played Osha for multiple seasons, before being killed by Ramsay Bolton in season six. If you don't recognize her from there, perhaps you remember her as the incredibly endearing Tonks in the Harry Potter franchise. Much like Osha, Tonks also dies at the hands of a maniac.
Her role in The Mandalorian is a bit of a switch from those other two blockbuster franchises. Even though she's still playing a strong woman here, Xi'an's not the most trustworthy character. In fact, while saving her brother, she and the team betray Mando, almost resulting in Zero shooting Baby Yoda. While she gets bonus points for going to great lengths to save her family, betraying Mando is super uncool. Still, we can't wait to see what franchise Tena takes on next: Her performance is bound to be extraordinary.
Jason Sudeikis and Adam Pally as Stormtroopers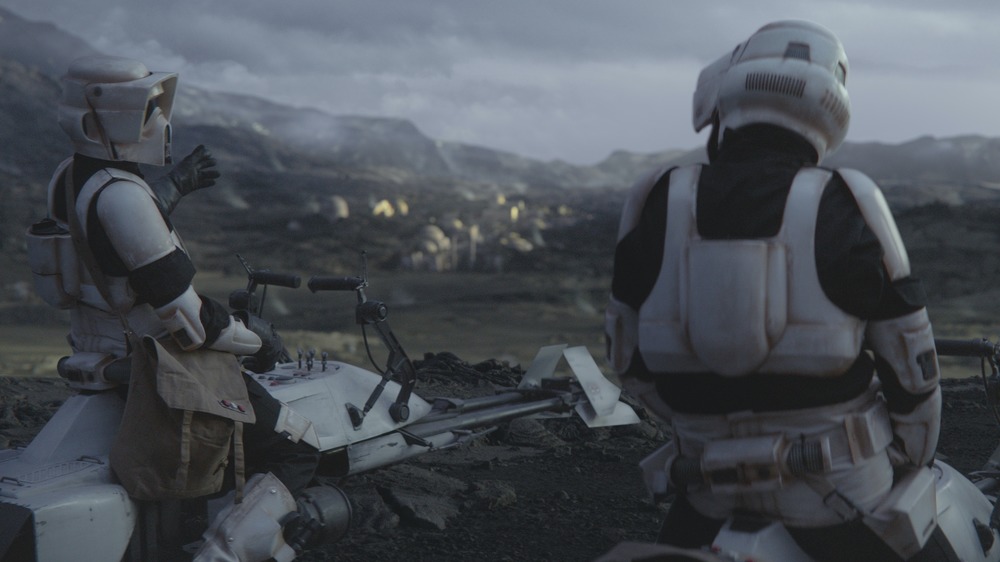 Even when everything seems dark, stories are capable of lighting the way. Regardless of your streaming service of choice, binge-able content brings us sweet relief from bad news. One show, with its endless positivity, became the hit of 2020 — you know, other than The Mandalorian. We're talking about Ted Lasso. Jason Sudeikis stars in that series as a perpetually positive Premiere League coach, who knows very little about soccer.
While Ted Lasso may have delighted fans, Sudeikis played another delightful 2020 role — but it's so quick, you might have missed it. Seriously, the actor himself forgot all about it. In "Chapter 8: Redemption," Jason Sudeikis teamed up with another hilarious human, Adam Pally, to play Bike Scout Stormtroopers. They never take off their helmets, so unless you have an incredibly keen ear, you may not know it's them.
The duo's performance is flawless, but Sudeikis punches Baby Yoda. First of all, how dare you. Still, their witty banter is worthy of an entire show. Maybe it'll still happen, only with less Baby Yoda punching, please.
Horatio Sanz as Mythrol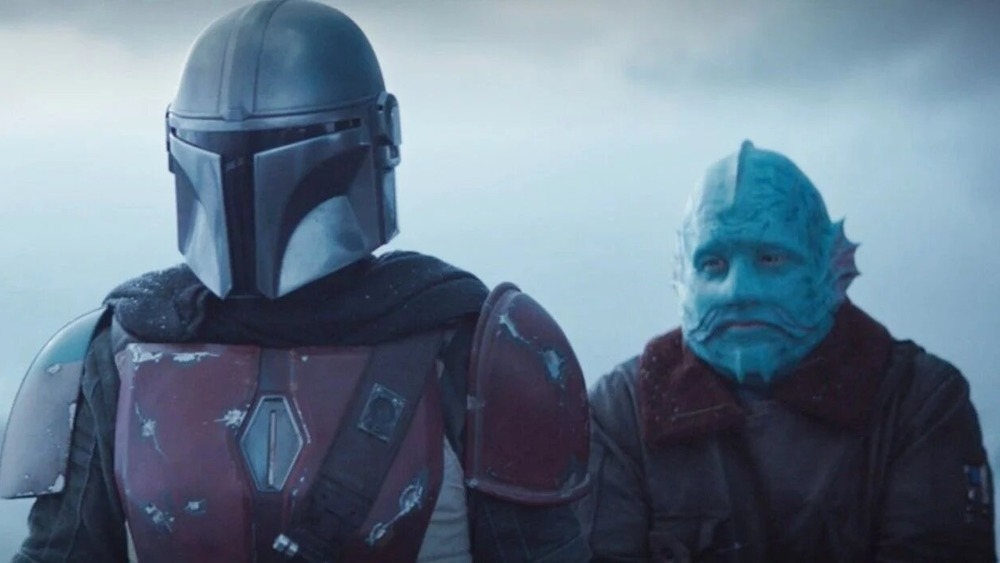 Horatio Sanz is a very funny human and also incredibly likable, so it's always a treat when he's cast in something. You immediately know that his presence is going to elevate the production, or, at the very least, make you laugh. His portrayal of Mythrol continues this trend: While you may not recognize him buried under all his gills and blue prosthetics, his personality and voice shine through.
Mythrol isn't a great dude. No one Mando brings in as a bounty is an upstanding citizen, granted, Baby Yoda aside. Once he is frozen in Carbonite in "Chapter 1: The Mandalorian," one assumes that's the end of Sanz's Mythrol. But luckily, season two brings back the bumbling skeptic, who really does make life more difficult for Mando and his team. Still, they accomplish their mission, and Mythrol's debt is reduced — a bit.
Even playing a nincompoop, Horatio Sanz is a joy. Hopefully we'll see him again, debt-free.
Julia Jones as Omera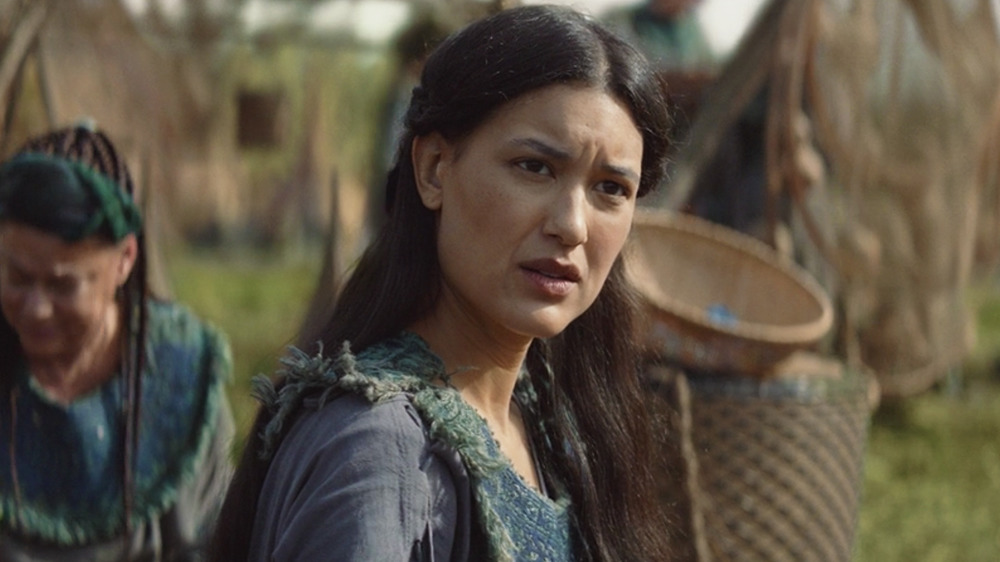 Din Djarin forms several close bonds throughout The Mandalorian, the strongest and most heartwarming being with Grogu. Besides being a surrogate father to the Child, however, we rarely see Mando let his guard down: His friendships are based on necessity rather than desire. So, when we see him open his heart to Omera, our rom-com Spidey senses kick in.
Julia Jones plays Omera, a dynamic, sharpshooting farmer on Sorgan in "Chapter 4: Sanctuary." Twilight fans may recognize her as the werewolf Leah Clearwater. She may not be as famous as some of the other celebs on this list, but her connection with Mando is so uniquely different than all of his other relationships, it stands out. He almost gave up everything to stay with her, for gosh sakes. Sure, you know they can't get together, because then the show would have ended at episode four, but here's to hoping that they get the happily-ever-after they deserve.
Taika Waititi as IG-11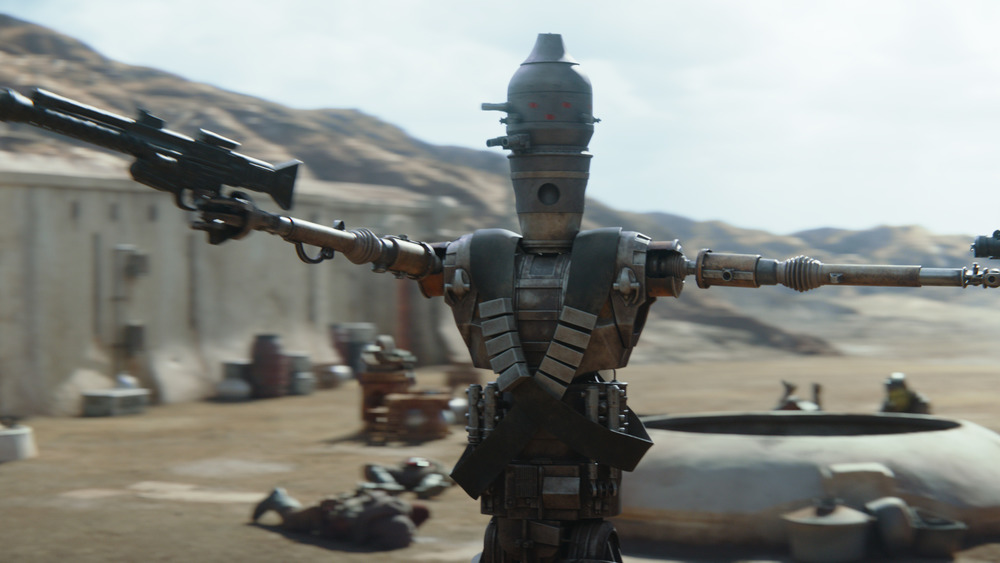 These days it seems like Taika Waititi is literally everywhere. He's producing multiple FX series like What We Did In The Shadows and Reservation Dogs, he's writing and directing films like Next Goal Wins, Thor: Love and Thunder, Akira, and an untitled Star Wars film, and he's winning Oscars. It's safe to say that there's no way this man sleeps. And we're so thankful for that fact, because everything he touches turns to gold. Or, well, in the case of The Mandalorian, silver.
Waititi directed "Chapter 8: Redemption," but it's his voice work as IG-11 that has the most noticeable Waititi touch. We already knew about his prowess as a voice actor because of his brilliant turn as Korg in Thor: Ragnarok and Avengers: Endgame, but his performance as IG-11 still managed to surprise and delight us. Waititi's dry wit and clever cadence tend to have that effect.
IG-11's journey, starting as an assassin droid and ending as an altruistic hero, is one of the best character arcs in the entire series. It's sad knowing he won't ever return, but we can be grateful for the time we had together.
Bill Burr as Mayfeld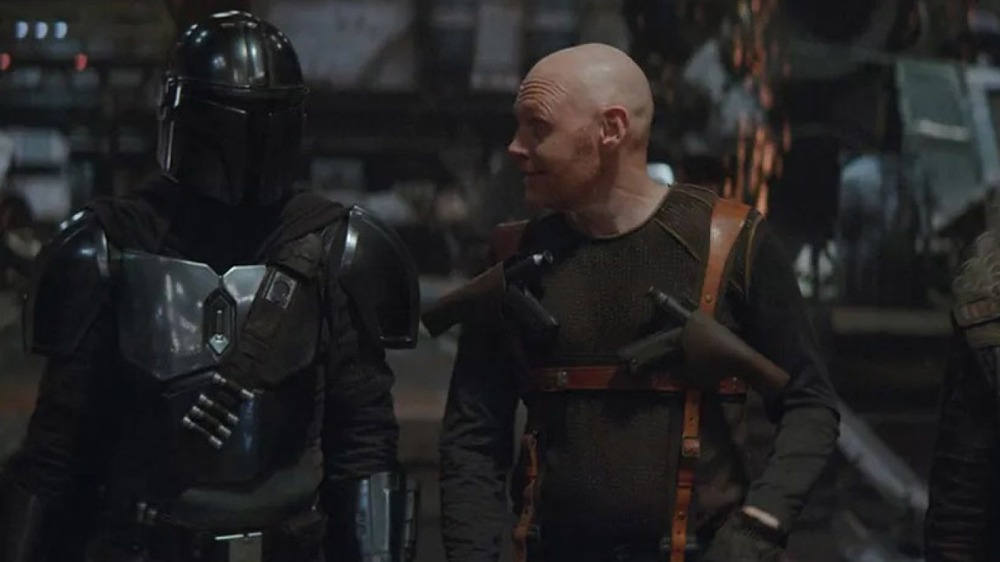 Between The King of Staten Island and The Mandalorian, Bill Burr has been busy establishing himself as one of the most versatile comedians in Hollywood. Still, for someone who has spent his career making fun of Star Wars — including saying it feels like a "cheesy self-help book put in outer space with, like, Muppets" — it's a wonder how he landed the role of Mayfeld. The answer is pretty Hollywood: It's all about who you know. The director of Bill Burr's special Paper Tiger, Mike Binder, is friends with Jon Favreau. While at a party, Favreau met Burr and told him about a rough and tumble character that he'd be perfect for.
Honestly, Jon Favreau is rarely wrong, and this time is no exception. He perfectly blends humor and heart, and even brings the spirit of Boston to space — seriously, his Boston accent is front and center. Makes you wonder where the space Red Sox play. Even if he doesn't come around to being a Star Wars fan, it's safe to say fans are glad Mayfeld is part of this universe.
Timothy Olyphant as Cobb Vanth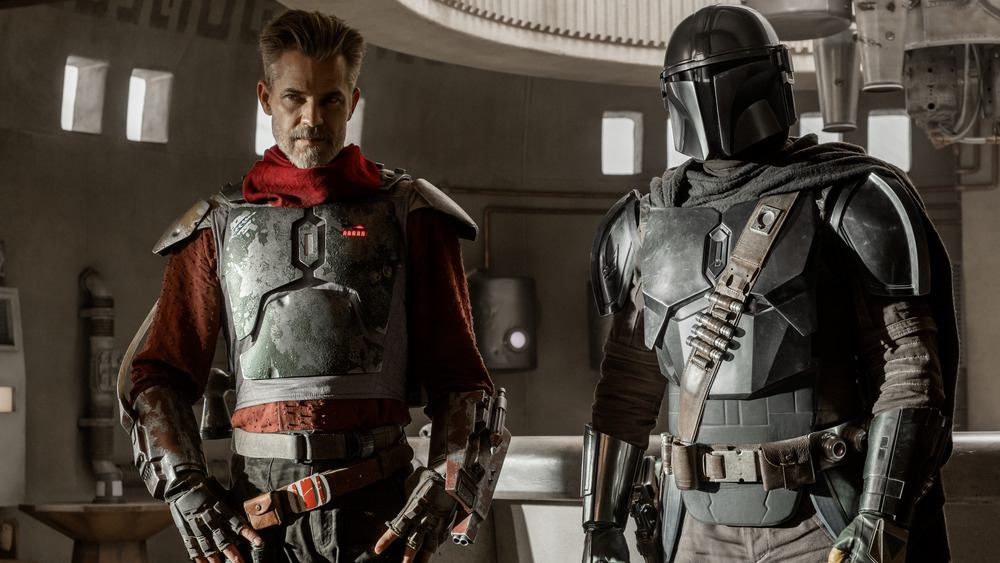 The moment Timothy Olyphant steps onto any screen, you know he's going to be playing an authoritative character with a chip on his shoulder. It's what he was born to do, and he does it with the utmost ease — while looking really, really good. One can only assume, when Jon Favreau and Dave Filoni were looking for someone to play the marshal of Mos Pelgo, that just one name immediately came to mind.
Cobb Vanth is actually not a new character. The Star Wars universe is so expansive that it's hard to keep it all straight, so don't worry if this is news to you. Vanth first appears in Chuck Wendig's novel Aftermath. Boba Fett falling into the Sarlacc pit renders him dead to the viewing audience. Though there is great debate about his death, in theory, it's why the Jawas have his armor. Though this backstory diverts a bit from the novel, in "Chapter 9: The Marshal," it's explained that Vanth obtained the fallen Mandalorian's gear to protect Mos Pelgo.
Olyphant brings his usual swagger to the role, and it is a joy to watch. All in all, it's one of the best cameos around.
Amy Sedaris as Peli Motto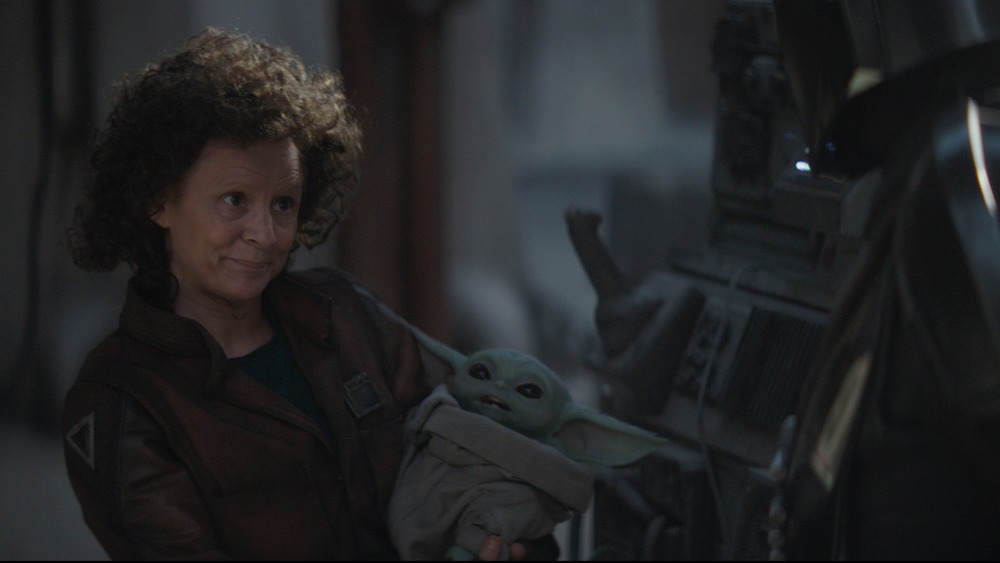 Amy Sedaris is the hilarious aunt you wish would show up to all your holiday parties. Her career is vast and varied, yet this comedian consistently plays roles that are quirky in the best way. Strangers with Candy, Broad City, Unbreakable Kimmy Schmidt, Difficult People, Bojack Horseman – Sedaris' IMDB page is packed with memorable characters. Still, one of the best is her role as the cat-declawing receptionist Deb in Elf. So seeing her reunite with Favreau for the first time since his directorial debut brings us enough joy to fly Santa's sleigh.
The Mandalorian finds Sedaris playing Tatooine mechanic Peli Motto. She brings her comedic flair to all three appearances as she gets her droids to fix Mando's ship, and, even more importantly, becomes the only person Mando trusts to watch Baby Yoda alone. There's nothing nefarious about Peli Motto. Instead, she's always the breath of fresh, funny, and kind air needed in between stressful moments. Every time she pops up on the screen, like in every role she plays, Sedaris steals the scene.
Rosario Dawson as Ahsoka Tano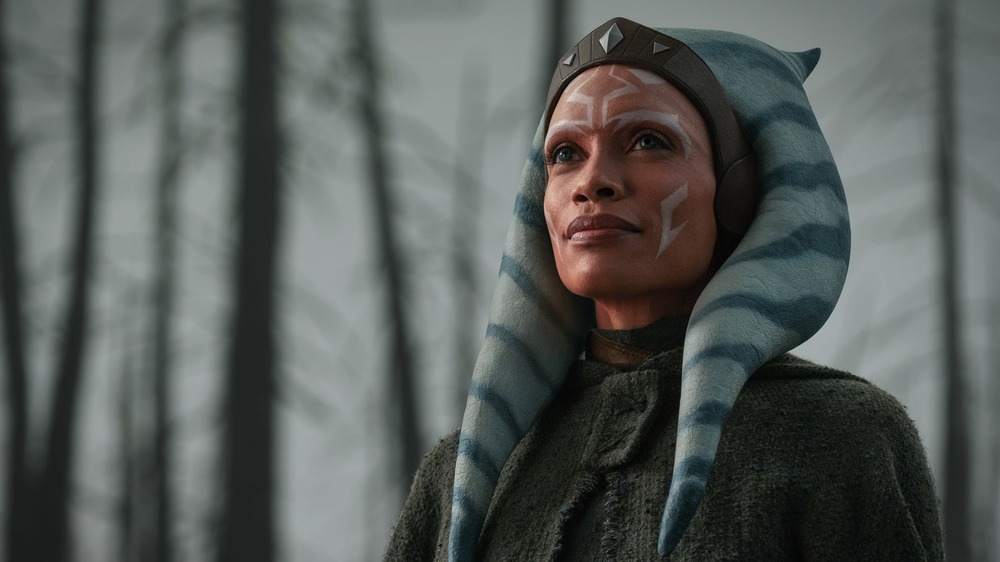 Dave Filoni originally developed Ahsoka Tano for Clone Wars. So, it only seems fitting that this wildly popular character would make her way to Filoni's newest Star Wars brainchild. Rosario Dawson revealed to Vanity Fair that her casting as this duel lightsaber-wielding Jedi is actually thanks to fans: Tweets came through to Dawson suggesting she'd be an amazing choice for a live-action Ahsoka Tano, and the star replied, "Ummmm ... yes please?!" The rest is history in a galaxy far, far away.
Luckily, Dave Filoni and Jon Favreau took that suggestion very seriously, because seeing Dawson in the famous white and blue lekku and montrals is something special. She flawlessly embodies the strength and fearlessness of Ahsoka Tano, a character close to many fans' hearts. Few other characters in The Mandalorian have vast backstories from previous iterations of the universe, so there was pressure to get her right. Thankfully, with Dawson's first swing of her sabers, it's clear the beloved character is in good hands. So good, in fact, she will be starring in her own spinoff series on Disney+. The anticipation is palpable.
Mark Hamill as Luke Skywalker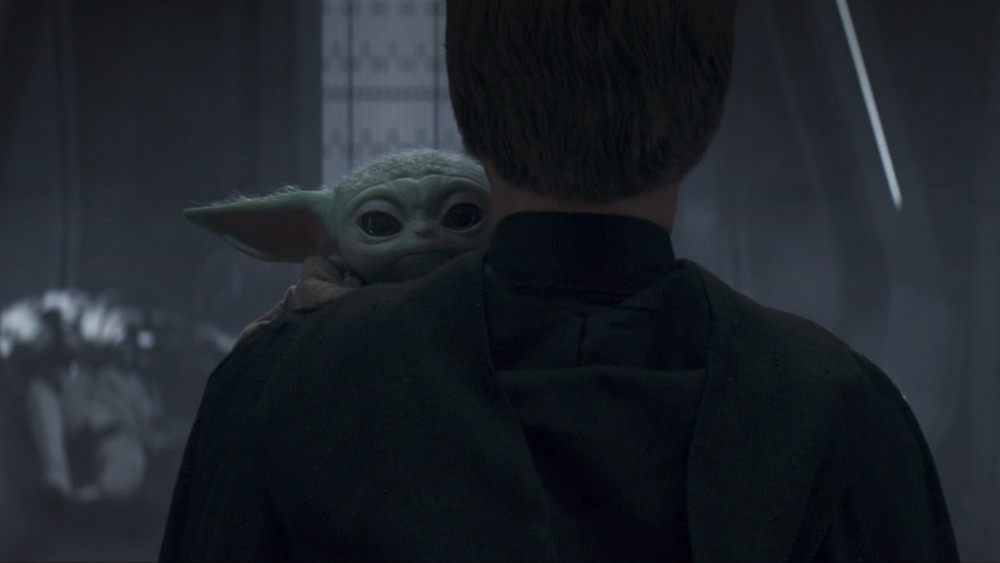 Grogu is safe. Moff Gideon is defeated. Yet, Mando is trapped with Bo-Katan and Cara Dune, waiting for certain death at the hand of the Dark Troopers. Then, out of nowhere, the Dark Troopers stop their pursuit and turn away from the door as an X-wing flies onto Moff Gideon's ship. Everyone sitting at home is literally on the edge of their seats. Who could it be? Is this good or bad? What is happening? A figure makes its way through the ship, defeating each stormtrooper and Dark Trooper as though it were nothing.
Finally, the door opens. The figure removes his hood — and it's Luke freaking Skywalker! A collective scream of glee is heard throughout the world as he and Baby Yoda leave together. Mark Hamill and the entire team somehow managed to keep his cameo a secret from everyone. Honestly, the magic in that is almost equal to the magic in him showing up at all. Even though the appearance was made possible through of a combination of CGI wizardry, Mark Hamill's voiceover, and an actor by the name of Max Lloyd-Jones, the jigsaw nature of the performance does not detract from its power. Luke Skywalker saving Baby Yoda still has us feeling all the feels.