Game Of Thrones Actress Publicly Tears The Final Season To Shreds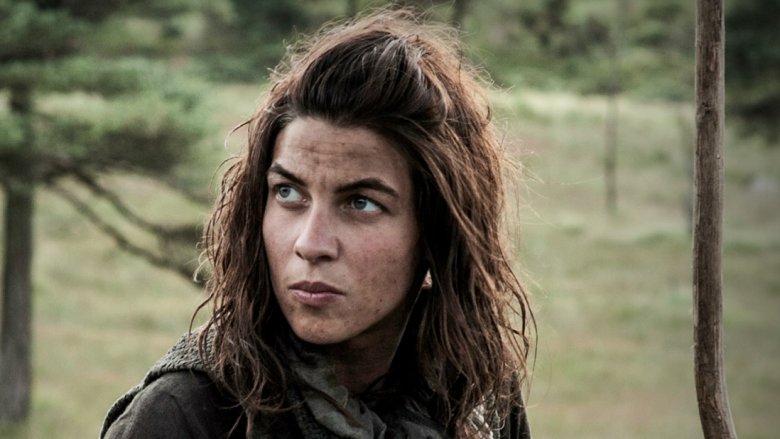 If you hated the final season of Game of Thrones, you're not alone — one of the show's former stars agrees with you.
During an appearance on Yahoo's podcast White Whine Question Time, Natalia Tena, who played the wildling Osha, spilled the tea (as her castmate Sophie Turner might say) about Thrones' divisive final season. 
Like most fans, Tena was all in during the first three episodes of Game of Thrones season 8, which included the tense build-up to and the execution to the huge of Battle of Winterfell. Tena also loved that Arya Stark (Maisie Williams) was the one to take down the Night King — a moment that inspired many dropped jaws. However, after that point in Thrones' final season, Tena grew increasingly disappointed and felt that the series sharply declined in quality as it neared its ultimate end.
She said on the podcast (via Yahoo), "After [the battle], I just didn't understand. The caliber of writing towards the end and the plots and everything that happens and how they wrapped it up compared to any other season, any other bit, it just feels like it's been written by different people. It doesn't make sense, for me." 
Tena also shared that she ranted to her boyfriend "for an hour" about how much she disliked the final episode, then called her friend to continue expressing her dissatisfaction. In the end, though, Tena made peace with Thrones season 8: "I'm cool. It's done. I don't think I'd go as far as petition. I think [showrunners David Benioff and D.B. Weiss] had to end it... I don't understand why they made those choices."
Tena's remarks probably hit a chord with diehard Thrones fans, who felt that the final season and the series finale in particular were rushed, poorly written, and inconsistent with the quality of the rest of the show. Some fans even started a petition to try to hire "competent writers" to remake Game of Thrones season 8, though HBO obviously dismissed that as nothing more than a fantasy.
Tena, who is also known for her role as Nymphadora Tonks in the Harry Potter franchise, has been working steadily since her time on Thrones, appearing on the special Christmas episode of Black Mirror as well in leading role on Wisdom of the Crowd, which aired on CBS. While she may have been let down by the critically-roasted eighth and final season of Game of Thrones, her involvement with the show as a whole has seemingly only helped her career. 
Game of Thrones is poised to scoop up several of the 32 Emmy Awards it's nominated for — including one nod for its messy finale script — during the ceremony this September. But if Tena has anything to say about it, the series probably should go home empty-handed rather than take one last awards season victory lap.