Bill Burr Reveals How He Really Feels About Star Wars - Exclusive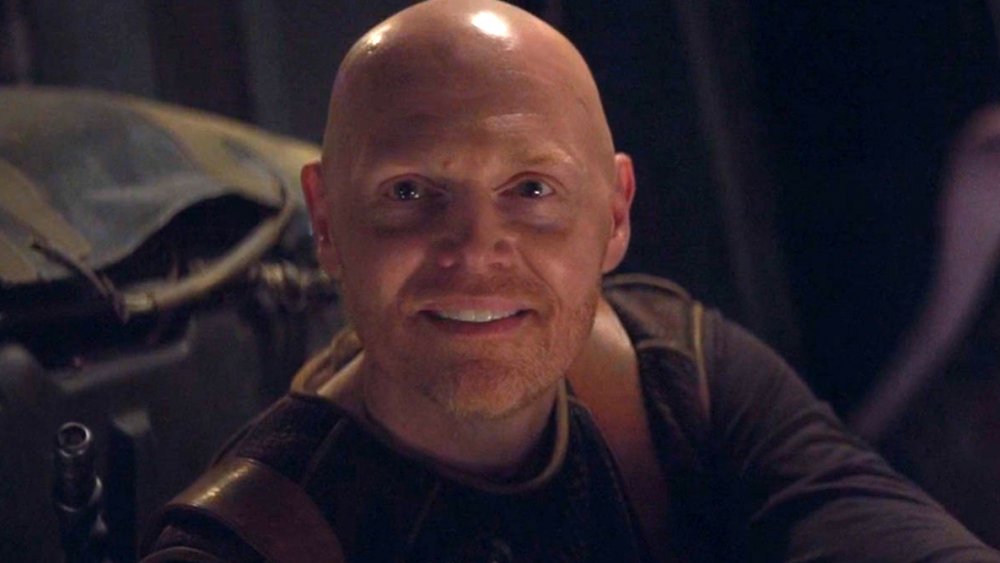 Disney/Lucasfilm
Actor-comedian Bill Burr has been a vocal critic of the Star Wars franchise throughout his career, once referring to it as "a cheesy self-help book put in outer space with Muppets." But that didn't stop The Mandalorian creator Jon Favreau from recruiting Burr for the hit live-action Disney+ series.
"When Jon asked me to do it, I was like, 'Jon, you know I have been making fun of this s***,'" Burr told Looper in an exclusive interview. "He laughed and went, 'But I think your fans would think it was funny if you were in it.'" 
The rest, as they say, is Star Wars history.
The Mandalorian is a space Western that follows a bounty hunter (played by Pedro Pascal) as he tries to protect an acquisition, known as The Child, that he grows protective of. Burr's character, Mayfeld, is a former-Imperial-sharpshooter-turned-mercenary who's sent on a mission to rescue a prisoner alongside the Mandalorian and a misfit crew of outlaws. After rescuing the prisoner, Mayfeld and his team turn on the Mandalorian in a failed attempt at revenge.
So far, Burr has appeared on only one episode of The Mandalorian — on which his character was left floating aimlessly in space on a prison transport ship — but it's rumored he'll reprise his role on season 2, which is set to air on Disney+ in October 2020.
Later in Looper's conversation with him, Burr opened up about his experience on The Mandalorian and what it was like "working with" Baby Yoda, revealing in the process how he really feels about Star Wars.
Bill Burr finds Star Wars inherently humorous, and was pretty happy to be involved with The Mandalorian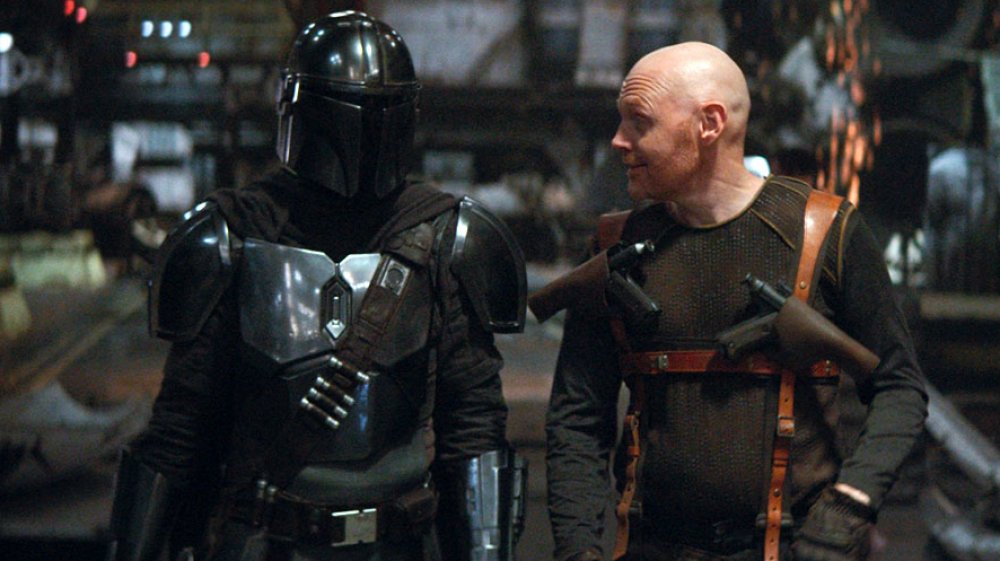 Disney/Lucasfilm
Possibly the most memorable part of Burr's appearance on The Mandalorian is when Mayfeld drops The Child — otherwise known as Baby Yoda, as fans have come to call the little green meme-worthy creature.
"I didn't think it was going to be such a big deal," admitted Burr, who said the scene didn't leave a lasting impression on him. "Here is where my lack of Star Wars fandom comes in: I don't really remember [what it was like working with Baby Yoda]. I know that there was a lighter one and a heavier one, and I think the heavier one had the mechanics in it. I don't think it was a puppet. It wasn't like there was some guy off to the side, I don't think. There might have been. I really don't remember." (Fun fact: Baby Yoda was indeed a puppet that cost $5 million to make and required two technicians to control it.)
What did stick with Burr was the backlash he received from fans after dropping the beloved character in the scene. "Fortunately, Jason Sudeikis [who played a bike scout trooper on the season 1 finale] punched Baby Yoda a couple episodes later, and all the hate I was getting went over to him," said Burr with a laugh. "If I ever see Jason, I'm going to thank him — because he caused the herd to look his way while I was able to slip out the back door." Burr and Sudeikis weren't alone in being rough with the pint-sized green guy: Comedian Adam Pally's bike scout trooper also punched Baby Yoda during the same scene.
Despite his disinterest in Baby Yoda, Burr described working on The Mandalorian set a "pinch yourself" moment. But has that changed the way he feels about the Star Wars franchise and its fans?
"It wasn't a personal thing with Star Wars. It's just funny that grown people will dress up like Chewbacca and Darth Vader. How do you not make fun of that?" Burr said. "There's something hilarious about it. So, yeah, I made fun of it. I was being a comedian. I saw people enjoying something, so I made fun of it. Then they get upset and you have a great time on stage. It's fun."
Burr then went on to note that his involvement with the Star Wars franchise through The Mandalorian isn't going "to be the last time I end up getting involved in something that I've made fun of." He shared with Looper, "I do a podcast by myself [the Monday Morning Podcast], and you run out of s*** to talk about, so you just make fun of everything. That's how it goes. I'm just really surprised that so many Star Wars fans accepted the fact that I was in The Mandalorian."
As for the rumor that he will return for season 2 of The Mandalorian, Burr said he'd jump at the chance. "Oh, absolutely, I would. I just get a kick out of the whole question of whether or not my character is coming back — I was left in a jail in the middle of nowhere! I mean, I guess there's always a world where it could happen."